Most Recent ATV Exhaust Reviews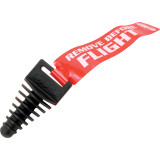 FMF Muffler Plug
Rufio

- PHX, AZ
Great Plug
"It works great and stays in during turning and accidental hits by the power washer (2000psi)."

See all reviews for this product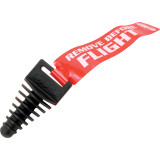 FMF Muffler Plug
JayHun
Great!
"Fit my husbands KTM 250 very nicely! Was to big for my KLX 140L though.. Overall happy with it! The super fun "remove before flight" tag does not last. Fell off first time gave bike a bath."

See all reviews for this product
ATV Exhaust
You need more horsepower and you want to shed weight. Plus, an enviable throaty sound so everyone knows you're coming. Then upgrade the exhaust on your ATV.
Replacing the stock ATV exhaust with a new slip-on or a complete system is one of the first improvements ATV owners make especially when used for racing. Aftermarket ATV exhausts simply perform better than stock, last longer, look better and provide more durability. If you want to upgrade the full exhaust or muffler on your ATV, you've come to the right place.
Quad Exhaust
You can call it an ATV, a quad or even a 4x4 but when it comes to the exhaust system it all means the same thing. MotoSport carries the best ATV exhaust brands in the industry and whether you ride a 2-stroke or 4-stroke quad we've got the right upgrade for you. Check out just a short list of the quad exhaust brands we carry:
...and many more!
ATV Mufflers & Exhaust at MotoSport
We can work with any budget so give us a call if you need help. And don't just buy the shiniest ATV muffler. Trail systems often require spark arrestors so we can help narrow your choices to those best suited for racing Motocross compared to ripping along the forest floor. Call a Gearhead at 1-866-667-6288 to get your questions answered and even advice on the best ATV muffler or full exhaust system for the make, model and year of your quad. MotoSport specializes in ATV mufflers and exhausts therefore we also offer accessories like exhaust packing, heat shields and ATV exhaust plugs to keep your system running like new. Whether it's an ATV muffler, complete exhaust system or fresh packing shop all ATV parts at MotoSport.com.
We deliver all ATV exhausts fast and orders more than $79 ship free.