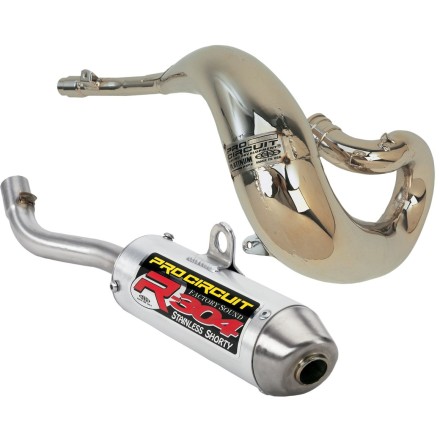 Pro Circuit Pipe And Silencer Combo
---
9% Off - Save up to $32.99
---
5 Star
57
4 Star
11
3 Star
4
2 Star
1
1 Star
3
5 days 23 hours ago
Rockville, Maryland
Perfect fit
Pipe and silencer were easy to install. Sounds great. Crisp And fresh
2 months 24 days ago
Halfmoon New York
RUSTY but great pipe
Great purchase, but it got very rusty. But it makes my 2006 cr 85 sound a lot better!
Over 11 months ago
Raleigh
Perfect fit
I have put 2 hours with a platinum pipe and factory 304 on my 16 ktm 250sx. I noticed it pulled a little farther than with the stock pipe. No noticable loss on the bottom end. It is slightly louder than factory and the muffler is way lighter. The pipe is thicker than stock.
1 year 5 months ago
las vegas
POOR QUALITY
pipe had rust scratches,small dent. and they dont even stock this pipe to exchange it. big disappointment from motosport
Flange
This aply for the Yamaha Blaster
It does not come with the flange and you can't find it anywhere, not even from the pro circuit company, so make sure you buy one with the flange
Amazing exhaust and pipe
it makes the bike sound amazing!
See all bikes that this part fits...
Pipe
| Product Variant | Manufacturer Part # |
| --- | --- |
| Pro Circuit Pipe And Silencer Combo | 0851550 |
| Pro Circuit Pipe And Silencer Combo | 0831985 |
| Pro Circuit Pipe And Silencer Combo | PY93080P |
| Pro Circuit Pipe And Silencer Combo | PY97250P |
| Pro Circuit Pipe And Silencer Combo | PK02065P |
| Pro Circuit Pipe And Silencer Combo | PY01125P |
| Pro Circuit Pipe And Silencer Combo | PK00125P |
| Pro Circuit Pipe And Silencer Combo | PH99250P |
| Pro Circuit Pipe And Silencer Combo | PH00250P |
| Pro Circuit Pipe And Silencer Combo | 0851912 |
| Pro Circuit Pipe And Silencer Combo | PH01250P |
| Pro Circuit Pipe And Silencer Combo | PH02125P |
| Pro Circuit Pipe And Silencer Combo | PS00125P |
| Pro Circuit Pipe And Silencer Combo | 0741585 |
| Pro Circuit Pipe And Silencer Combo | 0731985 |
| Pro Circuit Pipe And Silencer Combo | 0751550 |
| Pro Circuit Pipe And Silencer Combo | 0761725 |
| Pro Circuit Pipe And Silencer Combo | PK05250 |
| Pro Circuit Pipe And Silencer Combo | PS00125P |
| Pro Circuit Pipe And Silencer Combo | PS04125P |
| Pro Circuit Pipe And Silencer Combo | 0821485 |
| Pro Circuit Pipe And Silencer Combo | PT04125 |
| Pro Circuit Pipe And Silencer Combo | PK00250P |
| Pro Circuit Pipe And Silencer Combo | PK91080P |
| Pro Circuit Pipe And Silencer Combo | PH05125P |
| Pro Circuit Pipe And Silencer Combo | PH05250P |
| Pro Circuit Pipe And Silencer Combo | 0721185 |
| Pro Circuit Pipe And Silencer Combo | PH99125P |
| Pro Circuit Pipe And Silencer Combo | PK8950002 |
| Pro Circuit Pipe And Silencer Combo | PY91250P |
| Pro Circuit Pipe And Silencer Combo | PY05250 |
| Pro Circuit Pipe And Silencer Combo | 0751212 |
| Pro Circuit Pipe And Silencer Combo | PCPT09085 |
| Pro Circuit Pipe And Silencer Combo | PS04125 |
| Pro Circuit Pipe And Silencer Combo | PH05125 |
| Pro Circuit Pipe And Silencer Combo | 0951130 |
| Pro Circuit Pipe And Silencer Combo | PK05250P2 |
| Pro Circuit Pipe And Silencer Combo | 0761985 |
| Pro Circuit Pipe And Silencer Combo | 0851665 |
| Pro Circuit Pipe And Silencer Combo | PS03250P |
| Pro Circuit Pipe And Silencer Combo | 0861725 |
| Pro Circuit Pipe And Silencer Combo | 0881265 |
| Pro Circuit Pipe And Silencer Combo | 8101430 |
| Pro Circuit Pipe And Silencer Combo | PK00065P |
| Pro Circuit Pipe And Silencer Combo | PY98250P |
| Pro Circuit Pipe And Silencer Combo | PY05250P |
| Pro Circuit Pipe And Silencer Combo | PY00125P |
| Pro Circuit Pipe And Silencer Combo | PK05250P |
| Pro Circuit Pipe And Silencer Combo | PS01250P |
| Pro Circuit Pipe And Silencer Combo | PT00125P |
| Pro Circuit Pipe And Silencer Combo | PH03250P |
| Pro Circuit Pipe And Silencer Combo | PH92125P |
| Pro Circuit Pipe And Silencer Combo | 0851725 |
| Pro Circuit Pipe And Silencer Combo | PK03125P |
| Pro Circuit Pipe And Silencer Combo | PY00250P |
| Pro Circuit Pipe And Silencer Combo | PH89500 |
| Pro Circuit Pipe And Silencer Combo | PH98125P |
| Pro Circuit Pipe And Silencer Combo | 0781265 |
| Pro Circuit Pipe And Silencer Combo | PC0851212 |
| Pro Circuit Pipe And Silencer Combo | PH90250P |
| Pro Circuit Pipe And Silencer Combo | PH05250P2 |
| Pro Circuit Pipe And Silencer Combo | PY88250P |
| Pro Circuit Pipe And Silencer Combo | 0851812 |
| Pro Circuit Pipe And Silencer Combo | 0851925 |
| Pro Circuit Pipe And Silencer Combo | PT98200P |
| Pro Circuit Pipe And Silencer Combo | 0851725 |
| Pro Circuit Pipe And Silencer Combo | PS98250P |
| Pro Circuit Pipe And Silencer Combo | PT02050P |
| Pro Circuit Pipe And Silencer Combo | PH89125P |
| Pro Circuit Pipe And Silencer Combo | PS92125P |
| Pro Circuit Pipe And Silencer Combo | PK89500P-02 |
| Pro Circuit Pipe And Silencer Combo | PS01125P |
| Pro Circuit Pipe And Silencer Combo | 0851385 |
| Pro Circuit Pipe And Silencer Combo | 0751665 |
| Pro Circuit Pipe And Silencer Combo | PT03250 |
| Pro Circuit Pipe And Silencer Combo | 0751125 |
| Pro Circuit Pipe And Silencer Combo | 0751385 |
| Pro Circuit Pipe And Silencer Combo | PY93250P2 |
| Pro Circuit Pipe And Silencer Combo | PK03250P2 |
| Pro Circuit Pipe And Silencer Combo | 0751912 |
| Pro Circuit Pipe And Silencer Combo | PK99250P |
| Pro Circuit Pipe And Silencer Combo | PT09050P |
| Pro Circuit Pipe And Silencer Combo | 0851125 |
| Pro Circuit Pipe And Silencer Combo | PY99250P |
| Pro Circuit Pipe And Silencer Combo | PS02125P |
| Pro Circuit Pipe And Silencer Combo | PS96125P |
| Pro Circuit Pipe And Silencer Combo | PY96250P |
| Pro Circuit Pipe And Silencer Combo | PK99125P |
| Pro Circuit Pipe And Silencer Combo | PS90250P |
| Pro Circuit Pipe And Silencer Combo | PQY87350P |
| Pro Circuit Pipe And Silencer Combo | PH90125P |
| Pro Circuit Pipe And Silencer Combo | PT09150P |
| Pro Circuit Pipe And Silencer Combo | PK04125P |
| Pro Circuit Pipe And Silencer Combo | PH95250P |
| Pro Circuit Pipe And Silencer Combo | PH02250P |
| Pro Circuit Pipe And Silencer Combo | PH01125P |
| Pro Circuit Pipe And Silencer Combo | 0881250 |
| Pro Circuit Pipe And Silencer Combo | PH97250P |
| Pro Circuit Pipe And Silencer Combo | PK03250P |
| Pro Circuit Pipe And Silencer Combo | PY05125P |
| Pro Circuit Pipe And Silencer Combo | PQS87080P |
| Pro Circuit Pipe And Silencer Combo | PS04250 |
| Pro Circuit Pipe And Silencer Combo | PY02085 |
| Pro Circuit Pipe And Silencer Combo | PY05125 |
| Pro Circuit Pipe And Silencer Combo | PT09065 |
| Pro Circuit Pipe And Silencer Combo | PK02065 |
| Pro Circuit Pipe And Silencer Combo | PK89500P2 |
| Pro Circuit Pipe And Silencer Combo | PH05250 |
| Pro Circuit Pipe And Silencer Combo | PT03250P2 |
| Pro Circuit Pipe And Silencer Combo | PT09065P |
| Pro Circuit Pipe And Silencer Combo | 0951125 |
| Pro Circuit Pipe And Silencer Combo | PH89500P |
| Pro Circuit Pipe And Silencer Combo | PS93125P |
| Pro Circuit Pipe And Silencer Combo | 0721485 |
| Pro Circuit Pipe And Silencer Combo | PK04250 |
| Pro Circuit Pipe And Silencer Combo | PT04300P2 |
| Pro Circuit Pipe And Silencer Combo | PH03250P2 |
| Pro Circuit Pipe And Silencer Combo | 0721665 |
| Pro Circuit Pipe And Silencer Combo | 0821665 |
| Pro Circuit Pipe And Silencer Combo | PY03125P |
| Pro Circuit Pipe And Silencer Combo | 0861985 |
| Pro Circuit Pipe And Silencer Combo | PT04085P |
| Pro Circuit Pipe And Silencer Combo | PY84490P |
| Pro Circuit Pipe And Silencer Combo | PS02250P |
| Pro Circuit Pipe And Silencer Combo | PS99250P |
| Pro Circuit Pipe And Silencer Combo | PS04250P |
| Pro Circuit Pipe And Silencer Combo | PY02085P |
| Pro Circuit Pipe And Silencer Combo | PK01125P |
| Pro Circuit Pipe And Silencer Combo | PQY88200P |
| Pro Circuit Pipe And Silencer Combo | PT03250P |
| Pro Circuit Pipe And Silencer Combo | PT00250P |
| Pro Circuit Pipe And Silencer Combo | PH03085P |
| Pro Circuit Pipe And Silencer Combo | 0851212 |
| Pro Circuit Pipe And Silencer Combo | PK01250P |
| Pro Circuit Pipe And Silencer Combo | 0821085 |
| Pro Circuit Pipe And Silencer Combo | PH04125P |
| Pro Circuit Pipe And Silencer Combo | N/A |
| Pro Circuit Pipe And Silencer Combo | 0751925 |
| Pro Circuit Pipe And Silencer Combo | PH05085P |
| Pro Circuit Pipe And Silencer Combo | 0751725 |
| Pro Circuit Pipe And Silencer Combo | PH03125P |
| Pro Circuit Pipe And Silencer Combo | 0751812 |
| Pro Circuit Pipe And Silencer Combo | PK04125 |
| Pro Circuit Pipe And Silencer Combo | 0781250 |
| Pro Circuit Pipe And Silencer Combo | PS04250P2 |
| Pro Circuit Pipe And Silencer Combo | PS02085P |
| Pro Circuit Pipe And Silencer Combo | PH03250 |
| Pro Circuit Pipe And Silencer Combo | PY04125P |
| Pro Circuit Pipe And Silencer Combo | PK95250P |
| Pro Circuit Pipe And Silencer Combo | PT09085P |
| Pro Circuit Pipe And Silencer Combo | PH89250P |
| Pro Circuit Pipe And Silencer Combo | PY95250P |
| Pro Circuit Pipe And Silencer Combo | PQH86250P |
| Pro Circuit Pipe And Silencer Combo | PH05085 |
| Pro Circuit Pipe And Silencer Combo | PH01250 |
| Pro Circuit Pipe And Silencer Combo | PH02250 |
| Pro Circuit Pipe And Silencer Combo | PY05250P2 |
| Pro Circuit Pipe And Silencer Combo | PK04250P2 |
| Pro Circuit Pipe And Silencer Combo | PT09300P2 |
| Pro Circuit Pipe And Silencer Combo | PT09050 |
| Pro Circuit Pipe And Silencer Combo | PT02065 |
| Pro Circuit Pipe And Silencer Combo | PK02250P |
| Pro Circuit Pipe And Silencer Combo | PK95200DP2 |
Silencer
| Product Variant | Manufacturer Part # |
| --- | --- |
| Pro Circuit Pipe And Silencer Combo | SY93080SE |
| Pro Circuit Pipe And Silencer Combo | SY00250SE |
| Pro Circuit Pipe And Silencer Combo | SS96250-SE |
| Pro Circuit Pipe And Silencer Combo | SH90250304 |
| Pro Circuit Pipe And Silencer Combo | 1351125 |
| Pro Circuit Pipe And Silencer Combo | SH96080296 |
| Pro Circuit Pipe And Silencer Combo | 1061725 |
| Pro Circuit Pipe And Silencer Combo | SS89080296 |
| Pro Circuit Pipe And Silencer Combo | 1051725 |
| Pro Circuit Pipe And Silencer Combo | 1161985 |
| Pro Circuit Pipe And Silencer Combo | ST09065-SE |
| Pro Circuit Pipe And Silencer Combo | SS89080304 |
| Pro Circuit Pipe And Silencer Combo | ST09050RE |
| Pro Circuit Pipe And Silencer Combo | SQH86250304 |
| Pro Circuit Pipe And Silencer Combo | 1061985 |
| Pro Circuit Pipe And Silencer Combo | 1051912 |
| Pro Circuit Pipe And Silencer Combo | 1121485 |
| Pro Circuit Pipe And Silencer Combo | SK99250RE |
| Pro Circuit Pipe And Silencer Combo | ST98200296 |
| Pro Circuit Pipe And Silencer Combo | ST02050-RE |
| Pro Circuit Pipe And Silencer Combo | SS02250296 |
| Pro Circuit Pipe And Silencer Combo | ST98125296 |
| Pro Circuit Pipe And Silencer Combo | 1351612 |
| Pro Circuit Pipe And Silencer Combo | SK03250-296 |
| Pro Circuit Pipe And Silencer Combo | SQY88200304 |
| Pro Circuit Pipe And Silencer Combo | 1351212 |
| Pro Circuit Pipe And Silencer Combo | SY97250304 |
| Pro Circuit Pipe And Silencer Combo | SK02065304 |
| Pro Circuit Pipe And Silencer Combo | ST04125SE |
| Pro Circuit Pipe And Silencer Combo | SY02125SE |
| Pro Circuit Pipe And Silencer Combo | 1051130 |
| Pro Circuit Pipe And Silencer Combo | SH89250304 |
| Pro Circuit Pipe And Silencer Combo | SY00125SE |
| Pro Circuit Pipe And Silencer Combo | SY96250SE |
| Titanium | 1131425K |
| Pro Circuit Pipe And Silencer Combo | 1181250 |
| Pro Circuit Pipe And Silencer Combo | SS02125SE |
| Pro Circuit Pipe And Silencer Combo | 1051612 |
| Pro Circuit Pipe And Silencer Combo | SK95200DSE |
| Pro Circuit Pipe And Silencer Combo | 1031985 |
| Pro Circuit Pipe And Silencer Combo | SS01250SE |
| Pro Circuit Pipe And Silencer Combo | SH91500SE |
| Pro Circuit Pipe And Silencer Combo | SS99250SE |
| Pro Circuit Pipe And Silencer Combo | 1351912 |
| Pro Circuit Pipe And Silencer Combo | ST04085SE |
| Titanium | 1151725K |
| Pro Circuit Pipe And Silencer Combo | SH00125SE |
| Pro Circuit Pipe And Silencer Combo | SK99250SE |
| Pro Circuit Pipe And Silencer Combo | SY02125296 |
| Titanium | 1161985K |
| Pro Circuit Pipe And Silencer Combo | 1151925 |
| Pro Circuit Pipe And Silencer Combo | ST02065R |
| Pro Circuit Pipe And Silencer Combo | ST04125-296 |
| Pro Circuit Pipe And Silencer Combo | SH00250SE |
| Pro Circuit Pipe And Silencer Combo | SH00250RE |
| Pro Circuit Pipe And Silencer Combo | ST03250SE |
| Pro Circuit Pipe And Silencer Combo | SK95250SE |
| Pro Circuit Pipe And Silencer Combo | SY93080RE |
| Titanium | 1151485K |
| Titanium | 1131985K |
| Pro Circuit Pipe And Silencer Combo | SS89250304 |
| Pro Circuit Pipe And Silencer Combo | SK03125RE |
| Pro Circuit Pipe And Silencer Combo | ST04300SE |
| Pro Circuit Pipe And Silencer Combo | SH02250296 |
| Pro Circuit Pipe And Silencer Combo | SY88250304 |
| Pro Circuit Pipe And Silencer Combo | SH02250SE |
| Pro Circuit Pipe And Silencer Combo | SY02250RE |
| Pro Circuit Pipe And Silencer Combo | 1051125 |
| Pro Circuit Pipe And Silencer Combo | SH91125-SE |
| Pro Circuit Pipe And Silencer Combo | SK00065-304 |
| Pro Circuit Pipe And Silencer Combo | 10101430 |
| Pro Circuit Pipe And Silencer Combo | SY93250SE |
| Pro Circuit Pipe And Silencer Combo | SS02250SE |
| Pro Circuit Pipe And Silencer Combo | 1181265 |
| Pro Circuit Pipe And Silencer Combo | SS02125296 |
| Pro Circuit Pipe And Silencer Combo | ST03250296 |
| Pro Circuit Pipe And Silencer Combo | SK99125SE |
| Pro Circuit Pipe And Silencer Combo | 1151612 |
| Pro Circuit Pipe And Silencer Combo | ST98250296 |
| Titanium | 1151412K |
| Pro Circuit Pipe And Silencer Combo | SH91500296 |
| Pro Circuit Pipe And Silencer Combo | SK02065R |
| Pro Circuit Pipe And Silencer Combo | 1161725 |
| Titanium | 1121485K |
| Pro Circuit Pipe And Silencer Combo | SH02250RE |
| Titanium | 1131412K |
| Pro Circuit Pipe And Silencer Combo | ST09065RE |
| Pro Circuit Pipe And Silencer Combo | SY03250296 |
| Pro Circuit Pipe And Silencer Combo | SK03250RE |
| Pro Circuit Pipe And Silencer Combo | SK95200D-296 |
| Titanium | 1151425K |
| Pro Circuit Pipe And Silencer Combo | SY99250SE |
| Pro Circuit Pipe And Silencer Combo | 1151725 |
| Pro Circuit Pipe And Silencer Combo | SK92080-304 |
| Pro Circuit Pipe And Silencer Combo | SY98250SE |
| Pro Circuit Pipe And Silencer Combo | SQY87350SE |
| Pro Circuit Pipe And Silencer Combo | SQS87080304 |
| Pro Circuit Pipe And Silencer Combo | SH04250SE |
| Pro Circuit Pipe And Silencer Combo | SH92250SE |
| Pro Circuit Pipe And Silencer Combo | 1361725 |
| Pro Circuit Pipe And Silencer Combo | SH93125SE |
| Pro Circuit Pipe And Silencer Combo | SH98125RE |
| Pro Circuit Pipe And Silencer Combo | 1351130 |
| Pro Circuit Pipe And Silencer Combo | SS01125RE |
| Pro Circuit Pipe And Silencer Combo | 1051665 |
| Pro Circuit Pipe And Silencer Combo | ST09085RE |
| Pro Circuit Pipe And Silencer Combo | ST98125SE |
| Pro Circuit Pipe And Silencer Combo | SY03250RE |
| Pro Circuit Pipe And Silencer Combo | 13101430 |
| Pro Circuit Pipe And Silencer Combo | ST04085-296 |
| Pro Circuit Pipe And Silencer Combo | 1051212 |
| Pro Circuit Pipe And Silencer Combo | 1351725 |
| Pro Circuit Pipe And Silencer Combo | SK03125-296 |
| Pro Circuit Pipe And Silencer Combo | 1351665 |
| Titanium | 1121465 |
| Pro Circuit Pipe And Silencer Combo | SY03250SE |
| Pro Circuit Pipe And Silencer Combo | SH99250SE |
| Pro Circuit Pipe And Silencer Combo | SY84490304 |
| Pro Circuit Pipe And Silencer Combo | SS02250RE |
| Pro Circuit Pipe And Silencer Combo | 1051925 |
| Pro Circuit Pipe And Silencer Combo | SS04250RE |
| Pro Circuit Pipe And Silencer Combo | SH96080SE |
| Pro Circuit Pipe And Silencer Combo | SS02125RE |
| Titanium | 1151912K |
| Pro Circuit Pipe And Silencer Combo | SS93125304 |
| Pro Circuit Pipe And Silencer Combo | SK05250296 |
| Pro Circuit Pipe And Silencer Combo | 1151525 |
| Pro Circuit Pipe And Silencer Combo | SH02125296 |
| Pro Circuit Pipe And Silencer Combo | 1151212 |
| Pro Circuit Pipe And Silencer Combo | SK98080296 |
| Pro Circuit Pipe And Silencer Combo | SH89500SE |
| Pro Circuit Pipe And Silencer Combo | SY00125RE |
| Titanium | 1161725K |
| Pro Circuit Pipe And Silencer Combo | SH00125RE |
| Pro Circuit Pipe And Silencer Combo | ST98250SE |
| Pro Circuit Pipe And Silencer Combo | SK00065R |
| Pro Circuit Pipe And Silencer Combo | 1151550 |
| Pro Circuit Pipe And Silencer Combo | SY00250RE |
| Pro Circuit Pipe And Silencer Combo | SS89125304 |
| Pro Circuit Pipe And Silencer Combo | SY02125RE |
| Pro Circuit Pipe And Silencer Combo | 1151925K |
| Pro Circuit Pipe And Silencer Combo | 1151725  |
| Pro Circuit Pipe And Silencer Combo | 1361985 |
| Pro Circuit Pipe And Silencer Combo | ST04300296 |
| Pro Circuit Pipe And Silencer Combo | SH02125SE |
| Pro Circuit Pipe And Silencer Combo | SY93080296 |
| Pro Circuit Pipe And Silencer Combo | SS04250SE |
| Pro Circuit Pipe And Silencer Combo | 1351925 |
| Pro Circuit Pipe And Silencer Combo | SK03250SE |
| Pro Circuit Pipe And Silencer Combo | SH97250SE |
| Pro Circuit Pipe And Silencer Combo | SK88500304 |
| Pro Circuit Pipe And Silencer Combo | SK03125SE |
| Pro Circuit Pipe And Silencer Combo | 1331985 |
| Pro Circuit Pipe And Silencer Combo | SK05250SE |
| Pro Circuit Pipe And Silencer Combo | SH89125304 |
| Pro Circuit Pipe And Silencer Combo | SK98080304 |
| Pro Circuit Pipe And Silencer Combo | ST09085-SE |
| Pro Circuit Pipe And Silencer Combo | SS96125SE |
| Pro Circuit Pipe And Silencer Combo | 1151912 |
| Pro Circuit Pipe And Silencer Combo | SY91250304 |
| Pro Circuit Pipe And Silencer Combo | SH96080RE |
| Pro Circuit Pipe And Silencer Combo | 1051525 |
| Pro Circuit Pipe And Silencer Combo | ST04125RE |
| Pro Circuit Pipe And Silencer Combo | SH93125RE |
| Pro Circuit Pipe And Silencer Combo | SH04250RE |
| Pro Circuit Pipe And Silencer Combo | SS89080R |
| Pro Circuit Pipe And Silencer Combo | SH02125RE |
| Pro Circuit Pipe And Silencer Combo | SK05250RE |
| Pro Circuit Pipe And Silencer Combo | SS96125RE |
| Titanium | 1151665K |
| Pro Circuit Pipe And Silencer Combo | SK99125RE |