FMF
FMF Powercore 4 Slip-On Exhaust - 4-Stroke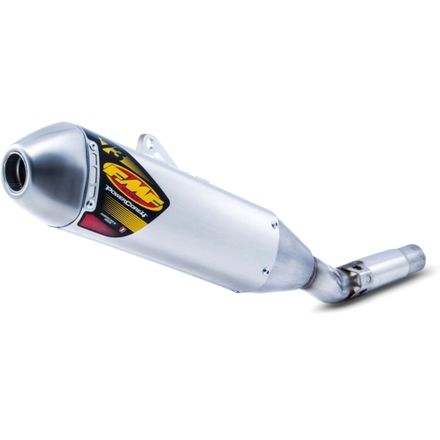 FMF Powercore 4 Slip-On Exhaust - 4-Stroke
---
10% Off - Save up to $35.00
---
5 Star
106
4 Star
14
3 Star
0
2 Star
0
1 Star
1
Write a Review
Write your review and you'll automatically be entered in our monthly drawing. Include an image or video to DOUBLE your chances to win!
Write Your Review
1 month 4 days ago
Montana
Easy install. Great upgrade
Affordable power upgrade. Quality product.
1 month 5 days ago
Willow creek Ca
Great sound
Super easy install and a great sound ! Fits my 2005 400 exc perfect
1 month 8 days ago
west by god Virginia
Great product !
perfect fit and function and lets not forget why it was purchased great sound and performance !!!!
1 month 20 days ago
Tucson, AZ
Easy Install
I spent 45 minutes watch videos on how to install and it only took me about 10 minutes to actually install the pipe. Very simple process. Sounds great.....
3 months ago
Fort Worth Texas.
FMF 4 stroke exhaust
It finally went on sale! Worth wait!
3 months 1 day ago
Snohomish,WA
Loud but so worth it
Ive been using it for three weeks, instantly noticed the torque increase
3 months 5 days ago
Sterling,oh
16 drz 400sm
Awsome pipe, looks really good. Made awesome power for bottom and mid range. For top end u atleast have a little bit more or stock. Great sound only disappointed in that u can't use ur heat shield with this pipe.
3 months 7 days ago
DFW TX
Excellent product for XR250R
Very nice pipe that saves weight and increases low and mid-range power, when the bike is uncorked and jetted. The fit was perfect with no issues. Also sounds great!
3 months 12 days ago
Oregon
Power core 4 for xt 250
Easy installed, great performance. Half the weight of stock.
Worth the money!
A small power increase and awesome sound.
See all bikes that this part fits...
| Product Variant | Manufacturer Part # |
| --- | --- |
| FMF Powercore 4 Slip-On Exhaust - 4-Stroke | 043095 |
| FMF Powercore 4 Slip-On Exhaust - 4-Stroke | 041269 |
| FMF Powercore 4 Slip-On Exhaust - 4-Stroke | 041025 |
| FMF Powercore 4 Slip-On Exhaust - 4-Stroke | 045233 |
| FMF Powercore 4 Slip-On Exhaust - 4-Stroke | 041048 |
| FMF Powercore 4 Slip-On Exhaust - 4-Stroke | 041284 |
| FMF Powercore 4 Slip-On Exhaust - 4-Stroke | 041273 |
| FMF Powercore 4 Slip-On Exhaust - 4-Stroke | 041274 |
| FMF Powercore 4 Slip-On Exhaust - 4-Stroke | 041377 |
| FMF Powercore 4 Slip-On Exhaust - 4-Stroke | 041004 |
| FMF Powercore 4 Slip-On Exhaust - 4-Stroke | 041036 |
| FMF Powercore 4 Slip-On Exhaust - 4-Stroke | 041276 |
| FMF Powercore 4 Slip-On Exhaust - 4-Stroke | 041346 |
| FMF Powercore 4 Slip-On Exhaust - 4-Stroke | 043006 |
| FMF Powercore 4 Slip-On Exhaust - 4-Stroke | 043012 |
| FMF Powercore 4 Slip-On Exhaust - 4-Stroke | 043010 |
| FMF Powercore 4 Slip-On Exhaust - 4-Stroke | 042148 |
| FMF Powercore 4 Slip-On Exhaust - 4-Stroke | 042161 |
| FMF Powercore 4 Slip-On Exhaust - 4-Stroke | 042246 |
| FMF Powercore 4 Slip-On Exhaust - 4-Stroke | 042000 |
| FMF Powercore 4 Slip-On Exhaust - 4-Stroke | 043011 |
| FMF Powercore 4 Slip-On Exhaust - 4-Stroke | 045135 |
| FMF Powercore 4 Slip-On Exhaust - 4-Stroke | 045134 |
| FMF Powercore 4 Slip-On Exhaust - 4-Stroke | 045011 |
| FMF Powercore 4 Slip-On Exhaust - 4-Stroke | 042122 |
| FMF Powercore 4 Slip-On Exhaust - 4-Stroke | 042123 |
| FMF Powercore 4 Slip-On Exhaust - 4-Stroke | 043210 |
| FMF Powercore 4 Slip-On Exhaust - 4-Stroke | 045033 |
| FMF Powercore 4 Slip-On Exhaust - 4-Stroke | 044263 |
| FMF Powercore 4 Slip-On Exhaust - 4-Stroke | 044101 |
| FMF Powercore 4 Slip-On Exhaust - 4-Stroke | 044016 |
| FMF Powercore 4 Slip-On Exhaust - 4-Stroke | 044022 |
| FMF Powercore 4 Slip-On Exhaust - 4-Stroke | 044295 |
| FMF Powercore 4 Slip-On Exhaust - 4-Stroke | 043140 |
| FMF Powercore 4 Slip-On Exhaust - 4-Stroke | 043136 |
| FMF Powercore 4 Slip-On Exhaust - 4-Stroke | 043220 |
| FMF Powercore 4 Slip-On Exhaust - 4-Stroke | 045133 |
| FMF Powercore 4 Slip-On Exhaust - 4-Stroke | 041327 |
| FMF Powercore 4 Slip-On Exhaust - 4-Stroke | 044015 |
| FMF Powercore 4 Slip-On Exhaust - 4-Stroke | 044215 |
| FMF Powercore 4 Slip-On Exhaust - 4-Stroke | 044436 |
| FMF Powercore 4 Slip-On Exhaust - 4-Stroke | 041020 |
| FMF Powercore 4 Slip-On Exhaust - 4-Stroke | 041021 |
| FMF Powercore 4 Slip-On Exhaust - 4-Stroke | 041022 |
| FMF Powercore 4 Slip-On Exhaust - 4-Stroke | 041023 |
| FMF Powercore 4 Slip-On Exhaust - 4-Stroke | 041425 |
| FMF Powercore 4 Slip-On Exhaust - 4-Stroke | 044313 |
| FMF Powercore 4 Slip-On Exhaust - 4-Stroke | 044300 |
| FMF Powercore 4 Slip-On Exhaust - 4-Stroke | 044224 |
| FMF Powercore 4 Slip-On Exhaust - 4-Stroke | 044013 |
| FMF Powercore 4 Slip-On Exhaust - 4-Stroke | 044228 |
| FMF Powercore 4 Slip-On Exhaust - 4-Stroke | 044014 |
| FMF Powercore 4 Slip-On Exhaust - 4-Stroke | 044220 |
| FMF Powercore 4 Slip-On Exhaust - 4-Stroke | 044222 |
| FMF Powercore 4 Slip-On Exhaust - 4-Stroke | 040005 |
| FMF Powercore 4 Slip-On Exhaust - 4-Stroke | 041032 |
| FMF Powercore 4 Slip-On Exhaust - 4-Stroke | 041244 |
| FMF Powercore 4 Slip-On Exhaust - 4-Stroke | 043024 |
| FMF Powercore 4 Slip-On Exhaust - 4-Stroke | 044021 |
| FMF Powercore 4 Slip-On Exhaust - 4-Stroke | 045010 |
| FMF Powercore 4 Slip-On Exhaust - 4-Stroke | 044141 |
| FMF Powercore 4 Slip-On Exhaust - 4-Stroke | 044312 |
| FMF Powercore 4 Slip-On Exhaust - 4-Stroke | 041364 |
| FMF Powercore 4 Slip-On Exhaust - 4-Stroke | 042318 |
| FMF Powercore 4 Slip-On Exhaust - 4-Stroke | 042319 |
| FMF Powercore 4 Slip-On Exhaust - 4-Stroke | 043284 |
| FMF Powercore 4 Slip-On Exhaust - 4-Stroke | 044110 |
| FMF Powercore 4 Slip-On Exhaust - 4-Stroke | 045266 |
| FMF Powercore 4 Slip-On Exhaust - 4-Stroke | 045430 |