Pro Circuit
Pro Circuit Factory 304 Silencer - 2-Stroke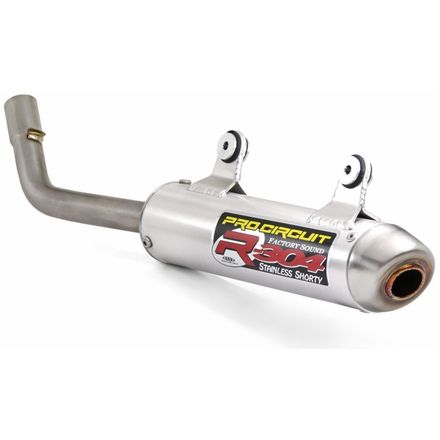 Pro Circuit Factory 304 Silencer - 2-Stroke
---
10% Off - Save up to $25.00
---
5 Star
48
4 Star
13
3 Star
1
2 Star
0
1 Star
0
Write a Review
Write your review and you'll automatically be entered in our monthly drawing. Include an image or video to DOUBLE your chances to win!
Write Your Review
6 days 14 hours ago
Tacoma wa
Perfect fit
Sounds amazing with platinum pipe deep powerful sound best sounding bike on track
1 month 12 days ago
Middletown MD
Good overall
Did not fit exactly, had to fab a little bracket for it to go on right. But it is very sturdy, and has a great sound! I would recommend it to a friend
Great silencer
Sounds as good as it looks
3 months 26 days ago
Pittsburgh pa
Perfect
I bought this a few weeks ago and it sounds great definitely only hear my bike when around others thanks Motorsport
Over 5 months ago
South carolina
Cheapest you can buy
Great sound good all around power
Over 5 months ago
Douglasville ga.
Quality and performance
I feel that procircuit puts out a better performance product than fmf as far as power increases. Fit/alignment was excellent and no issues. Finish was different than past procircuit silencers...more of a brushed look than polished or smooth finish. The brushed finish was the only think I didn't like. Sounds great and I know it's quality. I'm happy with it.
Over 5 months ago
Tyler Texas
Great product
I can always count on Motosport to have the parts I'm needing
Over 6 months ago
las vegas
Fast shipping had out to me next day
fits perfect on my 1994 yz250 just didnt have seal for pipe to sliencer
Over 10 months ago
Nebraska
2001 kx85
I purchased this exhaust because I needed a new one and it is great. I can definitely notice the power difference and it sounds good too.
1 year 10 months ago
San anto
Great...but missing key things
Loved it but wish it came with bushings &/or bolts to hold it on but other than that it's a great product,it comes packed so you don't have to mess with fiberglass packing 9/10
See all bikes that this part fits...
| Product Variant | Manufacturer Part # |
| --- | --- |
| Pro Circuit Factory 304 Silencer - 2-Stroke | 10101430 |
| Pro Circuit Factory 304 Silencer - 2-Stroke | 1051612 |
| Pro Circuit Factory 304 Silencer - 2-Stroke | 1051665 |
| Pro Circuit Factory 304 Silencer - 2-Stroke | 1061725 |
| Pro Circuit Factory 304 Silencer - 2-Stroke | 1061885 |
| Pro Circuit Factory 304 Silencer - 2-Stroke | 1151725 |
| Pro Circuit Factory 304 Silencer - 2-Stroke | 1161885 |
| Pro Circuit Factory 304 Silencer - 2-Stroke | 1051212 |
| Pro Circuit Factory 304 Silencer - 2-Stroke | SH00125SE |
| Pro Circuit Factory 304 Silencer - 2-Stroke | SH02125SE |
| Pro Circuit Factory 304 Silencer - 2-Stroke | SH93125SE |
| Pro Circuit Factory 304 Silencer - 2-Stroke | SH00250SE |
| Pro Circuit Factory 304 Silencer - 2-Stroke | SH02250SE |
| Pro Circuit Factory 304 Silencer - 2-Stroke | SH04250SE |
| Pro Circuit Factory 304 Silencer - 2-Stroke | SH92250SE |
| Pro Circuit Factory 304 Silencer - 2-Stroke | SH97250SE |
| Pro Circuit Factory 304 Silencer - 2-Stroke | SH99250SE |
| Pro Circuit Factory 304 Silencer - 2-Stroke | SH91500SE |
| Pro Circuit Factory 304 Silencer - 2-Stroke | SH96080SE |
| Pro Circuit Factory 304 Silencer - 2-Stroke | ST03250SE |
| Pro Circuit Factory 304 Silencer - 2-Stroke | 1051125 |
| Pro Circuit Factory 304 Silencer - 2-Stroke | ST04085SE |
| Pro Circuit Factory 304 Silencer - 2-Stroke | SK03125SE |
| Pro Circuit Factory 304 Silencer - 2-Stroke | SK99125SE |
| Pro Circuit Factory 304 Silencer - 2-Stroke | SK03250SE |
| Pro Circuit Factory 304 Silencer - 2-Stroke | SK05250SE |
| Pro Circuit Factory 304 Silencer - 2-Stroke | SK95250SE |
| Pro Circuit Factory 304 Silencer - 2-Stroke | SK99250SE |
| Pro Circuit Factory 304 Silencer - 2-Stroke | SK88500304 |
| Pro Circuit Factory 304 Silencer - 2-Stroke | N/A |
| Pro Circuit Factory 304 Silencer - 2-Stroke | SK02065304 |
| Pro Circuit Factory 304 Silencer - 2-Stroke | SK98080304 |
| Pro Circuit Factory 304 Silencer - 2-Stroke | SS02125SE |
| Pro Circuit Factory 304 Silencer - 2-Stroke | SS93125304 |
| Pro Circuit Factory 304 Silencer - 2-Stroke | SS96125SE |
| Pro Circuit Factory 304 Silencer - 2-Stroke | SS01250SE |
| Pro Circuit Factory 304 Silencer - 2-Stroke | SS02250SE |
| Pro Circuit Factory 304 Silencer - 2-Stroke | SS04250SE |
| Pro Circuit Factory 304 Silencer - 2-Stroke | SS96250SE |
| Pro Circuit Factory 304 Silencer - 2-Stroke | SS99250SE |
| Pro Circuit Factory 304 Silencer - 2-Stroke | SS89080304 |
| Pro Circuit Factory 304 Silencer - 2-Stroke | SY00125SE |
| Pro Circuit Factory 304 Silencer - 2-Stroke | SY02125SE |
| Pro Circuit Factory 304 Silencer - 2-Stroke | SY00250SE |
| Pro Circuit Factory 304 Silencer - 2-Stroke | SY03250SE |
| Pro Circuit Factory 304 Silencer - 2-Stroke | SY93250SE |
| Pro Circuit Factory 304 Silencer - 2-Stroke | SY93080SE |
| Pro Circuit Factory 304 Silencer - 2-Stroke | SQY87350SE |
| Pro Circuit Factory 304 Silencer - 2-Stroke | SQY88200304 |
| Pro Circuit Factory 304 Silencer - 2-Stroke | SH89500SE |
| Pro Circuit Factory 304 Silencer - 2-Stroke | SH87500SE |
| Pro Circuit Factory 304 Silencer - 2-Stroke | SS93250XSE |
| Pro Circuit Factory 304 Silencer - 2-Stroke | SQS87080304 |
| Pro Circuit Factory 304 Silencer - 2-Stroke | SH87080304 |
| Pro Circuit Factory 304 Silencer - 2-Stroke | SH87125304 |
| Pro Circuit Factory 304 Silencer - 2-Stroke | SH87250304 |
| Pro Circuit Factory 304 Silencer - 2-Stroke | N/A |
| Pro Circuit Factory 304 Silencer - 2-Stroke | SH89125304 |
| Pro Circuit Factory 304 Silencer - 2-Stroke | SH89250304 |
| Pro Circuit Factory 304 Silencer - 2-Stroke | SH90250304 |
| Pro Circuit Factory 304 Silencer - 2-Stroke | N/A |
| Pro Circuit Factory 304 Silencer - 2-Stroke | SH91250304 |
| Pro Circuit Factory 304 Silencer - 2-Stroke | SK89200D304 |
| Pro Circuit Factory 304 Silencer - 2-Stroke | SK90250SE |
| Pro Circuit Factory 304 Silencer - 2-Stroke | N/A |
| Pro Circuit Factory 304 Silencer - 2-Stroke | SK92250SE |
| Pro Circuit Factory 304 Silencer - 2-Stroke | N/A |
| Pro Circuit Factory 304 Silencer - 2-Stroke | SK95125SE |
| Pro Circuit Factory 304 Silencer - 2-Stroke | SK95200DSE |
| Pro Circuit Factory 304 Silencer - 2-Stroke | SQH86250304 |
| Pro Circuit Factory 304 Silencer - 2-Stroke | SS88125304 |
| Pro Circuit Factory 304 Silencer - 2-Stroke | SS89125304 |
| Pro Circuit Factory 304 Silencer - 2-Stroke | SS89250304 |
| Pro Circuit Factory 304 Silencer - 2-Stroke | SS93250304 |
| Pro Circuit Factory 304 Silencer - 2-Stroke | ST04125SE |
| Pro Circuit Factory 304 Silencer - 2-Stroke | ST04300SE |
| Pro Circuit Factory 304 Silencer - 2-Stroke | ST96300304 |
| Pro Circuit Factory 304 Silencer - 2-Stroke | ST98125SE |
| Pro Circuit Factory 304 Silencer - 2-Stroke | ST98250SE |
| Pro Circuit Factory 304 Silencer - 2-Stroke | ST98380304 |
| Pro Circuit Factory 304 Silencer - 2-Stroke | SY84490304 |
| Pro Circuit Factory 304 Silencer - 2-Stroke | SY85080304 |
| Pro Circuit Factory 304 Silencer - 2-Stroke | SY87125304 |
| Pro Circuit Factory 304 Silencer - 2-Stroke | SY88250304 |
| Pro Circuit Factory 304 Silencer - 2-Stroke | N/A |
| Pro Circuit Factory 304 Silencer - 2-Stroke | N/A |
| Pro Circuit Factory 304 Silencer - 2-Stroke | SY91250304 |
| Pro Circuit Factory 304 Silencer - 2-Stroke | SY93125304 |
| Pro Circuit Factory 304 Silencer - 2-Stroke | SY94125304 |
| Pro Circuit Factory 304 Silencer - 2-Stroke | SY96125SE |
| Pro Circuit Factory 304 Silencer - 2-Stroke | SY96250SE |
| Pro Circuit Factory 304 Silencer - 2-Stroke | SY97250304 |
| Pro Circuit Factory 304 Silencer - 2-Stroke | SY98125SE |
| Pro Circuit Factory 304 Silencer - 2-Stroke | SY98250SE |
| Pro Circuit Factory 304 Silencer - 2-Stroke | SY99125SE |
| Pro Circuit Factory 304 Silencer - 2-Stroke | SY99250SE |
| Pro Circuit Factory 304 Silencer - 2-Stroke | 1051130 |
| Pro Circuit Factory 304 Silencer - 2-Stroke | ST09065-SE |
| Pro Circuit Factory 304 Silencer - 2-Stroke | ST09085-SE |
| Pro Circuit Factory 304 Silencer - 2-Stroke | 1051525 |
| Pro Circuit Factory 304 Silencer - 2-Stroke | 1181250 |
| Pro Circuit Factory 304 Silencer - 2-Stroke | 1181265 |
| Pro Circuit Factory 304 Silencer - 2-Stroke | 1057125�  |