FMF
FMF Q4 Hex Spark Arrestor Slip-On Exhaust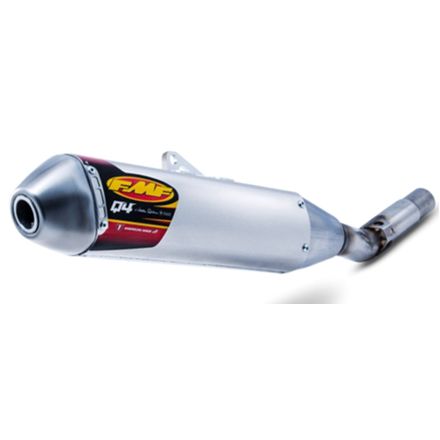 FMF Q4 Hex Spark Arrestor Slip-On Exhaust
---
10% Off - Save up to $39.00
---
5 Star
13
4 Star
1
3 Star
0
2 Star
0
1 Star
0
Write a Review
Write your review and you'll automatically be entered in our monthly drawing. Include an image or video to DOUBLE your chances to win!
Write Your Review
2 months 15 days ago
Nevada City Ca
FMF q4
Great exhaust with a good sound
3 months 13 days ago
Michigan
Awsome product!
I just bought a 2018 rmz250 and put this Q4 S.A. on it and it sounds great. It's a bit more quiet than the stock silencer and fits and looks great.
3 months 15 days ago
Oregon
FMF Q4
Easy to install. Make sure to save stock rubber grommets. They are required for the new install
1 year 5 months ago
San Jose, CA, USA
Great pipe
Super easy to install. And even though its a quiet pipe. It sounds great. Much louder than stock. Power was night and day in difference
1 year 10 months ago
Michigan
Pretty good
I have 2 small annoyances with this product
1. The muffler sticks out much farther than stock and contacts my plastics. Nothing has melted yet though
2. My stock clamp is too large for this pipe. I didn't buy my bike new so it is possible that it wasn't a stock clamp but I doubt it.
Other than that, it's a nice piece, looks well made, quieter than stock.
2 years 3 months ago
Raleigh, nc
Perfect purchase
Motorsport are the best
2 years 11 months ago
Lisbon, Portugal
Great Exhaust
Bought one few months ago and i couldn't be happier. Sounds great, looks nice, and definitely with more power the bike. Recommended!
Over 3 years ago
Phelan, CA
FMF Q4 installed on my 2012 CRF450R
Wanting to trail ride my CRF450R requires that I have a spark arrested pipe, which is what drove my purchase for an aftermarket exhaust. After some research I decided to go with the FMF Q4 slip-on. Reason being that it has both a spark arrestor as well as it is <96dB. Racing in AMA D37 we have to pass sound test, which this pipe accomplishes.

Overall Rating: 5 stars. I am very happy with this pipe.

Ease of Installation: 5 stars. Tools required were an 8mm, 10mm, 12mm sockets, ratchet, ratchet extension, torque wrench, and silicone sealant. You could get away without a torque wrench or silicone sealant but I always work by the book.

Style: 5 stars. This pipe fits perfect. The location of the muffler is perfect under the fender. All gaps are even and the muffler to header fitment is absolutely flush and perfect. At first I thought the pipe was damaged when I received it due to a strange crease about 5 inches back from the header, almost exactly 180° from the mid pipe bolt mount but after calling FMF to confirm before starting the installation I was informed this crease is "the factory bend to clearance the frame" and once installed I could see its purpose. When you unbox this pipe dont let this crease scare you like it did me!

Performance and Power: Both 5 stars. The pipe sounds great. Not stupid loud but still with that sweet 450 bark I like to hear. Powerwise, it is just a muffler, there may be a slight increase but it isn't life changing. I don't care what pipe you run, none will give you unbelievable HP gains but the real benefit is the reduced weight. This muffler is quite a bit lighter.

Overall, if you are looking for a muffler with a spark arrestor, a sweet exhaust note, quality construction, made in the USA, and outstanding fitment I HIGHLY recommend this one.
SethBlanchard
Q: I have a 2018 YZ250F and the stock clamp is too big for the slip on. Any help here?
Dalton
Q: EFI Programmer
If I install this with the Megabomb header, should I go and buy an EFI programmer, or reprogram the injectors? What EFI box do I need or what fuel map do I need to download?
Danno
Q: Could you please identify the difference between the "Q4 HEX" and standard "Q4"
whitey
Q: Is the slip on stamped FOR U.S.F.S. ?
fmf Q4 hex spark arrestor slip-on muffler
maxcrf250l
Q: Is the Q4 Street legal in the EU (Germany)?
Or maybe a hint where/how to best check? Thanks
MotoSportExpert
2 years 4 months ago
A: All products sold on MotoSport.com are for US models only. We unfortunately do not have product fitment for non-us models. Also any street legal products are designed for US emissions and laws.
Johnathon168
Q: I currently have the fmf PowerBomb header on my kx450f and it runs great with no adjustments. Would I have to change or do anything if Added this?
MotoSportExpert
Over 3 years ago
A: Normally when installing a slip-on only minor jetting changes are needed, if any at all. If your bike is currently jetted properly you will likely not have to make any changes after installing this slip-on. I would recommend installing the exhaust and riding the bike to see how it is running then tuning your carburetor from there if necessary.
DirtBikeTimmy
Q: What to go with??
I'm looking for a slip-on but every single exhaust talks about great power gains but there is such a price difference between them all. What are the performance differences between the Q4 and the 4.1 RCT?? In your opinion whats the best bang for your buck overall (rating all slip-ons).
MotoSportExpert
Over 3 years ago
A: The internal combustion engine is very simply put a basic air pump. The more air/fuel you and intake and exhaust from the motor, the more power you will make. HP gains are very subjective to gauge on any one or combination of performance parts. Things like the age of the motor, the tune of the air fuel ratio, the altitude, etc will all have an effect on PEAK HP numbers. Many performance products will not increase your PEAK HP, but rather move the HP to a different RPM range than the stock motor.

The FMF Q4 is designed for quiet forest approved riding. The 4.1 series is the newest and will give you more power than the Q4.
Hansen
Q: Does the 2014 ktm 350sxf and the 2014 husky fc350 "share" exhaust??
MotoSportExpert
Over 3 years ago
A: FMF Racing list the same part number on their FMF Q4 Hex spark arrestor exhaust for both the 2014 KTM 350sxf and Husky FE350 motorcycles.
Gregrock68
Q: Compared to the stock exhaust on my 2014 kx250f, how much quieter is this unit? Using this slip on, would the bike require remapping for the effort?
MotoSportGrantK
Over 4 years ago
A: Your 2014 Kawasaki KX250F's stock exhaust is around 97 decibels. The FMF Q4 Hex Spark Arrestor is going to be around 94 decibels so it will be a little quieter than stock. Normally when installing a slip-on only minor fuel management changes are needed, if any at all. If your bike is currently running properly you will likely not have to make any changes after installing this slip-on. I would recommend installing the exhaust and riding the bike to see how it is running, then tune your fuel management system from there if necessary.
chestnut250
Over 4 years ago
A: It will be a bit quieter, possibly a few dB, which is a difference. Kawasaki changed the 250f exhaust from 2014 to 2015 to meet the AMA amateur mandate of 94dB. Your model ('14) is the louder of the two.

If you are going with just the slip-on no remapping will be required. If you pair it with the mega bomb or a header along those lines it will still run good but remapping would certainly help.
Hondarider
Q: Would this increase performance while keeping it close to stock db's
MotoSportRyanT
Over 4 years ago
A: Yes, the FMF Q4 Hex would be great for increasing performance while still keeping to DB level down.
See all bikes that this part fits...
| Product Variant | Manufacturer Part # |
| --- | --- |
| FMF Q4 Hex Spark Arrestor Slip-On Exhaust | 041568 |
| FMF Q4 Hex Spark Arrestor Slip-On Exhaust | 041570 |
| FMF Q4 Hex Spark Arrestor Slip-On Exhaust | 042341 |
| FMF Q4 Hex Spark Arrestor Slip-On Exhaust | 043363 |
| FMF Q4 Hex Spark Arrestor Slip-On Exhaust | 044442 |
| FMF Q4 Hex Spark Arrestor Slip-On Exhaust | 045442 |
| FMF Q4 Hex Spark Arrestor Slip-On Exhaust | 041486 |
| FMF Q4 Hex Spark Arrestor Slip-On Exhaust | 041479 |
| FMF Q4 Hex Spark Arrestor Slip-On Exhaust | 042296 |
| FMF Q4 Hex Spark Arrestor Slip-On Exhaust | 042297 |
| FMF Q4 Hex Spark Arrestor Slip-On Exhaust | 042298 |
| FMF Q4 Hex Spark Arrestor Slip-On Exhaust | 043325 |
| FMF Q4 Hex Spark Arrestor Slip-On Exhaust | 043345 |
| FMF Q4 Hex Spark Arrestor Slip-On Exhaust | 043326 |
| FMF Q4 Hex Spark Arrestor Slip-On Exhaust | 044387 |
| FMF Q4 Hex Spark Arrestor Slip-On Exhaust | 044426 |
| FMF Q4 Hex Spark Arrestor Slip-On Exhaust | 044388 |
| FMF Q4 Hex Spark Arrestor Slip-On Exhaust | 044413 |
| FMF Q4 Hex Spark Arrestor Slip-On Exhaust | 041516 |
| FMF Q4 Hex Spark Arrestor Slip-On Exhaust | 043338 |
| FMF Q4 Hex Spark Arrestor Slip-On Exhaust | 045556 |
| FMF Q4 Hex Spark Arrestor Slip-On Exhaust | 045590 |
| FMF Q4 Hex Spark Arrestor Slip-On Exhaust | 042328 |
| FMF Q4 Hex Spark Arrestor Slip-On Exhaust | 044398 |
| FMF Q4 Hex Spark Arrestor Slip-On Exhaust | 044435 |
| FMF Q4 Hex Spark Arrestor Slip-On Exhaust | 045565 |
| FMF Q4 Hex Spark Arrestor Slip-On Exhaust | 42346 |
| FMF Q4 Hex Spark Arrestor Slip-On Exhaust | 43361 |