Most Recent Dirt Bike Dual Sport-DOT Tires Reviews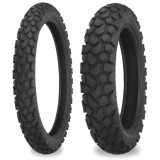 Shinko Dual Sport 700 Tire Combo
Greggipe

- Vancouver WA
Great value
"Excellent street tires. I haven't given them much off-road time yet. I have a bum knee right now."

See all reviews for this product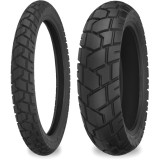 Shinko Dual Sport 705 Tire Combo
Adventure rider

- Wilmington NC
Good on road not so on dirt
"Decent road tire , marginal off road"

See all reviews for this product
Dual Sport Tires
It's not an everyday occurrence but sometimes you'll see a dirt bike pass you. No not on the track or trails, but on the road. Though not ready-made for riding on public highways owners can register their dirt bikes and use their Motocross bike for commuting or getting around local routes just like a regular motorcycle. But you can't use traditional dirt bike tires.
Dirt Bike Dual Sport Tires
Making a dirt bike street legal requires some modifications including installing Department of Transportation (DOT) approved tires. Also known as dual sport, these tires work well on pavement while giving you the traction required when transferring from blacktop to trails. Dual sport tires offer the convenience of legally riding to your trail destination rather than transporting your dirt bike in the back of a truck or trailer.
What are Dual Sport Tires?
So, you may wonder what exactly are dual sport tires and how do they differ from the regular tires I have on my dirt bike? Dual sport tires function well off-road but legally work for travel on public roadways thus the DOT-approved designation. You cannot legally ride a dirt bike or motorcycle on public roads without DOT-approved tires. All dual sport tires have Department of Transportation certification. You won't get the grip a true dirt bike tire gives on the Motocross track but dual sport tires keep you on two-wheels as you cross from dirt to pavement and back again.
Best Dual Sport Tires
MotoSport stocks a range of dirt bike dual sport tires from some of the most well-known and respected manufacturers. Like regular track or trail tires, we offer the option of replacing a front or back tire or grabbing a dual sport tire combo. Most of our available dual sport tires work well on pavement and trails while some cross over to the track. Imagine riding to your race on the very bike you compete on! Check out just a few of the dual sport tire brands we carry:
If you want to transform your dirt bike into a street legal machine you will need more than just dual sport tires. Read How To Make A Dirt Bike Street Legal for more information or call one of our gearheads at 1-888-676-8853 who use dual sport tires on their dirt bikes for commuting to MotoSport and can answer any questions or offer advice on the best DOT-approved dual sport tires for your Motocross bike. We never want you to miss a ride or work! So, we deliver all of our dual sport tires fast and orders more than $79 ship free.