Big Gun
Big Gun Evo R Complete Exhaust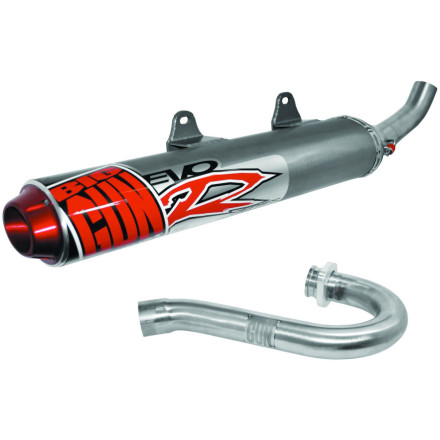 Big Gun Evo R Complete Exhaust
---
10% Off - Save up to $62.00
---
5 Star
22
4 Star
1
3 Star
2
2 Star
1
1 Star
0
1 month 14 days ago
Haiti
Really nice
Very satisfied with this kit. It shows good quality, looks great and the sound is very nice on The Honda TRX700 !!
2 months 27 days ago
Washington
Crisp Sound
I bought this exhaust about a month ago, it was a easy install everything matched up perfectly, the first thing I noticed is the exhaust is set a bit flat, which makes it unique which I loved about it. The best thing that I've noticed is it has a aggressive beefy sound to it that is very distinctive and I've fallen quite in love with, it's a very well made exhaust.
Over 9 months ago
St. Louis, MO, USA
Big gun evo R exhaust
I purchased the big gun evo r exhaust full system it was easy to install and I am super happy with it. This exhaust is loud and has a great growl sound to it I run it with no spark arrest or silencer. Once installed my raptor 350 had to jump up to jet sizes on the main and one on the slow, I had my mechanic retune my carb. I noticed an amazing amount of power increase I love it.
Does not fir 2013 honda
This product is not designed for a 2013 Honda 450r WV though moto sport said it was a exact fit... the header and pipe fits but the mounts do not line up with the brackets on the fourwheeler actually one needs to be cut off to be installed once on it is very nice though looks and sound not a fan of the repacking but oh well...
Worth the buy
This exhaust is well worth the buy. It's on the cheap side for a full system, but that has no effect on performance. This exhaust really opened up the potential power versus that of stock. It bolted up easily and sounds amazing. Would definitely recommend
2 years 8 months ago
Scranton, PA, USA
Big gun evo r slip on for 04 dvx 400
could of went alot smoother. slip on is way bigger than stock head pipe. causing loss of to much air would be nice if they sold the correct fitment for it. after i find fitment it will work like a beats!!
Be warned .. Very loud exhaust !! Great sound and tone on a 2015 can-am Ds450xxc Super tight fit
See all bikes that this part fits...
| Product Variant | Manufacturer Part # |
| --- | --- |
| Big Gun Evo R Complete Exhaust | 09-1343 |
| Big Gun Evo R Complete Exhaust | 09-1323 |
| Big Gun Evo R Complete Exhaust | 09-1433 |
| Big Gun Evo R Complete Exhaust | 10-14503 |
| Big Gun Evo R Complete Exhaust | 09-15503 |
| Big Gun Evo R Complete Exhaust | 09-12513 |
| Big Gun Evo R Complete Exhaust | 09-14513 |
| Big Gun Evo R Complete Exhaust | 09-6453 |
| Big Gun Evo R Complete Exhaust | 09-6613 |
| Big Gun Evo R Complete Exhaust | 09-45503 |
| Big Gun Evo R Complete Exhaust | 09-4633 |
| Big Gun Evo R Complete Exhaust | 09-4313 |
| Big Gun Evo R Complete Exhaust | 09-44523 |
| Big Gun Evo R Complete Exhaust | 09-5463 |
| Big Gun Evo R Complete Exhaust | 09-5473 |
| Big Gun Evo R Complete Exhaust | 09-2523 |
| Big Gun Evo R Complete Exhaust | 09-2513 |
| Big Gun Evo R Complete Exhaust | 10-2703 |
| Big Gun Evo R Complete Exhaust | 09-2613 |
| Big Gun Evo R Complete Exhaust | 09-2663 |
| Big Gun Evo R Complete Exhaust | 09-32113 |
| Big Gun Evo R Complete Exhaust | 09-17003 |
| Big Gun Evo R Complete Exhaust | 09-2213 |
| Big Gun Evo R Complete Exhaust | 09-2223 |
| Big Gun Evo R Complete Exhaust | 09-1613 |
| Big Gun Evo R Complete Exhaust | 09-24603 |
| Big Gun Evo R Complete Exhaust | 09-24703 |
| Big Gun Evo R Complete Exhaust | 09-22603 |
| Big Gun Evo R Complete Exhaust | 09-24513 |
| Big Gun Evo R Complete Exhaust | 09-5413 |
| Big Gun Evo R Complete Exhaust | 09-33113 |
| Big Gun Evo R Complete Exhaust | 09-34113 |
| Big Gun Evo R Complete Exhaust | 09-2673 |
| Big Gun Evo R Complete Exhaust | 09-6213 |