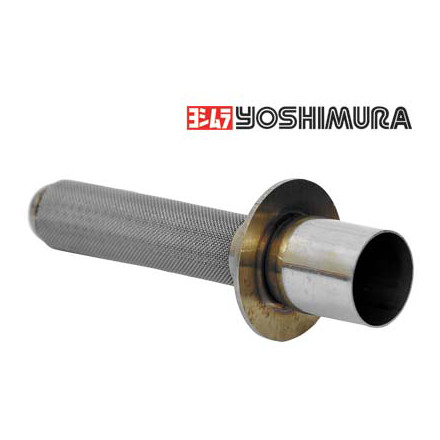 5 Star
4
4 Star
2
3 Star
0
2 Star
1
1 Star
0
Over 7 years ago
st.clair, MI
Good
this spark arrester works great! it takes a little to install however the quality is worth it ! good product!
Won't fit Carbon Fiber unit
Bummers, doesn't fit my Yoshi Carbon Fiber can. Wish they had mentioned that. Besides that painful discovery, unit looks solid, simple and built to last with ease of installaion.
Over 10 years ago
Denver, CO
Noticeable noise reduction
Installed on a 05 LTZ 400/455 with a Yosh RS3 system. I purchased this insert for the spark arrestor and the noise reduction was a huge bonus. I haven't measured the sound, but it's a very noticeable drop. Installed in less than 2 minutes and works great. I primarily ride trails, so I'm not looking for the high end, get every ounce of power performance - my quad ran great. In short, this works as designed and described.
Over 10 years ago
Kendallville, IN
Older Models Not Excepted
BE CAREFUL!!! I recently bought this yoshimura spark arrestor. I have a 2001 model of a yoshimura exhaust. Upon opening the endcap of my pipe i discovered the spark arrestor didn't fit. If you have an older model yoshimura exhaust don't buy this spark arrestor unless you're ready to modify.
Over 11 years ago
New York
It's a Spark Arrestor
It does make your yoshi pipe quieter and obviously is a spark arrestor. I didn't really notice a power loss which was surprising for a quiet core.
It fits perfect and is easy to install; what more do you want out of spark arrestor/quiet core?
Over 11 years ago
PC, Okla.
It is a spark arrestor. Pretty quiet, so quiet I took it out. Works good if you want quiet exhaust.
Over 12 years ago
Hazard County Md
Should have been included in the first place!
Forget about the spark arrestor that comes with the RS3 exhaust, it's opening is smaller than a finger. This spark arrestor will open up your exhaust without catching anyone's attention and sounds great. This should have been the spark arrestor included with this pipe!
rodney
Q: Your picture shows arrestor with no bolt holes in it. i need arrestor for a 2005 honda crf 150f. i assume it will have pre drilled bolt holes . correct?
MikeZ
Q: I have a 2004 YZ450F with a RS3 Off-road will this fit?
JerryGearhead
4 months 13 days ago
A: Yes it will fit, it is for the RS-3, and the TRS.
kenny23
Q: Will this work for a 1983 xr200r
Trevor Gearhead
Over 5 months ago
A: This is not bike specific. It is exhaust specific. It is designed to fit a Yoshimura RS-3 and TRS. Those were not around to my knowledge in 83'
Ray ray
Q: What are the dimensions of it
Paul
Over 8 months ago
A: The Yoshimura Spark Arrestors are model-specific, and made only to fit the exact Yoshimura mufflers intended for each particular motorcycle. The dimensions vary, depending on which motorcycle and muffler the spark arrestor is intended.
If you correctly profile your motorcycle, including the model year, we will send you the specific unit to precisely fit your bike with the Yoshimura muffler.
Thomas
Q: Wil this fit my factory exhuast for my 2001 honda xr100r.thanks.
Thumbs
1 year 3 months ago
A: No, this insert is for Yoshimura exhaust's only. You would need to shop in the OEM section to find the original insert for the factory exhaust.
Larry
Q: Looking for replacement parts for the OEM muffler that will interchange. Somebody took the guts (baffles etc.) out of the muffler before I bought it and it is too loud. It just has the open muffler can. 2006 Yamaha TTR90
rknight
1 year 4 months ago
A: This piece is not for the stock exhaust. The onyl parts that would fit in to the stock exhaust would be the OEM parts which Yamaha does not offer. You would have to buy a whole new exhaust system.
Sam44223
Q: Does this fit a honda 400ex stock exhaust?
Kevin
Q: 2005 CRF 250x
It says it is an exact fit for my stock exhaust but I see in these questions that it doesn't fit many bikes that people asked about. So is it a match or no?
MotoSportExpert
Over 3 years ago
A: This Yoshimura Spark Arrestor Works in both the Yoshimura Pro and Comp Series Exhaust systems with spigot style end cap only. Does not work in a stock exhaust.
riah
Q: Will dis fit rite wit my original muffler its a 84 250xt yahmaha
MotoSportExpert
Over 4 years ago
A: No. The Yoshimura Spark Arrestor Works in the Yoshimura Pro and Comp Series Exhaust systems only.
BIGRUSS
Q: Will this fit the rs5 slip on for lt-r450, the opening is oval?
MotoSportGrantK
Over 5 years ago
A: No, you will need to go with the Yoshimura Spark Arrestor Insert for the RS-5 which you can find here: http://www.motosport.com/atv/Yoshimura-Spark-Arrestor-Insert
See all bikes that this part fits...
| Product Variant | Manufacturer Part # |
| --- | --- |
| Yoshimura Spark Arrestor | TEC-SB-B |