FMF
FMF Fatty Pipe & Powercore 2 Silencer Combo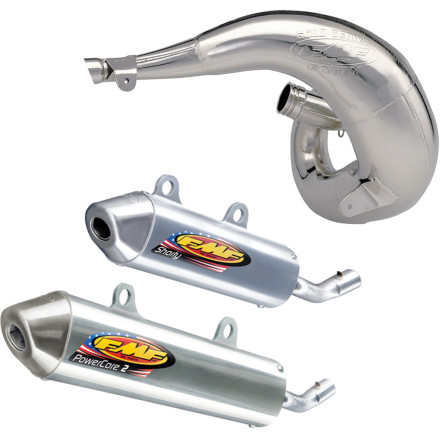 FMF Fatty Pipe & Powercore 2 Silencer Combo
---
11% Off - Save up to $39.00
---
5 Star
37
4 Star
1
3 Star
1
2 Star
2
1 Star
2
Write a Review
Write your review and you'll automatically be entered in our monthly drawing. Include an image or video to DOUBLE your chances to win!
Write Your Review
1 month 13 days ago
kentucky, ky
Easy to navigate the website
i bought a fatty pipe about a month ago and i am very pleased with it still
Awesome combo!
This combo...Fatty pipe and Shorty silencer gave added power across the powerband. Also, I lucked out and only an air screw and idle adjustment was needed. Great products!
3 months 1 day ago
Oregon
Irritated
I bought this 2 weeks ago just got it today the inside of the pipe is all rusted up and there is welding wire inside the pipe and there is a weld berry on where the pipe seats in the cylinder not very happy with the 318 I spend should of went to pro Circuit but I'll live with it just disappointed
3 months 10 days ago
Fairmount Ga
Awesome combo
I purchased this combo and received it quickly I'm happy with the results and will be ordering from motosports again
Changes both power and sound
Best part about the combo is how it increased the rideability of the bike.
The video contains jetting information and some sound clips hitting the powerband.
1 year 11 months ago
Oxford Charter Township, MI, USA
FMF fatty/shorty
installed this on my 2000 yz 125, very easy to install. i was worried i would need to do a bunch of jetting after installing this pipe however after installing it and jumping right on my bike to test it out i noticed my bike ran better without any jetting adjustments and felt like it had more power thru out the powerband. so i left it as it was and still continue to take it to the tracks and its been great! also made my bike sound a bit better id say gave it more of a ping, not everyone likes the good ole two stroke sound but thos that do would appreciate the sound mine puts off after this upgrade. Thanks. ill post a picture of my bike below, dont forget it is a 2000, i have gone thru my bike entirely it attempts to restore and made it compare to the newer bike we see today, let me know what you think!
2 years 2 months ago
San Diego, CA
You can't go wrong
FMF has been around for a long time, with that, The fatty pipe and shorty silencer is the prefect combo for my 2006 Rm250. Fit, finish, sound, and performance are awesome, exactly what I expected from the best in the business
2 years 4 months ago
Beaver pa
Fast
Adds good power! Bottom end is go with a good hit to mid range!
2 years 7 months ago
South Carolina, USA
Rekluse FMF
The Rekluse performs as advertised. Great Product and Excellent Support from Rekluse. Maybe the best MFG support in the parts business. As always FMF products are excellent. I/my family have been in Dirt Bike Racing for 40 years and purchased from numerous suppliers. Motosport is absolutely the best vendor we have purchased from. Pricing, Shipping and Customer support is second to none. If you are not buying from Motorsport you have neglected a great asset.
See all bikes that this part fits...
Pipe
| Product Variant | Manufacturer Part # |
| --- | --- |
| FMF Fatty Pipe & Powercore 2 Silencer Combo | 022034 |
| FMF Fatty Pipe & Powercore 2 Silencer Combo | 024023 |
| FMF Fatty Pipe & Powercore 2 Silencer Combo | 022060 |
| FMF Fatty Pipe & Powercore 2 Silencer Combo | 022006 |
| FMF Fatty Pipe & Powercore 2 Silencer Combo | 020045 |
| FMF Fatty Pipe & Powercore 2 Silencer Combo | 022000 |
| FMF Fatty Pipe & Powercore 2 Silencer Combo | 022040 |
| FMF Fatty Pipe & Powercore 2 Silencer Combo | 022052 |
| FMF Fatty Pipe & Powercore 2 Silencer Combo | 020054 |
| FMF Fatty Pipe & Powercore 2 Silencer Combo | 022015 |
| FMF Fatty Pipe & Powercore 2 Silencer Combo | 022048 |
| FMF Fatty Pipe & Powercore 2 Silencer Combo | 022003 |
| FMF Fatty Pipe & Powercore 2 Silencer Combo | 020050 |
| FMF Fatty Pipe & Powercore 2 Silencer Combo | 025182 |
| FMF Fatty Pipe & Powercore 2 Silencer Combo | 025197 |
| FMF Fatty Pipe & Powercore 2 Silencer Combo | 025150 |
| FMF Fatty Pipe & Powercore 2 Silencer Combo | 025159 |
| FMF Fatty Pipe & Powercore 2 Silencer Combo | 025115 |
| FMF Fatty Pipe & Powercore 2 Silencer Combo | 025145 |
| FMF Fatty Pipe & Powercore 2 Silencer Combo | 025151 |
| FMF Fatty Pipe & Powercore 2 Silencer Combo | 021058 |
| FMF Fatty Pipe & Powercore 2 Silencer Combo | 025052 |
| FMF Fatty Pipe & Powercore 2 Silencer Combo | 025040 |
| FMF Fatty Pipe & Powercore 2 Silencer Combo | 020390 |
| FMF Fatty Pipe & Powercore 2 Silencer Combo | 025019 |
| FMF Fatty Pipe & Powercore 2 Silencer Combo | 020105 |
| FMF Fatty Pipe & Powercore 2 Silencer Combo | 020109 |
| FMF Fatty Pipe & Powercore 2 Silencer Combo | 023037 |
| FMF Fatty Pipe & Powercore 2 Silencer Combo | 020104 |
| FMF Fatty Pipe & Powercore 2 Silencer Combo | 020145 |
| FMF Fatty Pipe & Powercore 2 Silencer Combo | 020150 |
| FMF Fatty Pipe & Powercore 2 Silencer Combo | 024034 |
| FMF Fatty Pipe & Powercore 2 Silencer Combo | 020137 |
| FMF Fatty Pipe & Powercore 2 Silencer Combo | 020143 |
| FMF Fatty Pipe & Powercore 2 Silencer Combo | 020142 |
| FMF Fatty Pipe & Powercore 2 Silencer Combo | 022044 |
| FMF Fatty Pipe & Powercore 2 Silencer Combo | 022012 |
| FMF Fatty Pipe & Powercore 2 Silencer Combo | 020018 |
| FMF Fatty Pipe & Powercore 2 Silencer Combo | 020048 |
| FMF Fatty Pipe & Powercore 2 Silencer Combo | 020015 |
| FMF Fatty Pipe & Powercore 2 Silencer Combo | 020017 |
| FMF Fatty Pipe & Powercore 2 Silencer Combo | 024000 |
| FMF Fatty Pipe & Powercore 2 Silencer Combo | 020014 |
| FMF Fatty Pipe & Powercore 2 Silencer Combo | 020149 |
| FMF Fatty Pipe & Powercore 2 Silencer Combo | 021044 |
| FMF Fatty Pipe & Powercore 2 Silencer Combo | 025073 |
| FMF Fatty Pipe & Powercore 2 Silencer Combo | 021000 |
| FMF Fatty Pipe & Powercore 2 Silencer Combo | 021031 |
| FMF Fatty Pipe & Powercore 2 Silencer Combo | 025060 |
| FMF Fatty Pipe & Powercore 2 Silencer Combo | 024053 |
| FMF Fatty Pipe & Powercore 2 Silencer Combo | 020020 |
| FMF Fatty Pipe & Powercore 2 Silencer Combo | 025069 |
| FMF Fatty Pipe & Powercore 2 Silencer Combo | 021021 |
| FMF Fatty Pipe & Powercore 2 Silencer Combo | 020378 |
| FMF Fatty Pipe & Powercore 2 Silencer Combo | 021048 |
| FMF Fatty Pipe & Powercore 2 Silencer Combo | 021036 |
| FMF Fatty Pipe & Powercore 2 Silencer Combo | 020375 |
| FMF Fatty Pipe & Powercore 2 Silencer Combo | 025119 |
| FMF Fatty Pipe & Powercore 2 Silencer Combo | 021006 |
| FMF Fatty Pipe & Powercore 2 Silencer Combo | 025130 |
| FMF Fatty Pipe & Powercore 2 Silencer Combo | 021040 |
| FMF Fatty Pipe & Powercore 2 Silencer Combo | 025006 |
| FMF Fatty Pipe & Powercore 2 Silencer Combo | 021052 |
| FMF Fatty Pipe & Powercore 2 Silencer Combo | 025088 |
| FMF Fatty Pipe & Powercore 2 Silencer Combo | 020138 |
| FMF Fatty Pipe & Powercore 2 Silencer Combo | 020147 |
| FMF Fatty Pipe & Powercore 2 Silencer Combo | 023059 |
| FMF Fatty Pipe & Powercore 2 Silencer Combo | 024041 |
| FMF Fatty Pipe & Powercore 2 Silencer Combo | 023018 |
| FMF Fatty Pipe & Powercore 2 Silencer Combo | 020107 |
| FMF Fatty Pipe & Powercore 2 Silencer Combo | 023006 |
| FMF Fatty Pipe & Powercore 2 Silencer Combo | 024049 |
| FMF Fatty Pipe & Powercore 2 Silencer Combo | 023055 |
| FMF Fatty Pipe & Powercore 2 Silencer Combo | 023000 |
Silencer
| Product Variant | Manufacturer Part # |
| --- | --- |
| FMF Fatty Pipe & Powercore 2 Silencer Combo | 020270 |
| FMF Fatty Pipe & Powercore 2 Silencer Combo | 020205 |
| FMF Fatty Pipe & Powercore 2 Silencer Combo | 025025 |
| FMF Fatty Pipe & Powercore 2 Silencer Combo | 020210 |
| FMF Fatty Pipe & Powercore 2 Silencer Combo | 023022 |
| FMF Fatty Pipe & Powercore 2 Silencer Combo | 023038 |
| FMF Fatty Pipe & Powercore 2 Silencer Combo | 020241 |
| FMF Fatty Pipe & Powercore 2 Silencer Combo | 025122 |
| FMF Fatty Pipe & Powercore 2 Silencer Combo | 025078 |
| FMF Fatty Pipe & Powercore 2 Silencer Combo | 020208 |
| FMF Fatty Pipe & Powercore 2 Silencer Combo | 020261 |
| FMF Fatty Pipe & Powercore 2 Silencer Combo | 025186 |
| Shorty | 22059 |
| FMF Fatty Pipe & Powercore 2 Silencer Combo | 025160 |
| FMF Fatty Pipe & Powercore 2 Silencer Combo | 025199 |
| FMF Fatty Pipe & Powercore 2 Silencer Combo | 020262 |
| FMF Fatty Pipe & Powercore 2 Silencer Combo | 025180 |
| FMF Fatty Pipe & Powercore 2 Silencer Combo | 020204 |
| FMF Fatty Pipe & Powercore 2 Silencer Combo | 025147 |
| FMF Fatty Pipe & Powercore 2 Silencer Combo | 020259 |
| FMF Fatty Pipe & Powercore 2 Silencer Combo | 020211 |
| FMF Fatty Pipe & Powercore 2 Silencer Combo | 020265 |
| FMF Fatty Pipe & Powercore 2 Silencer Combo | 025053 |
| FMF Fatty Pipe & Powercore 2 Silencer Combo | 024009 |
| FMF Fatty Pipe & Powercore 2 Silencer Combo | 024014 |
| FMF Fatty Pipe & Powercore 2 Silencer Combo | 023026 |
| FMF Fatty Pipe & Powercore 2 Silencer Combo | 020269 |
| FMF Fatty Pipe & Powercore 2 Silencer Combo | 020403 |
| Standard | 023009 |
| FMF Fatty Pipe & Powercore 2 Silencer Combo | 024037 |
| FMF Fatty Pipe & Powercore 2 Silencer Combo | 020290 |
| Standard | 020231 |
| FMF Fatty Pipe & Powercore 2 Silencer Combo | 023021 |
| FMF Fatty Pipe & Powercore 2 Silencer Combo | 022023 |
| FMF Fatty Pipe & Powercore 2 Silencer Combo | 024036 |
| FMF Fatty Pipe & Powercore 2 Silencer Combo | 020233 |
| FMF Fatty Pipe & Powercore 2 Silencer Combo | 022037 |
| FMF Fatty Pipe & Powercore 2 Silencer Combo | 025064 |
| FMF Fatty Pipe & Powercore 2 Silencer Combo | 020236 |
| FMF Fatty Pipe & Powercore 2 Silencer Combo | 025008 |
| FMF Fatty Pipe & Powercore 2 Silencer Combo | 022018 |
| FMF Fatty Pipe & Powercore 2 Silencer Combo | 021010 |
| FMF Fatty Pipe & Powercore 2 Silencer Combo | 025104 |
| FMF Fatty Pipe & Powercore 2 Silencer Combo | 021015 |
| FMF Fatty Pipe & Powercore 2 Silencer Combo | 025102 |
| FMF Fatty Pipe & Powercore 2 Silencer Combo | 020213 |
| FMF Fatty Pipe & Powercore 2 Silencer Combo | 025048 |
| FMF Fatty Pipe & Powercore 2 Silencer Combo | 020215 |
| FMF Fatty Pipe & Powercore 2 Silencer Combo | 025134 |
| FMF Fatty Pipe & Powercore 2 Silencer Combo | 021019 |
| FMF Fatty Pipe & Powercore 2 Silencer Combo | 025135 |
| Standard | 025065 |
| FMF Fatty Pipe & Powercore 2 Silencer Combo | 022019 |
| FMF Fatty Pipe & Powercore 2 Silencer Combo | 025123 |
| FMF Fatty Pipe & Powercore 2 Silencer Combo | 025077 |
| FMF Fatty Pipe & Powercore 2 Silencer Combo | 025144 |
| FMF Fatty Pipe & Powercore 2 Silencer Combo | 020234 |
| FMF Fatty Pipe & Powercore 2 Silencer Combo | 020239 |
| FMF Fatty Pipe & Powercore 2 Silencer Combo | 022009 |
| FMF Fatty Pipe & Powercore 2 Silencer Combo | 022024 |
| FMF Fatty Pipe & Powercore 2 Silencer Combo | 020203 |
| FMF Fatty Pipe & Powercore 2 Silencer Combo | 020237 |
| FMF Fatty Pipe & Powercore 2 Silencer Combo | 023027 |
| FMF Fatty Pipe & Powercore 2 Silencer Combo | 020400 |
| FMF Fatty Pipe & Powercore 2 Silencer Combo | 020268 |
| FMF Fatty Pipe & Powercore 2 Silencer Combo | 020404 |
| FMF Fatty Pipe & Powercore 2 Silencer Combo | 021014 |
| FMF Fatty Pipe & Powercore 2 Silencer Combo | 023011 |
| FMF Fatty Pipe & Powercore 2 Silencer Combo | 020266 |
| FMF Fatty Pipe & Powercore 2 Silencer Combo | 024010 |
| FMF Fatty Pipe & Powercore 2 Silencer Combo | 025046 |
| FMF Fatty Pipe & Powercore 2 Silencer Combo | 024015 |
| FMF Fatty Pipe & Powercore 2 Silencer Combo | 020214 |
| FMF Fatty Pipe & Powercore 2 Silencer Combo | 024019 |
| FMF Fatty Pipe & Powercore 2 Silencer Combo | 020291 |
| FMF Fatty Pipe & Powercore 2 Silencer Combo | 020206 |
| FMF Fatty Pipe & Powercore 2 Silencer Combo | 020264 |
| FMF Fatty Pipe & Powercore 2 Silencer Combo | 020289 |
| FMF Fatty Pipe & Powercore 2 Silencer Combo | 021009 |
| FMF Fatty Pipe & Powercore 2 Silencer Combo | 025187 |
| FMF Fatty Pipe & Powercore 2 Silencer Combo | 020263 |