FMF
FMF 2-Stroke Silencer Packing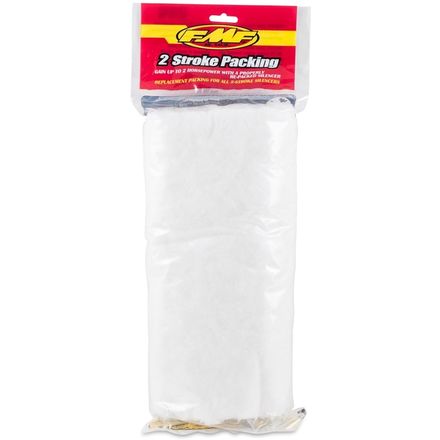 FMF 2-Stroke Silencer Packing
5 Star
76
4 Star
9
3 Star
3
2 Star
0
1 Star
1
Over 6 months ago
Monroe, MI
Very simple instructions
Very good easy to follow instructions. Very simple to do on FMF Powercore 2 silencer.
Over 6 months ago
Eastanollee, Ga
This is a good product
This packing does just what it was designed to do, it works very well.
Over 7 months ago
Oklahoma
Great product
Came with more than enough to do a pro circuit silencer. After installation I noticed a big improvement in power and throttle response. Very pleased!
Repack more often than not
Not much to say about this. It's a bag of packing, helps quiet down the bike and get that nice crisp sound back.
1 year 3 months ago
Papillion, Nebraska
Meets and Exceeds Expectations
Ordered the repacking material and a top end rebuild kit on Wednesday and everything arrived well packaged on Saturday evening. After watching a brief YouTube video on how to properly repack the silencer I was finished in about 10 minutes.

After rebuilding the CR250 on Sunday the engine runs great and sounds perfect! Everything meet or exceeded my expectations.

I've used Motorsport since around 2008 and I've never been disappointed in an item I've purchased or their customer service! They have become my primary online parts store for all my dirt bike needs.
1 year 6 months ago
Portland, OR, USA
Works darn good
Well it is exhaust packing so not much to say but after I put it on my bike sounded totally different in a lot more tolerable. Notheing worse than a 2 stroke with a blown out silencer
1 year 10 months ago
Brighton, mi
Must have
Do it once a year, should change it more but oh well great stuff wear gloves
1 year 10 months ago
Florida
Not enough material
Bought this for my fmf shorty and there wasn't near enough material to repack the silencer. It was comparable to wrapping a napkin around it. Luckily the old packing was salvageable. Will not recommend.
houstons4
Q: Will I have to cut this to fit a TITANIUM POWERCORE 2.1 SHORTY or is it designed for the shorty?
Paul
Over 9 months ago
A: The FMF 2-Stroke Silencer Packing is for all FMF mufflers and silencers. It can be cut with scissors.
Jake
Q: Will this be enough packing material to completely repack my 2017 YZ-125 stock silencer?
Trevor Gearhead
Over 10 months ago
A: Yes!
Windham
Q: Will it fit a stock 2004 jr 80 muffler
TwostrokeRebellion
Q: Will it fit a 1998 Suzuki rm125 stock silencer?
MotoSportExpert
Over 3 years ago
A: Yes the FMF 2-Stroke Silencer Packing should work great on your 1998 Suzuki rm125 stock silencer.
Yarz
Over 3 years ago
A: Yes. Cut it to length, roll it onto the inner silencer pipe, tape in place and reinstall the pipe
Ryan
Q: 1997 CR250 Pro Circuit Muffler
Will this repacking work in my cr250 with a pro circuit silencer?
MotoSportExpert
Over 3 years ago
A: Yes the FMF 2-Stroke Silencer Packing will work great on your 1997 Honda CR250 PC silencer.
bulaia
Verified Purchaser
Top 500
Over 3 years ago
A: yes
sheldon
Q: Stupid question but will 4t packing work in a 2 stroke
TWrecks
Over 4 years ago
A: Yes, the 4 stroke packing is fine for use in a 2 stroke silencer, but not the other way around. Only use 4 stroke packing in a 4 stroke silencer.
Motoracer
Q: Will this fit my stock rm85 pipe
MotoSportExpert
Over 4 years ago
A: Yes this packing will work great on any brand of 2-stroke silencer.
TWrecks
Over 4 years ago
A: Absolutely! You will likely have quite a bit left over. And depending on the exact size of your silencer, and how you cut it, there may be enough to repack it again when the time comes. Lucky you.
Zakk
Q: Will this fmf packing work with a fmf short?
I have a FMF shorty pipe will this packing work with it?
Nick
Over 5 years ago
A: Yes it's plenty long. You will need to trim it down to fit
MotoSportRyanT
Over 5 years ago
A: Yes, this would perfectly with your Shorty Silencer. You will likely have extra packing since this would also work for the standard length FMF Powercore as well.
Yzed85rida
Q: I was just wondering of this came with the silicone? Thanks.
MotoSportRyanT
Over 5 years ago
A: No. There is not silicone included with the packing. You should be able to use any High-Temp Silicone that you would find at your local hardware or auto-supply store.
budswr400
Over 5 years ago
A: No mine only came with the packing.
doane
Q: How to repack FMF Silencer
MotoSportExpert
Over 5 years ago
A: First the outer can must be removed to gain access to the inner core. Typically this is done by either removing the screws or drilling the rivets(whichever your particular exhaust has) on the inlet side of the silencer. Once those are removed, you will be able to remove the outer portion or can of the silencer. You will need to remove all packing that still resides in the can and from around the core. The silencer packing comes in a large sheet and will need to be cut to length for the length of the core. After cutting the packing, you simply roll the packing up around the core snugly and reassemble the silencer. If you do a silencer repack search on youtube, there are a few that you can watch that will also help show you how to do it.
See all bikes that this part fits...
| Product Variant | Manufacturer Part # |
| --- | --- |
| FMF 2-Stroke Silencer Packing | 010589 |
California Proposition 65
WARNING: This product contains chemicals known to the State of California to cause cancer, and birth defects or other reproductive harm. Wash hands after handling. For more information, go to www.P65Warnings.ca.gov.