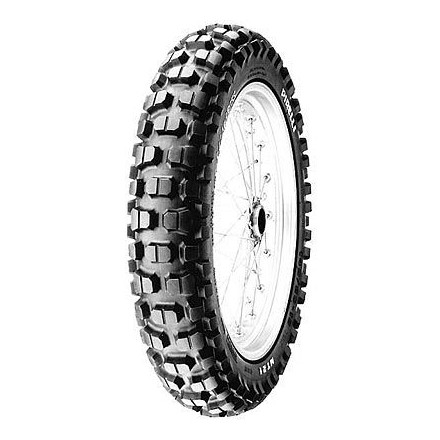 ---
30% Off - Save up to $44.96
---
5 Star
9
4 Star
4
3 Star
0
2 Star
0
1 Star
0
3 months 21 days ago
Cadott Wi
Hooks
This front tire hold all terrain well. Gives rider confidence the front will not washout
4 months 9 days ago
Las Vegas,NV
Great DS tire
Best DS tire on the market and I've tried them all Rear. Don't like the front.
Great tires
The tires worked very well on and off road it's too soon to give it more than an average rating on durability I will update my review at a later date but I would recommend these tires working great so far
Over 5 months ago
Tennessee
Great tread pattern
Great tire. Aggressive like I wanted. Will buy again
Nice tire
thought i would try these on a dual sport bike. really like it. hooks up well in dirt and mud and not too cobbly on the pavement. buy with confidence if these are attributes you are looking for in a DOT approved tire. Motosport had it here in record time as well.
Over 9 months ago
San Diego California
Amazing service!
Great product. I really like it.
1 year ago
Morristown, NJ
Got Grip?
I purchased these for a Royal Enfield Himalayan that I'm riding in the NJ Pine Barrens 500 Enduro in one week. We did a ~75 mile practice ride last Saturday in mud, water, deep [wet] sand, and some hard packed dirt. Went through dozens of monster mud holes in 18" plus of water without any slippage in the slime in the water.

There were a few "Code Brown" moments in DEEP sand but I'm happy to report my 411lb bike wasn't the one that went down, it was the 317lb Honda CRF250Ls on the ground in my rearview mirror!

Was it the Pirelli's or the rider?
1 year 2 months ago
Wisconsin
More than I expected
This set went on a 2019 KTM 350. I needed something more aggressive than the stock Continental 80's that it came with. My first ride was out in dense wooded 2 track trails in Northern Wisconsin. Quite a bit of mud and moss covered rocks, these tires stuck way better than I thought they would, I didn't have any issues getting stuck, when yo do lose traction its predictable and easy to stay upright, the tires will grab again. The tires are much more aggressive looking than the pictures show and they seem like they will last a season running on the road as well. I have about 200 road miles and 100 trail miles so far and the hair is still on them. I will prolly get a set of these for my Husqvarna 350 as well when my current tires wear out. I didn't have any issues installing the front tire but the rear tire has a very stiff carcass and it was a pain to install by hand. Not something you will have to do often so I'm not worried about it.
1 year 3 months ago
Mankato, MN
Best of the compromises
Predictable on the street and good in the woods. Is it as good as a full moto tire in the mud or sand, not quite, but it's far better on the street. Best tire for my usage. Doesn't do anything perfectly, but does everything well
1 year 8 months ago
Portland
100mph
My Ktm 500 loves this tire on road and dirt
Bubby
Q: Does it come with rims. Or is it just the tire's only.
Fritz
Q: MT16 Front
Would the MT16 Garacross front tire pair nicely with the MT21 rear on my KLX 250? Say 30/70 or 40/60 road/dirt?
David
1 year 10 months ago
A: Should work fine together.
See all bikes that this part fits...
| Product Variant | Manufacturer Part # |
| --- | --- |
| 110/80-18 | 0341500 |
| 120/80-18 | 0342000 |
| 120/90-17 | 0342300 |
| 120/90-18 | 0342400 |
| 130/90-17 | 0697800 |
| 130/90-18 | 0697900 |
| 140/80-18 | 0341000 |