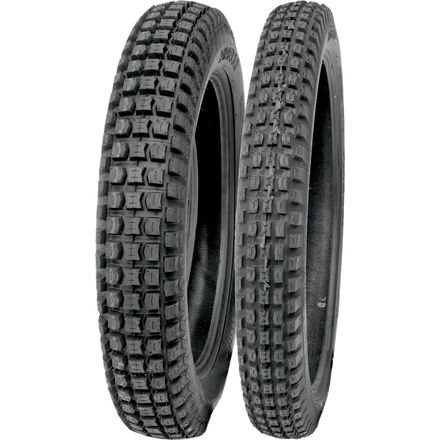 ---
Current price:

$195.00
Original price:

$246.90
21% Off - Save $51.90
Rating: 4.7 out of 5 stars
---
7 Reviews
5

reviews

2

reviews

0

reviews

0

reviews

0

reviews
All Reviews
4 months 29 days ago
sandpoint id
Durability

5/5

Ease of Installation

5/5

Performance

5/5

Style

5/5
Very sticky
very good trials tire and great price
Durability

4/5

Ease of Installation

3/5

Performance

5/5

Style

4/5
Good tires
Great tire. Hooks up on everything except thick mud.
1 year 1 month ago
So cal
Durability

4/5

Ease of Installation

4/5

Performance

4/5

Style

5/5
Great tire (plural )
This is the first time I've put trials tires on my motorcycle. I do a lot desert riding and single track riding and recently purchased amd built a Honda 450x and converted to a duel sport so I figured what better tires that these. For starters they look great. Second, my intention of this bike was misting cruising on the street and duel sporting not strickly a desert race bike. The first ride on road was great, the tires front and rear hooked up great on the pavement. The second ride was off road in the mountains on some tight rocky single track. That's when all my confidence left me. The front tire does not work in the dirt as I anticipated.. the front end kept washing out due to the knobbys being small. The rear tire fantastic! Once we got on to some hard packed stuff definitely worked better. So all in all of your looking for a good (street set ) with Minmal dirt riding I would do the full set. If not, the rear is the only tire I would do with normal dirt tire upfront. Last the tires are very soft and make sure to run low tire psi 7-10lbs for best performance.
2 years 11 months ago
Corrales, NM, USA
Durability

4/5

Ease of Installation

5/5

Performance

4/5

Style

5/5
Trials design and DOT cert
They are an excellent tire with the only limitation is clay type mud and deep sand.

The bad: Since the knob are close together they pack up with mud and lose traction. The are not as good as big knobbies in sand but acceptable. They are a very tall tire so it will raise you seat height noticeably.

The good: When aired down to 12 to 15 psi they are amazing in almost all terrain. They stick like glue to the trail and for climbing. At speed in a turn you can feel the when front gradually start slipping giving you a little time to react.
When aired to over 20 psi they are quite bouncy offroad.
Over 3 years ago
rochester n.y.
Durability

4/5

Ease of Installation

4/5

Performance

4/5

Style

4/5
Ready to put them on!
being winter, i went shopping for these tires.u had the best price/free shipping fast service thanks. i will have them on soon cant wait to test them.thanks.
Over 3 years ago
New Jersey
Worth the money! Read below!
I read a ton of reviews on these before I purchased them. I have a 2013 wr250r and the factory trail wings were absolute garbage off road. The track masters that I rode last summer were great but they wore very badly very quickly. I ride a lot of road and even the turnpike pretty regularly, but when I go off the pavement, I go hard. These mt43s do exactly what others said they would. On the road they handle almost as well as a street tire, so far no signs of wear. On the trails they are amazing. Roots, mud, rock, even a few miles on railroad tracks were no match for them. The sand gets a bit questionable as you really wind up surfing the bike but it's sand, I'm not trying to ride though that too much. The front gets very washy on the fine stuff which I figured it would. Honestly, they aren't mx tires, but you'd have a tough time telling when you're ripping through the trails. I highly recommend you try these. My buddy is ordering them for his Ktm 450 after seeing how well they did on my wr. One more thing, the rear is a very tall tire so gear the bike accordingly.
Great tire combo!
Aggressive but still road worthy. Fatter than I expected. cool look
Fitment
See all bikes that this part fits...
# Part Numbers
Front Tire
| Product Variant | Manufacturer Part # |
| --- | --- |
| 2.75-21 | 1414400 |
Rear Tire
| Product Variant | Manufacturer Part # |
| --- | --- |
| 4.00-18 | 1414500 |