Most Recent Motorcycle Slip Ons Reviews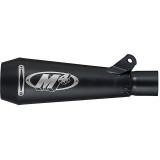 M4 GP Series Slip-On Exhaust
Slowlane
Perfect fit and look
"Perfect fit for my 04 gsxr easy install really wakes the bike up and sounds amazing"

See all reviews for this product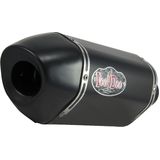 Voodoo Industries Performance Slip-On Exhaust
shawn
Meh - looks good but install was horrible
"Not really that happy with it. It took a TON of fiddling and adjusting to get it to even mount up in a way to be able to use the stock rearset mount. I almost thought it was the wrong model. The gasket on the strap is tough to keep on. One of the bolts broke off in the can while trying to tighten it up. Also, being black when trying to install it got a scuff on it and based on that I couldn't return it or I would have. But I got it on with 3 bolts and at some point will get the broken one out and replace all bolts with better quality bolts. Get what you pay for I guess."

See all reviews for this product
Slip-On Exhaust
A slip-on exhaust gives you the biggest bang for your buck when upgrading the exhaust system on your motorcycle. Slip-ons replace the stock muffler on your ride and bolting one on lessens the air flow restriction from the engine. Just about any after-market slip-on exhaust offers more all-around improvements than the can that comes from the factory.
Upgrading to a motorcycle slip-on exhaust brings weight reduction and a slight increase in power, but mostly a slip on exhaust gives your bike a better look and a more aggressive sound that the OEM systems typically cannot deliver. The slip-on exhaust is popular with street or sport bikes thanks to the increase in lower-end power allowing the rider a quick jump from a stopped position.
Motorcycle Slip-On Exhaust
Upgrading from stock to a slip-on exhaust presents a great way to improve your bike's performance and look on a budget. A slip-on exhaust can also be a more cost-effective way to repair a damaged stock exhaust. A slip-on exhaust system typically ranges in the hundreds of dollars vs the full exhaust system which often tops a thousand dollars. When shopping for a slip-on exhaust check out the stainless steel systems when truly watching your budget but for even more weight shedding and performance check out our carbon fiber or titanium slip on exhaust systems.
MotoSport offers a large variety of motorcycle slip-on exhausts and we give you a range of brands, materials and prices to choose from. Our inventory of motorcycle slip-on exhausts covers a wide variety of makes and models including:
MotoSport's extensive collection of motorcycle slip-ons gives you options for a worry free purchase. We never want you to miss a ride so we can help you narrow your scope based on needs and what you are trying to accomplish with your bike. Our slip on exhaust systems range in price and some are best suited for certain bikes over others.
We are here to help!
MotoSport gives you one of the largest motorcycle slip-on exhaust system selections on the web. We have different styles and selections from a number of the best companies in the business. Don't get exhausted looking for the right slip-on exhaust, just stick with MotoSport. Want help? Give us a call on our toll free line 1-866-677-7338, or check out our Sportbike and Motorcycle Exhaust Buying Guide. for more information on slip on exhausts and full system motorcycle exhausts.