Big Gun
Big Gun Evo U Series Slip-On Exhaust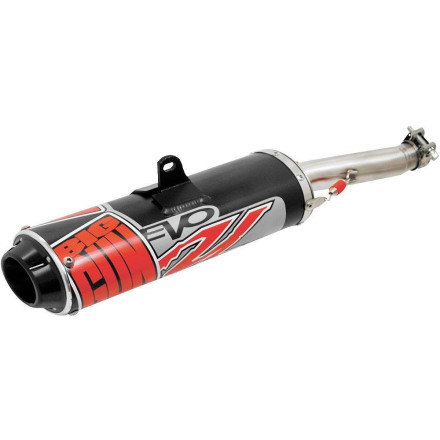 Big Gun Evo U Series Slip-On Exhaust
---
10% Off - Save up to $54.30
4.14
5
7
Rating: 4.1 out of 5 stars
---
7 Reviews
3

reviews

3

reviews

0

reviews

1

reviews

0

reviews
All Reviews
Over 3 years ago
East Machias, ME, USA
Durability

5/5

Ease of Installation

5/5

Performance

5/5

Power

4/5

Style

5/5
Great exhuast
i put this on my 2000 Honda foreman 450 and its Really loud
Over 3 years ago
Harrison Valley, PA 16927, USA
Durability

5/5

Ease of Installation

5/5

Performance

4/5

Power

3/5

Style

5/5
Big Gun Evo Utility Slip-On Exhaust
it was louder than we expected, with our Ranger, the box made it echo under the frame, but some guys liked it and the old ones didn't.
Over 8 years ago
kingwood,texas
Durability

4/5

Ease of Installation

1/5

Performance

3/5

Power

3/5

Style

5/5
Better luck next time
had to cut the exhaust pipe to fit the grizzly. the exhaust is extremely loud. I installed the spark arrestor and within a few hours i blew a hole in it. where the pipe meets the exhaust there is a major exhaust leak. all in all not happy with the pipe but what can i do. i do not recommend this exhaust.
Fitment
See all bikes that this part fits...
# Part Numbers
| Product Variant | Manufacturer Part # |
| --- | --- |
| Big Gun Evo U Series Slip-On Exhaust | 12-4352 |
| Big Gun Evo U Series Slip-On Exhaust | 12-4852 |
| Big Gun Evo U Series Slip-On Exhaust | 12-1402 |
| Big Gun Evo U Series Slip-On Exhaust | 12-1412 |
| Big Gun Evo U Series Slip-On Exhaust | 12-2462 |
| Big Gun Evo U Series Slip-On Exhaust | 12-2472 |
| Big Gun Evo U Series Slip-On Exhaust | 12-2412 |
| Big Gun Evo U Series Slip-On Exhaust | 12-5602 |
| Big Gun Evo U Series Slip-On Exhaust | 12-6802 |
| Big Gun Evo U Series Slip-On Exhaust | 12-6842 |
| Big Gun Evo U Series Slip-On Exhaust | 12-7402 |
| Big Gun Evo U Series Slip-On Exhaust | 12-6902 |
| Big Gun Evo U Series Slip-On Exhaust | 12-2223 |
| Big Gun Evo U Series Slip-On Exhaust | 12-1652 |
| Big Gun Evo U Series Slip-On Exhaust | 12-7502 |
| Big Gun Evo U Series Slip-On Exhaust | 12-7803 |
| Big Gun Evo U Series Slip-On Exhaust | 12-7812 |
| Big Gun Evo U Series Slip-On Exhaust | 12-7852 |
| Big Gun Evo U Series Slip-On Exhaust | 12-7712 |
| Big Gun Evo U Series Slip-On Exhaust | 12-5702 |
| Big Gun Evo U Series Slip-On Exhaust | 12-4672 |
| Big Gun Evo U Series Slip-On Exhaust | 12-6212 |
| Big Gun Evo U Series Slip-On Exhaust | 12-6812 |
| Big Gun Evo U Series Slip-On Exhaust | 12-6832 |
| Big Gun Evo U Series Slip-On Exhaust | 12-6852 |
| Big Gun Evo U Series Slip-On Exhaust | 12-6922 |
| Big Gun Evo U Series Slip-On Exhaust | 12-6932 |
| Big Gun Evo U Series Slip-On Exhaust | 12-7582 |
| Big Gun Evo U Series Slip-On Exhaust | 12-7612 |
| Big Gun Evo U Series Slip-On Exhaust | 12-1442 |
| Big Gun Evo U Series Slip-On Exhaust | 12-23522 |
| Big Gun Evo U Series Slip-On Exhaust | 12-7632 |
| Big Gun Evo U Series Slip-On Exhaust | 12-7622 |
| Big Gun Evo U Series Slip-On Exhaust | 12-5802 |
| Big Gun Evo U Series Slip-On Exhaust | 12-1672 |
| Big Gun Evo U Series Slip-On Exhaust | 12-7312 |
| Big Gun Evo U Series Slip-On Exhaust | 12-7322 |
| Big Gun Evo U Series Slip-On Exhaust | 12-7862 |
| Big Gun Evo U Series Slip-On Exhaust | 12-7952 |
| Big Gun Evo U Series Slip-On Exhaust | 12-2242 |
| Big Gun Evo U Series Slip-On Exhaust | 12-4952 |
| Big Gun Evo U Series Slip-On Exhaust | 12-7412 |
| Big Gun Evo U Series Slip-On Exhaust | 12-7642 |
| Big Gun Evo U Series Slip-On Exhaust | 12-5612 |
| Big Gun Evo U Series Slip-On Exhaust | 12-6862 |
| Big Gun Evo U Series Slip-On Exhaust | 12-1682 |
| Big Gun Evo U Series Slip-On Exhaust | 12-9042 |