M4
M4 Standard Slip-On Exhaust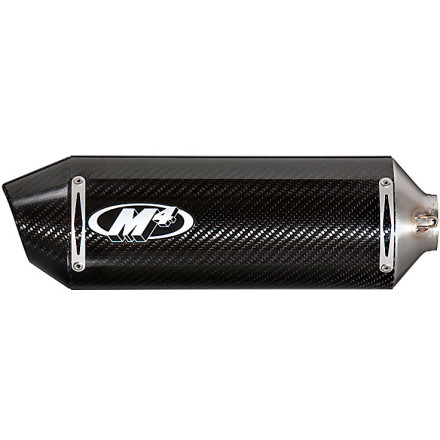 M4 Standard Slip-On Exhaust
---
10% Off - Save up to $58.00
---
5 Star
26
4 Star
2
3 Star
0
2 Star
1
1 Star
0
Write a Review
Write your review and you'll automatically be entered in our monthly drawing. Include an image or video to DOUBLE your chances to win!
Write Your Review
1 month 10 days ago
NEW YORK
2 months 23 days ago
Angleton, Texas
Good Looking Exhaust
I bought the M4 exhaust for my 2017 FZ-09 because, for one thing, I didn't want to spend the money for a complete new exhaust with headers. The M4 looks & sounds good without being exceptionally loud. And I haven't even removed the baffle, I know that would be over the top loud. If you have the right tools it's a fairly straight forward procedure. The worst part is that it takes a little time to grind down the weld where you cut the catylitic converter off. I haven't really noticed any performance improvement & don't care too much for all the popping during engine braking. Maybe I need an ECU reflash. As a plus you do drop a few pounds off the bike too.
3 months 4 days ago
Pennsylvania
Solid
Pretty decent sounds pretty cool looks noice 10/10 would buy again
2014 FZ-09
Excellent sound and price, glad I pulled the trigger on this one. Videos do it NO JUSTICE for how sweet it sounds.
3 months 27 days ago
Hillsborough, NJ
Great Value
This exhaust iits a great value, easy to install and it looks and sounds perfect.
Beautiful and Good Sounding!
I just received this exhaust and it took me only an hour to put on by myself. This exhaust is definitely well worth the money. The directions are good but, I just watched a youtube video on how to do it. The carbon fiber weave on this exhaust is absolutely beautiful and looks great in the sun. This exhaust is very loud and deep sounding. It's not so loud that it hurts your ear but not so quiet that you cant enjoy the sweet sound of your bike.
4 months 26 days ago
Fort Lauderdale
Nice for the price!
Installed myself about a month ago. Not too difficult. Love the sound compared to the old stock.
Over 6 months ago
Norfolk, VA, USA
Looks good. Sound good and quiet. I've been running my ZX-10R with no pipe at all and it was loud. I actually rode 5 states away and lost my hearing for 2 weeks! So I'm enjoying the quiet. I feel like I'm not getting the popos attention either no loss of power actually feels like I got a tune-up. Love it I have one on both my bikes now.
Over 6 months ago
Princeton, MN 55371, USA
Best slip on .
This exhaust took me 1 hr 20 mins to install... very easy.
Everything you need is included In the box. Feels great to
Shed the weight of the stock can which was 20 plus lbs.
YouTube videos or even a video on your buddies phone
Don't even come close to the in person sound of the pipe.
I have a 2017 FZ07 and people can for sure hear
Me coming. I recommend leaving the baffle in because
It's rather loud which I like with out the baffle it as loud as the
Old mans harley.
See all bikes that this part fits...
| Product Variant | Manufacturer Part # |
| --- | --- |
| Polished | HO5032 |
| Carbon Fiber | HO5034 |
| Titanium | HO5036 |
| Carbon Fiber | YA6912 |
| Carbon Fiber | N/A |
| Carbon Fiber | N/A |
| Carbon Fiber | N/A |
| Carbon Fiber | N/A |
| Carbon Fiber | N/A |
| Carbon Fiber | N/A |
| Carbon Fiber | N/A |
| Carbon Fiber | N/A |
| Carbon Fiber | N/A |
| Carbon Fiber | N/A |
| Carbon Fiber | N/A |
| Carbon Fiber | N/A |
| Polished | N/A |
| Polished | N/A |
| Polished | N/A |
| Polished | N/A |
| Polished | N/A |
| Polished | N/A |
| Polished | N/A |
| Polished | N/A |
| Titanium | N/A |
| Titanium | N/A |
| Titanium | N/A |
| Titanium | N/A |
| Titanium | N/A |
| Titanium | N/A |
| Titanium | N/A |
| Titanium | N/A |
| Titanium | N/A |
| Titanium | N/A |
| Titanium | N/A |
| Titanium | N/A |
| Titanium | N/A |
| Titanium | N/A |
| Titanium | N/A |
| Polished | HO6512 |
| Carbon Fiber | HO6514 |
| Polished | HO6312 |
| Polished | SU9912 |
| Carbon Fiber | SU9914 |
| Polished | SU9712 |
| Carbon Fiber | SU9714 |
| Polished | SU9512 |
| Polished | SU6612 |
| Carbon Fiber | SU6614 |
| Polished | YA6312 |
| Carbon Fiber | YA6314 |
| Polished | HO5012 |
| Carbon Fiber | HO5014 |
| Titanium | HO5016 |
| Polished | HO3312 |
| Carbon Fiber | HO3314 |
| Titanium | HO3316 |
| Polished | KA3012 |
| Carbon Fiber | KA3014 |
| Titanium | KA3016 |
| Carbon Fiber | YA6914 |
| Carbon Fiber | YA6714 |
| Carbon Fiber | SU6624 |
| Polished | SU6622 |
| Titanium | SU6626 |