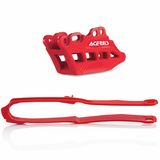 Acerbis Chain Guide / Slider Kit 2.0
Bulldog

- Ankeny, IA
Easy Install
"Awesome product, easy install!"

See all reviews for this product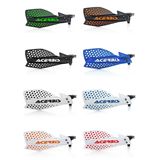 Acerbis X-Ultimate Handguards
Jacob89
Easy to install product is just as advertised
"I bought em for riding up where it's been burned in the mountains all the dead manzanita can't get to my hands now pushes them back into your hand if it's a big enough branch but they don't break the mountains laid the bike over a couple times on em an there still good"

See all reviews for this product
Acerbis
In 1973, Franco Acerbis put an end to all the mudslinging. After being in the middle of it early in his race career, Acerbis created the NOST front fender - a longer and wider version than stock fenders. He produced three, one for him, one for the local champion and the other to sell. Other riders noticed the results so Acerbis made 30 more.
Acerbis Handguards
Pronounced A-Chair-Bees - Today, Acerbis sells innovative and protective aftermarket accessories for dirt bikes around the world including those mud defeating front fenders, rear fenders and a popular line of Acerbis handguards. Franco Acerbis said his company's slogan is "Soul and Passion" and it's this enthusiasm and commitment that Acerbis strives for today. In additional to Acerbis plastics, check out some additional parts for dirt bikes:
But it doesn't stop there, Acerbis has a full line of protection for your dirt bike and even body protection for you like their Acerbis knee guards and Acerbis chest protector.
Acerbis MX Gear
Acerbis offers a full line of dirt bike protection that fends off roost, trail debris and even other riders. Equip your dirt bike from fender to fender with the finest plastic and other aftermarket dirt bike parts from Acerbis. MotoSport is the Acerbis specialist you need to find the right look, the right style and the right fit. Want help? Call our toll free line 1-888-676-8853 and talk to a gearhead who never wants you to miss a ride and will talk for as long as you want about Acerbis.
Get the largest selection of Acerbis accessories delivered to your door and free 3-day shipping on any order more than $79 (certain restrictions apply) from MotoSport!