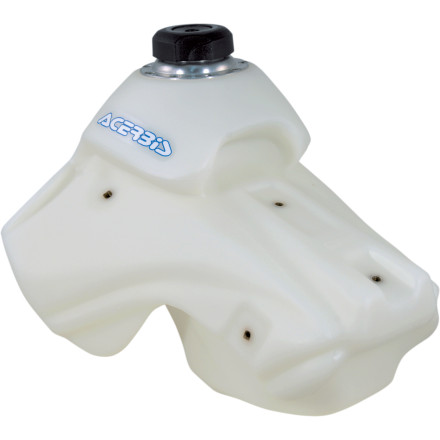 ---
22% Off - Save up to $99.96
---
5 Star
62
4 Star
24
3 Star
7
2 Star
3
1 Star
3
Write a Review
Write your review and you'll automatically be entered in our monthly drawing. Include an image or video to DOUBLE your chances to win!
Write Your Review
2 months 2 days ago
maine
Wouldn't buy again
Bought this a few days ago fuel pump mount doesn't line up on the tank and as a result leaks
2 months 10 days ago
So Cal
2018 Honda 450RX
Shipping was on point as usual. Thx Motorsport. Product not so much.

The tank looks good out of the box and I was happy with that. My main issue is that the O rings from the stock tank are not a prefect fit. It took a few try's to get it on right. When I put gas in and it leaked I was not to pleased. Take your time and triple check it's going on right. I double check with my stock tank and they went in perfect. So I was happy I wasn't going insane.

It was bulky but it is a 3 gallon tank. It bolted up just fine. The look of it on the bike is not plush. The seat looks goofy and tiny at the front.

To sum it up, the product did what it intended. The manufacturer did state a 7% difference vs stock. The O ring could get pinched during installation so be careful and for me it does not look that great on the bike. If they tapered it to the seat it would look smooth.
2 months 17 days ago
New York
Acerbis 3 gallon gas tank
I'm up grading my 2018 500 exc , the acerbis gas tank was an easy install , the black tank was a great addition , gives more range with 3 gallon capacity , price was right !!
2 months 21 days ago
wyoming
Extra Fuel for the Journey!
The installation for this gas tank was pretty easy and the extra fuel helps on the trails when youre out in the middle of nowhere! I highly recommend purchasing this gas tank!
2 months 22 days ago
Los Angeles
Best overall look for Husky/KTM 501/500
Purchased this tank for my 2018 FE501, previous years the Acerbis tank did not use the stock shrouds, this tank does. At 4.1 gal., its gonna look gigantic compared to the 2 gal. that comes stock. But all things considered, this tank looks pretty sleek for its size. Fit and alignment are spot-on. The clear is more yellow than the stock clear plastic tank (you can always get black if that bothers you) A few key things to note: Acerbis does not use brass inserts for anything that mounts to the tank, like the fuel pump and the stock shrouds. Instead they have pre drilled holes in the tank, and provide self tapping screws that cut threads into the plastic as you turn them in. They work fine, with no issues (never over-tighten, just snug down). But, they 4 screws they provide for securing the fuel pump are simply too short, they will not work, no way, no how. The simple fix is to buy 4 sheet metal screws with pan or bolt heads that are 1" long, its a couple bucks and a trip to your local hardware store, but they will work perfectly. Another thing to consider for a 2018 EXC or FE, is your stock 90 degree fuel petcock will not work on the tank. You will need to purchase an aftermarket one or the oem KTM #77707988017, or you can use the one Acerbis provides with the tank, but it is a straight down outlet, which has your fuel line out in the open quite a bit. Yes, a bit of figuring, but a really nice tank over-all.
2 months 28 days ago
Montana
Great fuel tank.
Purchased this for my 2005 wr450f all mounting hardware fit perfect. Easy installation and looks great on the bike.I bought the 6.6 gl.tank. sceptical at first from the size . but after I installed on bike. Wow. Filled it 3/4 full I hardly noticed the extra weight. Very well balanced.and unbelievable range of the bike.I think they should upgrade the pitcocks from plastic to metal .and
upgrade the way they mount to the tank.instead of 2 lag bolts to a more machined type bolts into a metal block . for durability .other then that. Very saticfied
3 months 5 days ago
SoCal
Great tank moving from the stock SXF tank.
Easy to install, minus the fuel pump threading, but fits nicely and now ready for action.
3 months 5 days ago
Michigan
Fit's great
Bought two of these three weeks ago and love them.
3 months 15 days ago
Memphis TN
Fits as Required - 2014 KTM 450XCW
Easy bolt-on mod - needed a longer vent tube - lighter than factory unit (3 gallon). Factory unit has metal inserts and uses machine screws to mount pump and shrouds - Acerbis unit uses coarse thread screws that screw directly into the plastic tank
See all bikes that this part fits...
| Product Variant | Manufacturer Part # |
| --- | --- |
| Black / 2.9 Gallon | 2645530001 |
| Natural / 2.9 Gallon | 2645530147 |
| Black / 4.1 Gallon | 2676200001 |
| Natural / 4.1 Gallon | 2676200147 |
| Black / 3 Gallon | 2676210001 |
| Natural / 3 Gallon | 2676210147 |
| Black / 2.9 Gallon | 2140620001 |
| Black / 2.9 Gallon | 2140740001 |
| Black / 2.7 Gallon | 2160170001 |
| Black / 2.7 Gallon | 2320880001 |
| Black / 3.7 Gallon | 2140660001 |
| Black / 3.0 Gallon | 2250310001 |
| Black / 3.3 Gallon | 2140760001 |
| Black / 4.1 Gallon | 2140830001 |
| Black / 3.0 Gallon | 2140820001 |
| Black / 3.4 Gallon | 2140790001 |
| Black / 3.3 Gallon | 2160180001 |
| Black / 2.7 Gallon | 2253660001 |
| Black / 3.0 Gallon | 2250320001 |
| Black / 3.0 Gallon | 2250300001 |
| Black / 2.3 Gallon | 2205400001 |
| Black / 2.2 Gallon | 2375050001 |
| Black / 3.1 Gallon | 2374290001 |
| Black / 3.2 Gallon | 2211560001 |
| Black / 4.1 Gallon | 2367750001 |
| Black / 4.1 Gallon | 2374020001 |
| Black / 5.3 Gallon | 2250360001 |
| Black / 2.7 Gallons | 2140810001 |
| Black / 2.7 Gallons | 2375070001 |
| Black / 2.9 Gallons | 2374220001 |
| Black / 3.0 Gallons | 2140770001 |
| Black / 3.0 Gallons | 2375060001 |
| Black / 3.0 Gallons | 2449720001 |
| Black / 3.0 Gallons | 2464750001 |
| Black / 3.7 Gallons | 2464810001 |
| Black / 3.7 Gallons | 2140680001 |
| Black / 4.1 Gallons | 2375080001 |
| Black / 5.3 Gallons | 2250330001 |
| Black / 5.3 Gallons | 2250340001 |
| Black / 5.3 Gallons | 2250350001 |
| Black / 6.6 Gallons | 2367760001 |
| Black / 2.7 Gallons | 2630720001 |
| Natural / 2.9 Gallon | 2140620147 |
| Natural / 2.9 Gallon | 2140740147 |
| Natural / 2.7 Gallon | 2160170147 |
| Natural / 2.7 Gallon | 2320880147 |
| Natural / 6.6 Gallon | 2140630147 |
| Natural / 4.1 Gallon | 2140800147 |
| Natural / 3.0 Gallon | 2250310147 |
| Natural / 3.3 Gallon | 2140760147 |
| Natural / 4.1 Gallon | 2140830147 |
| Natural / 6.6 Gallon | 2140670147 |
| Natural / 3.0 Gallon | 2140820147 |
| Natural / 3.4 Gallon | 2140790147 |
| Natural / 3.3 Gallon | 2160180147 |
| Natural / 3.3 Gallon | 2140810147 |
| Natural / 2.7 Gallon | 2253660147 |
| Natural / 3.0 Gallon | 2250320147 |
| Natural / 3.0 Gallon | 2250300147 |
| Natural / 3.2 Gallon | 2211560147 |
| Natural / 3.2 Gallon | 2140730147 |
| Natural / 3.3 Gallon | 2140690147 |
| Natural / 3.3 Gallon | 2140750147 |
| Natural / 2.3 Gallon | 2205400147 |
| Natural / 3.1 Gallon | 2374290147 |
| Natural / 4.1 Gallon | 2367750147 |
| Natural / 4.1 Gallon | 2374020147 |
| Natural / 5.3 Gallon | 2250340147 |
| Natural / 6.6 Gallon | 2367760147 |
| Natural / 1.7 Gallons | 2374030147 |
| Natural / 2.7 Gallons | 2375070147 |
| Natural / 2.9 Gallons | 2374220147 |
| Natural / 3.0 Gallons | 2140770147 |
| Natural / 3.0 Gallons | 2375060147 |
| Natural / 3.0 Gallons | 2449720147 |
| Natural / 3.0 Gallons | 2464750147 |
| Natural / 3.7 Gallons | 2464810147 |
| Natural / 4.1 Gallons | 2375080147 |
| Natural / 5.3 Gallons | 2250360147 |
| Natural / 5.3 Gallons | 2250330147 |
| Natural / 5.3 Gallons | 2250350147 |
| Natural / 5.8 Gallons | 2062480147 |
| Natural / 5.8 Gallons | 2044330147 |
| Natural / 6.3 Gallons | 2140780147 |
| Natural / 2.7 Gallons | 2630720147 |
| Red / 6.6 Gallon | 2140630004 |
| Red / 5.8 Gallon | 2062480229 |
| Red / 5.8 Gallon | 2044330229 |
| Red / 1.7 Gallons | 2374030004 |
| Red / 4.1 Gallons | 2140800004 |
| White / 4.25 Gallon | 2140640002 |
| White / 5.8 Gallon | 2062480002 |
| White / 5.8 Gallon | 2044330002 |
| White / 5.3 Gallon | 2250360002 |
| White / 6.6 Gallon | 2140650002 |
| White / 2.2 Gallons | 2375050002 |
| White / 6.6 Gallons | 2367760002 |
| Green / 3.7 Gallon | 2140680006 |
| Orange / 6.6 Gallon | 2140670237 |
| Orange / 3.4 Gallon | 2140790237 |
| Orange / 6.3 Gallon | 2140780237 |
| Blue / 3.2 Gallon | 2211560003 |
| Blue / 3.4 Gallon | 2140730211 |
| Blue / 3.3 Gallon | 2140690211 |
| Blue / 3.3 Gallon | 2140750211 |
| Blue / 2.2 Gallons | 2375050003 |
| Blue / 3.7 Gallons | 2464810003 |
| Blue / 5.3 Gallons | 2250360003 |
| Blue / 6.6 Gallons | 2367760003 |
| Blue / 6.6 Gallons | 2140700211 |
| Grey / 3.7 Gallons | 2464810011 |
| Grey / 5.3 Gallons | 2250360011 |
| Grey / 6.6 Gallons | 2367760011 |
| Yellow / 3.7 Gallons | 2464810230 |
| Yellow / 3.7 Gallons | 2140660230 |