Dynojet
Dynojet Power Commander Fuel Controller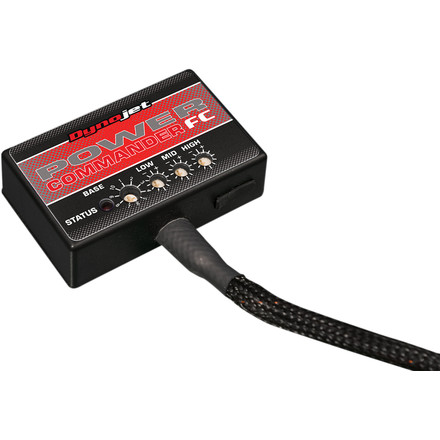 Dynojet Power Commander Fuel Controller
---
10% Off - Save up to $24.99
---
5 Star
2
4 Star
1
3 Star
0
2 Star
0
1 Star
0
Write a Review
Write your review and you'll automatically be entered in our monthly drawing. Include an image or video to DOUBLE your chances to win!
Write Your Review
Over 8 months ago
Baton Rouge
Easy Installation
Works like it should, so far....
2014 cb1100 w/Moriwaki street regal ex.
Hesitate between 1750~2000rpm is gone.
I'm not thinking about any other mods, It's just fine.
It's only 2weeks, I can't rate the durability.

low med high adjuster has 12 marks in 360 degrees.
but it's rotate 21 position in 240 degrees. and It doesn't click.
pcfc made in usa. usb cable made in china. comes with 1 year warranty.
Over 4 years ago
Central, VA, USA
Dynojet PCFC
I was looking for a basic fuel controller for my V-strom. It did the job, easy install, connectors were well made with color matching wires all made to the perfect length. Product was priced right and shipped quickly.
See all bikes that this part fits...
| Product Variant | Manufacturer Part # |
| --- | --- |
| Dynojet Power Commander Fuel Controller | N/A |
| Dynojet Power Commander Fuel Controller | FC16067 |
| Dynojet Power Commander Fuel Controller | FC16903 |
| Dynojet Power Commander Fuel Controller | FC12007 |
| Dynojet Power Commander Fuel Controller | FC12008 |
| Dynojet Power Commander Fuel Controller | FC12004 |
| Dynojet Power Commander Fuel Controller | FC12001 |
| Dynojet Power Commander Fuel Controller | FC12016 |
| Dynojet Power Commander Fuel Controller | FC12012 |
| Dynojet Power Commander Fuel Controller | FC25004 |
| Dynojet Power Commander Fuel Controller | FC25010 |
| Dynojet Power Commander Fuel Controller | FC16013 |
| Dynojet Power Commander Fuel Controller | FC16022 |
| Dynojet Power Commander Fuel Controller | FC16024 |
| Dynojet Power Commander Fuel Controller | FC16039 |
| Dynojet Power Commander Fuel Controller | FC16001 |
| Dynojet Power Commander Fuel Controller | FC16041 |
| Dynojet Power Commander Fuel Controller | FC16020 |
| Dynojet Power Commander Fuel Controller | FC16014 |
| Dynojet Power Commander Fuel Controller | FC16011 |
| Dynojet Power Commander Fuel Controller | FC17046 |
| Dynojet Power Commander Fuel Controller | FC17042 |
| Dynojet Power Commander Fuel Controller | FC17008 |
| Dynojet Power Commander Fuel Controller | FC17015 |
| Dynojet Power Commander Fuel Controller | FC17021 |
| Dynojet Power Commander Fuel Controller | FC17013 |
| Dynojet Power Commander Fuel Controller | FC17004 |
| Dynojet Power Commander Fuel Controller | FC17012 |
| Dynojet Power Commander Fuel Controller | FC17026 |
| Dynojet Power Commander Fuel Controller | FC17003 |
| Dynojet Power Commander Fuel Controller | FC17047 |
| Dynojet Power Commander Fuel Controller | FC20014 |
| Dynojet Power Commander Fuel Controller | FC20015 |
| Dynojet Power Commander Fuel Controller | FC20017 |
| Dynojet Power Commander Fuel Controller | FC20007 |
| Dynojet Power Commander Fuel Controller | FC20008 |
| Dynojet Power Commander Fuel Controller | FC20018 |
| Dynojet Power Commander Fuel Controller | FC20003 |
| Dynojet Power Commander Fuel Controller | FC22017 |
| Dynojet Power Commander Fuel Controller | FC22030 |
| Dynojet Power Commander Fuel Controller | FC22014 |
| Dynojet Power Commander Fuel Controller | FC22008 |
| Dynojet Power Commander Fuel Controller | FC22040 |
| Dynojet Power Commander Fuel Controller | FC22010 |
| Dynojet Power Commander Fuel Controller | FC22012 |
| Dynojet Power Commander Fuel Controller | FC22041 |
| Dynojet Power Commander Fuel Controller | FC22018 |
| Dynojet Power Commander Fuel Controller | FC22036 |
| Dynojet Power Commander Fuel Controller | FC22006 |
| Dynojet Power Commander Fuel Controller | FC22001 |
| Dynojet Power Commander Fuel Controller | FC22062 |
| Dynojet Power Commander Fuel Controller | FC22005 |
| Dynojet Power Commander Fuel Controller | FC16052 |
| Dynojet Power Commander Fuel Controller | FC17055 |
| Dynojet Power Commander Fuel Controller | FC20046 |
| Dynojet Power Commander Fuel Controller | FC17060 |