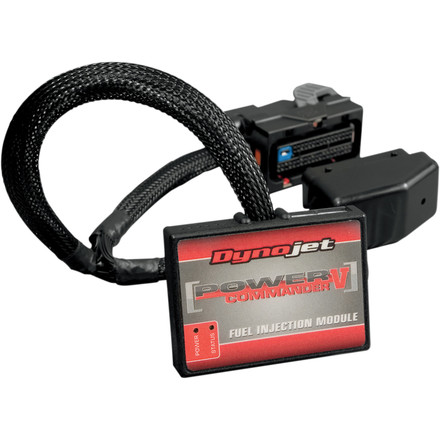 Dynojet Power Commander 5
---
15% Off - Save up to $94.50
---
5 Star
30
4 Star
5
3 Star
1
2 Star
0
1 Star
1
2 months 2 days ago
Syracuse,ny
Dynojet power commander
Easy install an after i downloaded the map i saw instance performance
Works great
Works great, maps are easy to load and the install only took about an hour
3 months 16 days ago
Indiana
Do your homework
16 xsr900. Removed cat and stock muffler and put on a M4 pipe. Very common upgrade for this bike and assumed there would be a program for this upgrade, there was not. The list for tuners in my area has only turned up one that is about 2 hours away and I do not live in a small town/state. Bottom line: Check the tunes available for your bike and verify the "local tuning centers" are still tuning and will tune your specific bike.
Over 11 months ago
Sahuarita AZ
Excellent
Super easy installation, a lot easier to use than previous moddles, added a good bit of power
AMAZING
It was easy to install and works perfect. If you have done upgrades and need a better tune than a stock tune this is the way to go.
2 years 8 months ago
Portland, OR, USA
PC V installation was quick and easy
This item doesn't have the ability to adjust ignition timing from what I read. It has the oxygen sensor removal resistor plug ins for both sensors and is meant to be used without the factory oxygen sensors. I installed it on a 16 Harley low rider S 110 ci bike. It came with the stock map and the bike ran just like normal after installation. The bike at that time was all stock. Wiring harness and unit location allowed for just the right amount of room for installation and fitment of the extra harness and plugs x2 in that left side ecu housing. It is a bit tight, but with proper routing it fits in perfectly.
2 years 9 months ago
State College, PA, USA
Straight forward power mod
PC5 installation was easy and straight forward on my Triumph 675R. Bike has an aftermarket filter and full race pipe. Downloading a map was also very easy. Throttle response felt snappier immediately. Even on the stand. Then put the bike on the dyno for a custom map. Picked up 7hp at 9000rpm. Nice jump in midrange. Look forward to track season to fully test it out.
Noticeably more powerful
The unit was very easy to install on my 2003 GSXR600 maybe 20 minutes, the bike picks up a lot quicker now, smoother power, bike starts up and idles a lot smoother as well. Great product highly recommended.
See all bikes that this part fits...
| Product Variant | Manufacturer Part # |
| --- | --- |
| Dynojet Power Commander 5 | 17-021 |
| Dynojet Power Commander 5 | 17-026 |
| Dynojet Power Commander 5 | 20-017 |
| Dynojet Power Commander 5 | 20-003 |
| Dynojet Power Commander 5 | 20-010 |
| Dynojet Power Commander 5 | 20-012 |
| Dynojet Power Commander 5 | 20-025 |
| Dynojet Power Commander 5 | 20-024 |
| Dynojet Power Commander 5 | 20-023 |
| Dynojet Power Commander 5 | 20-013 |
| Dynojet Power Commander 5 | 21-007 |
| Dynojet Power Commander 5 | 21-004 |
| Dynojet Power Commander 5 | 22-015 |
| Dynojet Power Commander 5 | 22-037 |
| Dynojet Power Commander 5 | 22-036 |
| Dynojet Power Commander 5 | 14-001 |
| Dynojet Power Commander 5 | 10-001 |
| Dynojet Power Commander 5 | 25-004 |
| Dynojet Power Commander 5 | 25-006 |
| Dynojet Power Commander 5 | 10-003 |
| Dynojet Power Commander 5 | 10-004 |
| Dynojet Power Commander 5 | 12-002 |
| Dynojet Power Commander 5 | 12-004 |
| Dynojet Power Commander 5 | 12-009 |
| Dynojet Power Commander 5 | 12-010 |
| Dynojet Power Commander 5 | 12-014 |
| Dynojet Power Commander 5 | 14-004 |
| Dynojet Power Commander 5 | 14-007 |
| Dynojet Power Commander 5 | 14-012 |
| Dynojet Power Commander 5 | 14-014 |
| Dynojet Power Commander 5 | 14-018 |
| Dynojet Power Commander 5 | 14-019 |
| Dynojet Power Commander 5 | 14-020 |
| Dynojet Power Commander 5 | 16-013 |
| Dynojet Power Commander 5 | 16-016 |
| Dynojet Power Commander 5 | 17-028 |
| Dynojet Power Commander 5 | 18-002 |
| Dynojet Power Commander 5 | 18-003 |
| Dynojet Power Commander 5 | 18-004 |
| Dynojet Power Commander 5 | 18-005 |
| Dynojet Power Commander 5 | 18-009 |
| Dynojet Power Commander 5 | 20-011 |
| Dynojet Power Commander 5 | 20-028 |
| Dynojet Power Commander 5 | 20-029 |
| Dynojet Power Commander 5 | 21-001 |
| Dynojet Power Commander 5 | 21-005 |
| Dynojet Power Commander 5 | 21-006 |
| Dynojet Power Commander 5 | 21-010 |
| Dynojet Power Commander 5 | 21-011 |
| Dynojet Power Commander 5 | 22-042 |
| Dynojet Power Commander 5 | 24-003 |
| Dynojet Power Commander 5 | 24-004 |
| Dynojet Power Commander 5 | 17-005 |
| Dynojet Power Commander 5 | 22-054 |
| Dynojet Power Commander 5 | 17-042 |
| Dynojet Power Commander 5 | 16-034 |
| Dynojet Power Commander 5 | 16003 |
| Dynojet Power Commander 5 | 20001 |
| Dynojet Power Commander 5 | 17020 |
| Dynojet Power Commander 5 | 16-011 |
| Dynojet Power Commander 5 | 16-014 |
| Dynojet Power Commander 5 | 17-015 |
| Dynojet Power Commander 5 | 17-006 |
| Dynojet Power Commander 5 | 20-014 |
| Dynojet Power Commander 5 | 20-015 |
| Dynojet Power Commander 5 | 20-018 |
| Dynojet Power Commander 5 | 20-016 |
| Dynojet Power Commander 5 | 22-009 |
| Dynojet Power Commander 5 | 22-018 |
| Dynojet Power Commander 5 | 22-010 |
| Dynojet Power Commander 5 | 22-011 |
| Dynojet Power Commander 5 | 22-013 |
| Dynojet Power Commander 5 | 22-003 |
| Dynojet Power Commander 5 | 21-003 |
| Dynojet Power Commander 5 | 22-017 |
| Dynojet Power Commander 5 | 15-022 |
| Dynojet Power Commander 5 | 15-011 |
| Dynojet Power Commander 5 | 15-021 |
| Dynojet Power Commander 5 | 15-007 |
| Dynojet Power Commander 5 | 15-004 |
| Dynojet Power Commander 5 | 15-005 |
| Dynojet Power Commander 5 | 15-006 |
| Dynojet Power Commander 5 | 15-023 |
| Dynojet Power Commander 5 | 15-002 |
| Dynojet Power Commander 5 | 15-010 |
| Dynojet Power Commander 5 | 15-001 |
| Dynojet Power Commander 5 | 15-009 |
| Dynojet Power Commander 5 | 15-015 |
| Dynojet Power Commander 5 | 16-002 |
| Dynojet Power Commander 5 | 16-001 |
| Dynojet Power Commander 5 | 22-014 |
| Dynojet Power Commander 5 | 22-008 |
| Dynojet Power Commander 5 | 20-008 |
| Dynojet Power Commander 5 | 20-007 |
| Dynojet Power Commander 5 | 20-005 |
| Dynojet Power Commander 5 | 20-006 |
| Dynojet Power Commander 5 | 20-009 |
| Dynojet Power Commander 5 | 22-005 |
| Dynojet Power Commander 5 | 22-001 |
| Dynojet Power Commander 5 | 22-006 |
| Dynojet Power Commander 5 | 17-004 |
| Dynojet Power Commander 5 | 17-012 |
| Dynojet Power Commander 5 | 17-003 |
| Dynojet Power Commander 5 | 21-002 |
| Dynojet Power Commander 5 | 16-023 |
| Dynojet Power Commander 5 | 12-012 |
| Dynojet Power Commander 5 | 16-022 |
| Dynojet Power Commander 5 | 16-020 |
| Dynojet Power Commander 5 | 16-005 |
| Dynojet Power Commander 5 | 17-013 |
| Dynojet Power Commander 5 | 17-022 |
| Dynojet Power Commander 5 | 17-008 |
| Dynojet Power Commander 5 | 22-035 |
| Dynojet Power Commander 5 | 12-008 |
| Dynojet Power Commander 5 | 12-018 |
| Dynojet Power Commander 5 | 12-001 |
| Dynojet Power Commander 5 | 12-016 |
| Dynojet Power Commander 5 | 12-019 |
| Dynojet Power Commander 5 | 14-010 |
| Dynojet Power Commander 5 | 14-023 |
| Dynojet Power Commander 5 | 14-027 |
| Dynojet Power Commander 5 | 14-021 |
| Dynojet Power Commander 5 | 14-011 |
| Dynojet Power Commander 5 | 14-024 |
| Dynojet Power Commander 5 | 14-022 |
| Dynojet Power Commander 5 | 15-025 |
| Dynojet Power Commander 5 | 15-024 |
| Dynojet Power Commander 5 | 15-012 |
| Dynojet Power Commander 5 | 15-014 |
| Dynojet Power Commander 5 | 15-027 |
| Dynojet Power Commander 5 | 15-028 |
| Dynojet Power Commander 5 | 15-019 |
| Dynojet Power Commander 5 | 15-026 |
| Dynojet Power Commander 5 | 15-018 |
| Dynojet Power Commander 5 | 15-017 |
| Dynojet Power Commander 5 | 16-040 |
| Dynojet Power Commander 5 | 16-039 |
| Dynojet Power Commander 5 | 16-046 |
| Dynojet Power Commander 5 | 16-041 |
| Dynojet Power Commander 5 | 16-047 |
| Dynojet Power Commander 5 | 16-048 |
| Dynojet Power Commander 5 | 16-054 |
| Dynojet Power Commander 5 | 16-043 |
| Dynojet Power Commander 5 | 16-044 |
| Dynojet Power Commander 5 | 16-045 |
| Dynojet Power Commander 5 | 16-035 |
| Dynojet Power Commander 5 | 17-046 |
| Dynojet Power Commander 5 | 17-050 |
| Dynojet Power Commander 5 | 17-051 |
| Dynojet Power Commander 5 | 17-027 |
| Dynojet Power Commander 5 | 17-052 |
| Dynojet Power Commander 5 | 17-053 |
| Dynojet Power Commander 5 | 17-047 |
| Dynojet Power Commander 5 | 17-049 |
| Dynojet Power Commander 5 | 24-007 |
| Dynojet Power Commander 5 | 20-004 |
| Dynojet Power Commander 5 | 20-032 |
| Dynojet Power Commander 5 | 20-039 |
| Dynojet Power Commander 5 | 20-040 |
| Dynojet Power Commander 5 | 20-036 |
| Dynojet Power Commander 5 | 20-043 |
| Dynojet Power Commander 5 | 20-037 |
| Dynojet Power Commander 5 | 20-038 |
| Dynojet Power Commander 5 | 20-044 |
| Dynojet Power Commander 5 | 20-034 |
| Dynojet Power Commander 5 | 20-045 |
| Dynojet Power Commander 5 | 20-042 |
| Dynojet Power Commander 5 | 21-013 |
| Dynojet Power Commander 5 | 21-017 |
| Dynojet Power Commander 5 | 21-012 |
| Dynojet Power Commander 5 | 21-014 |
| Dynojet Power Commander 5 | 21-016 |
| Dynojet Power Commander 5 | 19-001 |
| Dynojet Power Commander 5 | 19-002 |
| Dynojet Power Commander 5 | 19-006 |
| Dynojet Power Commander 5 | 19-009 |
| Dynojet Power Commander 5 | 22-056 |
| Dynojet Power Commander 5 | 22-058 |
| Dynojet Power Commander 5 | 22-041 |
| Dynojet Power Commander 5 | 22-059 |
| Dynojet Power Commander 5 | 22-062 |
| Dynojet Power Commander 5 | 18-016 |
| Dynojet Power Commander 5 | 18-017 |
| Dynojet Power Commander 5 | 16-049 |
| Dynojet Power Commander 5 | 20-041 |
| Dynojet Power Commander 5 | 20-035 |
| Dynojet Power Commander 5 | 14-026 |
| Dynojet Power Commander 5 | 16-051 |
| Dynojet Power Commander 5 | 18-018 |
| Dynojet Power Commander 5 | 22-066 |
| Dynojet Power Commander 5 | 22-065 |
| Dynojet Power Commander 5 | 17-055 |
| Dynojet Power Commander 5 | 20-046 |
| Dynojet Power Commander 5 | 16-052 |
| Dynojet Power Commander 5 | 16-061 |
| Dynojet Power Commander 5 | 25-020 |
| Dynojet Power Commander 5 | 17-061 |
| Dynojet Power Commander 5 | 17-062 |
| Dynojet Power Commander 5 | 21-018 |
| Dynojet Power Commander 5 | 22-070 |
| Dynojet Power Commander 5 | 22-069 |
| Dynojet Power Commander 5 | 20-048 |
| Dynojet Power Commander 5 | 20-047 |
| Dynojet Power Commander 5 | 22-072 |
| Dynojet Power Commander 5 | 12-020 |
| Dynojet Power Commander 5 | 21-019 |
| Dynojet Power Commander 5 | 17-064 |
| Dynojet Power Commander 5 | 17-063 |
| Dynojet Power Commander 5 | 12-021 |
| Dynojet Power Commander 5 | 14-028 |
| Dynojet Power Commander 5 | 10-006 |
| Dynojet Power Commander 5 | 12-022 |
| Dynojet Power Commander 5 | 14-029 |
| Dynojet Power Commander 5 | 14-030 |
| Dynojet Power Commander 5 | 14-031 |
| Dynojet Power Commander 5 | 14-032 |
| Dynojet Power Commander 5 | 15-039 |
| Dynojet Power Commander 5 | 15-040 |
| Dynojet Power Commander 5 | 17-043 |
| Dynojet Power Commander 5 | 17-066 |
| Dynojet Power Commander 5 | 17-067 |
| Dynojet Power Commander 5 | 18-020 |
| Dynojet Power Commander 5 | 19-040 |
| Dynojet Power Commander 5 | 29-002 |
| Dynojet Power Commander 5 | 17-068 |
| Dynojet Power Commander 5 | 22-079 |
| Dynojet Power Commander 5 | 22-046 |
| Dynojet Power Commander 5 | 14-035 |
| Dynojet Power Commander 5 | 16-064 |
| Dynojet Power Commander 5 | 16-068 |
| Dynojet Power Commander 5 | 16-069 |
| Dynojet Power Commander 5 | 17-070 |
| Dynojet Power Commander 5 | 17-072 |
| Dynojet Power Commander 5 | 20-049 |
| Dynojet Power Commander 5 | 20-050 |
| Dynojet Power Commander 5 | 20-051 |
| Dynojet Power Commander 5 | 20-052 |
| Dynojet Power Commander 5 | 21-020 |
| Dynojet Power Commander 5 | 22-080 |
| Dynojet Power Commander 5 | 22-081 |
| Dynojet Power Commander 5 | 29-003 |
| Dynojet Power Commander 5 | 19-047 |
| Dynojet Power Commander 5 | 21-022 |
| Dynojet Power Commander 5 | 15-042 |
| Dynojet Power Commander 5 | 15-041 |
| Dynojet Power Commander 5 | 14-038 |
| Dynojet Power Commander 5 | 17-071 |
| Dynojet Power Commander 5 | 10-007 |
| Dynojet Power Commander 5 | 20-058 |
| Dynojet Power Commander 5 | 14-040 |
| Dynojet Power Commander 5 | 21-024 |
| Dynojet Power Commander 5 | 22-086 |
| Dynojet Power Commander 5 | 18-027 |
| Dynojet Power Commander 5 | 22-084 |
| Dynojet Power Commander 5 | 16-071 |
| Dynojet Power Commander 5 | 17-076 |
| Dynojet Power Commander 5 | 17-075 |
| Dynojet Power Commander 5 | 20-057 |
| Dynojet Power Commander 5 | 21-026 |
| Dynojet Power Commander 5 | 21-027 |
| Dynojet Power Commander 5 | 12-024 |
| Dynojet Power Commander 5 | 15-048 |
| Dynojet Power Commander 5 | 16-072 |
| Dynojet Power Commander 5 | 17-073 |
| Dynojet Power Commander 5 | 17-074 |
| Dynojet Power Commander 5 | 19-050 |
| Dynojet Power Commander 5 | 20-053 |
| Dynojet Power Commander 5 | 21-025 |
| Dynojet Power Commander 5 | 22-087 |
| Dynojet Power Commander 5 | 12-025 |
| Dynojet Power Commander 5 | 14-037 |
| Dynojet Power Commander 5 | 16-075 |
| Dynojet Power Commander 5 | 17-077 |
| Dynojet Power Commander 5 | 22-088 |
| Dynojet Power Commander 5 | 12-023 |
| Dynojet Power Commander 5 | 16-077 |
| Dynojet Power Commander 5 | 17-078 |