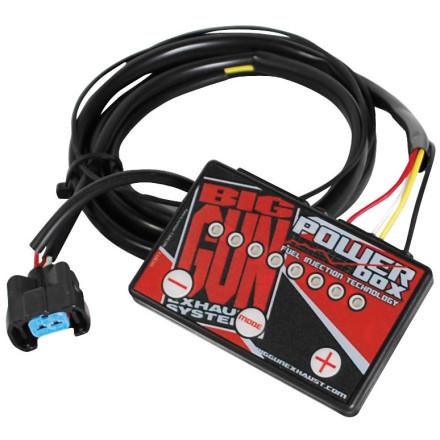 ---
10% Off - Save up to $40.00
---
5 Star
5
4 Star
0
3 Star
0
2 Star
0
1 Star
1
Write a Review
Write your review and you'll automatically be entered in our monthly drawing. Include an image or video to DOUBLE your chances to win!
Write Your Review
Does not fit
Does not fit 2018 raptor 700, one of the connections doesn't match up
AWESOME
I was able to install this pipe within minutes and test it out. It is LOUD!!! I noticed immediately a gain in power as well even before plugging in the programmer. Love Big Gun products!!
2011 Raptor 700R
This is a great fuel system. Pretty easy instructions. I have this on my raptor and the pro design pro flow intake and it absolutely flys. I will soon be getting the big gun exhaust for it. This makes my quad a lot more snappier and run a lot better. Great product!!
Love it.
I have this and a Dr. D exhaust on my 14 Honda 250 and I love. So much more top end.
Over 8 years ago
hudson, ny
Amazing
what a differance in power i have a exaust and a intake and this product made the final touch if ur looking for power i totaly recomed this product..
ScottE1969
Q: Will the Big Gun Fuel Management Controller work well on a 2009 Kawasaki KFX 450R with a full HMF Competition exhaust?
Michael
1 month 6 days ago
A: That is a solid yes on that, and a GREAT IDEA!
Lewis1295
Q: Does this fit a 2019 Yamaha raptor 700r?
robert
3 months 7 days ago
A: Yes this will fit your selected model raptor 700.
Mikeie
Q: Does this fit the Article cat 700 mud pro
JamesGearhead
4 months 12 days ago
A: To be sure, we will also need to know the year of your Arctic Cat.

You can also call Motosport for these technical questions, or any other related issue! 1-888-676-8853
Dmicheal
Q: Will this fit my 2006 Outlaw 500, if so my quad is stock do I have to add a exhaust or anything
SDZ13
Over 7 months ago
A: No. this will not fit the 2006 Polaris OUTLAW 500
Silver
Q: Could i get this to work with a fmf powercore 4 on a 2017 raptor 700r?
Poochie
Q: I have a 2006 Polaris Ranger 700 XP with a Stroker 800 bore kit. Will this BigGun kit work on it?
David
1 year ago
A: Yes it will.
Alerts1234553
Q: Would this make my Trx 700xx 2008 faster ?
I have a Trx 700xx 2008,, I want to know if this would make it faster , and how much more ?
Isaac
1 year 3 months ago
A: The product is for air fuel mixture, if you have added a exhaust system and upgraded air filter it will allow the fuel injection to accommodate for the added air flow. So if you have added those modifications it will make the atv run better but it is tough to say how much faster it would go.
Honda
Q: How many settings does it have
MotoSportExpert
2 years 4 months ago
A: The POWERBOX has six (6) programmable features (modes) available. Each mode has multiple settings. Instructions can be downloaded from the Big Gun website here:

http://www.biggunexhaust.com/index.php?route=product/category&path=821_822
JIMMY634
Q: WHATS A GOOD SLIP ON PIPE TO GO WITH IT?
I HAVE A 2014 RANCHER 420 4X4. WHATS A GOOD SLIP ON PIPE TO GO WITH THIS AND WHAT ABOUT MY O2 SENSOR IN THE MUFFLER DOES THAT TAKES ITS PLACE?
MotoSportExpert
Over 3 years ago
A: I would recommend one of the Big Gun systems depending on what you are looking for. Please contact one of our sales professionals to inquire about special orders and availability.
Dirt Bike / ATV: 1-888-676-8853
Tyler9512
Q: Does this product work on ATVs with a carburetor
MotoSportExpert
Over 3 years ago
A: No the Big Gun TFI Power Box is for EFI models.
See all bikes that this part fits...
| Product Variant | Manufacturer Part # |
| --- | --- |
| Gen4 | N/A |
| Big Gun TFI Power Box | N/A |
| Big Gun TFI Power Box | 40-R53A |
| Big Gun TFI Power Box | 40-R51C |
| Big Gun TFI Power Box | 40-R51E |
| Big Gun TFI Power Box | 40-R51B |
| Big Gun TFI Power Box | 40-R51A |
| Big Gun TFI Power Box | 40-R51F |
| Big Gun TFI Power Box | 40-R62 |
| Big Gun TFI Power Box | 40-R57D |
| Big Gun TFI Power Box | 40-R57B |
| Big Gun TFI Power Box | 40-R53 |
| Big Gun TFI Power Box | 40-R56A |
| Big Gun TFI Power Box | 40-R56B |
| Big Gun TFI Power Box | 40-R63 |
| Big Gun TFI Power Box | 40-R50C |
| Big Gun TFI Power Box | 40-R54G |
| Big Gun TFI Power Box | 40-R52B |
| Big Gun TFI Power Box | 40-R54D |
| Big Gun TFI Power Box | 40-R54F |
| Big Gun TFI Power Box | 40-R54H |
| Big Gun TFI Power Box | 40-R57A |
| Big Gun TFI Power Box | 40-R51D |
| Big Gun TFI Power Box | 40-R57C |
| Big Gun TFI Power Box | 40-R52A |
| Big Gun TFI Power Box | 40-R54K |
| Big Gun TFI Power Box | 40-R54I |
| Big Gun TFI Power Box | 40-R54E |
| Big Gun TFI Power Box | 40-R54J |
| Big Gun TFI Power Box | 40-R54B |
| Big Gun TFI Power Box | 40-R54C |
| Big Gun TFI Power Box | 40-R50A |
| Big Gun TFI Power Box | 40-R50 |
| Big Gun TFI Power Box | 40-R58 |
| Big Gun TFI Power Box | 40-R50D |
| Big Gun TFI Power Box | 40-R57E |
| Big Gun TFI Power Box | 40-R52C |
| Big Gun TFI Power Box | 40-R50F |
| Big Gun TFI Power Box | 40-R50E |
| Big Gun TFI Power Box | 40-R51G |
| Big Gun TFI Power Box | 40-R52D |
| Big Gun TFI Power Box | 40-R53C |
| Big Gun TFI Power Box | 40-R54Q |
| Big Gun TFI Power Box | 40-R54N |
| Big Gun TFI Power Box | 40-R54R |
| Big Gun TFI Power Box | 40-R54M |
| Big Gun TFI Power Box | 40-R54P |
| Big Gun TFI Power Box | 40-R54L |
| Big Gun TFI Power Box | 40-R54O |
| Big Gun TFI Power Box | 40-R57H |
| Big Gun TFI Power Box | 40-R57G |
| Big Gun TFI Power Box | 40-R57F |
| Big Gun TFI Power Box | 40-R57I |