Most Recent Dirt Bike Reviews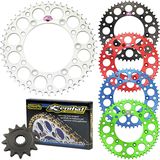 Renthal Chain & Sprocket Kit
Matt
Great
"It's definitely worth the money, hold up great I've put in a lot of motos and hours and haven't needed new ones yet. And it's looks super clean"

See all reviews for this product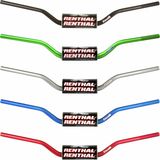 Renthal Fat Bar - Oversized 1-1/8
Ray ray

- Troy Michigan
Very long and weird bend (McGrath)
"I'm a smaller guy and felt the McGrath bend was way to wide for me. Should have did my research. Very well built though. Can never go wrong on renthal bars. Just need a different bend."

See all reviews for this product
The Renthal Name
Renthal got its name from the combination of the founders' names - Andrew Renshaw and Henry Rosenthal - who, in 1969, made the company's first handlebars based upon a prototype Rosenthal used for his trials bike made out of H14 aircraft aluminum. The aluminum handlebars fared well against the steel bars they replaced. Thus, a small scale aluminum handlebar production began. By 1975, demand was so heavy Renthal grew into full production mode.
Renthal made its name in the motocross industry by building championships. Renthal products so far have won more than 150 World Titles and more than 130 US Titles. In 2004, their handlebars made motocross history. Renthal supplied the first aluminum 7/8-inch handlebar as an OEM product for a Japanese off-road motorcycle. Honda's decision to make Renthal its supplier also marked the first time that aluminum 7/8-inch handlebars were fitted to a motocross bike.
In 2005, Yamaha fitted Renthal handlebars to several models. In 2010, Renthal handlebars steered Honda, Kawasaki, Suzuki and KTM performance motocross motorcycle models.
Renthal is now a world leader in motorcycle and ATV accessories like grips, chainwheels and chains. In 2008, Renthal introduced its Intellilever, marketed as an unbreakable clutch because the design allows it to pivot during a crash. CycleWorld.com commented in a 2009 review that it could be the last one you'll ever need to buy. Renthal's innovation also includes adjustable clip-on handlebars and Kevlar-infused dual compound road race grips.
Renthal prides its work on attention to detail. Success is achieved through relentless commitment and effort. It's this dedication that makes Renthal products some of the finest products available today. Renthal designs, develops, and manufactures all products in their Manchester, England facility.
Renthal Products at MotoSport
MotoSport provides a full line of Renthal products. The Intellilever series now includes break levers and a Hot Start kit. We've got both as well as the clutch lever system. Check out Renthal's front and rear brake pads and of course we've got those famed handlebars in both 7/8-inch and the 1 1/8-inch. Our selection of Renthal products doesn't stop there either. We also carry chains, chainwheels, sprocket kits, and bar pads, among other items.
MotoSport is the best place on the web to find Renthal products and motorcycle accessories. Look no further to find the Renthal equipment you need to keep your bike ready to roll. Want help? Call our toll free line 1-888-676-8853 or chat with an expert.
Get fast, free shipping on orders Over $79.