Most Recent Dirt Bike Premix Reviews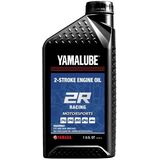 Yamalube 2R Two Stroke Oil
Timmiam

- Bend Oregon
My bike loves it
"What can I say. My 250x loves the stuff. Never a fouled plug and not much spooge (and I'm running a tad rich). I run it in my lady's Kx125 as well (slightly rich) with no problems as well."

See all reviews for this product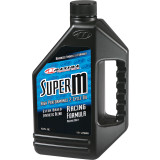 Maxima Super M 2-Stroke Oil
Michael

- Wmass
Awesome oil
"I have used this oil for years and it keeps my internals well lubed only down side is its red and hard to tell if your kid mixed the gas or not ......some times double doesn't hurt"

See all reviews for this product
2-Stroke Oil
Ahhh, the smell of 2-stroke oil in the morning smells like victory. The oil you mix with gasoline, that many know as premix, offers just one of several unique characteristics for 2-stroke dirt bikes and serves as a lubricant while burning off with the fuel as you ride.
Mixing 2-Stroke Oil
Bike manufacturers require different ratios of 2-stroke oil to gasoline but one of the most common ratios consist of 30 parts gasoline to 1 part premix. When mixing 2-stroke oil you simply use the appropriate measuring cup and add the premix to a can of gas. Mix the fuel and 2-stroke oil mixture then pour into the dirt bike's fuel tank. It helps to have a dedicated fuel can for mixing 2-stroke oil. Yes, you can use regular pump gas at your local fuel station to mix with the 2-stroke oil of your choice.
Best 2-stroke Oil
We can't tell you the best 2-stroke oil because so many opinions exist. In many respects, the best 2-stroke oil is whatever brand you use and if you are happy with the results and overall operation of your dirt bike with the premix on the shelf in your garage - then keep using it. It won't hurt to mix things up (no pun intended) if you so choose so trying different 2-stroke oils won't hurt your dirt bike. Just follow the manufacturer's recommendations on the ratio of premix to gas and braaap from there.
Types of 2-stroke Oil
One thing to keep in mind when choosing a 2-stroke oil is the type of oil. Just like motor oil, 2-stroke oil comes in different forms and we carry all four types:
You can learn more about the types of 2-stroke oil by reading Best 2-Stroke Oil for Your Dirt Bike or ATV.
2-Stroke Oil Brands
MotoSport sells the industry standards and most respected names in 2-stroke oil manufacturers. The following offers just a select few of the 2-stroke oil brands we stock:
MotoSport carries the premix you need to keep your 2-stroke dirt bike running. If you have further questions on what 2-stroke oil to use, feel free to give one of our gearheads a call at 1-888-676-8853 who can recommend a premix based on personal use or even the brands that run best for the make, model and year of your dirt bike.
We ship all orders of 2-stroke oil fast and orders more than $79 ship free.