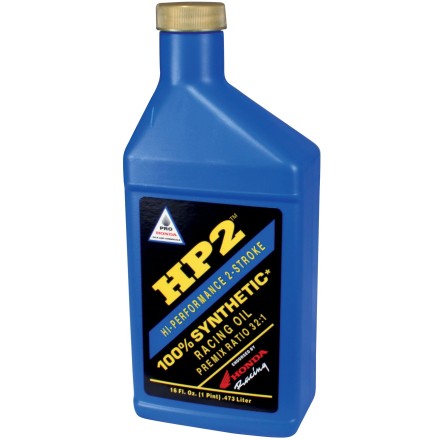 Pro Honda HP2 2-Stroke Racing Oil
---
4.72
5
18
Rating: 4.7 out of 5 stars
---
18 Reviews
16

reviews

1

reviews

0

reviews

0

reviews

1

reviews
All Reviews
Over 5 months ago
Oregon City
Good!
It's makes her purr real good with that ol non E
Good oil
been using it in my 1987 CR250 for 20 years only had to replace the top end once. I say thats pretty good!
Over 9 months ago
Willametter Valley, Oregon
Good Oil
None of the motorcycle specialty sellers manufacture oil; they buy and resell their petroleum products. Honda is a large enough enterprise to have incoming inspection and quality control. I have never found dirt in the bottom of this Honda oil, and I buy/use over 2 cases of it each year. I use it in all my 2-stroke farm tools such has chain saws. Whatever brand of oil you use, check for dirt in the bottom of the empty bottles. (Check the bottoms of some of your popular brands of common motor oil. Is there dirt in the bottoms? You may find that the most popularly advertised brands have the most dirt in the bottoms.)
High quality
High quality oil. Can't beat it.
Great product
Great product!! My bike has never ran so good!! Awesome!!!
1 year 4 months ago
San Diego California
Easy to use small and compact no weird shapes
I've used this oil for the past 15 years best oil
1 year 4 months ago
miami, fl
Excelent product.... no complaints.
great product, great service as always from motorsport, quick dispatch.... and best of all ... great price...
1 year 10 months ago
Paragould Ar
Stick with what works
I thought I would try this Honda oil since I'm putting it in a cr250r, but I quickly found out it didn't perform well for me or the bike. I was fouling plugs & power valve wasn't working properly. I fixed the problem by going back to bel-ray.
Honda HP2
The only 100% synthetic premix. I have used this product for over 20 years and have never had a problem. It's always proven itself during engine tear down and I see minimal wear. Power valves are always free and clean. All other brands that say "full synthetic" or "all synthetic" only put enough synthetic material to be labeled as such and are usually no more than 29% synthetic material. Don't be fooled. Use only the best. Honda HP2 is safe to run in all other makes and models.
3 Questions
Question asked by

liam1088
Question:

Will this work with a 2001 cr 125

Question asked

1 year 6 months ago

Question answered by

JamesGearhead

User's contributor status:

Top 10

Question answered

1 year 6 months ago

Answer:

Yes, this 2-Stroke pre-mix oil will work for a CR125. Refer to your user's manual for proper fuel/oil mixture ratio.
Question asked by

Jeremy
Question:

I have a 1986 Honda CR250R dirt bike that I'm rebuilding putting new piston rings in all in it I've always use Golden spectro 2-cycle oil and has always been really good I want to try something different any ideas

Question asked

1 year 7 months ago
Question asked by

Slipperypickerel
Question:

Will this work in my 1985 Yz 250 I know they didn't have synthetic back then will this hurt my bike?

Question asked

Over 3 years ago

Question answered by

Jake

User's contributor status:

Question answered

Over 3 years ago

Answer:

You can use synthetic on old stuff. Just don't use non synthetic on the new stuff that needs synthetic
# Part Numbers
| Product Variant | Manufacturer Part # |
| --- | --- |
| Pro Honda HP2 2-Stroke Racing Oil | 08C35-AH21S01 |