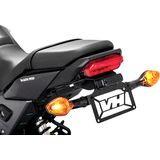 Vance & Hines Fender Eliminator Kit
Mike

- Bakersfield ,Ca
instructions were poor
"this tail tiddy is a quality product however, the instructions were lacking and had to make some modifications to the bike. This is simply not a bolt on assembly. Had to do some grinding to tail frame to be able to fit the product properly. Bolts were also to short and had to purchase longer ones. The website said it would fit my Ducati desert sled, but it did not. some one needs to do more homework on the installation process, like maybe put one on the model before you make instructions that are incorrect. never the less it is a good quality product, very well manufactured and looks good on the bike. You just got to do a little work."

See all reviews for this product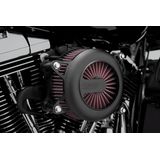 Vance & Hines VO2 Rogue Air intake
Nickmodi

- Longview Tx
Looks Great, and Performs Well, Fitment issues
"I Bought this a week ago and was excited to install it on my 48, i quickly ran into fitment issues with the mounting holes being slightly off on every piece, i had to take a large drill bit and make all of the holes larger so they would line up. After the installation i am pleased with the product but would not recommend if you are not comfortable modifying it to work."

See all reviews for this product
Vance and Hines
It might not surprise anybody if a chemical analysis of Terry Vance's blood revealed a small mixture of gas and oil. Born in 1953, Vance moved to Los Angeles with his family at the age of 3. A decade later he used paper route money and bought a mini-bike frame. His dad installed a small engine from a lawn edger and a racer was born. Vance graduated from his father's ingenuity to a Honda 90, then a Honda 350 and in 1970 a Honda 750 Fours. As a teen, Vance raced his Honda in local drag strip races and not surprisingly, won. In 1972, Vance signed his first professional contract with R.C. Engineering and while there he met a man named Byron Hines who was building Vance's race bikes. The rest, shall we say, is history
Vance & Hines - Industry Legends
Vance and Hines became best friends and the stars of motorcycle drag racing. In 1977, Suzuki signed Vance, and with Hines tuning, their award winning ways continued. In January 1980, Vance & Hines, the company, was born. Initially, Vance & Hines built customer motors but by 1983 the now famous Vance & Hines exhaust system emerged. The duo built exhaust systems not only for drag racing but also for road bikes and Vance's winning ways fueled the company's popular success. Vance retired in 1988 winning the final five events he entered. Considered the most successful motorcycle drag racer of his era, Vance is credited with 24 NHRA national victories.
Vance and Hines Exhaust
We love Vance and Hines because for them it's about reputation. A reputation for being the best and offering more than 30 years of racing – and of course 30 years of winning. And you'll win with MotoSport because we offer an unparalleled selection of Vance & Hines exhaust accessories, full systems and slip ons. All Vance and Hines exhaust products surpass industry standards for engineering and manufacturing performance.
Vance and Hines at MotoSport
MotoSport offers more than 100 Vance and Hines products ranging from slip on exhausts, full system exhausts, and air and oil filters. We also stock additional Vance and Hines products from fuel management to foot controls. Whatever you need to get you riding and riding in style, we have it. Whatever you need to keep your motorcycle or cruiser on two wheels the Vance & HInes way, we have it. We don't want you to ever miss a ride so shop all Vance and Hines exhaust and accessories at MotoSport.com. If you have questions on any Vance and Hines products or want help choosing an exhaust give one of our gearheads a call at 1-888-676-8853 who can provide advice and help narrow your choice based on what you ride, where you ride and the type of riding.
Vance and Hines is no stranger to the industry and no stranger to us that's why we have one of the best Vance and Hines exhaust selections on the internet. Look no further than MotoSport to upgrade your ride with any number of Vance and Hines products.
MotoSport delivers all Vance and Hines products fast and orders more than $79 ship free.