Boyesen
Boyesen Quickshot 3 Accelerator Pump Cover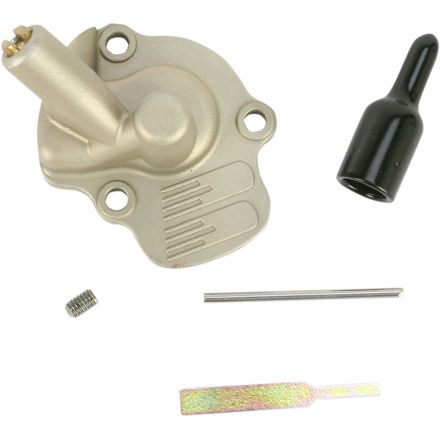 Boyesen Quickshot 3 Accelerator Pump Cover
5 Star
14
4 Star
4
3 Star
1
2 Star
0
1 Star
1
Need a video on installation
have not installed it yet...need someone to help me with it
1 year 3 months ago
Michigan
Dead spot gone
Installed on CRF450X.
Dead spot at 1/8 to 1/4 throttle gone like magic.
1 year 5 months ago
Jackson, Wi
Is this 04 crf fuel injected?!
I put this on my 04 crf250 because of the lean bog it had..it now runs with the same throttle response as my 15' fuel injected crf250 yeeyee
Quickshot 3
EZ installation and it works to help start my bike and that's why I bought it.
2 years 10 months ago
Fresno ca
Great purchase
Bike ran awesome ! Great performance .
Over 3 years ago
Louisiana, USA
A must buy! '07 CRF250
The mid 2000's Honda 250's were notorious to have a TERRIBLE bog when you crack the throttle that most trail riders found when trying to clear a log or to pick up the front tire, the bike would fall on its face. This carb bowl mod COMPLETELY fixes this. Easy install and easy to tune after. No hesitation in the throttle response.NO MORE BOG! 5/5 great buy.
Great product
I have a 07 crf250r and it had the infamous Honda bog. No matter what I did. Now my bike never bogs and runs great... It really pulls out of corners too. Installation was easy even if you don't know much about carbs you can do it. If you are in the same situation as I was this is the product for you. It's like bolt on fuel injection.
Boysen Quick Shot 3
Installed the Boysen Quick Shot 3 on my 2011 KTM 530 XC-W. I was having issues with hard starting, inconsistent idle, deceleration popping and throttle bogging. Paired the BQS3 with the correct JD jetting, adjustable fuel needle and the bike is now crisp on throttle response and starts easy and has enhanced power that is clean. I would definitely recommend this to friends and family.
See all bikes that this part fits...
| Product Variant | Manufacturer Part # |
| --- | --- |
| Boyesen Quickshot 3 Accelerator Pump Cover | APC-3 |
| Boyesen Quickshot 3 Accelerator Pump Cover | APC-3K |