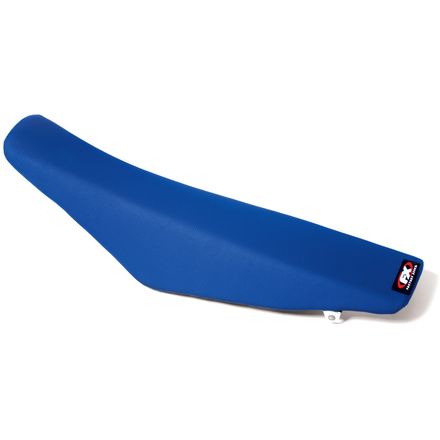 Factory Effex All-Grip Seat Cover
---
15% Off - Save up to $9.00
---
5 Star
38
4 Star
10
3 Star
2
2 Star
1
1 Star
1
Write a Review
Write your review and you'll automatically be entered in our monthly drawing. Include an image or video to DOUBLE your chances to win!
Write Your Review
4 months 27 days ago
Hawaii
Does not fit xr650l
Says it would fit, doesn't even come close. Made for a dirt bike seat. Looks like good quality though.
Installs nicely
I got this for a replacement so I could shave my seat. I took off 1.5" in the center and tapered all the way to both ends. This cover stretched so nicely over the lowered seat with no signs of over stretch or distortion and looks like it came on the bike.
1 year 11 months ago
Dawsonville, GA
Awesome Seat Cover
For the money this is a very nice and grippy seat cover. I would buy another one of these. Fairly easy to install too.
2 years 2 months ago
Spokane, WA, USA
Good as new
Economical, high quality replacement. Can easily be done with a manual stapler but an electric or pneumatic is much easier.
2 years 9 months ago
Tampa, FL, USA
Factory Effex All-Grip Seat Cover
happy with the quality and the design
Grips awesome!
This was the first dirt bike seat cover I have installed, and it went on pretty easy with no wrinkles. I have a handful of rides on this seat cover, and it is very grippy. I would definitely buy again.
Over 3 years ago
Idaho, USA
Factory Effex All-Grip Seat Cover
great quality for the price simple to install and looks great
Over 3 years ago
Tacoma, WA, USA
Over 3 years ago
Prineville, OR 97754, USA
A MUST HAVE
I was a little worried at first tearing my seat apart so happy i replaced it with the fx b4 i love this seat cover strong durable it grips well looks awesome make sure to warm it before install it strecthes well!!!!!
Over 4 years ago
wayne nj
Like glue
great product would buy another680b
Q: Will it fit my 93 cr 125 or will i have to shave the seat own ?
MotoSportExpert
Over 3 years ago
A: Yes it will fit your 1993 Honda CR125. Just be sure to correctly select the Year/Make/Model of your bike before ordering so we can be sure to send you the correct seat cover for your bike. Also, feel free to give us a call at 888-676-8853 and we would be happy to help you out with your order.
Q: Will this fit the factory effex bump seat foam?
MotoSportExpert
Over 3 years ago
A: Yes, you should get enough stretch out of the material to fit over the bump.
Q: What tools do you need to install the seat cover?
John
Over 5 years ago
A: I used a spring loaded staple gun.....It worked but was hard to do took me a long time. I'd recommend an air powered gun or take it to a dealer to have it installed
stormy
Over 5 years ago
A: flat screwdriver and hand staple gun
MotosportStaff
Over 5 years ago
A: You will need some needle nose pliers, a flat head, and a staple gun.

Use a flat head screwdriver to dig up the old staples so you can grab them with the pliers and pull them out. When the old seat is off, go ahead and stretch the new one over the foam and staple the rear and front with a couple staples where the previous staples were after its centered and pulled tight. Then you'll want to pull the sides tight with a couple staples to hold it in place. Once you are happy with the seat being centered and lined up in all four sides, start pulling it tight and stapling around the whole seat. You may find that there is excess material when you are done. That can be cut off with a razor.
Paxton
Over 5 years ago
A: a hardware grade stapler. an air pressured stapler is not necessary
Q: Will this fit my 93 rm 125
JesseC
Over 7 years ago
A: no these will not fit a 93
Q: Does it come with the seat or just the cover
james718
Over 8 years ago
A: This is just the seat cover only.
WhiteYamaha
Over 8 years ago
A: Just the cover
stormy
Over 8 years ago
A: just the seat cover
Q: Whats the return policy on this seat cover
could i return this seat cover if it rips while putting it on?
Drewski
Over 9 years ago
A: It depends, if it's something that is possibly a manufacture defect we will do a return for it but they do have to be inspected to determine whether it was a manufacture defect or if it was a installation error. So it's something we handle on a case by case basis but are willing to work with you if the issue does arise.
Q: Will this cover fit over the "Bump" seat foam
james718
Over 9 years ago
A: The Factory Effex TC-4 seat cover is only designed to fit the bump. All other seat covers will not have enough space to accommodate the bump.
stormy
Over 9 years ago
A: yes
See all bikes that this part fits...
| Product Variant | Manufacturer Part # |
| --- | --- |
| Black | N/A |
| Blue | N/A |
| Yellow | N/A |
| Black | 06-24316 |
| Black | 06-24312 |
| Black | 06-24314 |
| Black | 06-24320 |
| Black | 07-24318 |
| Black | 08-24320 |
| Black | 12-24322 |
| Black | N/A |
| Black | N/A |
| Black | 07-24108 |
| Black | 10-24526 |
| Black | 14-24526 |
| Black | 06-24516 |
| Black | 06-24518 |
| Black | 06-24112 |
| Black | 06-24114 |
| Black | N/A |
| Black | 06-24118 |
| Black | 07-24126 |
| Black | 07-24110 |
| Black | 12-24126 |
| Black | 09-24122 |
| Black | 15-24130 |
| Black | 06-24412 |
| Black | 06-24414 |
| Black | 07-24118 |
| Black | 10-24424 |
| Black | 13-24426 |
| Black | 08-24416 |
| Black | 11-24418 |
| Black | 10-24234 |
| Black | N/A |
| Black | 06-24214 |
| Black | 06-24212 |
| Black | N/A |
| Black | 06-24220 |
| Black | 09-24224 |
| Black | 06-24218 |
| Black | 13-24226 |
| Black | 13-24228 |
| Black | N/A |
| Black | 19-23530 |
| Black | 19-24530 |
| Black | 19-24620 |
| Black | 19-24630 |
| Black | 09-24310 |
| Black | 10-24318 |
| Black | 06-24330 |
| Black | 07-24336 |
| Black | 07-24106 |
| Black | 06-24124 |
| Black | 07-24128 |
| Black | 06-24230 |
| Black | 06-24232 |
| Black | 09-24202 |
| Black | 09-24204 |
| Black | 09-24206 |
| Black | 09-24410 |
| Black | 07-24508 |
| Black | 08-24510 |
| Black | 06-24512 |
| Red | 18-23324 |
| Red | 18-23326 |
| Green | 18-23126 |
| Green | 18-23130 |
| Orange | 18-23526 |
| Yellow | 18-23426 |
| Yellow | 18-23430 |
| Blue | 18-23226 |
| Blue | 18-23332 |
| Blue | 18-23228 |