Wiseco
Wiseco Pro-Lite 2-Stroke Piston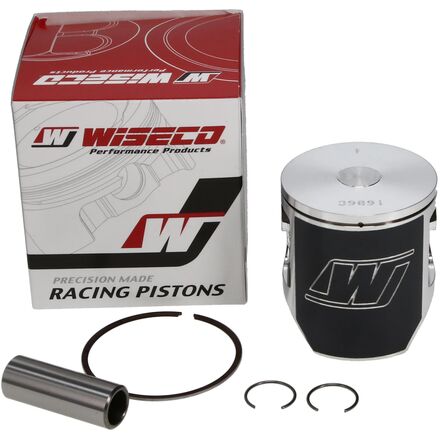 Wiseco Pro-Lite 2-Stroke Piston
---
31% Off - Save up to $81.00
---
5 Star
100
4 Star
10
3 Star
1
2 Star
1
1 Star
2
Write a Review
Write your review and you'll automatically be entered in our monthly drawing. Include an image or video to DOUBLE your chances to win!
Write Your Review
3 days 9 hours ago
Paragon, IN.
Reliable products
I have always purchased their pistons and related products/\.
6 days 14 hours ago
Florida
Excellent kit
Had everything you need and quality at that
Failed
I had the new ring fail on the 6th heat cycle destroying the cylinder and head. Cost me $500 to replace damaged parts. I went with oem instead
12 days ago
Spartanburg sc
Best top end kit
I bought The wiseco top end kit for a 99 cr125 and installed the vforce 3 reeds and cage and everything was perfect. Really opened the bike up
1 month 2 days ago
California
Perfect fit
about a month ago installed it excellent fit excellent performance and I would recommend it
1 month 3 days ago
Colusa California
Excellent quality
This piston fit perfectly and the quality of all the hardware that came with it was just as amazing as the piston it self. Would recommend to anyone looking to rebuild their two stroke.
1 month 19 days ago
Easley sc
Great quality
I have this piston in my 99 kx 250, and have ran 6 two hour hare scramble races so far. Have no complaints and will buy again
1 month 19 days ago
Waldorf md
1 month 20 days ago
Tampa
Piston and parts are awesome, thanks!!!
Piston and parts are awesome, thanks!!!
Hp
Transforms your machine into a beast
Q: What would be the size of the piston for a 2006 yamaha yz85?
rknight
17 days ago
A: the stock size piston for that model bike is 47.50mm
Q: Ring
is there a single ring version of this or is it just two, and is there a flat topped piston by wiseco?
robert
3 months 27 days ago
A: Cr125 wiseco pistons will be single ringed.
Q: Dome
Is the top of this piston dome shaped and will it fit a 1997 cr125?
robert
4 months ago
A: Yes it will be a domed piston.
Q: Will i have to drill holes in the piston on a 2000 cr125?
robert
4 months 11 days ago
A: Yes this will require and oil relief to be drilled.
Q: What piston do i order? 1999 kx125 engine, cylinder, but i swapped out crank from a 1993 kx125
robert
4 months 25 days ago
A: You will want to contact a repair shop to reference custom application fitment due to cylinder changes in those years.
Q: If i have a stock bore and get an over sized piston for my 2001 yz 125 what do i have to do to the cylinder
David
Over 5 months ago
A: You would have to bore out your cylinder. You want to chose your piston size base on what your cylinder bore is, not the other way around.
Q: Are these pistons stock compression?
the part is 643M04700
robert
Over 7 months ago
A: Yes this would be a stock compression piston with a 47mm bore.
Q: 2001 blaster
just want to know is this all the parts I need to rebuild my top end or is ther more
MotoStaff
1 year 3 months ago
A: In addition to this piston, you will want a needle bearing for the wrist pin, and a top-end gasket kit. We sell all of those items together, select your ride at the top of the page and do a search for "Piston Kit".
Q: What size piston do I need?
My piston says 5845a on it and is not the stock bore size what size do I need? .40 over?
MotoSportExpert
1 year 11 months ago
A: If you are just replacing the piston, then you need to first know the bore of the cylinder. This can be done by using a bore gauge to find the diameter or by reading the owner's manual to find the bore specifications. Ultimately, the bore should be measured for the best possible results. After the diameter is known, then you can pick which size piston will work best in your cylinder.
Matt
1 year 11 months ago
A: You need a 53.96mm piston for a 54mm cylinder
Q: What size is the piston? I need 76.25 bore.
MotoSportExpert
2 years ago
A: The following is a list of pistons offered by Wiseco for your 1989 Honda TRX250R. Please contact one of our sales professionals to inquire about special orders and availability.
Dirt Bike / ATV: 1-888-676-8853

562M06600 66.00mm STD
Displacement:
246cc
Stroke:
72.00mm

562M06625 66.25mm 0.25
Displacement:
247cc
Stroke:
72.00mm

562M06650 66.50mm 0.50
Displacement:
248cc
Stroke:
72.00mm

562M06675 66.75mm 0.75
Displacement:
249cc
Stroke:
72.00mm

562M06700 67.00mm 1.00
Displacement:
250cc
Stroke:
72.00mm

562M06725 67.25mm 1.25
Displacement:
251cc
Stroke:
72.00mm

562M06750 67.50mm 1.50
Displacement:
252cc
Stroke:
72.00mm

562M06800 68.00mm 2.00
Displacement:
254cc
Stroke:
72.00mm
See all bikes that this part fits...
| Product Variant | Manufacturer Part # |
| --- | --- |
| .020" Oversize | N/A |
| .040" Oversize | N/A |
| .060" Oversize | N/A |
| .080" Oversize | N/A |
| .120" Oversize | N/A |
| .140" Oversize | N/A |
| .160" Oversize | N/A |
| .200" Oversize | N/A |
| Stock Bore | N/A |
| Stock Bore | 855M05200 |
| Stock Bore | 786M05400 |
| Stock Bore | 869M05600 |
| Stock Bore | 864M04500 |
| Stock Bore | 746M04500 |
| Stock Bore | 855M04700 |
| .030" Oversize | N/A |
| Stock Bore | 573M06600 |
| .010" Oversize | 573M06625 |
| .020" Oversize | 573M06650 |
| .030" Oversize | 573M06675 |
| .040" Oversize | 573M06700 |
| .050" Oversize | 573M06725 |
| .060" Oversize | 573M06750 |
| .070" Oversize | 573M06775 |
| .080" Oversize | 573M06800 |
| .090" Oversize | 573M06825 |
| Stock Bore | 676M05400 |
| Stock Bore | 841M05400 |
| Stock Bore | 859M05400 |
| Stock Bore | 614M06640 |
| Stock Bore | 801M06640 |
| Stock Bore | 860M06640 |
| Stock Bore | 702M06640 |
| Stock Bore | 643M04700 |
| Stock Bore | 833M04750 |
| Stock Bore | 711M06600 |
| Stock Bore | 750M06900 |
| Stock Bore | 651M05250 |
| Stock Bore | 783M05400 |
| Stock Bore | 822M05400 |
| Stock Bore | 834M05400 |
| Stock Bore | 652M05400 |
| Stock Bore | 719M05400 |
| Stock Bore | 741M05400 |
| Stock Bore | 607M06740 |
| Stock Bore | 799M06640 |
| Stock Bore | 843M06640 |
| Stock Bore | 556M06740 |
| Stock Bore | 617M06640 |
| Stock Bore | 575M08600 |
| Stock Bore | 648M04300 |
| Stock Bore | 752M04450 |
| Stock Bore | 644M04800 |
| Stock Bore | 782M04850 |
| Stock Bore | 571M06700 |
| Stock Bore | 561M08600 |
| Stock Bore | 754M05400 |
| Stock Bore | 835M05400 |
| Stock Bore | 641M05400 |
| Stock Bore | 642M06700 |
| Stock Bore | 756M06640 |
| Stock Bore | 823M06640 |
| Stock Bore | 681M06640 |
| Stock Bore | 723M06640 |
| Stock Bore | 743M06640 |
| Stock Bore | 645M04750 |
| Stock Bore | 806M04800 |
| Stock Bore | 562M06600 |
| Stock Bore | 797M05400 |
| .080" Oversize | 797M05600 |
| Stock Bore | 845M05400 |
| Stock Bore | 594M05600 |
| Stock Bore | 629M05600 |
| Stock Bore | 647M05400 |
| Stock Bore | 693M05400 |
| Stock Bore | 726M05400 |
| Stock Bore | 804M06640 |
| Stock Bore | 677M06800 |
| Stock Bore | 646M04700 |
| Stock Bore | 805M04750 |
| .020" Oversize | 546M08750 |
| .040" Oversize | 546M08800 |
| .060" Oversize | 546M08850 |
| .080" Oversize | 546M08900 |
| Stock Bore | 546M08700 |
| .040" Oversize | 553M05500 |
| .080" Oversize | 553M05600 |
| Stock Bore | 553M05400 |
| Stock Bore | 555M05600 |
| .045" Oversize | 556M06850 |
| .084" Oversize | 556M06950 |
| .040" Oversize | 557M05500 |
| Stock Bore | 557M05400 |
| .040" Oversize | 558M06800 |
| .080" Oversize | 558M06900 |
| Stock Bore | 558M06700 |
| .020" Oversize | 559M05650 |
| .040" Oversize | 559M05700 |
| .060" Oversize | 559M05750 |
| Stock Bore | 559M05600 |
| .020" Oversize | 560M06850 |
| Stock Bore | 560M06800 |
| .100" Oversize | 561M08850 |
| .120" Oversize | 561M08900 |
| .140" Oversize | 561M08950 |
| .020" Oversize | 561M08650 |
| .040" Oversize | 561M08700 |
| .060" Oversize | 561M08750 |
| .080" Oversize | 561M08800 |
| .020" Oversize | 562M06650 |
| .040" Oversize | 562M06700 |
| .060" Oversize | 562M06750 |
| .080" Oversize | 562M06800 |
| .020" Oversize | 564M05450 |
| .040" Oversize | 564M05500 |
| .060" Oversize | 564M05550 |
| .080" Oversize | 564M05600 |
| Stock Bore | 564M05400 |
| .040" Oversize | 566M05700 |
| Stock Bore | 566M05600 |
| .040" Oversize | 568M05500 |
| .020" Oversize | 571M06750 |
| .040" Oversize | 571M06800 |
| .080" Oversize | 571M06900 |
| .020" Oversize | 575M08650 |
| .040" Oversize | 575M08700 |
| .080" Oversize | 575M08800 |
| .040" Oversize | 582M05700 |
| .040" Oversize | 589M05700 |
| Stock Bore | 589M05600 |
| .020" Oversize | 595M05450 |
| .040" Oversize | 595M05500 |
| Stock Bore | 595M05400 |
| .020" Oversize | 601M06800 |
| .040" Oversize | 603M05700 |
| Stock Bore | 603M05600 |
| .020" Oversize | 605M06850 |
| Stock Bore | 605M06800 |
| .025" Oversize | 607M06800 |
| .045" Oversize | 607M06850 |
| .024" Oversize | 614M06700 |
| .044" Oversize | 614M06750 |
| .065" Oversize | 614M06800 |
| .085" Oversize | 614M06850 |
| .040" Oversize | 616M05500 |
| Stock Bore | 616M05400 |
| .025" Oversize | 617M06700 |
| .045" Oversize | 617M06750 |
| .085" Oversize | 617M06850 |
| .020" Oversize | 626M05450 |
| .040" Oversize | 626M05500 |
| Stock Bore | 626M05400 |
| .040" Oversize | 629M05700 |
| .040" Oversize | 631M07300 |
| Stock Bore | 631M07200 |
| .020" Oversize | 871M08950 |
| .080" Oversize | 871M09100 |
| Stock Bore | 640M05400 |
| .020" Oversize | 641M05450 |
| .040" Oversize | 641M05500 |
| .060" Oversize | 641M05550 |
| .080" Oversize | 641M05600 |
| .020" Oversize | 642M06750 |
| .040" Oversize | 642M06800 |
| .080" Oversize | 642M06900 |
| .020" Oversize | 643M04750 |
| .040" Oversize | 643M04800 |
| .080" Oversize | 643M04900 |
| .020" Oversize | 644M04850 |
| .040" Oversize | 644M04900 |
| .080" Oversize | 644M05000 |
| .020" Oversize | 645M04800 |
| .040" Oversize | 645M04850 |
| .060" Oversize | 645M04900 |
| .080" Oversize | 645M04950 |
| .020" Oversize | 646M04750 |
| .040" Oversize | 646M04800 |
| .080" Oversize | 646M04900 |
| .020" Oversize | 647M05450 |
| .040" Oversize | 647M05500 |
| .080" Oversize | 647M05600 |
| .020" Oversize | 648M04350 |
| .040" Oversize | 648M04400 |
| .080" Oversize | 648M04500 |
| .020" Oversize | 651M05300 |
| .080" Oversize | 651M05450 |
| .020" Oversize | 652M05450 |
| .040" Oversize | 652M05500 |
| .080" Oversize | 652M05600 |
| .020" Oversize | 676M05450 |
| .040" Oversize | 676M05500 |
| .080" Oversize | 676M05600 |
| .020" Oversize | 677M06850 |
| .040" Oversize | 677M06900 |
| .080" Oversize | 677M07000 |
| Stock Bore | 694M06750 |
| .020" Oversize | 702M06700 |
| .040" Oversize | 702M06750 |
| .060" Oversize | 702M06800 |
| .080" Oversize | 702M06850 |
| .020" Oversize | 711M06650 |
| .040" Oversize | 711M06700 |
| .080" Oversize | 711M06800 |
| Stock Bore | 712M07200 |
| .080" Oversize | 719M05600 |
| .080" Oversize | 726M05600 |
| Stock Bore | 740M05425 |
| .080" Oversize | 741M05600 |
| .080" Oversize | 746M04700 |
| .040" Oversize | 748M07900 |
| Stock Bore | 748M07800 |
| .040" Oversize | 750M07000 |
| .080" Oversize | 752M04650 |
| .020" Oversize | 754M05450 |
| .040" Oversize | 754M05500 |
| .060" Oversize | 754M05550 |
| .080" Oversize | 754M05600 |
| .080" Oversize | 756M06850 |
| .080" Oversize | 770M06600 |
| Stock Bore | 770M06400 |
| Stock Bore | 774M06640 |
| .080" Oversize | 782M05050 |
| .080" Oversize | 783M05600 |
| .080" Oversize | 801M06850 |
| .080" Oversize | 804M06850 |
| .080" Oversize | 805M04950 |
| .160" Oversize | 806M05200 |
| .080" Oversize | 806M05000 |
| .080" Oversize | 822M05600 |
| Stock Bore | 824M06640 |
| Stock Bore | 825M06400 |
| .120" Oversize | 833M05050 |
| .080" Oversize | 833M04950 |
| .080" Oversize | 834M05600 |
| .080" Oversize | 835M05600 |
| Stock Bore | 856M06640 |
| Stock Bore | 857M06640 |
| Stock Bore | 858M07200 |
| .010" Oversize | 526M06625 |
| .100" Oversize | 526M06850 |
| .120" Oversize | 526M06900 |
| .140" Oversize | 526M06950 |
| .020" Oversize | 526M06650 |
| .030" Oversize | 526M06675 |
| .040" Oversize | 526M06700 |
| .050" Oversize | 526M06725 |
| .060" Oversize | 526M06750 |
| .080" Oversize | 526M06800 |
| Stock Bore | 526M06600 |
| Stock Bore | 880M05250 |
| Stock Bore | 879M04850 |
| Stock Bore | 874M03950 |