VForce
VForce

3 Replacement Reeds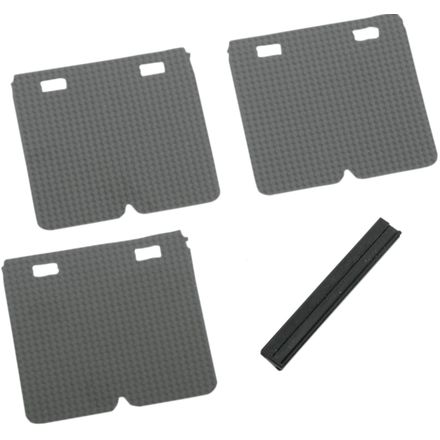 VForce 3 Replacement Reeds
5 Star
10
4 Star
3
3 Star
1
2 Star
0
1 Star
0
Write a Review
Write your review and you'll automatically be entered in our monthly drawing. Include an image or video to DOUBLE your chances to win!
Write Your Review
Love the oroduct
Very well designed product
1 year 1 month ago
Florida, USA
V-FORCE reeds
...don't know why there is a negative comment about reliability...always had great luck with them over the Boyesen's...Husky and KTM have had them for years and as I found out a long time ago ,the"O.E.M." VFORCE reeds were spec'ed by factory, to be a tad thinner = frequent chipping... just buy the aftermarket replacement and booom, you're done..and since they started the no screws needed application, it's one less thing to worry about.
1 year 8 months ago
Manchester, MD
Easy replacement
These reeds are very easy to replace. They snapped together in just a few minutes and fast shipping from Motosport as always.
2 years ago
Monroe, NC, USA
Easy to replace
On top of the product being easy to replace the company was fast to ship the item to us.
Not for OEM KTM Vforce 3 Cage
I ordered these based on Motosports website telling me these were the correct fit for a 2012 KTM 250 SX. They won't fit! I found out through a customer service rep that they only fit aftermarket VForce3 cages, and I would have to return them at my cost because it was not their mistake. I sure wish it would have clarified on the website not to order these for KTM OEM Vforce3 Reeds. Lesson learned.
Over 4 years ago
Portage, IN, USA
What a difference
huge power increase over stock, you will not be upset
Great quality & love Motosport!
As always, quality products at competitive prices. Shipped fast!
Over 5 years ago
I Live in Adams TN Race 25 times a year Vet AM
V-FORCE 3 REPLACEMENT REEDS
The same quality reeds as you get when you buy the system.. It comes with a complete set enough to replace all of your reeds. It does not come with the end stops so if you have had a major reed failure and lost the end stops (eaten by piston) you will have to contact the V-Force makers. I have used these things for about 15 years... no metal in the system so they will not ruin your piston rings and bore.
I went on a shopping spree and ordered these thinking they would fit my 06 rm125. Well they are now just sitting in a box in the garage because I didn't pay attention and didn't know they weren't for a stock reed cage. Lesson learned. Read the description on all products.
Over 9 years ago
jasper, al
The difference is night and day!!
I rode with my stock reed valve and didnt think it wsa that big a deal. then i checked into the V-Force 3 reed valve and figured what the heck. WOW at the power difference it gave me!!! It realy brought my CR250 to life! the new setup is so much stronger and easy to replace the valves. just pull out and snap in the new ones. GREAT product.
kirke
Q: I have the v force 3 reeds but my reed plates are a slightly different mounting design, is your photo of the replacement reeds not exact or are there?
different mounts for the vforce 3
2smokeloc
Q: 2001 kx125 fitment?
Hey I was wondering if these will fit my bike? I have a vforce 3 block but on the site it says it doesn't fit just trying to make sure
MotoSportExpert
2 years ago
A: If available through one of our suppliers, we would be happy to order them for you. Please contact one of our sales professionals to inquire about special orders and availability.
Dirt Bike: 1-888-676-8853
premixed
Q: 2010 ktm 150xc?
Are these reeds a direct replacement for the stock OEM reed cage on my KTM. Stock cage is a VForce 3, but I've heard stories that these reeds are only for "aftermarket" VForce 3 reed cages.
MotoSportExpert
2 years 8 months ago
A: Yes these VForce 3 Replacement Reeds will fit your VForce 3 cage. Feel free to give us a call at 888-676-8853 and we would be happy to help you out with your order.
wardlaw
Q: Are the reeds shipped in rigid packaging? I just received a set from a different source that were damaged in shipping.?
MotoSportExpert
Over 3 years ago
A: Yes, the VForce 3 Replacement Reeds come in the manufactures protective cardboard packaging. Motosport would also package your order in a cardboard shipping box to prevent damage. Feel free to give us a call at 888-676-8853 and we would be happy to help you out with your order.
Mike
1 year 8 months ago
Location: Manchester, MD
A: Yes they are. i just ordered a set and they came in a plastic bag with cardboard in it and then they put that inside a larger box.
answerme
Location: Monroe, LA, USA
Q: Does it come with gaskets?
MotoSportRyanT
Over 3 years ago
Location: Portland, OR, USA
A: No. This would only be replacement reed petals for the V-Force 3 Reed Valve. You will likely need to order the stock replacement gasket via the OEM parts finder for your bike: http://www.motosport.com/dirtbike/oem-parts
suddensam151
Location: Lakewood, CA, USA
Q: How often should reeds be replaced?
MotoSportRyanT
Over 4 years ago
Location: Portland, OR, USA
A: I would recommend referring to your bikes service manual for the exact service interval time frame on your reeds. Really it varies depending on the bike, amount of riding, type of riding, fuel mixture used, etc... It's never a bad idea to check your reeds quite frequently to make sure they are not cracked, chipping, or damaged.
Ouellette
Q: CR125?
I have a 94 CR 125 Im gonna get the V Force Reed Valve System how many of these reeds do i need for my bike?
racer3114
Best Answer
Expert
MotoSport Staff
Over 8 years ago
Location: PDX
A: When you buy the v-force system it will come with a set... but when you are ready to buy the replacements you only need to buy 1 package of these.
metalmulisha
Over 8 years ago
A: none it comes with the reed system there just replacements but if you do need replacements 1 set
Brody
Q: Do you need a reed cage?
Do you need a V Force reed cage or can you use the reeds with the stock reed cage?
bountybob
Over 9 years ago
Location: Tualatin
A: These replacement reeds are designed to fit the V-force cage.
Motokid27
Q: Does a 125 reed fit an 85cc bike??
james718
Over 9 years ago
A: No, Reed cages are specific and differ from bike to bike.
kx85rider
Q: About how often should u replace your reeds in the v-force reed valve system?
Drewski
Over 9 years ago
Location: Portland, OR
A: It really depends on how much you ride and what you have done to your bike. The new peddles in the V-Force 3 systems are a new carbon fiber design so that increases the life of the peddles quite a bit. Normally you would want to replace them at least once a year.
See all bikes that this part fits...
| Product Variant | Manufacturer Part # |
| --- | --- |
| VForce 3 Replacement Reeds | 3P472H |
| VForce 3 Replacement Reeds | 3P602H |
| VForce 3 Replacement Reeds | 3P682H |
| VForce 3 Replacement Reeds | 3P682M |
| VForce 3 Replacement Reeds | 3P352H |
| VForce 3 Replacement Reeds | 3P411H |
| VForce 3 Replacement Reeds | N/A |