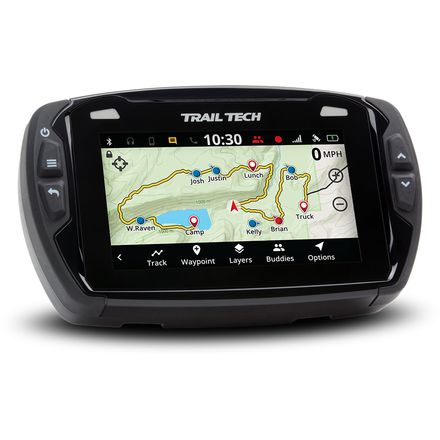 Trail Tech Voyager Pro GPS Kit
5 Star
2
4 Star
2
3 Star
1
2 Star
0
1 Star
0
Great product, no home charger, nightmare.
Love it.hope to use it alot
Over 5 months ago
Montana
Must have for snow bike.
Bought this for Snow biking, Is really great to see that I am on the right trail and where my other riders are in comparison to me. It takes the guessing out of if they are in front of me or behind me, or moving at all. Is a lot easier to tell if they are stuck and need help, especially in areas with out cell service. In the past we would just stop and wait and wait and wait and then go back and look. This takes the guessing out.
I also liked that you can see when your machine is up to temp, or running hot. And how many RPM your machine is running.
It was also nice to see your trail-where you were actually riding on the map and can mark areas that you need to stay away from, when planning a new ride.
Even though a Snow bike does not have wheels, the GPS has speed sensing on it so it gives you a pretty accurate estimate of how fast you are traveling.
Still waiting to use....
My riding buddy has the pro on his KTM, and it 's been great as we are primarily fire road cross country explorers, so I bought one for my XR650, We haven't had a chance to ride together yet, but I'm looking forward to the buddy tracking feature. The instruction manual indicates the wrong tach and wheel sensor hook up, but you can see the tach wire and connections are bass ackwards.
Over 9 months ago
Greenville, Texas
Must have if you.......
This is a must have if you ride trails that aren't on your typical GPS or if you ride with friends and want to keep track of each other. I've used the Trail Tech Voyager for years on all my bikes, so when the Voyager Pro came out I had to give it a try.
An added plus is the increased screen size. The nice new quick release mount is great too. The Ride Leader app by Trail Tech has some really great trails to download or you can add your own. Really nice quality device.
Over 11 months ago
Phoenix az
Best gps out there
Bought it because getting lost is dangerous. I never get lost now. I can follow trails back and I can cut across desert to get to a trail.

It's invaluable.

It prevents me from havinnro stop and wonder where I am.


Two tho gd I don't like about it. Actually three.

No hour meter and it makes my Ktm tachometer not functional. Lost track of hours on my bike. Can't have both connected.

No sturdy mount available yet. I broke one very quickly by pushing on it as I loaded my bike.

Had to get a new one and mount it on other side.

Third thing I don't need like is the price. My friends will not buy it.


I think it's a safety tool. It's worth it for sure.
See all bikes that this part fits...
| Product Variant | Manufacturer Part # |
| --- | --- |
| Trail Tech Voyager Pro GPS Kit | 922-110 |
| Trail Tech Voyager Pro GPS Kit | 922-111 |
| Trail Tech Voyager Pro GPS Kit | 922-112 |
| Trail Tech Voyager Pro GPS Kit | 922-113 |
| Trail Tech Voyager Pro GPS Kit | 922-114 |
| Trail Tech Voyager Pro GPS Kit | 922-115 |
| Trail Tech Voyager Pro GPS Kit | 922-116 |
| Trail Tech Voyager Pro GPS Kit | 922-117 |
| Trail Tech Voyager Pro GPS Kit | 922-118 |
| Trail Tech Voyager Pro GPS Kit | 922-119 |
| Trail Tech Voyager Pro GPS Kit | 922-121 |
| Trail Tech Voyager Pro GPS Kit | 922-109 |