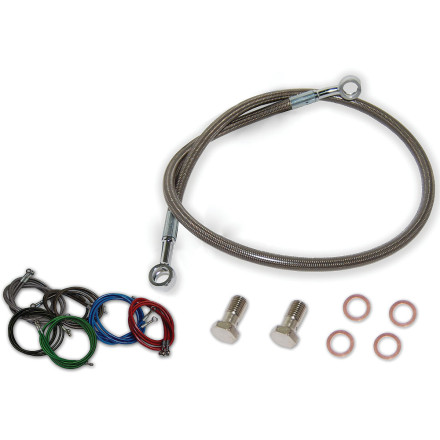 Streamline Rear Brake Line
---
10% Off - Save up to $4.00
---
5 Star
1
4 Star
1
3 Star
0
2 Star
0
1 Star
0
Write a Review
Write your review and you'll automatically be entered in our monthly drawing. Include an image or video to DOUBLE your chances to win!
Write Your Review
This wasn't exact fit and was kind of difficult to install.
Rear brake line
Installed this red line on TRX 450R and it fit and looked great
Floppy
Q: Do the +2", +4", and +6" mean how much extra slack you get?
David
Over 9 months ago
A: Correct.
See all bikes that this part fits...
| Product Variant | Manufacturer Part # |
| --- | --- |
| Clear / Stock | TRX250R-R-CL |
| Clear / Stock | 300EX-R |
| Clear / Stock | 400EX-R-0 |
| Clear / Stock | BAN-R |
| Clear / Stock | BLAST-R- |
| Clear / Stock | Z400-R |
| Clear / Stock | LT250-R-0 |
| Clear / Stock | LT500-R-0 |
| Clear / Stock | LTR450-R-CL |
| Clear / Stock | Z400-R-0 |
| Clear / Stock | PRED500-R |
| Clear / Stock | RAP-R-0 |
| Clear / Stock | RAP350-R |
| Clear / Stock | RAP700-R |
| Clear / Stock | TRX450R-R |
| Clear / Stock | WARR-R-CL |
| Clear / Stock | YFZ450-R |
| Clear / Stock | YFZR-R |
| Clear / +2" | 300EX-R-2 |
| Clear / +2" | 400EX-R-2 |
| Clear / +2" | BAN-R-2 |
| Clear / +2" | BLAST-R-2 |
| Clear / +2" | KAW400-R-2 |
| Clear / +2" | KAW700-R-2 |
| Clear / +2" | LT250-R-2 |
| Clear / +2" | LT500-R-2 |
| Clear / +2" | LTR450-R-2-CL |
| Clear / +2" | Z400-R-2 |
| Clear / +2" | PRED500-R-2 |
| Clear / +2" | RAP-R-2 |
| Clear / +2" | RAP350-R-2 |
| Clear / +2" | RAP700-R-2 |
| Clear / +2" | WARR-R-2 |
| Clear / +2" | YFZ450-R-2 |
| Clear / +4" | BAN-R-4 |
| Clear / +6" | BAN-R-6 |
| Blue / Stock | TRX250R-R-BLUE |
| Blue / Stock | 300EX-R-BLUE |
| Blue / Stock | 400EX-R-BLUE |
| Blue / Stock | KAW400-R-BLU |
| Blue / Stock | KAW700-R-BLU |
| Blue / Stock | LT250-R-BLU |
| Blue / Stock | LT500-R-BLUE |
| Blue / Stock | LTR450-R-BL |
| Blue / Stock | Z400-R-BLU |
| Blue / Stock | PRED500-R-BLUE |
| Blue / Stock | RAP-R-BLUE |
| Blue / Stock | RAP350-R-BLU |
| Blue / Stock | RAP700-R-BLUE |
| Blue / Stock | TRX450-R-BLU |
| Blue / Stock | YFZ450-R-BLU |
| Blue / Stock | YFZR-R-BLU |
| Blue / +2" | TRX250R-R-2-BLUE |
| Blue / +2" | 300EX-R-2-BLUE |
| Blue / +2" | 400EX-R-2-BLU |
| Blue / +2" | BAN-R-2-BLUE |
| Blue / +2" | KAW400-R-2-BLU |
| Blue / +2" | KAW700-R-2-BLU |
| Blue / +2" | LT250-R-2-BLUE |
| Blue / +2" | LT500-R-2-BLUE |
| Blue / +2" | LTR450-R-2-BLUE |
| Blue / +2" | Z400-R-2-BLU |
| Blue / +2" | PRED500-R-2-BLUE |
| Blue / +2" | RAP-R-2-BLU |
| Blue / +2" | RAP350-R-2-BLUE |
| Blue / +2" | RAP700-R-2-BLUE |
| Blue / +2" | WARR-R-2-BLUE |
| Blue / +2" | YFZ450-R-2-BLU |
| Blue / +2" | YFZR-R-2-BLU |
| Blue / +6" | BAN-R-6-BLU |
| Red / Stock | TRX250R-R-RD |
| Red / Stock | 300EX-R-RD |
| Red / Stock | 400EX-R-RD |
| Red / Stock | BLAST-R-RED |
| Red / Stock | KAW400-R-RED |
| Red / Stock | LT500-R-RED |
| Red / Stock | Z400-R-RD |
| Red / Stock | RAP-R-RED |
| Red / Stock | RAP350-R-RED |
| Red / Stock | RAP700-R-RED |
| Red / Stock | TRX450-R-RD |
| Red / Stock | WARR-R-RED |
| Red / Stock | YFZ450-R-RD |
| Red / +2" | TRX250R-R-2-RED |
| Red / +2" | 300EX-R-2-RED |
| Red / +2" | KAW400-R-2-RED |
| Red / +2" | KAW700-R-2-RD |
| Red / +2" | LT250-R-2-RED |
| Red / +2" | LT500-R-2-RED |
| Red / +2" | LTR450-R-2-RED |
| Red / +2" | Z400-R-2-RED |
| Red / +2" | RAP-R-2-RD |
| Red / +2" | RAP350-R-2-RED |
| Red / +2" | YFZ450-R-2-RD |
| Red / +2" | YFZR-R-2-RD |
| Smoke / Stock | TRX250R-R-SM |
| Smoke / Stock | 300EX-R-SM |
| Smoke / Stock | 400EX-R-SM |
| Smoke / Stock | BAN-R-SMOKE |
| Smoke / Stock | BLAST-R-SM |
| Smoke / Stock | KAW400-R-SM |
| Smoke / Stock | LT250-R-SM |
| Smoke / Stock | LT500-R-SMOKE |
| Smoke / Stock | LTR450-R-SM |
| Smoke / Stock | Z400-R-SM |
| Smoke / Stock | RAP-R-SMOKE |
| Smoke / Stock | RAP700-R-SMOKE |
| Smoke / Stock | TRX450-R-SM |
| Smoke / Stock | WARR-R-SM |
| Smoke / Stock | YFZ450-R-SM |
| Smoke / Stock | YFZR-R-SM |
| Smoke / +2" | TRX250R-R-2-SMOKE |
| Smoke / +2" | 300EX-R-2-SM |
| Smoke / +2" | 400EX-R-2-SM |
| Smoke / +2" | BAN-R-2-SMOKE |
| Smoke / +2" | BLAST-R-2-SMOKE |
| Smoke / +2" | KAW400-R-2-SMOKE |
| Smoke / +2" | LT250-R-2-SMOKE |
| Smoke / +2" | LT500-R-2-SMOKE |
| Smoke / +2" | LTR450-R-2-SMOKE |
| Smoke / +2" | Z400-R-2-SM |
| Smoke / +2" | PRED500-R-2-SM |
| Smoke / +2" | RAP-R-2-SM |
| Smoke / +2" | RAP350-R-2-SMOKE |
| Smoke / +2" | RAP700-R-2-SMOKE |
| Smoke / +2" | TRX450-R-2-SM |
| Smoke / +2" | WARR-R-2-SMOKE |
| Smoke / +2" | YFZR-R-2-SM |
| Smoke / +4" | BAN-R-4-SMOKE |