Motul
Motul 300V 4T Competition Synthetic Oil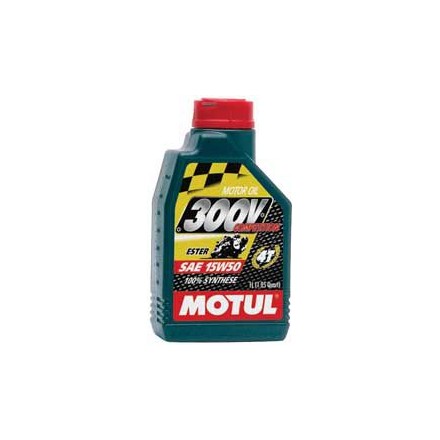 Motul 300V 4T Competition Synthetic Oil
---
26% Off - Save up to $6.00
---
5 Star
14
4 Star
0
3 Star
0
2 Star
0
1 Star
0
1 year 3 months ago
Portland, Oregon
Very slick!
This one of the better bargains in a racing quality full synthetic oil. I use it in my BMW R1200GS.
1 year 11 months ago
Seattle, WA, USA
Motul 300V 10w-40
Motul has changed their appearance on their oils, the photo shows the old appearance, and was skeptical if I was going to get old oil. Received the new appearance style. Love Motul products.
The best
the best you can buy I have 2 brand new rmz 450 bikes the only complaint is that its the same color as engine coolant . protect your investment engine oil is not the place to cut corners .
If you're beating on your engine, you'll love this
I'm hard on bikes. *Real* hard. Every one of my machines sees track time, and I don't shy away from the powerband when on the street (respecting all speed laws, of course). I've found the limit of almost every oil I've come across so far. First thing to go is the smooth shifting - sometimes within a single day - with engine operating temps following soon after. Not every oil is capable of putting up with regular abuse. Motul 300V is one of the best available for machines that see regular hard riding and extreme temps. Bonus: The oil is pre-doped with UV-reactive dye. This allows you to spot leaks quickly and easily, as well as turning the oil a really neat fluorescent green color straight from the bottle! Changing your oil regularly and any time it begins to break down is still the most-important thing you can do for your engine's health, but changing it with Motul 300V gives you some of the best protection and convenience between changes.
Great oil
I highly recommend this oil have been running it for a long time no issues worth the price
Over 3 years ago
California
Engine protection
A reliable product under standard and extreme conditions. Worth
The cost with regard to conventional lube. It is a preventive measure for extended engine life. Great product for my race GSXR and BMW 1000rr.
Evenbetter
motul 7100 has always performed well & I like the low ash formula however I have always been told & read how much better the 300v is motul is the way $ no problem give my bikes the best.
Over 5 years ago
Western CT
Better shift feel
The cost is definetly a deterrent but the gear changes have never felt so easy on my 2008 R6, I found myself clicking down multiple times to change down 1 gear coming to stop signs with the yamalube, since switching to the motul I haven't had the issue, it is lubricating the engine and transmission better for sure.

Just remember if you're hard on your clutch you may want to change it out more often.
Jim1987
Q: Can I run this in my 2001 yz125s gearbox?
Tom450
Q: I am going to run this oil in my 2017 yz450f after the break in period with Yamalube. Should I run 10-40? Also its one quart per oil change? Hrs ?
RCHteam
2 years 7 months ago
A: follow specs don't change weight if its 10w 40 use 10-40 you don't want to risk premature engine wear or failure especially on a new machine
tahoeJ
Q: Will this work in my arctic cat dvx 400, and my raptor 125?
MotoSportRyanT
Over 5 years ago
A: This should work well for either bike, but I would recommend checking your owners/service manuals for the required oil specifications for each bike.
Georgie
Q: I'm currently using motul etech 100 ... And so far I'm happy ... But I would like even better ... Will this one make my bike run even better?GSXR750
2009 Gsxr 750 ....
RonnyR
Over 5 years ago
A: You may notice that the bike clicks into gear a little easier throughout the life of the oil, actual horsepower wise, you shouldn't expect much of a difference.
RCHteam
Over 5 years ago
A: I don't think engine oil will make your bike run better however higher end lubricants will prolong engine life and help if you are pushing the bike to the limits
Upstaterider510
Over 5 years ago
A: From my understanding this is Motul's top of the line oil so you definitely can't go wrong with it. As far as making your bike run better you most likely won't notice a difference, but you will be getting the best protection Motul has to offer. Depending on the type of riding you're into one could argue you may be wasting money. I use it because my 2008 GSXR 750 is track only so the engine is constantly being revved and run hard. Give it a try and see how you like it.
kevin
Q: Can I use thos in my 06 kawi 636 street bike?
MotoSportExpert
Over 5 years ago
A: Yes, this oil is a very high quality product and would work great in your 2006 Kawasaki 636.
RonnyR
Over 5 years ago
A: Absolutely, I would run the 5w-40
| Product Variant | Manufacturer Part # |
| --- | --- |
| 1 Liter / 15W50 | 836211 / 101358 |
| 4 Liter / 15W50 | 836241 / 101363 |
| 1 Liter / 10W40 | 836111 / 101348 |
| 4 Liter / 10W40 | 836141 / 101352 |
| 1 Liter / 5W30 | 835911 / 101332 |
| 1 Liter / 5W40 | 836011 / 101339 |
| 4 Liter / 5W40 | 836041 / 101343 |