Age & Gender
Brand
Discount
Price
Most Recent Motorcycle Denim Vests Reviews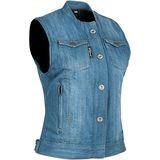 Speed & Strength Women's Glory Daze Vest
Mindi

- MotoSport Portland, OR
Cute Vest, great for layering
"This is a cute vest, will be great for layering come this fall. A hoodie would look great under it in my opinion - or a flannel shirt. Its got a front zip with snap closure - the snaps look like buttons. On the inside left there is an elastic conceal carry spot - so a small revolver or pistol might be ok there but nothing too heavy or large if you're planning on conceal carry use. It doesn't have any internal pockets but there are two front outside pockets that have a zip closure as well. There is a zip open spot in the back for the 'Vault Spine protector'. Its fairly thin so doesn't feel too bulky when wearing. You could remove it and use the vest without if you chose to. Sizing! I feel it is true to size, I wear an XL in most vests and shirts. I ordered the XL in this vest and there is PLENTY of room in the chest and arm openings - more so than I expected as the chest is usually where things are too tight for me. I wear a 14 pants and the XL zips/buttons at the waist with no issue as well."

See all reviews for this product
Denim Motorcycle Vests
Motorcycle vests offer a unique style to your riding wardrobe and whether you just like the look, or prefer to ride without a jacket, a motorcycle vest serves a variety of purposes for the motorcycle rider from keeping you warm, adding an extra layer of protection to offering a more relaxed ride. We carry a wide selection of vests for the motorcycle rider including Denim Vests, Textile Vests, Leather Vests, Armored Vests, Reflective Vests and Heated Vests.
Denim vests have the look and feel of a gritty denim motorcycle jacket and oozes coolness on the road. Get a denim vest that offers room for armor or add additional layers of protection to compliment your new denim vest. Either way, you can enjoy the freedom and flair that comes with wearing a motorcycle vest. MotoSport carries select denim motorcycle vests for men and women from the most respected brands in the industry. Use the size chart on the product page to determine your best fit and if you need any help give us a call at 1-866-677-7338. And, if the denim vest you choose doesn't work out we'll gladly exchange it or refund your money.