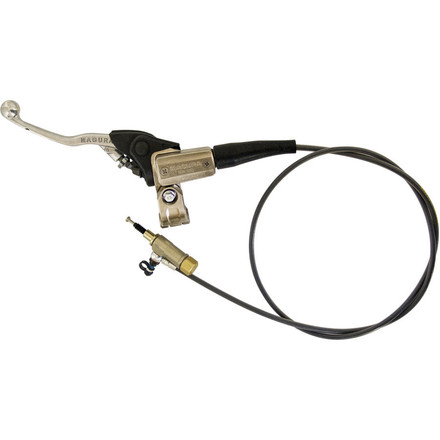 Magura USA Hydraulic Clutch 167
---
11% Off - Save up to $35.99
---
5 Star
52
4 Star
17
3 Star
2
2 Star
2
1 Star
0
Write a Review
Write your review and you'll automatically be entered in our monthly drawing. Include an image or video to DOUBLE your chances to win!
Write Your Review
Excellent
Works perfectly. Easy to install and smooth as silk.
Over 12 months ago
NE Ohio
Awesome, awesome, awesome!!!!
Absolutely fantastic product! Fitment was perfect. I didn't have any issue at all installing it myself. I got it installed in approximately 30 minutes. It could have been faster, but I decided to remove the right radiator shroud in order to fish the slave cylinder down to the clutch actuator. The clutch definitely does take some getting used to, but oh my goodness is it soooooo smooth!! I even feel like I'm able to shift a little faster because the travel is so much shorter too. It's definitely an expensive piece of kit, but it is by far the best $$ I've spent on anything bike related! I no longer have to cut my day of riding short from my hand cramping up from the rock-hard stock clutch. When I get a new bike this is definitely going to be the first mod I do!
Have one on my KTM,just installed one on my Honda. The clutch on my KTM is perfect. The one I just installed on my Honda is almost too easy to pull. Instructions are terrible! Had to call Magura and they emailed me a pic. Still highly recommend this product . Most MX guys throw away the instructions anyway.
99yz125
easier pull but the slave cylinder was touching the header pipe and would melt the line for sure (with both a FMF Gnarly and SST header pipe) unless you want to modify clutch cable stay or put dents in your header I would not recommend. Newer yz with the clutch arm on other side of engine would work fine Im sure. installed WC ez build lever kit instead and found my lever pull was much much lighter with heavy duty clutch springs.
Awesome!
I've mostly ridden ktm's so switching to a honda and a regular clutch was a huge change, but putting this after market hydraulic clutch on was the best upgrade ever!
2 years ago
St. George, UT.
Highly recommended
2007 WR250F
Fitment is perfect. Motosport knows which unit to send for a given bike. Installation was less than 1/2 hour. It's a 1 or 2 finger clutch pull now.
2 years 11 months ago
Stacy, MN 55079, USA
Sweetness
Install went fine. I had to take off number plates, seat and exhaust to get it routed correctly. It works great. I have heavy duty springs installed on my bike and now I can use just 2 fingers on the clutch. The instructions said after install to pull in clutch and put it into gear (motor not running) to make sure it releases properly. Don't bother. I spent the next hour trying to shim it and get it to release and never could get it. I reread the reviews and nobody had this problem so I started up the bike pushed the front wheel against a wall and put it into gear. It worked awesome! No shims needed. Engagement is just how I like it.
Honda crf250r
great clutch lever! it does its job in making the squeeze quite a bit less tough on your hand. Don't freak out about the slight extra cable length...Just get your zipties and go to work!
Over 3 years ago
Wrentham, MA, USA
Best upgrade
let me be clear this is worth the money. I am a xc racer and after a while i was having trouble pulling the clutch and i hated cleaning the cable and all that so i found this and i LOVE IT i can pull it with my pinky it was so easy to hook up, i am a professional mechanic but any dummy with a socket wrench set can put this on in a matter on minuets. the only thing you may not like is if you have to replace the lever it is a bit more expensive, but if you're a racer and have a budget this is no problem. The only other thing is you have to bleed the line eventually, its very easy to learn and if you didnt want to im sure any shop even some bike shops and bleed it.
Q: Will this fit on a yz125 and then a yz250
I have a 2003 yz125 but plan on moving to a yz250 after a year or so, can i use the same one or would i have to buy a new one specifically for a yz250?
Michael
1 month 21 days ago
A: Will fit your yz125, order with confidence. However, depending on what year your yz250 will be, will determine the answer to that as these are bike specific. Assume that you will need to buy a new one for your new bike.
Q: Will the Magura for the 15-17 YZ450 fit the 16-18 YZ450fx or 16-18 WR450?
robert
1 month 27 days ago
A: Those models will use different fitments.
Q: 2002 cr250
will it fit on my 2002 cr250, i watch a review and a guy said its easy to make it fit, is this true?
David
2 months 21 days ago
A: We don't offer a fitment for your CR250
Q: Will this fix a 1996 xr250
Gearhead
Over 5 months ago
A: No, I'm sorry we do not have the clutch to fit your XR 250
Q: Will this work with a Yamaha blaster?
Q: Clutch adjustment
Hi How is the clutch adjusted if it needs to be?
Q: When installed on a wr450f,2014, a Magura clutch do you splice the clutch switch wires or not
Q: Would this be a great addition to an 84 CR500?
I have a 1984 Honda CR500 that I'm rebuilding. I'm mainly wondering if there would be a few more fitting adjustments that I would have to make. The clutch cable arm is next to the stator and under the stator cover. Would it also make it more controllable on tight trails?
Q: Will an 07 crf250x and 2011 crf250r use the same part number for this system?
Q: Does it come with all the things I will need to put it on my bike?
MotoSportExpert
1 year 7 months ago
A: Yes the Magura USA Hydraulic Clutch 167 would be a complete system. Feel free to give us a call at 888-676-8853 and we would be happy to help you out with your order.
See all bikes that this part fits...
| Product Variant | Manufacturer Part # |
| --- | --- |
| Magura USA Hydraulic Clutch 167 | 2100009 |
| Magura USA Hydraulic Clutch 167 | 0120682 |
| Magura USA Hydraulic Clutch 167 | 0120683 |
| Magura USA Hydraulic Clutch 167 | 0120577-10 |
| Magura USA Hydraulic Clutch 167 | 0120685 |
| Magura USA Hydraulic Clutch 167 | 0120526 |
| Magura USA Hydraulic Clutch 167 | 0120742 |
| Magura USA Hydraulic Clutch 167 | 0120493-20 |
| Magura USA Hydraulic Clutch 167 | 0120529 |
| Magura USA Hydraulic Clutch 167 | 0120687 |
| Magura USA Hydraulic Clutch 167 | 0120496 |
| Magura USA Hydraulic Clutch 167 | 0120522-10 |
| Magura USA Hydraulic Clutch 167 | 0120524-25 |
| Magura USA Hydraulic Clutch 167 | N/A |
| Magura USA Hydraulic Clutch 167 | N/A |
| Magura USA Hydraulic Clutch 167 | 0120523-10 |
| Magura USA Hydraulic Clutch 167 | N/A |
| Magura USA Hydraulic Clutch 167 | 0120524-60 |