Cycra
Cycra Stadium Number Plate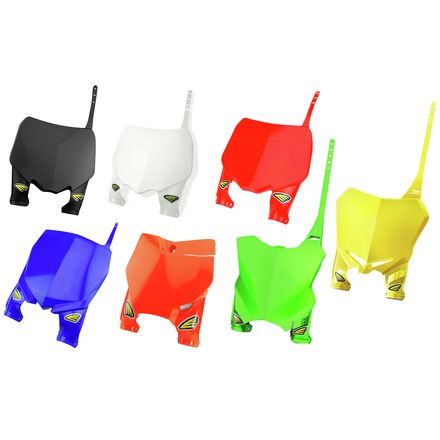 Cycra Stadium Number Plate
---
16% Off - Save up to $7.00
---
26 Reviews
18

reviews

4

reviews

1

reviews

0

reviews

3

reviews
All Reviews
Over 8 months ago
Lake Tapps, Warshington
Look so factory
Buy these for all my bikes. Give that little extra coolness factor.
Over 10 months ago
California
Great plate!!!
I bought an aserbis plate first but didn't care for the style, so I sent it back. I saw this one and I like it very much. fits great, looks great, very pleased.
Does Not Fit 2018 ktm 250sx
I went to install this numberplate on my 250 sx, and wasn't even close to fitting. The bottom of the number plate comes to a 'V" point and hits the fender. I'm not sure if the product was labeled correctly from the manufacturer, but it did read 16-18 250 sx/sxf models. The color is also not a perfect match to the OEM Orange.
1 year ago
Kenosha, WI, USA
Cycra stadium plate
Nice piece with a good fit. Love how it protects your triple clamps.
Doesn't ft a 2014 KTM 200 XC-W
I ordered the version of this number plate that the MotoSport website said fit my 2014 KTM 200 XC-W, but it did not fit. It was not even close enough that minor modifications could have made it fit.
1 year 6 months ago
Pittsburgh
Perfect fit
l wanted to replace my headlight with a number plate and Cycra was my only option. Fits and performs perfectly l definitely recommend.
l was going to add a picture of the plate but l have a competitor of Motorsport's number sticker on the plate.
1 year 8 months ago
portland,or
Good coverage
Easy install, great coverage. Perfect fitment
Fitment
See all bikes that this part fits...
# Part Numbers
| Product Variant | Manufacturer Part # |
| --- | --- |
| Black | 1CYC-1200-12 |
| Black | 1CYC-1205-12 |
| Black | 1CYC-1209-12 |
| Black | 1CYC-1207-12 |
| Black | 1CYC-0700-12 |
| Black | 1CYC-0800-12 |
| Black | 1CYC-0802-12 |
| Black | 1CYC-0990-12 |
| Black | 1CYC-0900-12 |
| Black | 1CYC-0804-12 |
| Black | 1CYC-0701-12 |
| Black | 1CYC-0702-12 |
| Black | 1CYC-0805-12 |
| Black | 1CYC-1211-12 |
| Black | 1CYC-0991-12 |
| Black | 1CYC-0704-12 |
| White | 1CYC-1200-42 |
| White | 1CYC-1205-42 |
| White | 1CYC-1209-42 |
| White | 1CYC-1207-42 |
| White | 1CYC-0700-42 |
| White | 1CYC-0800-42 |
| White | 1CYC-0802-42 |
| White | 1CYC-0990-42 |
| White | 1CYC-0804-42 |
| White | 1CYC-0701-42 |
| White | 1CYC-0702-42 |
| White | 1CYC-0805-42 |
| White | 1CYC-1211-42 |
| White | 1CYC-0991-42 |
| White | 1CYC-0704-42 |
| Works Clear | 1CYC-1205-02 |
| Works Clear | 1CYC-1209-02 |
| Works Clear | 1CYC-1207-02 |
| Works Clear | 1CYC-1200-02 |
| Works Clear | 1CYC-0804-02 |
| Works Clear | 1CYC-1211-02 |
| Green | 1CYC-0700-72 |
| Green | 1CYC-0701-72 |
| Orange | 1CYC-0800-22 |
| Orange | 1CYC-0802-22 |
| Orange | 1CYC-0804-22 |
| Red | 1CYC-1200-32 |
| Red | 1CYC-1205-32 |
| Red | 1CYC-1209-33 |
| Red | 1CYC-1207-33 |
| Red | 1CYC-1211-32 |
| Blue | 1CYC-0990-62 |
| Blue | 1CYC-0900-62 |
| Blue | 1CYC-0991-62 |
| Flo Green | 1CYC-0700-72F |
| Flo Green | 1CYC-0701-72F |
| Gold | 1CYC-0900-66 |
| Gold | 1CYC-0990-66 |
| Yellow | 1CYC-0702-55 |
| Yellow | 1CYC-0704-55 |
| Flo Orange | 1CYC-0804-22F |
| Husqvarna Yellow | 1CYC-0805-56 |
| Husqvarna Blue | 1CYC-0805-89 |