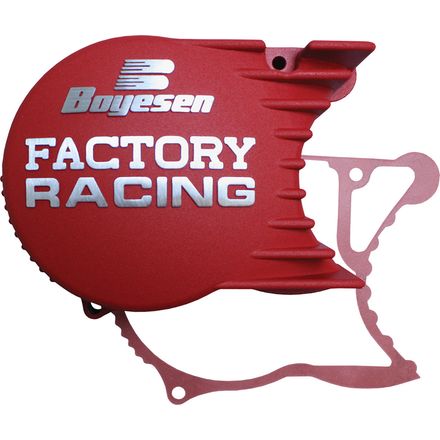 ---
7% Off - Save up to $8.00
---
5 Star
21
4 Star
3
3 Star
2
2 Star
0
1 Star
0
Write a Review
Write your review and you'll automatically be entered in our monthly drawing. Include an image or video to DOUBLE your chances to win!
Write Your Review
Gnarly product!
Does it's job and looks the part too!
Looks good
For the price it's a great cover especially since the stock one on a yz250 is plastic. My only complaint is that the finish wears off within a couple rides. Other than that it's great
Over 6 months ago
Ohio, USA
Sick
This is a top of the line cover for my 01 yz125, it is affordable,durable,look great
Looks great and fits awesome
Makes the bike look sick
Gives your bike a good look and probably protects better than the stock ignition cover.
Over 8 months ago
Lenoir, NC, USA
Good investment
I purchased the ignition cover to replace the stock cover that was thin and discolored. The new cover made the bike look much better, giving it that factory sponsorship look!
1 year 6 months ago
NorthEast
the Boyesen cover is a good replacement over the OEM plastic cover which is obviously not as strong upon impact of rocks or some hitting you.
1 year 6 months ago
Oregon, USA
1 year 6 months ago
Elwood, IN
03 cr125r
Awesome, truly a beautiful part. At my door in 2 days. Gasket included. Thanks a lot. Sale picture didn't match my part, but as long as you select your model of your bike they will send you the correct part. Very impressed.
Don R
Q: For a 2006 Yamaha yz 86, does this come with a case saver?
Tyler Gearhead
1 month 2 days ago
A: No this is just the Ignition Cover and Gasket.
Brandon33
Q: I didn't see the chain guard in the picture for the black one for my 1998 kx100. Just wanted to make sure that it in fact did come with the chain guard? All the other colors show the guard, but the black one does not.
Paul
2 months 21 days ago
A: Yes, the Boyesen part number SC-10 for the '98 KX100 includes a removable chain guard.
Adam
Q: For a yz 125 would it look like the picture when you type it in or when you click on it? 
JerryGearhead
4 months 5 days ago
A: The pictures on our site are general and the part number will change with fitment to insure you get the correct part.
bendanblake
Q: Is it a replacement stator cover? And if so will it fit my 99 rm 125?
Ralph
Q: Does it come with the hardware?
MotoSportExpert
Over 3 years ago
A: No it would not come with hardware. You would use your stock OEM hardware.
cobb
Over 3 years ago
A: This cover comes with a new gasket, but no new bolts.
Rmking
Q: Does this come with the chain guard
I want to buy this for my rm 85 and I want to know does it come with the chain guard connected to the ignition cover.
MotoSportRyanT
Over 4 years ago
A: Yes, the design of the Boyesen Cover for the Suzuki RM85 would be a bit different than the Stock Cover. It would be 2 separate pieces instead of 1 combined peice. This cover makes changing the front sprocket much easier as it includes a removable chain guard.
allstockracing
Q: Will this cover fit a 2-stroke honda CR250R?
I recently bought this cover and it looks like the one pictured, but does not fit my bike. The one on Honda's 250 2-stroke is more circular and only has 4 mounting bolts. Is this just a generic picture or is this what will be sent to me?
MotoSportGrant
Over 4 years ago
A: Keep in mind that the pictures are for reference only and may not depict the item specific to your model. As long as you profile your bike correctly, you will receive the specific cover for your model. This ignition cover is available for your 1997 Honda CR250R.
Timf
Q: Will the Boyesen ign cover fit with a steahly 13oz. weight mount/extends from flywheel
MotoSportExpert
Over 5 years ago
A: The Boyesen Ignition Cover for a 2001 Honda CR250R, part # SC-02, most likely will not fit with an aftermarket flywheel weight. Most flywheel weights require an ignition cover spacer. The Boyesen Ignition Cover is similar in size to the stock ignition cover. If the stock ignition cover fits with the aftermarket flywheel weight, then the Boyesen Ignition Cover would probably fit also.
KawasakiRider
Q: Does this or the clutch cover have an oil window like my stock cover i have?
I have a 2005 Kx 125 and i wanted to know how am i suppose to check the oil in my crank case. It shows that it doesn't have a window, and i can't find a dip stick for my bike,
MotoSportExpert
Over 5 years ago
A: Yes, the KX125 2005-2007 according to the picture from Boyesen will come with the level screw.
MotosportStaff
Over 5 years ago
A: This will not have the sight glass like the stock one on your 2005 Kawasaki KX125. There are many models out there that do not have a dip stick or sight glass for checking the oil level. You will need to rely on putting in the correct amount of oil and keeping up on oil changes. Stamped on the case near the fill hole for the oil will be the amount of oil needed in milliliters.
See all bikes that this part fits...
| Product Variant | Manufacturer Part # |
| --- | --- |
| Black | SC-05B |
| Magnesium | SC-05M |
| Blue | SC-10AL |
| Magnesium | SC-10AM |
| White | SC-10AW |
| Black | SC-10DB |
| Magnesium | SC-14XM |
| Red | SC-20R |
| White | SC-20W |
| Magnesium | SC-22M |
| Blue | SC-30L |
| White | SC-30W |
| Blue | SC-32AL |
| White | SC-32AW |
| Magnesium | SC-32XM |
| Blue | SC-33AL |
| White | SC-33AW |
| Blue | SC-40AL |
| White | SC-40AW |
| Magnesium | SC-40M |
| Blue | SC-41AL |
| White | SC-41AW |
| Black | SC-41CB |
| Blue | SC-41CL |
| Magnesium | SC-41CM |
| Orange | SC-41CO |
| White | SC-41CW |
| Blue | SC-42L |
| Orange | SC-42O |
| White | SC-42W |
| Blue | SC-46L |
| Orange | SC-46O |
| White | SC-46W |
| Black | SC-01AB |
| Black | SC-02AB |
| Black | SC-02B |
| Black | SC-03B |
| Black | SC-14XB |
| Black | SC-11AB |
| Black | SC-12AB |
| Black | SC-12B |
| Black | SC-10AB |
| Black | SC-21CB |
| Black | SC-23B |
| Black | SC-20B |
| Black | SC-33AB |
| Black | SC-33B |
| Black | SC-32B |
| Black | SC-32AB |
| Black | SC-30B |
| Black | SC-40AB |
| Black | SC-42B |
| Black | SC-41B |
| Black | SC-41AB |
| Black | SC-44B |
| Black | SC-46B |
| Silver | SC-40 |
| Silver | SC-01A |
| Silver | SC-02A |
| Silver | SC-02 |
| Silver | SC-03 |
| Silver | SC-14X |
| Silver | SC-12A |
| Silver | SC-12 |
| Silver | SC-13 |
| Silver | SC-21C |
| Silver | SC-23 |
| Silver | SC-20 |
| Silver | SC-33A |
| Silver | SC-32 |
| Silver | SC-32A |
| Silver | SC-42 |
| Silver | SC-10D |
| Silver | SC-21 |
| Silver | SC-22 |
| Silver | SC-41 |
| Silver | SC-44 |
| Silver | SC-46 |
| Magnesium | SC-01AM |
| Magnesium | SC-02AM |
| Magnesium | SC-02M |
| Magnesium | SC-03M |
| Magnesium | SC-00M |
| Magnesium | SC-12AM |
| Magnesium | SC-12M |
| Magnesium | SC-10CM |
| Magnesium | SC-21CM |
| Magnesium | SC-23M |
| Magnesium | SC-20M |
| Magnesium | SC-33AM |
| Magnesium | SC-31M |
| Magnesium | SC-33M |
| Magnesium | SC-32M |
| Magnesium | SC-32AM |
| Magnesium | SC-30M |
| Magnesium | SC-40AM |
| Magnesium | SC-13M |
| Magnesium | SC-21M |
| Magnesium | SC-41M |
| Magnesium | SC-41AM |
| Magnesium | SC-42M |
| Magnesium | SC-44M |
| Orange | SC-40AO |
| Orange | SC-41AO |