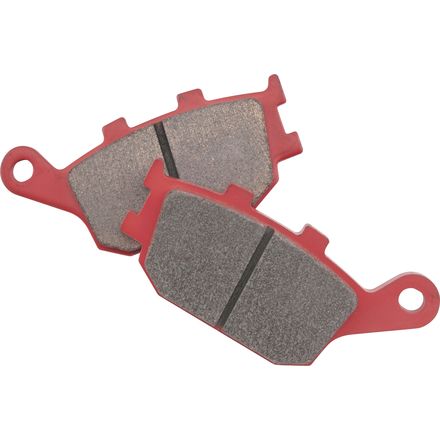 BikeMaster Sintered Brake Pads
---
10% Off - Save up to $4.59
---
5 Star
2
4 Star
1
3 Star
0
2 Star
0
1 Star
0
1 year 1 month ago
Land of Enchantment
Good pads.
Durability is yet to be seen but performance is par+.
Over 3 years ago
Radford, VA 24141, USA
tanner600
Q: Does the front pad set come with both sides or do i need to order a quanity of 2?
robert
1 year 8 months ago
A: Yes a front pad set will come with both sides in one kit.
See all bikes that this part fits...
| Product Variant | Manufacturer Part # |
| --- | --- |
| Front | 961401 |
| Front | 961402 |
| Front | 961403 |
| Front | 961404 |
| Front | 961405 |
| Front | 961406 |
| Front | 961408 |
| Front | 961409 |
| Front | 961410 |
| Front | 961411 |
| Front | 961412 |
| Front | 961414 |
| Front | 961415 |
| Front | 961416 |
| Front | 961417 |
| Front | 961418 |
| Front | 961420 |
| Front | 961422 |
| Front | 961425 |
| Front | 961430 |
| Front | 961432 |
| Front | 961435 |
| Front | 961439 |
| Front | 961440 |
| Rear | 961444 |
| Front | 961445 |
| Front | 961447 |
| Front | 961448 |
| Front | 961450 |
| Front | 961451 |
| Front | 961454 |
| Front | 961456 |
| Front | 961459 |
| Front | 961460 |
| Front | 961465 |
| Front | 961467 |
| Front | 961473 |
| Front | 961475 |
| Front | 961483 |
| Front | 961487 |
| Front | 961495 |
| Front | 961496 |
| Front | 961497 |
| Front | 961498 |
| Front | 961499 |
| Front | 961500 |
| Front | 961501 |
| Front | 961503 |
| Front | 961504 |
| Front | 961505 |
| Front | 961507 |
| Front ABS | 961497 |
| Front Left | 961418 |
| Front Non-ABS | 961500 |
| Front Right | 961404 |
| Rear | 961400 |
| Rear | 961401 |
| Rear | 961402 |
| Rear | 961403 |
| Rear | 961404 |
| Rear | 961405 |
| Rear | 961406 |
| Rear | 961407 |
| Rear | 961408 |
| Rear | 961412 |
| Rear | 961417 |
| Rear | 961419 |
| Rear | 961421 |
| Rear | 961424 |
| Rear | 961426 |
| Rear | 961427 |
| Rear | 961429 |
| Rear | 961431 |
| Rear | 961432 |
| Rear | 961437 |
| Rear | 961438 |
| Rear | 961440 |
| Rear | 961442 |
| Rear | 961453 |
| Rear | 961456 |
| Rear | 961458 |
| Rear | 961466 |
| Rear | 961469 |
| Rear | 961470 |
| Rear | 961476 |
| Rear | 961477 |
| Rear | 961489 |
| Rear | 961495 |
| Rear | 961511 |
| Rear | 961524 |