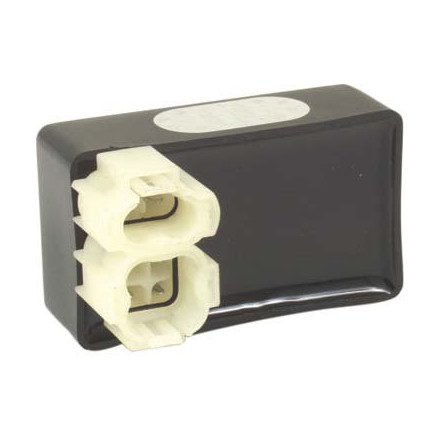 5 Star
7
4 Star
2
3 Star
1
2 Star
0
1 Star
0
Works as advertised
Easy installation. Simple plug and play. Works great.
Over 7 years ago
Grand Rapids,MI
Awesome
Works Great does what is says.
Over 8 years ago
Morristown, NJ
Good Part
The BBR Rev box for my crf50 was a good purchase. It supplied a power increase and removed the rev limiter as promised. The power increase was small but what do you want for something that is really just plug and play. Installation was easy, I just had to remove the old computer and install this one in its place.
Over 9 years ago
Watkinsville, Ga
REV IT UPPPP
I installed this on my 08'CRF80 and it definitely increased the over rev in 3rd and 4th gear. You get more torque and gearing into your bottom end. I love this product and will put it on any other pit bike i get!
Avery348
Over 9 years ago
Castro Valley, CA
You won't regret buying it
I bought this on 11/23/09 for my honda crf70f and it came 11/30/09 it was easy to install although the original hanger didn't fit because this box is a little bigger than stock but i tied it on with a zip tie and stayed there just fine i definetly felt more throttle response and more power on second and third gear i am really happy i bought it and its a cheap power booster. Here are some pics
Over 10 years ago
Little egg harbor,new jersey
The Best!! Buy it over REV MAX
This features more power,The Best throttle response and 10 other things but this little machine would attatch to your wire harness under the gas tank only on A DIRTBIKE.
this makes My Bike (alittle CRF80F) spound nastty. think of what it would sound on yours!!

Starts on first kick
Over 11 years ago
Danville,Ca
Good product.
Much better throttle response and rev!
Over 11 years ago
new london ct
this is the best thaing for a 50
Over 11 years ago
akron, ohio
Get.
cannot tell in 1st gear but for 2nd and 3rd i could tell for sure.
Over 11 years ago
Northern, CA
Rev it up!
My opinion of this product was that it really didnt do that much other than let the bike rev up a bit higher. For a cheap modification that you may notice with a big bore kit i would reccomend it as something you do later on. Dont use it as your first priority.
189nick
Q: Seeing crf 100's don't have a rev limiter what will I benefit from it?
Dan Gearhead
Over 10 months ago
A: This unit uses advanced ignition curves for a more complete burn, resulting in crisper throttle response and improved efficiency.
Hogan487
Q: Can I use this on a ssr 125 pit bike? Will it fit?
MotoSportExpert
Over 4 years ago
A: Fitment cannot be guaranteed on the SSR125. These BBR rev boxes are designed specifically for Honda minis (xr50/crf50, crf70, crf80, crf100).
HungryConsumer
Q: How soon will this product be back in stock and how will I know when you restock it?
MotoSportExpert
Over 4 years ago
A: For current availability and ETA please contact our Sales Department.

Dirt Bike / ATV: 1-888-676-8853
Hudak
Q: Is there a down side to have this in my CRF80F
Is it bad or a down side of putting this rev box into my CRF80F?
james718
Over 10 years ago
A: No actual harm will be done to the bike by replacing the CDI box. You will benefit with more power.
See all bikes that this part fits...
| Product Variant | Manufacturer Part # |
| --- | --- |
| BBR XR50 Rev Box | 451-HXR-5001 |