Acerbis
Acerbis Speedy Quick Fill System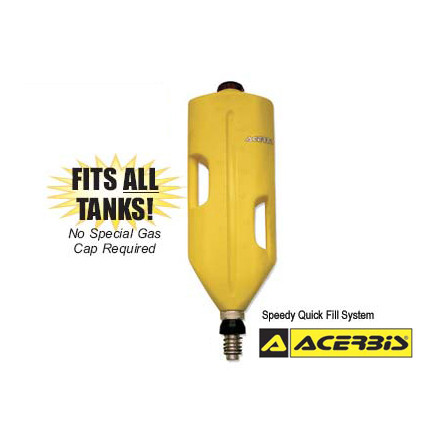 Acerbis Speedy Quick Fill System
5 Star
1
4 Star
0
3 Star
0
2 Star
0
1 Star
0
Over 11 years ago
Sissonville, W.V.
Speedy quick fill
Great product will improve my pit stops!
ktmrider062
Q: I have a clarke 3.1 gallon tank on my ktm will this gas can work with the stock cap on the clark tanks?
dirt
Over 9 years ago
A: they work with 39.5mm or greater openings.
owster
Q: I assume this is designed to work with the Acerbis MDR Cap (1 1/2") that came on my 3.0 Gallon tank?
dirt
Over 9 years ago
A: 39.5mm or greater
Dezman
Q: Is there a stand needed and/or available for the Acerbis quick fill can?
james718
Over 9 years ago
A: Acerbis offers this bike stand that doubles as the quick fill can stand.
http://www.acerbistore.it/productUSA.aspx?ID=91&C=152&L=2

if you want to order this we can look into it by giving us a call at 888-676-8853.
WalkerSkyRanch
Q: Dry Brake or not?
Is this a dry brake system, or will it work with a normal opening on my IMS gas tank?
DrewKlann
Over 10 years ago
A: No this is not a dry brake system and it works with all tanks.
SethH
Q: Does it actually work well?
GrantK
Over 11 years ago
A: Yes. Very fast.
| Product Variant | Manufacturer Part # |
| --- | --- |
| Acerbis Speedy Quick Fill System | 2070780147 |