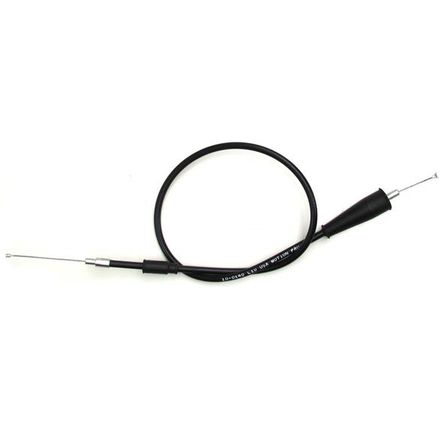 Motion Pro Throttle Cable
---
9% Off - Save up to $5.00
---
5 Star
93
4 Star
19
3 Star
3
2 Star
2
1 Star
6
Write a Review
Write your review and you'll automatically be entered in our monthly drawing. Include an image or video to DOUBLE your chances to win!
Write Your Review
Just what you need
This cable worked well with my 03 KX125. Nothing spectacular just a cable that works good.
1 month 1 day ago
Arizona
Perfect fit
This is the cable that matched the motion pro vortex throttle assembly.
Fit perfect!!!
I have a 04 yz125 and this cable fit perfect and has the piece to go in the carb!!!
3 months 14 days ago
Louisville Ky
Quality merchandise
Timely delivery, at a fair price. My bike is running fine.
3 months 15 days ago
Harrogate, TN
Perfect fit!
Easy to install and has worked perfect since I got it.
Quick Fix
Easy to install and works great.
Way too long
Said it would fit my bike, but they were at least 6" longer than OE. Couldn't route them properly and they bound up. Not good. 2007 Kim 250 xcf.
Over 5 months ago
Tracy, CA
Awesome cable
I have purchased motion pro cables from crf50 to
vintage bikes. They always work great and never
have had a problem. Keep cables lubed.
See all bikes that this part fits...
| Product Variant | Manufacturer Part # |
| --- | --- |
| Stock | 05-0315 |
| Stock | 10-0051 |
| Stock | 10-0092 |
| Stock | 10-0094 |
| Stock | 10-0095 |
| Stock | 10-0097 |
| Stock | 05-0363 |
| Stock | 10-0099 |
| Stock | 10-0111 |
| Stock | 10-0126 |
| Stock | 10-0115 |
| Stock | 10-0117 |
| Stock | 10-0135 |
| Stock | 10-0136 |
| Stock | 10-0141 |
| Stock | 02-0408 |
| Stock | 02-0411 |
| Stock | 02-0135 |
| Stock | 02-0152 |
| Stock | 02-0191 |
| Stock | 02-0202 |
| Stock | 02-0247 |
| Stock | 02-0321 |
| Stock | 02-0381 |
| Stock | 02-0384 |
| Stock | 02-0414 |
| Stock | 02-0418 |
| Stock | 02-0472 |
| Stock | 02-0517 |
| Stock | 02-0546 |
| Stock | 02-0561 |
| Stock | 02-0568 |
| Stock | 02-0590 |
| Stock | 02-0582 |
| Stock | 02-0584 |
| Stock | 03-0350 |
| Stock | 03-0362 |
| Stock | 03-0162 |
| Stock | 03-0169 |
| Stock | 03-0186 |
| Stock | 03-0189 |
| Stock | 03-0211 |
| Stock | 03-0357 |
| Stock | 03-0369 |
| Stock | 03-0382 |
| Stock | 03-0385 |
| Stock | 03-0430 |
| Stock | 04-0249 |
| Stock | 04-0043 |
| Stock | 04-0106 |
| Stock | 04-0107 |
| Stock | 04-0111 |
| Stock | 04-0118 |
| Stock | 04-0119 |
| Stock | 04-0131 |
| Stock | 04-0144 |
| Stock | 04-0155 |
| Stock | 04-0156 |
| Stock | 04-0165 |
| Stock | 04-0193 |
| Stock | 04-0208 |
| Stock | 04-0215 |
| Stock | 04-0228 |
| Stock | 04-0234 |
| Stock | 04-0258 |
| Stock | 04-0272 |
| Stock | 04-0293 |
| Stock | 04-0302 |
| Stock | 04-0303 |
| Stock | 05-0376 |
| Stock | 05-0118 |
| Stock | 05-0136 |
| Stock | 05-0153 |
| Stock | 05-0154 |
| Stock | 05-0165 |
| Stock | 05-0193 |
| Stock | 05-0194 |
| Stock | 05-0206 |
| Stock | 05-0236 |
| Stock | 05-0237 |
| Stock | 05-0238 |
| Stock | 05-0241 |
| Stock | 05-0285 |
| Stock | 05-0286 |
| Stock | 05-0317 |
| Stock | 05-0319 |
| Stock | 05-0327 |
| Stock | 05-0355 |
| Stock | 05-0337 |
| Stock | 05-0349 |
| Stock | 05-0352 |
| Stock | 05-0377 |
| Stock | 05-0380 |
| Stock | 05-0383 |
| Stock | 05-0388 |
| Stock | 05-0396 |
| Stock | 02-0184 |
| Stock | 02-0218 |
| Stock | 02-0222 |
| Stock | 02-0228 |
| Stock | 02-0277 |
| Stock | 02-0282 |
| Stock | 02-0375 |
| Stock | 02-0419 |
| Stock | 02-0423 |
| Stock | 02-0439 |
| Stock | 02-0485 |
| Stock | 02-0486 |
| Stock | 03-0008 |
| Stock | 03-0037 |
| Stock | 03-0054 |
| Stock | 03-0083 |
| Stock | 03-0091 |
| Stock | 03-0117 |
| Stock | 03-0181 |
| Stock | 03-0190 |
| Stock | 03-0201 |
| Stock | 03-0253 |
| Stock | 03-0266 |
| Stock | 03-0309 |
| Stock | 04-0024 |
| Stock | 04-0032 |
| Stock | 04-0052 |
| Stock | 04-0059 |
| Stock | 04-0061 |
| Stock | 04-0062 |
| Stock | 04-0064 |
| Stock | 04-0103 |
| Stock | 04-0105 |
| Stock | 04-0110 |
| Stock | 04-0114 |
| Stock | 04-0115 |
| Stock | 04-0137 |
| Stock | 04-0141 |
| Stock | 04-0196 |
| Stock | 05-0020 |
| Stock | 05-0024 |
| Stock | 05-0040 |
| Stock | 05-0050 |
| Stock | 05-0051 |
| Stock | 05-0052 |
| Stock | 05-0072 |
| Stock | 05-0107 |
| Stock | 05-0109 |
| Stock | 05-0112 |
| Stock | 05-0130 |
| Stock | 05-0142 |
| Stock | 05-0166 |
| Stock | 05-0188 |
| Stock | 05-0191 |
| Stock | 10-0012 |
| Stock | 10-0035 |
| Stock | 10-0052 |
| Stock | 10-0086 |
| Stock | 10-0090 |
| Stock | 10-0091 |
| Stock | 10-0093 |
| Stock | 10-0096 |
| Stock | 10-0098 |
| Stock | 02-0036 |
| Stock | 05-0213 |
| Stock | 05-0223 |
| Stock | 05-0282 |
| Stock | 05-0284 |
| Stock | 02-0048 |
| Stock | 02-0054 |
| Stock | 02-0057 |
| Stock | 02-0062 |
| Stock | 02-0136 |
| Stock | 02-0138 |
| Stock | 02-0151 |
| Stock | 04-0299 |
| Stock | 02-0009 |
| Stock | 02-0014 |
| Stock | 02-0046 |
| Stock | 02-0077 |
| Stock | 02-0185 |
| Stock | 02-0188 |
| Stock | 02-0197 |
| +3" | 02-0489 |
| Stock | 02-0519 |
| +4" | 03-0363 |
| +2" | 03-0376 |
| Stock | 03-0436 |
| Stock | 04-0203 |
| Stock | 04-0330 |
| Stock | 05-0075 |
| Stock | 05-0123 |
| Stock | 05-0393 |
| Stock | 05-0398 |
| Stock | 05-0405 |
| Stock | 05-0407 |
| Stock | 10-0062 |
| Stock | 10-0127 |
| Stock | 10-0131 |
| Stock | 10-0133 |
| Stock | 10-0134 |
| Stock | 10-0137 |
| +3" | 10-0138 |
| Stock | 10-0138 |
| Stock | 10-0140 |
| Stock | 10-0152 |
| Stock | 10-0157 |
| Stock | 10-0158 |