Boyesen
Boyesen Dual Stage Power Reeds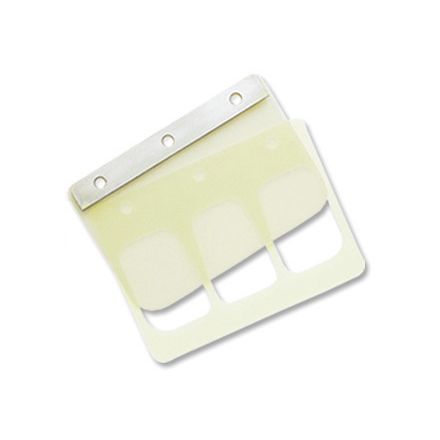 Boyesen Dual Stage Power Reeds
---
6% Off - Save up to $3.00
---
5 Star
42
4 Star
7
3 Star
0
2 Star
0
1 Star
0
Write a Review
Write your review and you'll automatically be entered in our monthly drawing. Include an image or video to DOUBLE your chances to win!
Write Your Review
Works great!
Exactly what I wanted. Fast shipping!
1 month 27 days ago
Saint Louis MO
Looks legit
Bought it a month ago, looks great. Looks just like the original and like what the motorsports shop carries.
2 months 2 days ago
Stafford, Va
Great reeds for the price
Brought my 89' yz250 back to life without needing to change anything. Firat ride on it, so I'm not really sure if it changed the power delivery at all.
Over 7 months ago
Southern California, CA, USA
Great upgrade when doing a rebuild
I replace the reeds whenever I rebuild the top end on my trusty old 1992 CR250. I wouldn't say they give you more power but the dual stage reeds certainly change the character of the power. Last rebuild I did I installed regular single stage Boysen reeds and totally changed/lamed out the bikes power band. I will be going back to the dual stage next time around.
Can't go wrong
I've used Boyesen power reeds in every bike I've owned, from Cr, kx ,Rm an kdx, an every set has increased my HP an control , can't go wrong, don't forget a gasket
Works great.
Bought these to replace the Boyesen reeds that were already in the bike. They work great and I'll be buying them for my new project as well.
1 year 1 month ago
Portland, OR, USA
Great upgrade for the price!!!!
I have been using Boyesen reeds ever since I first started riding. They always fit perfect and hold up very well. i would recommend these to anybody looking to replace their stock reeds. I installed them on an 01' cr 250 that is built for the woods and the whole powerband is solid and equal no spikes up top and no bogs down below. Great product for the price.
1 year 1 month ago
OHIO,USA
Power to spare!!!
i was some what skeptical about the dual stage reed set up before purchasing it but i have no regrets now. The throttle response is super crisp. The power band comes in strong in every gear with no lag at all. my RM250 was a hand full before the install, but now it has a whole new bad news personality i am going to have to get use to. AWESOME product.
1 year 2 months ago
Connecticut, USA
Very happy with purchase great shipping
Reed's perform perfect not too aggressive but definitely better than stock awesome throttle response great low end power
1 year 2 months ago
Virginia, USA
So far so good. Fit perfectly.
Works good, good purchase.
Q: What dual stage reed fits my 79-yz 400
Michael
27 days ago
A: That is a good question, however, I unfortunately will not be able to supply those for you on our site. I do recommend finding out what kind of conversion other folks have done in order to update their reed system, and one of the best sites I recommend for that kind of information is: https://thumpertalk.com/forums/topic/427307-vintage-motor-mods-yz400/
Q: What are these's for
Where do they go? Are they part of the for the filter area? Sorry I'm new to dirt bike just got my first one it's a 82 suzuki rm 125
Jakeext3453
Over 8 months ago
A: In 2-stroke bikes the Reeds are located in the Reed cage. In between the carburetor and the cylinder. Their purpose is to Atomize the air and fuel as it goes into the cylinder.
Q: Will these fit a 97 polaris sportsman 400
Jakeext3453
Over 8 months ago
A: I am sorry, but not these will not fit your 97 Sportsman 400.
Q: Hey will the boysen reeds work in a stock 2001 cr125.
Q: Will these reeds fit in my stock rm250 1999 cage?
Q: Can these go on the stock cage?
If I just buy the reeds will they fit in the stock cage or so I need to buy a whole new basket for them?
MotoSportExpert
1 year 10 months ago
A: Yes, the Boyesen Dual Stage Power Reeds work on the stock cage they are a stock replacement ONLY.
Q: Do these come with a new gasket?
MotoSportExpert
2 years 2 months ago
A: No, gaskets would not be included.
Q: I have a Boyesen rad cage in my 89 cr125, do u guys sell the reeds for this?
MotoSportExpert
2 years 3 months ago
A: If it is available through one of our suppliers, we would be happy to order it for you. Please contact one of our sales professionals to inquire about special orders and availability.
Dirt Bike 1-888-676-8853
Q: Quantity
Does this come in a pack or as a single item? If so how many are in pack?
MotoSportExpert
2 years 3 months ago
A: The Boyesen Dual Stage Power Reeds come as a set.
Q: Will these work on the oem reed cage?
MotoSportExpert
2 years 5 months ago
A: Yes, the Boyesen Dual Stage Power Reeds work on the stock cage they are a stock replacement ONLY.
See all bikes that this part fits...
| Product Variant | Manufacturer Part # |
| --- | --- |
| Boyesen Dual Stage Power Reeds | 623 |
| Boyesen Dual Stage Power Reeds | 627 |
| Boyesen Dual Stage Power Reeds | 631 |
| Boyesen Dual Stage Power Reeds | 664 |
| Boyesen Dual Stage Power Reeds | 682 |
| Boyesen Dual Stage Power Reeds | 690 |
| Boyesen Dual Stage Power Reeds | 695 |
| Boyesen Dual Stage Power Reeds | 6109 |
| Boyesen Dual Stage Power Reeds | 6117 |
| Boyesen Dual Stage Power Reeds | 6127 |
| Boyesen Dual Stage Power Reeds | 633 |
| Boyesen Dual Stage Power Reeds | 684 |
| Boyesen Dual Stage Power Reeds | 696 |
| Boyesen Dual Stage Power Reeds | 6103 |
| Boyesen Dual Stage Power Reeds | 6110 |
| Boyesen Dual Stage Power Reeds | 6118 |
| Boyesen Dual Stage Power Reeds | 6128 |
| Boyesen Dual Stage Power Reeds | 636 |
| Boyesen Dual Stage Power Reeds | 622 |
| Boyesen Dual Stage Power Reeds | 693 |
| Boyesen Dual Stage Power Reeds | 646 |
| Boyesen Dual Stage Power Reeds | 6124 |
| Boyesen Dual Stage Power Reeds | 691 |
| Boyesen Dual Stage Power Reeds | 6100 |
| Boyesen Dual Stage Power Reeds | 6115 |
| Boyesen Dual Stage Power Reeds | 6120 |
| Boyesen Dual Stage Power Reeds | 607 |
| Boyesen Dual Stage Power Reeds | 638 |
| Boyesen Dual Stage Power Reeds | 683 |
| Boyesen Dual Stage Power Reeds | 688 |
| Boyesen Dual Stage Power Reeds | 692 |
| Boyesen Dual Stage Power Reeds | 6116 |
| Boyesen Dual Stage Power Reeds | 6121 |
| Boyesen Dual Stage Power Reeds | 6129 |
| Boyesen Dual Stage Power Reeds | 615 |
| Boyesen Dual Stage Power Reeds | 6104 |
| Boyesen Dual Stage Power Reeds | 687 |
| Boyesen Dual Stage Power Reeds | 698 |
| Boyesen Dual Stage Power Reeds | 6113 |
| Boyesen Dual Stage Power Reeds | 6122 |
| Boyesen Dual Stage Power Reeds | 647 |
| Boyesen Dual Stage Power Reeds | 676 |
| Boyesen Dual Stage Power Reeds | 681 |
| Boyesen Dual Stage Power Reeds | 699 |
| Boyesen Dual Stage Power Reeds | 6114 |
| Boyesen Dual Stage Power Reeds | 6123 |
| Boyesen Dual Stage Power Reeds | 648 |
| Boyesen Dual Stage Power Reeds | 6105 |
| Boyesen Dual Stage Power Reeds | 642 |
| Boyesen Dual Stage Power Reeds | 694 |
| Boyesen Dual Stage Power Reeds | 697 |
| Boyesen Dual Stage Power Reeds | 6111 |
| Boyesen Dual Stage Power Reeds | 6119 |
| Boyesen Dual Stage Power Reeds | 6130 |
| Boyesen Dual Stage Power Reeds | 644 |
| Boyesen Dual Stage Power Reeds | 679 |
| Boyesen Dual Stage Power Reeds | 689 |
| Boyesen Dual Stage Power Reeds | 6102 |
| Boyesen Dual Stage Power Reeds | 6112 |
| Boyesen Dual Stage Power Reeds | 6131 |
| Boyesen Dual Stage Power Reeds | 685 |
| Boyesen Dual Stage Power Reeds | 6101 |
| Boyesen Dual Stage Power Reeds | 617 |
| Boyesen Dual Stage Power Reeds | 686 |
| Boyesen Dual Stage Power Reeds | 675 |
| Boyesen Dual Stage Power Reeds | 600 |
| Boyesen Dual Stage Power Reeds | 601 |
| Boyesen Dual Stage Power Reeds | 602 |
| Boyesen Dual Stage Power Reeds | 603 |
| Boyesen Dual Stage Power Reeds | 604 |
| Boyesen Dual Stage Power Reeds | 605 |
| Boyesen Dual Stage Power Reeds | 606 |
| Boyesen Dual Stage Power Reeds | 608 |
| Boyesen Dual Stage Power Reeds | 609 |
| Boyesen Dual Stage Power Reeds | 610 |
| Boyesen Dual Stage Power Reeds | 6107 |
| Boyesen Dual Stage Power Reeds | 611 |
| Boyesen Dual Stage Power Reeds | 614 |
| Boyesen Dual Stage Power Reeds | 620 |
| Boyesen Dual Stage Power Reeds | 624 |
| Boyesen Dual Stage Power Reeds | 625 |
| Boyesen Dual Stage Power Reeds | 626 |
| Boyesen Dual Stage Power Reeds | 628 |
| Boyesen Dual Stage Power Reeds | 630 |
| Boyesen Dual Stage Power Reeds | 634 |
| Boyesen Dual Stage Power Reeds | 637 |
| Boyesen Dual Stage Power Reeds | 639 |
| Boyesen Dual Stage Power Reeds | 640 |
| Boyesen Dual Stage Power Reeds | 643 |
| Boyesen Dual Stage Power Reeds | 645 |
| Boyesen Dual Stage Power Reeds | 662 |
| Boyesen Dual Stage Power Reeds | 665 |
| Boyesen Dual Stage Power Reeds | 668 |
| Boyesen Dual Stage Power Reeds | 673 |
| Boyesen Dual Stage Power Reeds | 674 |
| Boyesen Dual Stage Power Reeds | 677 |
| Boyesen Dual Stage Power Reeds | 680 |