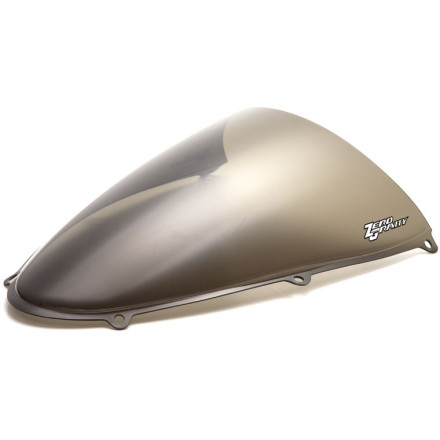 Zero Gravity SR Series Windscreen
---
10% Off - Save up to $12.00
---
5 Star
25
4 Star
5
3 Star
1
2 Star
0
1 Star
0
Write a Review
Write your review and you'll automatically be entered in our monthly drawing. Include an image or video to DOUBLE your chances to win!
Write Your Review
2 months 29 days ago
Dayton Ohio
Gives the bike a completely different look
Old windscreen was faded and scratched. Went with a completely different color. Glad I did. Looks great
4 months 2 days ago
Tucson, AZ
Zero G. has always got it right.
On time as ordered.. and its a perfect fit.
Over 5 months ago
Juneau wi
Perfect
Perfect fit for my fz750, looks good too
Over 5 months ago
San Jose, CA
Great replacement windshield
I got this windshield for my KLR which is cheaper than the stock windshield and it simply bolts on to replace the existing one which was getting faded due to the sun. The only issue with it is that I got the blacked out decal and there are some bubbles in it.
1 year 7 months ago
Portland OR
Good product fast shipping!
Went with the SR version looks like the factory look besides the smoke screen love it!
2 years 3 months ago
Dubuque, IA, USA
Zero gravity windshield
Great product. Thank you. I have an 87 gsxr, fitment was great. Happy to see someone still offered this windshield.
2 years 5 months ago
Los Angeles, CA, USA
Great fit
Bought it for my boyfriend's R1. Was afraid he wouldn't like it but he loved it. The the SR series looks the best on the R1 by the way. Looks just like the stock but light smog. Recommend this product even thou it took a while to receive, still got it in time.
Great replacement windscreen
Wind screen fit perfect on my 1987 FZR1000. Zero gravity is the only company that makes a windscreen for this bike that I could find and motosport had the best price. It took a little longer to get because I had ordered the clear but it was worth it. I'm glad I could still find this part for my bike and am thankful for motosport for having parts for these older bikes
Jeff
Q: I have a 94 Suzuki katana gsx600! is there way to get a green wind screen to match the rest of myscreen?
DaveGearhead
3 months 11 days ago
A: I am sorry, but we do not offer a green windscreen for that bike.
Riddler
Q: I'm looking for purple
I have a 99 Kawasaki ex500 and am looking for a purple wind screen to finish my Riddler style paint job. Do you have any thing?
bioniccronic
Q: What is the part # for this product?
MotoSportExpert
2 years 2 months ago
A: IT will depend on the model bike it is being ordered for. Feel free to give us a call at 888-676-8853 and we would be happy to help you out with your order.
gsxrguy
Q: Does this shield fit a 1993 750 GSXR
MotoSportExpert
Over 3 years ago
A: For the 1993 Suzuki GSXR750 you would need the 20-090 SR Series shield. If the shield is available through one of our suppliers, we would be happy to order it for you. Please contact one of our sales professionals to inquire about special orders and availability.
Dirt Bike / ATV: 1-888-676-8853
Ryanmcmillen
Q: Can u special order an orange one to fit my 89 fzr1000
MotoSportGrantK
Over 4 years ago
A: Unfortunately the only current color option for your 1989 Yamaha FZR1000 is light smoke. I am unaware of any company offering a windscreen in orange.
John
Q: Special order
I have a 2007 Cbr 1000 rr. Can you special order an orange SR screen for this, and what would the price be?
MotoSportExpert
Over 5 years ago
A: If you can give us a call on this, we are more than happy to help you out with availability and pricing on this special request.
See all bikes that this part fits...
| Product Variant | Manufacturer Part # |
| --- | --- |
| Red | 20-114-09 |
| Clear | 20-115-01 |
| Smoke | 20-115-02 |
| Dark Smoke | 20-115-19 |
| Dark Blue | 20-134-04 |
| Fluorescent Blue | 20-134-05 |
| Yellow | 20-134-06 |
| Amber | 20-134-07 |
| Red | 20-134-09 |
| Clear | 20-254-01 |
| Light Smoke | 20-254-02 |
| Dark Smoke | 20-254-19 |
| Red | 20-262-09 |
| Purple | 20-262-11 |
| Clear | 20-264-01 |
| Light Smoke | 20-264-02 |
| Dark Smoke | 20-264-19 |
| Dark Blue | 20-274-04 |
| Fluorescent Blue | 20-274-05 |
| Dark Blue | 20-282-04 |
| Amber | 20-282-07 |
| Clear | 20-427-01 |
| Smoke | 20-427-02 |
| Dark Smoke | 20-427-19 |
| Clear | 20-444-01 |
| Clear | 20-553-01 |
| Purple | 20-553-11 |
| Clear | 20-581-01 |
| Smoke | 20-581-02 |
| Dark Smoke | 20-581-19 |
| Clear | 20-739-01 |
| Clear | 20-811-01 |
| Red | 20-811-09 |
| Light Smoke | 20-974-02 |
| Dark Smoke | 20-974-19 |
| Light Smoke | 20-114-02 |
| Light Smoke | 20-132-02 |
| Light Smoke | 20-153-02 |
| Light Smoke | 20-155-02 |
| Light Smoke | 20-156-02 |
| Light Smoke | 20-166-02 |
| Light Smoke | 20-167-02 |
| Light Smoke | 20-170-02 |
| Light Smoke | 20-171-02 |
| Light Smoke | 20-201-02 |
| Light Smoke | 20-204-02 |
| Light Smoke | 20-222-02 |
| Light Smoke | 20-223-02 |
| Light Smoke | 20-244-02 |
| Light Smoke | 20-253-02 |
| Light Smoke | 20-263-02 |
| Light Smoke | 20-271-02 |
| Light Smoke | 20-290-02 |
| Light Smoke | 20-315-02 |
| Light Smoke | 20-401-02 |
| Light Smoke | 20-403-02 |
| Light Smoke | 20-422-02 |
| Light Smoke | 20-425-02 |
| Light Smoke | 20-441-02 |
| Light Smoke | 20-461-02 |
| Light Smoke | 20-462-02 |
| Light Smoke | 20-506-02 |
| Light Smoke / Standard | 20-507-02 |
| Light Smoke | 20-520-02 |
| Light Smoke | 20-521-02 |
| Light Smoke / Standard | 20-537-02 |
| Light Smoke | 20-576-02 |
| Light Smoke | 20-708-02 |
| Light Smoke | 20-729-02 |
| Light Smoke | 20-106-02 |
| Light Smoke | 20-107-02 |
| Light Smoke | 20-108-02 |
| Light Smoke | 20-109M-02 |
| Light Smoke | 20-110-02 |
| Light Smoke | 20-111-02 |
| Light Smoke / Standard | 20-133-02 |
| Light Smoke | 20-151M-02 |
| Light Smoke | 20-157-02 |
| Light Smoke | 20-241-02 |
| Light Smoke | 20-245-02 |
| Light Smoke | 20-246M-02 |
| Light Smoke | 20-261-02 |
| Light Smoke | 20-274-02 |
| Light Smoke | 20-280-02 |
| Light Smoke | 20-291-02 |
| Light Smoke | 20-404-02 |
| Light Smoke | 20-405-02 |
| Light Smoke | 20-407-02 |
| Light Smoke | 20-423-02 |
| Light Smoke | 20-464-02 |
| Light Smoke | 20-539-02 |
| Light Smoke | 20-540-02 |
| Light Smoke | 20-577-02 |
| Light Smoke | 20-578-02 |
| Light Smoke | 20-579-02 |
| Light Smoke | 20-424-02 |
| Light Smoke | 20-262-02 |
| Light Smoke | 20-112-02 |
| Light Smoke | 20-113-02 |
| Light Smoke / Standard | 20-134-02 |
| Light Smoke | 20-541-02 |
| Light Smoke | 20-580-02 |
| Light Smoke | 20-090-02 |
| Light Smoke | 20-103-02 |
| Light Smoke | 20-104-02 |
| Light Smoke | 20-105-02 |
| Light Smoke | 20-972-02 |
| Light Smoke | 20-973-02 |
| Light Smoke | 20-810-02 |
| Light Smoke | 20-726-02 |
| Light Smoke | 20-728-02 |
| Light Smoke | 20-702-02 |
| Light Smoke | 20-420-02 |
| Light Smoke | 20-421-02 |
| Light Smoke | 20-400-02 |
| Light Smoke | 20-460-02 |
| Light Smoke | 20-455-02 |
| Light Smoke | 20-452-02 |
| Light Smoke | 20-454-02 |
| Light Smoke | 20-453-02 |
| Light Smoke | 20-203-02 |
| Light Smoke | 20-311-02 |
| Light Smoke | 20-230-02 |
| Light Smoke | 20-260-02 |
| Light Smoke | 20-240-02 |
| Light Smoke | 20-200-02 |
| Light Smoke | 20-242-02 |
| Light Smoke | 20-250-02 |
| Light Smoke | 20-251-02 |
| Light Smoke | 20-252-02 |
| Light Smoke | 20-210-02 |
| Light Smoke | 20-220-02 |
| Light Smoke | 20-221-02 |
| Light Smoke | 20-175-02 |
| Light Smoke | 20-176-02 |
| Light Smoke | 20-152-02 |
| Light Smoke | 20-130-02 |
| Light Smoke | 20-131-02 |
| Light Smoke | 20-100-02 |
| Light Smoke | 20-101-02 |
| Light Smoke | 20-102-02 |
| Light Smoke | 20-549-02 |
| Light Smoke | 20-550-02 |
| Light Smoke | 20-551-02 |
| Light Smoke | 20-523-02 |
| Light Smoke | 20-530-02 |
| Light Smoke | 20-531-02 |
| Light Smoke | 20-532-02 |
| Light Smoke | 20-500-02 |
| Light Smoke | 20-510-02 |
| Light Smoke | 20-560-02 |
| Light Smoke | 20-504-02 |
| Light Smoke | 20-535-02 |
| Light Smoke | 20-570-02 |
| Light Smoke | 20-161-02 |
| Light Smoke | 20-180-02 |
| Light Smoke / Without Black Vinyl Mask | 20-206-02 |
| Light Smoke / With Black Vinyl Mask | 20-206v-02 |
| Light Smoke | 20-207-02 |
| Light Smoke | 20-212-02 |
| Light Smoke | 20-270-02 |
| Light Smoke | 20-282-02 |
| Light Smoke | 20-408-02 |
| Light Smoke / Standard | 20-417b-02 |
| Light Smoke | 20-426-02 |
| Light Smoke | 20-443-02 |
| Light Smoke | 20-465-02 |
| Light Smoke | 20-738-02 |
| Light Smoke | 20-855-02 |
| Light Smoke | 20-859-02 |
| Light Smoke / Without Black Vinyl Mask | 20-913-02 |
| Light Smoke / With Black Vinyl Mask | 20-914v-02 |
| Light Smoke / Standard | 20-945-02 |
| Light Smoke | 20-811-02 |
| Light Smoke | 20-444-02 |
| Light Smoke | 20-553-02 |
| Light Smoke | 20-542-02 |
| Light Smoke | 20-739-02 |
| Light Smoke | 20-764-02 |
| Dark Blue | 20-576-04 |
| Dark Blue | 20-106-04 |
| Dark Blue | 20-107-04 |
| Dark Blue | 20-108-04 |
| Dark Blue | 20-109M-04 |
| Dark Blue | 20-110-04 |
| Dark Blue | 20-111-04 |
| Dark Blue | 20-151M-04 |
| Dark Blue | 20-539-04 |
| Dark Blue | 20-578-04 |
| Dark Blue | 20-090-04 |
| Dark Blue | 20-103-04 |
| Dark Blue | 20-104-04 |
| Dark Blue | 20-152-04 |
| Dark Blue | 20-131-04 |
| Dark Blue | 20-101-04 |
| Dark Blue | 20-536-04 |
| Dark Smoke | 20-114-19 |
| Dark Smoke | 20-132-19 |
| Dark Smoke | 20-153-19 |
| Dark Smoke | 20-155-19 |
| Dark Smoke | 20-156-19 |
| Dark Smoke | 20-166-19 |
| Dark Smoke | 20-167-19 |
| Dark Smoke | 20-170-19 |
| Dark Smoke | 20-201-19 |
| Dark Smoke | 20-204-19 |
| Dark Smoke | 20-227-19 |
| Dark Smoke | 20-243-19 |
| Dark Smoke | 20-244-19 |
| Dark Smoke | 20-253-19 |
| Dark Smoke | 20-263-19 |
| Dark Smoke | 20-271-19 |
| Dark Smoke | 20-290-19 |
| Dark Smoke | 20-315-19 |
| Dark Smoke | 20-401-19 |
| Dark Smoke | 20-402-19 |
| Dark Smoke | 20-403-19 |
| Dark Smoke / Standard | 20-417-19 |
| Dark Smoke | 20-422-19 |
| Dark Smoke | 20-425-19 |
| Dark Smoke | 20-441-19 |
| Dark Smoke | 20-461-19 |
| Dark Smoke | 20-506-19 |
| Dark Smoke / Standard | 20-507-19 |
| Dark Smoke | 20-520-19 |
| Dark Smoke | 20-521-19 |
| Dark Smoke / Standard | 20-537-19 |
| Dark Smoke | 20-576-19 |
| Dark Smoke | 20-708-19 |
| Dark Smoke | 20-729-19 |
| Dark Smoke | 20-106-19 |
| Dark Smoke | 20-107-19 |
| Dark Smoke | 20-108-19 |
| Dark Smoke | 20-109M-19 |
| Dark Smoke | 20-110-19 |
| Dark Smoke | 20-111-19 |
| Dark Smoke / Standard | 20-133-19 |
| Dark Smoke | 20-151M-19 |
| Dark Smoke | 20-157-19 |
| Dark Smoke | 20-241-19 |
| Dark Smoke | 20-245-19 |
| Dark Smoke | 20-246M-19 |
| Dark Smoke | 20-261-19 |
| Dark Smoke | 20-272-19 |
| Dark Smoke | 20-274-19 |
| Dark Smoke | 20-280-19 |
| Dark Smoke | 20-291-19 |
| Dark Smoke | 20-404-19 |
| Dark Smoke | 20-405-19 |
| Dark Smoke | 20-406-19 |
| Dark Smoke | 20-407-19 |
| Dark Smoke | 20-423-19 |
| Dark Smoke | 20-463-19 |
| Dark Smoke | 20-464-19 |
| Dark Smoke | 20-538-19 |
| Dark Smoke | 20-539-19 |
| Dark Smoke | 20-540-19 |
| Dark Smoke | 20-577-19 |
| Dark Smoke | 20-578-19 |
| Dark Smoke | 20-579-19 |
| Dark Smoke | 20-424-19 |
| Dark Smoke | 20-281-19 |
| Dark Smoke | 20-262-19 |
| Dark Smoke | 20-112-19 |
| Dark Smoke | 20-113-19 |
| Dark Smoke / Standard | 20-134-19 |
| Dark Smoke | 20-541-19 |
| Dark Smoke | 20-580-19 |
| Dark Smoke | 20-912-19 |
| Dark Smoke | 20-090-19 |
| Dark Smoke | 20-104-19 |
| Dark Smoke | 20-105-19 |
| Dark Smoke | 20-972-19 |
| Dark Smoke | 20-973-19 |
| Dark Smoke | 20-810-19 |
| Dark Smoke | 20-855-19 |
| Dark Smoke | 20-726-19 |
| Dark Smoke | 20-728-19 |
| Dark Smoke | 20-704-19 |
| Dark Smoke | 20-460-19 |
| Dark Smoke | 20-454-19 |
| Dark Smoke | 20-453-19 |
| Dark Smoke | 20-203-19 |
| Dark Smoke | 20-225-19 |
| Dark Smoke | 20-221-19 |
| Dark Smoke | 20-325-19 |
| Dark Smoke | 20-100-19 |
| Dark Smoke | 20-901-19 |
| Dark Smoke | 20-536-19 |
| Dark Smoke | 20-152-19 |
| Dark Smoke | 20-161-19 |
| Dark Smoke | 20-176-19 |
| Dark Smoke / Without Black Vinyl Mask | 20-206-19 |
| Dark Smoke | 20-207-19 |
| Dark Smoke | 20-210-19 |
| Dark Smoke | 20-220-19 |
| Dark Smoke | 20-270-19 |
| Dark Smoke | 20-282-19 |
| Dark Smoke | 20-300-19 |
| Dark Smoke | 20-408-19 |
| Dark Smoke | 20-426-19 |
| Dark Smoke | 20-443-19 |
| Dark Smoke | 20-455-19 |
| Dark Smoke | 20-560-19 |
| Dark Smoke / Standard | 20-712-19 |
| Dark Smoke | 20-730b-19 |
| Dark Smoke | 20-738-19 |
| Dark Smoke | 20-859-19 |
| Dark Smoke | 20-910-19 |
| Dark Smoke / Without Black Vinyl Mask | 20-913-19 |
| Dark Smoke / Without Black Vinyl Mask | 20-914-19 |
| Dark Smoke / Standard | 20-945-19 |
| Dark Smoke | 20-811-19 |
| Dark Smoke | 20-444-19 |
| Dark Smoke | 20-553-19 |
| Dark Smoke | 20-739-19 |
| Dark Smoke | 20-764-19 |
| Clear | 20-114-01 |
| Clear | 20-153-01 |
| Clear | 20-172-01 |
| Clear | 20-204-01 |
| Clear | 20-253-01 |
| Clear | 20-263-01 |
| Clear | 20-401-01 |
| Clear | 20-402-01 |
| Clear / Standard | 20-507-01 |
| Clear | 20-520-01 |
| Clear / Standard | 20-537-01 |
| Clear | 20-729-01 |
| Clear | 20-106-01 |
| Clear | 20-107-01 |
| Clear | 20-108-01 |
| Clear | 20-109M-01 |
| Clear | 20-110-01 |
| Clear / Standard | 20-133-01 |
| Clear | 20-151M-01 |
| Clear | 20-157-01 |
| Clear | 20-245-01 |
| Clear | 20-246M-01 |
| Clear | 20-274-01 |
| Clear | 20-291-01 |
| Clear | 20-405-01 |
| Clear | 20-406-01 |
| Clear | 20-407-01 |
| Clear | 20-423-01 |
| Clear | 20-464-01 |
| Clear | 20-540-01 |
| Clear | 20-577-01 |
| Clear | 20-578-01 |
| Clear | 20-579-01 |
| Clear | 20-424-01 |
| Clear | 20-281-01 |
| Clear | 20-262-01 |
| Clear | 20-112-01 |
| Clear | 20-113-01 |
| Clear / Standard | 20-134-01 |
| Clear | 20-541-01 |
| Clear | 20-580-01 |
| Clear | 20-912-01 |
| Clear | 20-090-01 |
| Clear | 20-103-01 |
| Clear | 20-104-01 |
| Clear | 20-105-01 |
| Clear | 20-972-01 |
| Clear | 20-973-01 |
| Clear | 20-810-01 |
| Clear | 20-726-01 |
| Clear | 20-702-01 |
| Clear | 20-203-01 |
| Clear | 20-175-01 |
| Clear | 20-176-01 |
| Clear | 20-100-01 |
| Clear | 20-911-01 |
| Clear | 20-500-01 |
| Clear | 20-102-01 |
| Clear | 20-152-01 |
| Clear | 20-155-01 |
| Clear | 20-161-01 |
| Clear | 20-166-01 |
| Clear | 20-167-01 |
| Clear | 20-170-01 |
| Clear | 20-171-01 |
| Clear | 20-180-01 |
| Clear | 20-200-01 |
| Clear | 20-201-01 |
| Clear / Without Black Vinyl Mask | 20-206-01 |
| Clear / With Black Vinyl Mask | 20-206v-01 |
| Clear | 20-207-01 |
| Clear | 20-212-01 |
| Clear | 20-221-01 |
| Clear | 20-252-01 |
| Clear | 20-271-01 |
| Clear | 20-282-01 |
| Clear | 20-290-01 |
| Clear | 20-403-01 |
| Clear | 20-408-01 |
| Clear | 20-420-01 |
| Clear | 20-421-01 |
| Clear | 20-422-01 |
| Clear | 20-426-01 |
| Clear | 20-441-01 |
| Clear | 20-443-01 |
| Clear | 20-454-01 |
| Clear | 20-460-01 |
| Clear | 20-463-01 |
| Clear | 20-465-01 |
| Clear | 20-531-01 |
| Clear | 20-535-01 |
| Clear | 20-576-01 |
| Clear | 20-738-01 |
| Clear | 20-859-01 |
| Clear | 20-930-01 |
| Clear | 20-931-01 |
| Clear | 20-542-01 |
| Green | 20-262-13 |
| Green | 20-251-13 |
| Green | 20-252-13 |
| Green | 20-221-13 |
| Red | 20-106-09 |
| Red | 20-404-09 |
| Red | 20-423-09 |
| Purple | 20-402-11 |
| Purple | 20-461-11 |
| Yellow | 20-106-06 |
| Yellow | 20-110-06 |
| Yellow | 20-111-06 |