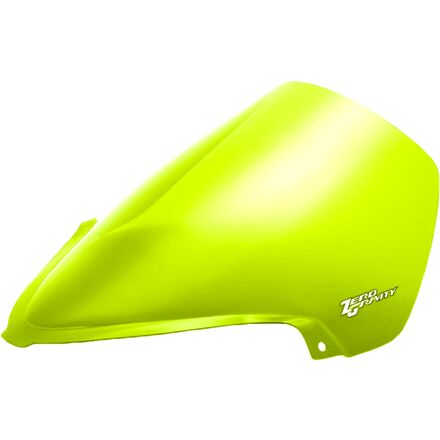 Zero Gravity Sport Touring Windscreen
---
10% Off - Save up to $12.99
---
5 Star
11
4 Star
6
3 Star
1
2 Star
0
1 Star
0
Write a Review
Write your review and you'll automatically be entered in our monthly drawing. Include an image or video to DOUBLE your chances to win!
Write Your Review
14 days ago
Shoreline, Washington
Easy to install
The price was right, It stopped a swirling updraft that kept catching my face shield, and moving it upward.
20 days ago
Los Angeles, CA
Fitting is not good
fitting is a little bit problem. also there is no screws included. i have to place another order for screws and wait for some more days to be able to install it.
1 month 9 days ago
Western, PA
Good buy
I purchased this item for my 2000 ZX6RJ1. Prior to this purchase at highway speeds wind created buffeting at the chest / chin area. The screen has directed the air flow to the top most part of my helmet but mostly over my head, this has reduced the stress on my neck greatly. The appearance of the light smoke screen is good. I wasn't sure if it would look overly touring inspired or not, after installing it I was relieved to find that the screen maintained the sporty appearance. Fit and finish of screen is great, no scratches, bolts up like OEM. I recommend buying the zero gravity fasteners as installer will need to place the rubber grommets into the screen before installing. Ordering these will also allowing you to swap screens by just unscrewing the fasteners. My particular order was back ordered for about a month, Motosport contacted me and shipped the remainder of my items. I am very pleased with how the situation was handled by Motosport.
1 month 16 days ago
Cincy
Great improvement
I bought this screen to help with wind deflection that my stock gsxr was void of. New screen lined right up and bolted in with no problems. Def reduced wind blast and helps with wind fatigue. Still plenty of wind to keep me cool it's just bout perfect. I'm 6 ft and wind hits me right around neck or face of helmet now instead of chest. Can Tuck completely out of wind if desired.
2 years ago
Oconomowoc, WI
Great windshield, great service.
Everything went as planned. Got a really nice windshield for a 20 year old motorcycle in a just a few days. That exceeded my expectations.
2 years 2 months ago
Golden, CO, USA
Zero Gravity sport touring screen Vtr1000
I replaced the stock screen with the ZG smoke unit. Was delivered quicker than promised! Easy to install...fit perfectly. As a taller rider, it provides a clean air space at my helmet. Still have wind pressure on shoulders but that assists with taking weight off hands. Rode this week in rain and considering this bike has a sporting stance, had pretty good protection. (It's never going to give coverage like a gold wing...thankfully) Great purchase!
Easy fit
Easy to fit and quality product. Would by a shorter windshield as my old one was a puig .. But good value
2 years 4 months ago
Long Island, New York, USA
Zero gravity sport touring wind screen
Great fit and finish. Not sure I would recommend it to everyone I had a problem with wind coming off the windscreen running directly under my helmet shaking my head and making things really noisy
Still a quality piece Had I been a little taller or shorter it may have been perfect. Sent it back and got the zero gravity dark smoke stock height wich made me much happier
2 years 5 months ago
Struthers, OH, USA
Vast improvement over the previous windscreen
Mounted on Suzuki 2011 GSX 1250 FA

Windscreen does not include relief slots for SKU# 94612-17H01 COVER, SCREEN. This is a problem. Cover screen does not like to stay in place. Had to pick it up off the road twice. Tried a number of jury rigs,
nothing worked. The third time it was ran over. $30 to replace. Not fun. Found a good jury rig.
My second Zero Gravity in two years. I like the little up-sweep in the top
of the windscreen. It changes the wind flow from the middle of my face shield to the top of my helmet. This is a vast improvement over the previous
windscreen.
Tinman
Q: I am 6ft tall on a ZX1400 with 4" taller bars, how much taller than stock is this shield?
MotoSportGrantK
Over 3 years ago
A: The Zeor Gravity Sport Touring screen is 4" taller than the stock screen measured from the top of the steering stem to the center top of the windscreen.
Pete61
Q: Size
What are the dimensions of this screen..? Would like to know if its any taller than the one i've got fitted. Thanks
MotoSportRyanT
Over 4 years ago
A: I would need to know what kind of bike you have to give you accurate dimensions but this screen should be significantly taller than any OEM screen. Sport Touring Series screens feature a unique design to reduce the windblast on the rider and provide more comfort while in the upright riding position.
Jules
Q: Do you require the well nut kit with this screen or can I use the existing ones on the bike?
MotoSportExpert
Over 4 years ago
A: Sport Touring Series windscreens are pre-drilled to factory specs and can be used with O.E.M. and or Zero Gravity® well nut kits.
Trib601
Over 4 years ago
A: You should be able to use the ones already on it. I did it just fine.
See all bikes that this part fits...
| Product Variant | Manufacturer Part # |
| --- | --- |
| Clear | 23-115-01 |
| Light Smoke | 23-115-02 |
| Fluorescent Blue | 23-134-05 |
| Green | 23-134-13 |
| Light Smoke | 23-264-02 |
| Dark Blue | 23-274-04 |
| Fluorescent Blue | 23-274-05 |
| Red | 23-274-09 |
| Glass Green | 23-274-17 |
| Clear | 23-427-01 |
| Light Smoke | 23-427-02 |
| Clear | 23-553-01 |
| Clear | 23-581-01 |
| Light Smoke | 23-581-02 |
| Dark Smoke | 23-581-19 |
| Clear | 23-739-01 |
| Light Smoke | 23-739-02 |
| Light Smoke | 23-811-02 |
| Clear | 23-157-01 |
| Clear | 23-274-01 |
| Clear | 23-315-01 |
| Clear | 23-454-01 |
| Clear | 23-506-41 |
| Clear / Standard | 23-507-41 |
| Clear | 23-805-41 |
| Clear | 23-858-41 |
| Clear | 23-726-01 |
| Clear | 23-728-01 |
| Clear | 23-708-01 |
| Clear | 23-730-01 |
| Clear | 23-424-01 |
| Clear | 23-423-01 |
| Clear | 23-425-01 |
| Clear | 23-405-01 |
| Clear | 23-406-01 |
| Clear | 23-463-01 |
| Clear / Standard | 23-417-01 |
| Clear | 23-455-01 |
| Clear | 23-453-01 |
| Clear | 23-281-01 |
| Clear | 23-291-01 |
| Clear | 23-203-01 |
| Clear | 23-204-01 |
| Clear | 23-261-01 |
| Clear | 23-320-01 |
| Clear | 23-246M-01 |
| Clear | 23-325-01 |
| Clear | 23-175-01 |
| Clear | 23-161-01 |
| Clear | 23-171-01 |
| Clear | 23-170-01 |
| Clear | 23-151-01 |
| Clear | 23-107-01 |
| Clear | 23-113-01 |
| Clear | 23-106-01 |
| Clear | 23-108-01 |
| Clear | 23-110-01 |
| Clear | 23-112-01 |
| Clear / Standard | 23-134-01 |
| Clear / Standard | 23-133-01 |
| Clear | 23-156-01 |
| Clear | 23-576-01 |
| Clear | 23-539-01 |
| Clear | 23-580-01 |
| Clear | 23-090-01 |
| Clear | 23-101-01 |
| Clear | 23-105-01 |
| Clear | 23-111-01 |
| Clear | 23-130-01 |
| Clear | 23-131-01 |
| Clear | 23-167-01 |
| Clear | 23-180-01 |
| Clear / Without Black Vinyl Mask | 23-206-01 |
| Clear | 23-207-01 |
| Clear | 23-222-01 |
| Clear | 23-223-01 |
| Clear | 23-241-01 |
| Clear | 23-244-01 |
| Clear | 23-262-01 |
| Clear | 23-271-01 |
| Clear | 23-272-01 |
| Clear | 23-282-01 |
| Clear | 23-311-01 |
| Clear | 23-401-01 |
| Clear | 23-403-01 |
| Clear | 23-407-01 |
| Clear | 23-408-01 |
| Clear | 23-426-01 |
| Clear | 23-443-01 |
| Clear | 23-452-01 |
| Clear | 23-461-01 |
| Clear | 23-462-01 |
| Clear | 23-523-01 |
| Clear | 23-535-01 |
| Clear | 23-540-01 |
| Clear | 23-738-01 |
| Clear | 23-905-01 |
| Clear | 23-907-01 |
| Clear | 23-910-01 |
| Clear / With Black Vinyl Mask | 23-913v-01 |
| Clear / Without Black Vinyl Mask | 23-914-01 |
| Clear / With Black Vinyl Mask | 23-914v-01 |
| Clear | 23-972-01 |
| Clear | 23-980-01 |
| Clear | 23-542-01 |
| Dark Smoke | 23-157-19 |
| Dark Smoke | 23-424-19 |
| Dark Smoke | 23-281-19 |
| Dark Smoke | 23-262-19 |
| Dark Smoke / Standard | 23-134-19 |
| Dark Smoke | 23-580-19 |
| Dark Smoke | 23-104-19 |
| Dark Smoke | 23-105-19 |
| Dark Smoke | 23-106-19 |
| Dark Smoke | 23-107-19 |
| Dark Smoke | 23-108-19 |
| Dark Smoke | 23-113-19 |
| Dark Smoke | 23-114-19 |
| Dark Smoke | 23-132-19 |
| Dark Smoke / Standard | 23-133-19 |
| Dark Smoke | 23-161-19 |
| Dark Smoke | 23-170-19 |
| Dark Smoke | 23-180-19 |
| Dark Smoke | 23-204-19 |
| Dark Smoke / Without Black Vinyl Mask | 23-206-19 |
| Dark Smoke | 23-207-19 |
| Dark Smoke | 23-222-19 |
| Dark Smoke | 23-225-19 |
| Dark Smoke | 23-242-19 |
| Dark Smoke | 23-246m-19 |
| Dark Smoke | 23-261-19 |
| Dark Smoke | 23-274-19 |
| Dark Smoke | 23-282-19 |
| Dark Smoke | 23-311-19 |
| Dark Smoke | 23-402-19 |
| Dark Smoke | 23-404-19 |
| Dark Smoke | 23-405-19 |
| Dark Smoke | 23-407-19 |
| Dark Smoke / Standard | 23-417-19 |
| Dark Smoke | 23-443-19 |
| Dark Smoke | 23-454-19 |
| Dark Smoke | 23-460-19 |
| Dark Smoke | 23-462-19 |
| Dark Smoke | 23-464-19 |
| Dark Smoke | 23-520-19 |
| Dark Smoke / Standard | 23-537-19 |
| Dark Smoke | 23-539-19 |
| Dark Smoke | 23-570-19 |
| Dark Smoke | 23-576-19 |
| Dark Smoke | 23-578-19 |
| Dark Smoke | 23-579-19 |
| Dark Smoke | 23-708m-19 |
| Dark Smoke / Standard | 23-712-19 |
| Dark Smoke | 23-727-19 |
| Dark Smoke | 23-728-19 |
| Dark Smoke | 23-903-19 |
| Dark Smoke / Without Black Vinyl Mask | 23-913-19 |
| Dark Smoke | 23-972-19 |
| Dark Smoke | 23-980-19 |
| Light Smoke | 23-157-02 |
| Light Smoke | 23-274-02 |
| Light Smoke | 23-315-02 |
| Light Smoke | 23-454-02 |
| Light Smoke | 23-506-42 |
| Light Smoke / Standard | 23-507-42 |
| Light Smoke | 23-805-42 |
| Light Smoke | 23-858-42 |
| Light Smoke | 23-855-02 |
| Light Smoke | 23-856-02 |
| Light Smoke | 23-727-02 |
| Light Smoke | 23-708-02 |
| Light Smoke | 23-730-02 |
| Light Smoke | 23-703-02 |
| Light Smoke | 23-704-02 |
| Light Smoke | 23-702-02 |
| Light Smoke | 23-424-02 |
| Light Smoke | 23-423-02 |
| Light Smoke | 23-425-02 |
| Light Smoke | 23-407-02 |
| Light Smoke | 23-404-02 |
| Light Smoke | 23-405-02 |
| Light Smoke | 23-406-02 |
| Light Smoke | 23-463-02 |
| Light Smoke / Standard | 23-417-02 |
| Light Smoke | 23-455-02 |
| Light Smoke | 23-453-02 |
| Light Smoke | 23-441-02 |
| Light Smoke | 23-291-02 |
| Light Smoke | 23-203-02 |
| Light Smoke | 23-204-02 |
| Light Smoke | 23-261-02 |
| Light Smoke | 23-320-02 |
| Light Smoke | 23-262-02 |
| Light Smoke | 23-263-02 |
| Light Smoke | 23-246M-02 |
| Light Smoke | 23-325-02 |
| Light Smoke | 23-175-02 |
| Light Smoke | 23-161-02 |
| Light Smoke | 23-171-02 |
| Light Smoke | 23-170-02 |
| Light Smoke | 23-151M-02 |
| Light Smoke | 23-107-02 |
| Light Smoke | 23-109M-02 |
| Light Smoke | 23-113-02 |
| Light Smoke | 23-106-02 |
| Light Smoke | 23-108-02 |
| Light Smoke | 23-110-02 |
| Light Smoke / Standard | 23-134-02 |
| Light Smoke / Standard | 23-133-02 |
| Light Smoke | 23-156-02 |
| Light Smoke | 23-576-02 |
| Light Smoke / Standard | 23-537-02 |
| Light Smoke | 23-538-02 |
| Light Smoke | 23-539-02 |
| Light Smoke | 23-578-02 |
| Light Smoke | 23-579-02 |
| Light Smoke | 23-580-02 |
| Light Smoke | 23-104-02 |
| Light Smoke | 23-111-02 |
| Light Smoke | 23-114-02 |
| Light Smoke | 23-180-02 |
| Light Smoke / Without Black Vinyl Mask | 23-206-02 |
| Light Smoke / With Black Vinyl Mask | 23-206v-02 |
| Light Smoke | 23-207-02 |
| Light Smoke | 23-244-02 |
| Light Smoke | 23-270-02 |
| Light Smoke | 23-281-02 |
| Light Smoke | 23-282-02 |
| Light Smoke | 23-311-02 |
| Light Smoke | 23-408-02 |
| Light Smoke | 23-421-02 |
| Light Smoke | 23-426-02 |
| Light Smoke | 23-443-02 |
| Light Smoke | 23-461-02 |
| Light Smoke | 23-462-02 |
| Light Smoke | 23-521-02 |
| Light Smoke | 23-523-02 |
| Light Smoke | 23-535-02 |
| Light Smoke | 23-536-02 |
| Light Smoke | 23-729-02 |
| Light Smoke | 23-738-02 |
| Light Smoke | 23-907-02 |
| Light Smoke | 23-910-02 |
| Light Smoke / With Black Vinyl Mask | 23-913v-02 |
| Light Smoke / Without Black Vinyl Mask | 23-914-02 |
| Light Smoke | 23-980-02 |
| Light Smoke | 23-542-02 |
| Thick Clear | 23-212-41 |
| Thick Clear | 23-465-41 |
| Thick Clear | 23-911-41 |
| Thick Light Smoke | 23-212-42 |
| Thick Light Smoke | 23-465-42 |
| Thick Light Smoke | 23-911-42 |