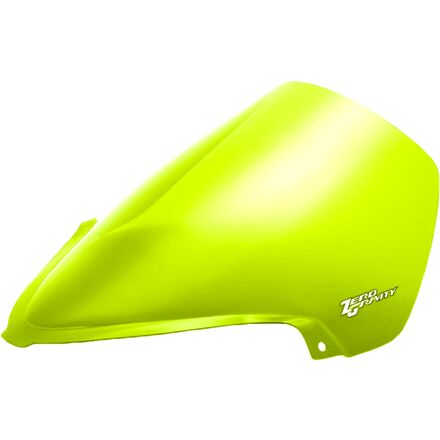 Zero Gravity Sport Touring Windscreen
---
10% Off - Save up to $15.99
Rating: 4.5 out of 5 stars
---
21 Reviews
13

reviews

6

reviews

1

reviews

1

reviews

0

reviews
All Reviews
1 year 4 months ago
Little Hocking, ohio
Not made correctly
Purchased for GSX650f. Gsx windshield has a cover that fits over the bottom of the windshield where it attaches to cowling sealing the gap. Two tabs fit in slots in windshield. These slots were not cut in Zero Gravity windshield. Had to cut tabs off cover and glue cover on. Poor attention to detail by manufactuer.
1 year 6 months ago
Osceola, IN
Stellar screen!!
I had a V2 center raised screen on my RC51 and replaced it with this. Couldn't be happier, not only with the looks but at high speeds it makes a world of difference to be able to get behind this one.
1 year 8 months ago
Shoreline, Washington
Easy to install
The price was right, It stopped a swirling updraft that kept catching my face shield, and moving it upward.
1 year 8 months ago
Los Angeles, CA
Fitting is not good
fitting is a little bit problem. also there is no screws included. i have to place another order for screws and wait for some more days to be able to install it.
1 year 8 months ago
Western, PA
Good buy
I purchased this item for my 2000 ZX6RJ1. Prior to this purchase at highway speeds wind created buffeting at the chest / chin area. The screen has directed the air flow to the top most part of my helmet but mostly over my head, this has reduced the stress on my neck greatly. The appearance of the light smoke screen is good. I wasn't sure if it would look overly touring inspired or not, after installing it I was relieved to find that the screen maintained the sporty appearance. Fit and finish of screen is great, no scratches, bolts up like OEM. I recommend buying the zero gravity fasteners as installer will need to place the rubber grommets into the screen before installing. Ordering these will also allowing you to swap screens by just unscrewing the fasteners. My particular order was back ordered for about a month, Motosport contacted me and shipped the remainder of my items. I am very pleased with how the situation was handled by Motosport.
1 year 9 months ago
Cincy
Great improvement
I bought this screen to help with wind deflection that my stock gsxr was void of. New screen lined right up and bolted in with no problems. Def reduced wind blast and helps with wind fatigue. Still plenty of wind to keep me cool it's just bout perfect. I'm 6 ft and wind hits me right around neck or face of helmet now instead of chest. Can Tuck completely out of wind if desired.
Over 3 years ago
Oconomowoc, WI
Great windshield, great service.
Everything went as planned. Got a really nice windshield for a 20 year old motorcycle in a just a few days. That exceeded my expectations.
Over 3 years ago
Golden, CO, USA
Zero Gravity sport touring screen Vtr1000
I replaced the stock screen with the ZG smoke unit. Was delivered quicker than promised! Easy to install...fit perfectly. As a taller rider, it provides a clean air space at my helmet. Still have wind pressure on shoulders but that assists with taking weight off hands. Rode this week in rain and considering this bike has a sporting stance, had pretty good protection. (It's never going to give coverage like a gold wing...thankfully) Great purchase!
Fitment
See all bikes that this part fits...
# Part Numbers
| Product Variant | Manufacturer Part # |
| --- | --- |
| Clear | 23-157-01, 23-274-01, 23-315-01, 23-454-01, 23-506-41, 23-805-41, 23-858-41, 23-726-01, 23-728-01, 23-708-01, 23-730-01, 23-424-01, 23-423-01, 23-425-01, 23-405-01, 23-406-01, 23-463-01, 23-455-01, 23-453-01, 23-281-01, 23-291-01, 23-203-01, 23-204-01, 23-261-01, 23-320-01, 23-246M-01, 23-325-01, 23-175-01, 23-161-01, 23-171-01, 23-170-01, 23-151-01, 23-107-01, 23-113-01, 23-106-01, 23-108-01, 23-110-01, 23-112-01, 23-576-01, 23-539-01, 23-580-01, 23-090-01, 23-105-01, 23-111-01, 23-130-01, 23-131-01, 23-167-01, 23-180-01, 23-207-01, 23-222-01, 23-223-01, 23-241-01, 23-262-01, 23-272-01, 23-282-01, 23-311-01, 23-401-01, 23-403-01, 23-407-01, 23-408-01, 23-443-01, 23-452-01, 23-461-01, 23-462-01, 23-523-01, 23-535-01, 23-540-01, 23-738-01, 23-905-01, 23-907-01, 23-910-01, 23-972-01, 23-980-01, 23-115-01, 23-427-01, 23-553-01, 23-581-01, 23-739-01, 23-172-41, 23-208-01, 23-232-01, 23-283-01, 23-134b-01, 23-231-41, 23-247-01, 23-256-01, 23-444-01 |
| Clear / Modified | 23-542m-01 |
| Clear / Original | 23-542-01 |
| Clear / Standard | 23-507-41, 23-417-01, 23-134-01, 23-133-01 |
| Clear / With Black Vinyl Mask | 23-914v-01 |
| Clear / Without Black Vinyl Mask | 23-206-01, 23-914-01 |
| Dark Blue | 23-274-04 |
| Dark Smoke | 23-157-19, 23-424-19, 23-281-19, 23-262-19, 23-580-19, 23-104-19, 23-105-19, 23-106-19, 23-107-19, 23-108-19, 23-113-19, 23-114-19, 23-132-19, 23-161-19, 23-170-19, 23-180-19, 23-204-19, 23-207-19, 23-222-19, 23-225-19, 23-242-19, 23-246m-19, 23-261-19, 23-274-19, 23-282-19, 23-402-19, 23-404-19, 23-405-19, 23-407-19, 23-443-19, 23-454-19, 23-460-19, 23-462-19, 23-464-19, 23-520-19, 23-539-19, 23-570-19, 23-576-19, 23-578-19, 23-579-19, 23-708m-19, 23-727-19, 23-728-19, 23-903-19, 23-972-19, 23-980-19, 23-581-19, 23-208-19, 23-283-19, 23-134b-19, 23-247-19, 23-256-19, 23-444-19, 23-542m-19 |
| Dark Smoke / Standard | 23-134-19, 23-133-19, 23-417-19, 23-537-19, 23-712-19 |
| Dark Smoke / Without Black Vinyl Mask | 23-206-19, 23-913-19 |
| Fluorescent Blue | 23-134-05, 23-274-05 |
| Glass Green | 23-274-17 |
| Green | 23-134-13 |
| Light Smoke | 23-157-02, 23-274-02, 23-454-02, 23-506-42, 23-805-42, 23-858-42, 23-855-02, 23-856-02, 23-727-02, 23-708-02, 23-730-02, 23-703-02, 23-704-02, 23-702-02, 23-424-02, 23-423-02, 23-425-02, 23-407-02, 23-405-02, 23-406-02, 23-463-02, 23-455-02, 23-453-02, 23-441-02, 23-291-02, 23-203-02, 23-204-02, 23-261-02, 23-320-02, 23-262-02, 23-263-02, 23-246M-02, 23-175-02, 23-161-02, 23-171-02, 23-170-02, 23-151M-02, 23-107-02, 23-109M-02, 23-113-02, 23-106-02, 23-108-02, 23-110-02, 23-156-02, 23-538-02, 23-539-02, 23-578-02, 23-579-02, 23-580-02, 23-111-02, 23-114-02, 23-180-02, 23-207-02, 23-244-02, 23-270-02, 23-281-02, 23-282-02, 23-311-02, 23-408-02, 23-421-02, 23-426-02, 23-443-02, 23-461-02, 23-462-02, 23-521-02, 23-523-02, 23-535-02, 23-536-02, 23-729-02, 23-738-02, 23-907-02, 23-910-02, 23-115-02, 23-264-02, 23-427-02, 23-581-02, 23-739-02, 23-811-02, 23-208-02, 23-232-02, 23-283-02, 23-134b-02, 23-231-42, 23-247-02, 23-256-02, 23-444-02 |
| Light Smoke / Modified | 23-542m-02 |
| Light Smoke / Original | 23-542-02 |
| Light Smoke / Standard | 23-507-42, 23-134-02, 23-133-02, 23-537-02 |
| Light Smoke / With Black Vinyl Mask | 23-206v-02 |
| Light Smoke / Without Black Vinyl Mask | 23-206-02, 23-914-02 |
| Red | 23-274-09 |
| Thick Clear | 23-212-41, 23-465-41 |
| Thick Light Smoke | 23-212-42, 23-465-42 |