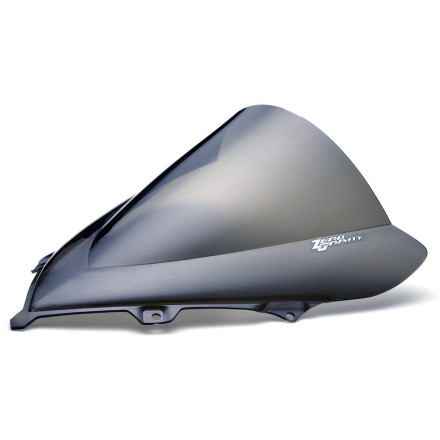 Zero Gravity Double Bubble Windscreen
---
10% Off - Save up to $13.00
---
5 Star
26
4 Star
4
3 Star
1
2 Star
2
1 Star
1
Write a Review
Write your review and you'll automatically be entered in our monthly drawing. Include an image or video to DOUBLE your chances to win!
Write Your Review
1 month 14 days ago
Pennsylvania
Looks great
Perfect fit, easy installation, looks great, and fast shipment.
3 months 9 days ago
Olympia, Wa
Buying again!!!
Product came as described. Makes bike look even better. Shipment was on time. Had ordered recently with same experience. Overall, great company and will buy from thm again!
3 months 20 days ago
Puerto Rico
Great future
Good quality products fast shipping thanks for ship to Puerto Rico !!!!
3 months 26 days ago
South Carolina
Very Happy with the fit and tint
Sorry for side ways pic lol, Install was a snap, great shipping it was here when they said it was going to be here MoToSPORT will be my first choice
Over 5 months ago
Tucson, AZ, USA
Excellent Product
Screen fits perfect and looks great
Over 5 months ago
New Braunfels, TX
Double the bubble dbl da fun
I love the look but more importantly the way it keeps the wind off me. I use to get a back draft and it would cause me to loose my hat or Bonnie off my head. I know, I should be wearing a helmet all the time but no. I don't. 100% happy with the look and feel it gives me riding my Busa
Awesome windscreen
Loved it and it was so easy to install shipping and delivery is efficient
1 year 10 months ago
Michigan, USA
Nice windscreen.
Double Bubble dark smoke to replace the scratched clear oem on my black '07 SV1000s. Looks great, slightly more coverage, easy to install.
Good windscreen
The color looks great and the visibility is very clear. I dropped the bike about 5 mph and it got a small crack but other than that its nice.
TimO
Q: Aprilia RSV4 ZG Windscreen
Do you have any pictures of your windscreen installed on an RSV4? I'm looking for something to provide more protection from the wind. The dimensions imply it is a bit bigger, do you have any reviews from people saying that? Thanks so much for the help.
MotoSportExpert
2 years 10 months ago
A: Unfortunately we do not have photos of the shield mounted on a 2015 Aprilia RSV4. Dimensions for the shield can be found in the description area. The image is a generic image supplied by the manufacturer for reference only. It may not be displaying the exact part for your bike. Just be sure to correctly select the Year/Make/Model of your bike before ordering so we can be sure to send you the correct shield for your bike. Also, feel free to give us a call at 888-676-8853 and we would be happy to help you out with your order.
SFNegro
2 years 10 months ago
A: Looks great and it's so easy to install
Alan
Q: I have a 2015 Suzuki GSX1250SE I want the double bubble dark smoke windscreen.can you confirm that 16-180-19 is correct
MotoSportExpert
Over 3 years ago
A: The Zero Gravity part number for the Double Bubble Windscreen dark smoke would be 16-180-19 and fit U.S. models GSX 1250FA 2011 / GSX 650F 08-10

http://www.zerogravity-racing.com/index.php
chevyman
Q: I have a zero gravity windscreen
part # fz1 06-13 tr#555189 mfg # 16 dblbbl can you tell me what bike this is for
Jwest
Over 5 years ago
A: Part number tells you..fz 1 06-2013
MotoSportExpert
Over 5 years ago
A: This is for a 2006-2013 Yamaha FZ1.
See all bikes that this part fits...
| Product Variant | Manufacturer Part # |
| --- | --- |
| Fluorescent Blue | 16-114-05 |
| Yellow | 16-114-06 |
| Clear | 16-115-01 |
| Smoke | 16-115-02 |
| Dark Blue | 16-115-04 |
| Red | 16-115-09 |
| Dark Smoke | 16-115-19 |
| Purple | 16-134-11 |
| Green | 16-134-13 |
| Clear | 16-254-01 |
| Light Smoke | 16-254-02 |
| Purple | 16-254-11 |
| Glass Green | 16-254-17 |
| Dark Smoke | 16-254-19 |
| Fluorescent Blue | 16-262-05 |
| Red | 16-262-09 |
| Glass Green | 16-262-17 |
| Clear | 16-264-01 |
| Light Smoke | 16-264-02 |
| Dark Smoke | 16-264-19 |
| Dark Blue | 16-274-04 |
| Fluorescent Blue | 16-274-05 |
| Amber | 16-274-07 |
| Red | 16-274-09 |
| Purple | 16-274-11 |
| Amber | 16-282-07 |
| Clear | 16-427-01 |
| Smoke | 16-427-02 |
| Dark Smoke | 16-427-19 |
| Clear | 16-444-01 |
| Clear | 16-553-01 |
| Dark Blue | 16-553-04 |
| Fluorescent Blue | 16-553-05 |
| Yellow | 16-553-06 |
| Green | 16-553-13 |
| Clear | 16-581-01 |
| Smoke | 16-581-02 |
| Dark Smoke | 16-581-19 |
| Clear | 16-739-01 |
| Clear | 16-811-01 |
| Yellow | 16-811-06 |
| Red | 16-811-09 |
| Clear | 16-974-01 |
| Light Smoke | 16-974-02 |
| Dark Smoke | 16-974-19 |
| Light Smoke | 16-156-02 |
| Light Smoke | 16-171-02 |
| Light Smoke | 16-203-02 |
| Light Smoke | 16-204-02 |
| Light Smoke | 16-223-02 |
| Light Smoke | 16-244-02 |
| Light Smoke | 16-263-02 |
| Light Smoke | 16-281-02 |
| Light Smoke | 16-320-02 |
| Light Smoke | 16-402-02 |
| Light Smoke | 16-403-02 |
| Light Smoke / Standard | 16-417-02 |
| Light Smoke | 16-106-02 |
| Light Smoke | 16-107-02 |
| Light Smoke | 16-108-02 |
| Light Smoke | 16-110-02 |
| Light Smoke | 16-111-02 |
| Light Smoke | 16-441-02 |
| Light Smoke | 16-453-02 |
| Light Smoke | 16-506-02 |
| Light Smoke / Standard | 16-507-02 |
| Light Smoke / Standard | 16-133-02 |
| Light Smoke | 16-157-02 |
| Light Smoke | 16-245-02 |
| Light Smoke | 16-246M-02 |
| Light Smoke | 16-261-02 |
| Light Smoke | 16-271-02 |
| Light Smoke | 16-274-02 |
| Light Smoke | 16-404-02 |
| Light Smoke | 16-405-02 |
| Light Smoke | 16-406-02 |
| Light Smoke | 16-407-02 |
| Light Smoke / Standard | 16-537-02 |
| Light Smoke | 16-576-02 |
| Light Smoke | 16-729-02 |
| Light Smoke | 16-810-02 |
| Light Smoke | 16-909-02 |
| Light Smoke | 16-109M-02 |
| Light Smoke | 16-423-02 |
| Light Smoke | 16-425-02 |
| Light Smoke | 16-454-02 |
| Light Smoke | 16-464-02 |
| Light Smoke | 16-538-02 |
| Light Smoke | 16-539-02 |
| Light Smoke | 16-540-19 |
| Light Smoke | 16-577-02 |
| Light Smoke | 16-578-02 |
| Light Smoke | 16-579-02 |
| Light Smoke | 16-463-02 |
| Light Smoke | 16-972-02 |
| Light Smoke | 16-805-42 |
| Light Smoke | 16-855-02 |
| Light Smoke | 16-726R-02 |
| Light Smoke | 16-727-02 |
| Light Smoke | 16-728R-02 |
| Light Smoke | 16-704-02 |
| Light Smoke | 16-462-02 |
| Light Smoke | 16-455-02 |
| Light Smoke | 16-231-02 |
| Light Smoke | 16-252-02 |
| Light Smoke | 16-253-02 |
| Light Smoke | 16-325-02 |
| Light Smoke | 16-761-02 |
| Light Smoke | 16-175-02 |
| Light Smoke | 16-132-02 |
| Light Smoke | 16-103-02 |
| Light Smoke | 16-104-02 |
| Light Smoke | 16-167-02 |
| Light Smoke | 16-166-02 |
| Light Smoke | 16-911-42 |
| Light Smoke | 16-523-02 |
| Light Smoke | 16-520-02 |
| Light Smoke | 16-424-02 |
| Light Smoke | 16-262-02 |
| Light Smoke | 16-112-02 |
| Light Smoke | 16-113-02 |
| Light Smoke / Standard | 16-134-02 |
| Light Smoke | 16-580-02 |
| Light Smoke | 16-541-02 |
| Light Smoke | 16-912-02 |
| Light Smoke | 16-105-02 |
| Light Smoke | 16-114-02 |
| Light Smoke | 16-155-02 |
| Light Smoke | 16-180-02 |
| Light Smoke / Without Black Vinyl Mask | 16-206-02 |
| Light Smoke | 16-207-02 |
| Light Smoke | 16-220-02 |
| Light Smoke | 16-221-02 |
| Light Smoke | 16-241-02 |
| Light Smoke | 16-270-02 |
| Light Smoke | 16-282-02 |
| Light Smoke | 16-408-02 |
| Light Smoke | 16-426-02 |
| Light Smoke | 16-443-02 |
| Light Smoke | 16-452-02 |
| Light Smoke | 16-460-02 |
| Light Smoke | 16-532-02 |
| Light Smoke | 16-702-02 |
| Light Smoke | 16-730-02 |
| Light Smoke | 16-738-02 |
| Light Smoke | 16-763-02 |
| Light Smoke | 16-901-02 |
| Light Smoke | 16-910-02 |
| Light Smoke / Without Black Vinyl Mask | 16-914-02 |
| Light Smoke | 16-811-02 |
| Light Smoke | 16-444-02 |
| Light Smoke | 16-553-02 |
| Light Smoke | 16-542-02 |
| Light Smoke | 16-739-02 |
| Light Smoke | 16-764-02 |
| Clear | 16-172-01 |
| Clear | 16-203-01 |
| Clear | 16-263-01 |
| Clear | 16-281-01 |
| Clear / Standard | 16-417-01 |
| Clear | 16-106-01 |
| Clear | 16-107-01 |
| Clear | 16-108-01 |
| Clear | 16-110-01 |
| Clear | 16-111-01 |
| Clear | 16-506-01 |
| Clear / Standard | 16-507-01 |
| Clear / Standard | 16-133-01 |
| Clear | 16-157-01 |
| Clear | 16-245-01 |
| Clear | 16-246M-01 |
| Clear | 16-274-01 |
| Clear | 16-404-01 |
| Clear | 16-405-01 |
| Clear | 16-407-01 |
| Clear | 16-729-01 |
| Clear | 16-810-01 |
| Clear | 16-909-01 |
| Clear | 16-109M-01 |
| Clear | 16-423-01 |
| Clear | 16-464-01 |
| Clear | 16-539-01 |
| Clear | 16-540-01 |
| Clear | 16-577-01 |
| Clear | 16-578-01 |
| Clear | 16-579-01 |
| Clear | 16-463-01 |
| Clear | 16-972-01 |
| Clear | 16-805-41 |
| Clear | 16-726R-01 |
| Clear | 16-727-01 |
| Clear | 16-728R-01 |
| Clear | 16-455-01 |
| Clear | 16-761-01 |
| Clear | 16-424-01 |
| Clear | 16-262-01 |
| Clear | 16-112-01 |
| Clear | 16-113-01 |
| Clear / Standard | 16-134-01 |
| Clear | 16-580-01 |
| Clear | 16-541-01 |
| Clear | 16-912-01 |
| Clear | 16-114-01 |
| Clear | 16-104-01 |
| Clear | 16-155-01 |
| Clear | 16-166-01 |
| Clear | 16-170-01 |
| Clear | 16-171-01 |
| Clear / Without Black Vinyl Mask | 16-206-01 |
| Clear | 16-220-01 |
| Clear | 16-222-01 |
| Clear | 16-223-01 |
| Clear | 16-231-01 |
| Clear | 16-243-01 |
| Clear | 16-244-01 |
| Clear | 16-270-01 |
| Clear | 16-271-01 |
| Clear | 16-282-01 |
| Clear | 16-320-01 |
| Clear | 16-401-01 |
| Clear | 16-403-01 |
| Clear | 16-408-01 |
| Clear | 16-425-01 |
| Clear | 16-426-01 |
| Clear | 16-441-01 |
| Clear | 16-443-01 |
| Clear | 16-454-01 |
| Clear | 16-460-01 |
| Clear | 16-461-01 |
| Clear | 16-462-01 |
| Clear | 16-523-01 |
| Clear | 16-532-01 |
| Clear | 16-536-01 |
| Clear / Standard | 16-537-01 |
| Clear | 16-708-01 |
| Clear | 16-738-01 |
| Clear | 16-763-01 |
| Clear | 16-855-01 |
| Clear | 16-901-01 |
| Clear | 16-905-01 |
| Clear / Without Black Vinyl Mask | 16-914-01 |
| Clear / Standard | 16-945-01 |
| Clear | 16-542-01 |
| Dark Smoke | 16-203-19 |
| Dark Smoke | 16-204-19 |
| Dark Smoke | 16-222-19 |
| Dark Smoke | 16-223-19 |
| Dark Smoke | 16-227-19 |
| Dark Smoke | 16-244-19 |
| Dark Smoke | 16-263-19 |
| Dark Smoke | 16-281-19 |
| Dark Smoke | 16-402-19 |
| Dark Smoke | 16-403-19 |
| Dark Smoke / Standard | 16-417-19 |
| Dark Smoke | 16-106-19 |
| Dark Smoke | 16-107-19 |
| Dark Smoke | 16-108-19 |
| Dark Smoke | 16-110-19 |
| Dark Smoke | 16-111-19 |
| Dark Smoke | 16-441-19 |
| Dark Smoke | 16-461-19 |
| Dark Smoke | 16-506-19 |
| Dark Smoke / Standard | 16-507-19 |
| Dark Smoke / Standard | 16-133-19 |
| Dark Smoke | 16-157-19 |
| Dark Smoke | 16-245-19 |
| Dark Smoke | 16-246M-19 |
| Dark Smoke | 16-261-19 |
| Dark Smoke | 16-271-19 |
| Dark Smoke | 16-272-19 |
| Dark Smoke | 16-404-19 |
| Dark Smoke | 16-405-19 |
| Dark Smoke | 16-406-19 |
| Dark Smoke | 16-407-19 |
| Dark Smoke / Standard | 16-537-19 |
| Dark Smoke | 16-576-19 |
| Dark Smoke | 16-729-19 |
| Dark Smoke | 16-810-19 |
| Dark Smoke | 16-909-19 |
| Dark Smoke | 16-109M-19 |
| Dark Smoke | 16-423-19 |
| Dark Smoke | 16-454-19 |
| Dark Smoke | 16-464-19 |
| Dark Smoke | 16-539-19 |
| Dark Smoke | 16-540-02 |
| Dark Smoke | 16-577-19 |
| Dark Smoke | 16-578-19 |
| Dark Smoke | 16-579-19 |
| Dark Smoke | 16-463-19 |
| Dark Smoke | 16-972-19 |
| Dark Smoke | 16-855-19 |
| Dark Smoke | 16-726R-19 |
| Dark Smoke | 16-727-19 |
| Dark Smoke | 16-728R-19 |
| Dark Smoke | 16-704-19 |
| Dark Smoke | 16-231-19 |
| Dark Smoke | 16-253-19 |
| Dark Smoke | 16-325-19 |
| Dark Smoke | 16-167-19 |
| Dark Smoke | 16-901-19 |
| Dark Smoke | 16-523-19 |
| Dark Smoke | 16-520-19 |
| Dark Smoke | 16-424-19 |
| Dark Smoke | 16-262-19 |
| Dark Smoke | 16-112-19 |
| Dark Smoke | 16-113-19 |
| Dark Smoke / Standard | 16-134-19 |
| Dark Smoke | 16-580-19 |
| Dark Smoke | 16-541-19 |
| Dark Smoke | 16-912-19 |
| Dark Smoke | 16-105-19 |
| Dark Smoke | 16-114-19 |
| Dark Smoke | 16-103-19 |
| Dark Smoke | 16-156-19 |
| Dark Smoke | 16-166-19 |
| Dark Smoke | 16-171-19 |
| Dark Smoke | 16-180-19 |
| Dark Smoke / Hi Profile | 16-203b-19 |
| Dark Smoke / Without Black Vinyl Mask | 16-206-19 |
| Dark Smoke | 16-207-19 |
| Dark Smoke | 16-241-19 |
| Dark Smoke | 16-282-19 |
| Dark Smoke | 16-320-19 |
| Dark Smoke | 16-401-19 |
| Dark Smoke | 16-408-19 |
| Dark Smoke | 16-425-19 |
| Dark Smoke | 16-426-19 |
| Dark Smoke | 16-443-19 |
| Dark Smoke | 16-453-19 |
| Dark Smoke | 16-460-19 |
| Dark Smoke | 16-535-19 |
| Dark Smoke | 16-702-19 |
| Dark Smoke | 16-738-19 |
| Dark Smoke | 16-763-19 |
| Dark Smoke | 16-859-19 |
| Dark Smoke | 16-906-19 |
| Dark Smoke | 16-907-19 |
| Dark Smoke | 16-908-19 |
| Dark Smoke | 16-910-19 |
| Dark Smoke / Lo Profile | 16-911a-19 |
| Dark Smoke / Without Black Vinyl Mask | 16-913-19 |
| Dark Smoke / Without Black Vinyl Mask | 16-914-19 |
| Dark Smoke / Standard | 16-945-19 |
| Dark Smoke | 16-811-19 |
| Dark Smoke | 16-444-19 |
| Dark Smoke | 16-553-19 |
| Dark Smoke | 16-542-19 |
| Dark Smoke | 16-739-19 |
| Dark Smoke | 16-764-19 |
| Red | 16-203-09 |
| Red | 16-106-09 |
| Red | 16-246M-09 |
| Red | 16-406-09 |
| Red | 16-539-09 |
| Red | 16-727-09 |
| Dark Blue | 16-106-04 |
| Dark Blue | 16-107-04 |
| Dark Blue | 16-108-04 |
| Dark Blue | 16-110-04 |
| Dark Blue | 16-246M-04 |
| Dark Blue | 16-109M-04 |
| Dark Blue | 16-539-04 |
| Dark Blue | 16-577-04 |
| Dark Blue | 16-578-04 |
| Dark Blue | 16-579-04 |
| Yellow | 16-111-06 |
| Yellow | 16-109M-06 |
| Green | 16-262-13 |