Wiseco
Wiseco Gasket Kit - Top End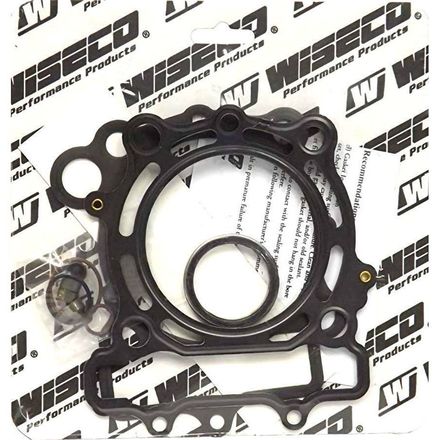 Wiseco Gasket Kit - Top End
---
17% Off - Save up to $18.00
---
5 Star
1
4 Star
0
3 Star
0
2 Star
0
1 Star
0
Write a Review
Write your review and you'll automatically be entered in our monthly drawing. Include an image or video to DOUBLE your chances to win!
Write Your Review
Just what I needed!
Perfect fit, and seal. Cost efficient necessity for a tear down and rebuild.
ryan
Q: I need JUST a Wiseco top end gasket kit 48.00mm bore size for a 2000 suzuki rm80
DaveGearhead
10 days ago
A: We don't offer different size gaskets for your bike. I would suggest contacting Wiseco to see if they offer something other that the stock replacement gasket kit.
guywithbike
Q: What all comes in the kit for a 2001 Honda XR70?
Michael
2 months 13 days ago
A: Complete top end gasket kit. This is for cylinder and above. Gaskets, rings and seals.
Sold as a kit.
Note: Gasket content will vary by application.
Bigjon60
Q: What is the size on the stock motor? 2002 cr250r 
Paul
2 months 16 days ago
A: The stock bore size of the 2002 Honda CR250R is 66.5mm
See all bikes that this part fits...
| Product Variant | Manufacturer Part # |
| --- | --- |
| Stock | N/A |
| 49mm | W5221 |
| Stock | W5223 |
| Stock | W5261 |
| Stock | W5273 |
| Stock | W5277 |
| Stock | W5319 |
| Stock | W5350 |
| Stock | W5353 |
| 50mm | W5356 |
| Stock | W5420 |
| Stock | W5422 |
| Stock | W5424 |
| Stock | W5431 |
| Stock | W5432 |
| 100mm | W5435 |
| 76mm | W5454 |
| Stock | W5455 |
| Stock | W5456 |
| Stock | W5465 |
| Stock | W5467 |
| Stock | W5514 |
| Stock | W5518 |
| Stock | W5529 |
| Stock | W5560 |
| 78mm | W5567 |
| Stock | W5659 |
| Stock | W5664 |
| Stock | W5665 |
| Stock | W5666 |
| 50mm | W5673 |
| 53mm | W5674 |
| 54.5mm | W5675 |
| Stock | W5677 |
| 93mm | W5678 |
| 55mm | W5684 |
| Stock | W5741 |
| Stock | W5742 |
| Stock | W5744 |
| Stock | W5748 |
| Stock | W5749 |
| Stock | W5751 |
| Stock | W5755 |
| Stock | W5758 |
| Stock | W5760 |
| 55mm | W5847 |
| Stock | W5856 |
| 92mm | W5881 |
| 95mm | W5882 |
| Stock | W5883 |
| Stock | W5885 |
| 47mm | W5889 |
| 100mm | W5891 |
| 102.4mm | W5892 |
| 75mm | W5894 |
| Stock | W5899 |
| Stock | W5901 |
| 56mm | W5903 |
| Stock | W5905 |
| Stock | W5906 |
| Stock | W5907 |
| Stock | W5908 |
| Stock | W5921 |
| 80mm | W5924 |
| 45mm | W5932 |
| 97mm | W5960 |
| Stock | W5962 |
| 56mm | W5964 |
| 56mm | W5965 |
| 56mm | W5966 |
| Stock | W5972 |
| 52mm | W5973 |
| 96mm | W5974 |
| 99mm | W5975 |
| Stock | W5978 |
| Stock | W5980 |
| Stock | W5981 |
| 66.5mm | W5982 |
| Stock | W5983 |
| Stock | W5985 |
| 55mm | W6020 |
| 95mm | W6103 |
| 54mm | W6104 |
| 73mm | W6106 |
| 80mm | W6107 |
| 66.4mm | W6111 |
| 56mm | W6127 |
| 95mm | W6129 |
| 97mm | W6130 |
| 48mm | W6136 |
| Stock | W6137 |
| Stock | W6140 |
| Stock | W6141 |
| Stock | W6144 |
| 95mm | W6153 |
| 58mm | W6155 |
| 68.5mm | W6157 |
| 61mm | W6206 |
| 43mm | W6207 |
| 59mm | W6209 |
| Stock | W6231 |
| 78mm | W6239 |
| 66.4mm | W6252 |
| Stock | W6253 |
| Stock | W6254 |
| Stock | W6255 |
| Stock | W6256 |
| Stock | W6259 |
| Stock | W6276 |
| Stock | W6278 |
| Stock | W6279 |
| Stock | W6284 |
| Stock | W6324 |
| Stock | W6331 |
| 48mm | W6332 |
| 50mm | W6333 |
| 52mm | W6334 |
| Stock | W6345 |
| 47-52mm | W6348 |
| 54mm | W6350 |
| 66.4mm | W6351 |
| 72mm | W6352 |
| 67.5mm | W6354 |
| 72mm | W6358 |
| 49mm | W6364 |
| Stock | W6384 |
| Stock | W6385 |
| 55mm | W6388 |
| 57mm | W6389 |
| 96mm | W6416 |
| 98mm | W6417 |
| 95mm | W6420 |
| 97mm | W6421 |
| Stock | W6434 |
| Stock | W6435 |
| 97mm | W6445 |
| 99mm | W6446 |
| 77mm | W6573 |
| Stock | W6589 |
| 68mm | W6590 |
| 77mm | W6615 |
| 57mm | W6619 |
| Stock | W6622 |
| Stock | W6633 |
| 97mm | W6640 |
| 96mm | W6650 |
| 96mm | W6658 |
| 52mm | W6659 |
| Stock | W6660 |
| 78mm | W6661 |
| 97mm | W6669 |
| 99mm | W6670 |
| 82mm | W6674 |
| 83mm | W6676 |
| 83mm | W6677 |
| 97mm | W6691 |
| 78mm | W6805 |
| 80mm | W6807 |
| Stock | W6810 |
| 80mm | W6882 |
| 77mm | W6885 |
| 88mm | W6896 |
| Stock | W6903 |
| Stock | W6904 |
| Stock | W6913 |
| Stock | W6916 |
| Stock | W6919 |
| Stock | W6927 |
| Stock | W6929 |
| Stock | W6934 |
| Stock | W6935 |
| Stock | W6936 |
| Stock | W6943 |
| Stock | W6960 |
| Stock | W6961 |
| Stock | W6964 |
| Stock | W6965 |
| Stock | W6969 |
| Stock | W6970 |