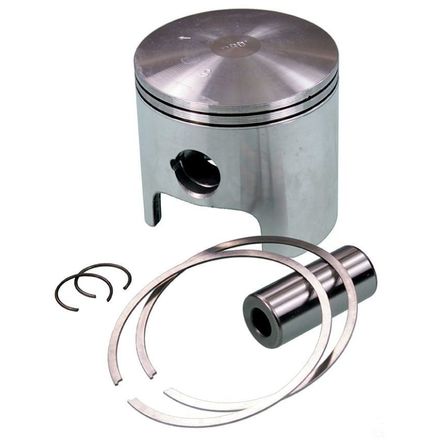 ---
18% Off - Save up to $36.99
---
5 Star
6
4 Star
1
3 Star
0
2 Star
0
1 Star
0
Write a Review
Write your review and you'll automatically be entered in our monthly drawing. Include an image or video to DOUBLE your chances to win!
Write Your Review
1 month 29 days ago
Illinois
Works great
Brought an old pw80 back to life, runs better than ever!
Over 5 months ago
Maricopa AZ
1 year 9 months ago
Ronald, Wa
Incomplete top end kit
Wiseco makes a great product, but when you buy a top end kit, you're gonna want a new caged needle bearing in my opinion, and this kit does not come with that so you'll have to order that on the side. I don't know why they don't include one, a lot of there kits do. Really it just boils down to, make sure you read the inventory list before you buy.
2 years 10 months ago
Central, VA, USA
Worked great in my 97 RT 180
I;ve never replaced a piston before but had the service manual on hand. The Wiseco piston was packaged in a nice felt bag and had a very clear instruction booklet. I used my service manual for specs and had to file a little off the ring ends to get the minimum ring end gap. I'd buy another Wiseco for sure!
Over 4 years ago
Ephrata, PA, USA
It's a Wiseco, Nuff said.
Saw the Wiseco reps at the Hi Point National. Could'nt thank them enough for helping to keep my 1978 RM125 running strong.
Over 4 years ago
Illinois, USA
PW50 Top End
Replaced Top end on a PW50. Cylinder, Cylinder head, pistion, rings, circlips, gaskets, & new nuts.All parts came in within 5 days. Everything matched up perfectly. I have done plenty of business with Motosport over the years. They have good prices & parts & service are excellent!
See all bikes that this part fits...
| Product Variant | Manufacturer Part # |
| --- | --- |
| Stock Bore | 764M05400 |
| .160" Oversize | 788M05800 |
| Stock Bore | 798M04700 |
| .010" Oversize | 818M06700 |
| .060" Oversize | 826M04250 |
| Stock Bore | 848M06250 |
| Stock Bore | 849M06640 |
| Stock Bore | 850M07200 |
| .040" Oversize | 222M04800 |
| Stock Bore | 222M04700 |
| .020" Oversize | 234M07050 |
| .040" Oversize | 234M07100 |
| .080" Oversize | 234M07200 |
| Stock Bore | 234M07000 |
| .020" Oversize | 405M06750 |
| .040" Oversize | 405M06800 |
| Stock Bore | 405M06700 |
| Stock Bore | 430M05600 |
| .020" Oversize | 431M07050 |
| .040 | 431M07100 |
| .060" Oversize | 431M07150 |
| .080" Oversize | 431M07200 |
| Stock Bore | 431M07000 |
| .040" Oversize | 432M05500 |
| .060" Oversize | 432M05550 |
| .080" Oversize | 432M05600 |
| .040" Oversize | 435M05700 |
| .080" Oversize | 435M05800 |
| Stock Bore | 435M05600 |
| .020" Oversize | 439M07050 |
| .040" Oversize | 439M07100 |
| Stock Bore | 439M07000 |
| Stock Bore | 446M04800 |
| .020" Oversize | 448M05600 |
| .040" Oversize | 448M05650 |
| .060" Oversize | 448M05700 |
| .080" Oversize | 448M05750 |
| Stock Bore | 448M05550 |
| .040" Oversize | 452M07100 |
| .080" Oversize | 452M07200 |
| Stock Bore | 452M07000 |
| .020" Oversize | 456M04950 |
| .060" Oversize | 534M07150 |
| .080" Oversize | 534M07200 |
| Stock Bore | 534M07000 |
| .040" Oversize | 539M04900 |
| Stock Bore | 539M04800 |
| Stock Bore | 540M05600 |
| .060" Oversize | 542M04900 |
| .080" Oversize | 542M04950 |
| Stock Bore | 542M04750 |
| .040" Oversize | 552M06800 |
| .080" Oversize | 552M06900 |
| Stock Bore | 552M06700 |
| .020" Oversize | 569M04850 |
| .040" Oversize | 569M04900 |
| Stock Bore | 569M04800 |
| .020" Oversize | 579M04800 |
| .040" Oversize | 579M04850 |
| Stock Bore | 579M04750 |
| .020" Oversize | 649M04750 |
| .040" Oversize | 649M04800 |
| .060" Oversize | 649M04850 |
| .080" Oversize | 649M04900 |
| Stock Bore | 649M04700 |
| .020" Oversize | 653M04050 |
| .040" Oversize | 653M04100 |
| .060" Oversize | 653M04150 |
| .080" Oversize | 653M04200 |
| Stock Bore | 653M04000 |
| .020" Oversize | 771M05250 |
| .040" Oversize | 771M05300 |
| Stock Bore | 771M05200 |
| .020" Oversize | 772M06500 |
| .040" Oversize | 772M06550 |
| Stock Bore | 772M06450 |
| .060" Oversize | 818M06850 |
| Stock Bore | 818M06680 |
| .020" Oversize | 826M04150 |
| .040" Oversize | 826M04200 |
| .040" Oversize | 456M05000 |
| .080" Oversize | 456M05100 |
| Stock Bore | 456M04900 |
| .040" Oversize | 457M05000 |
| .080" Oversize | 465M05100 |
| .040" Oversize | 466M06700 |
| .080" Oversize | 466M06800 |
| Stock Bore | 466M06600 |
| .040" Oversize | 477M04800 |
| .080" Oversize | 477M04900 |
| .020" Oversize | 478M08750 |
| .040" Oversize | 478M08800 |
| .080" Oversize | 478M08900 |
| Stock Bore | 478M08700 |
| .020" Oversize | 485M07050 |
| .080" Oversize | 485M07200 |
| Stock Bore | 485M07000 |
| Stock Bore | 486M05600 |
| .020" Oversize | 493M05000 |
| .060" Oversize | 493M05100 |
| .040" Oversize | 497M05000 |
| Stock Bore | 497M04900 |
| .080" Oversize | 508M05000 |
| .040" Oversize | 509M05050 |
| .060" Oversize | 509M05100 |
| .040" Oversize | 511M05500 |
| .080" Oversize | 511M05600 |
| Stock Bore | 511M05400 |
| .040" Oversize | 514M04900 |
| Stock Bore | 514M04800 |
| .020" Oversize | 515M06850 |
| .040" Oversize | 515M06900 |
| .080" Oversize | 515M07000 |
| Stock Bore | 515M06800 |
| .020" Oversize | 518M05450 |
| .040" Oversize | 518M05500 |
| .060" Oversize | 518M05550 |
| .080" Oversize | 518M05600 |
| Stock Bore | 518M05400 |
| .040" Oversize | 519M05500 |
| .080" Oversize | 519M05600 |
| Stock Bore | 519M05400 |
| .020" Oversize | 520M04850 |
| .040" Oversize | 520M04900 |
| .060" Oversize | 520M04950 |
| .080" Oversize | 520M05000 |
| Stock Bore | 520M04800 |
| .020" Oversize | 534M07050 |
| .040" Oversize | 534M07100 |
| .020" Oversize | 673M05050 |
| .040" Oversize | 673M05100 |
| .060" Oversize | 673M05150 |
| .080" Oversize | 673M05200 |
| Stock | 673M05000 |