Warn
Warn Standard ATV Plow System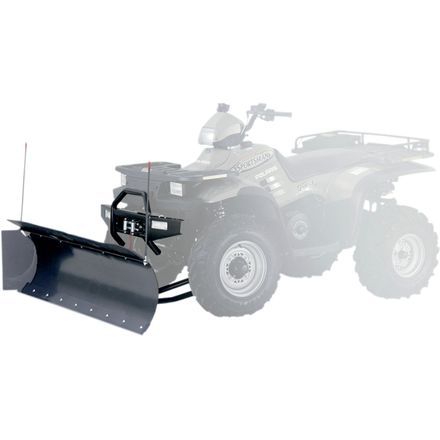 Warn Standard ATV Plow System
---
12% Off - Save up to $110.85
---
5 Star
1
4 Star
0
3 Star
0
2 Star
0
1 Star
0
Write a Review
Write your review and you'll automatically be entered in our monthly drawing. Include an image or video to DOUBLE your chances to win!
Write Your Review
1 year 7 months ago
Dickinson, ND
Great plow for the money
Great snow plow for the money. Exactly what I was looking for.
There have been no questions asked about the Warn Standard ATV Plow System.
See all bikes that this part fits...
Base/Push Tube
| Product Variant | Manufacturer Part # |
| --- | --- |
| Warn Standard ATV Plow System | 92100 |
Blade
| Product Variant | Manufacturer Part # |
| --- | --- |
| 54" | 78954 |
| 60" | 78960 |
| 50" | 78950 |
Mount Kit
| Product Variant | Manufacturer Part # |
| --- | --- |
| Warn Standard ATV Plow System | 91255 |
| Warn Standard ATV Plow System | 93730 |
| Warn Standard ATV Plow System | 96970 |
| Warn Standard ATV Plow System | 97420 |
| Warn Standard ATV Plow System | 73996 |
| Warn Standard ATV Plow System | 64669 |
| Warn Standard ATV Plow System | 87355 |
| Warn Standard ATV Plow System | 78395 |
| Warn Standard ATV Plow System | 87686 |
| Warn Standard ATV Plow System | 95850 |
| Warn Standard ATV Plow System | 37851 |
| Warn Standard ATV Plow System | 37852 |
| Warn Standard ATV Plow System | 72504 |
| Warn Standard ATV Plow System | 89613 |
| Warn Standard ATV Plow System | 63294 |
| Warn Standard ATV Plow System | 97215 |
| Warn Standard ATV Plow System | 70583 |
| Warn Standard ATV Plow System | 79234 |
| Warn Standard ATV Plow System | 93901 |
| Warn Standard ATV Plow System | 94644 |
| Warn Standard ATV Plow System | 63290 |
| Warn Standard ATV Plow System | 63936 |
| Warn Standard ATV Plow System | 65070 |
| Warn Standard ATV Plow System | 64670 |
| Warn Standard ATV Plow System | 61611 |
| Warn Standard ATV Plow System | 88188 |
| Warn Standard ATV Plow System | 62686 |
| Warn Standard ATV Plow System | 84354 |
| Warn Standard ATV Plow System | 70558 |
| Warn Standard ATV Plow System | 97212 |
| Warn Standard ATV Plow System | 80260 |
| Warn Standard ATV Plow System | 83875 |
| Warn Standard ATV Plow System | 79018 |
| Warn Standard ATV Plow System | 95840 |
| Warn Standard ATV Plow System | 37843 |
| Warn Standard ATV Plow System | 85690 |
| Warn Standard ATV Plow System | 80554 |
| Warn Standard ATV Plow System | 93515 |
| Warn Standard ATV Plow System | 95160 |
| Warn Standard ATV Plow System | 91280 |
| Warn Standard ATV Plow System | 79605 |
| Warn Standard ATV Plow System | 97084 |
| Warn Standard ATV Plow System | 80534 |
| Warn Standard ATV Plow System | 79700 |
| Warn Standard ATV Plow System | 81580 |
| Warn Standard ATV Plow System | 85260 |
| Warn Standard ATV Plow System | 80545 |
| Warn Standard ATV Plow System | 82530 |
| Warn Standard ATV Plow System | 80360 |
| Warn Standard ATV Plow System | 93820 |
| Warn Standard ATV Plow System | 81922 |
| Warn Standard ATV Plow System | 93954 |
| Warn Standard ATV Plow System | 80913 |
| Warn Standard ATV Plow System | 79673 |
| Warn Standard ATV Plow System | 79815 |
| Warn Standard ATV Plow System | 80556 |
| Warn Standard ATV Plow System | 95475 |
| Warn Standard ATV Plow System | 83503 |
| Warn Standard ATV Plow System | 83110 |
| Warn Standard ATV Plow System | 84090 |
| Warn Standard ATV Plow System | 79608 |
| Warn Standard ATV Plow System | 95370 |
| Warn Standard ATV Plow System | 90924 |
| Warn Standard ATV Plow System | 88330 |
| Warn Standard ATV Plow System | 90546 |
| Warn Standard ATV Plow System | 79925 |
| Warn Standard ATV Plow System | 81656 |
| Warn Standard ATV Plow System | 96322 |
| Warn Standard ATV Plow System | 79403 |
| Warn Standard ATV Plow System | 83170 |
| Warn Standard ATV Plow System | 95745 |
| Warn Standard ATV Plow System | 92156 |
| Warn Standard ATV Plow System | 80031 |
Raising Mechanism
| Product Variant | Manufacturer Part # |
| --- | --- |
| Warn Standard ATV Plow System | 90351 |
| Warn Standard ATV Plow System | 90450 |
| Warn Standard ATV Plow System | 90251 |
| Warn Standard ATV Plow System | 90350 |
| Warn Standard ATV Plow System | 90250 |
| Warn Standard ATV Plow System | 84600 |
| Warn Standard ATV Plow System | 90451 |