Vortex
Vortex V3 2.0 Brake Lever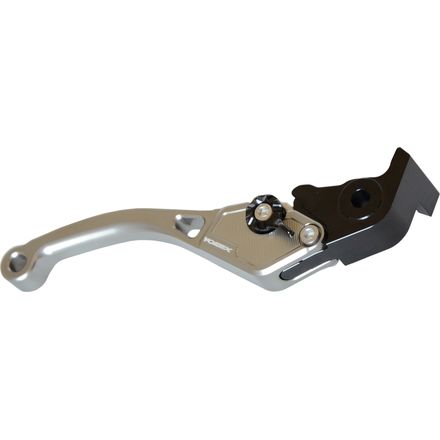 Vortex V3 2.0 Brake Lever
5 Star
4
4 Star
1
3 Star
0
2 Star
0
1 Star
0
Write a Review
Write your review and you'll automatically be entered in our monthly drawing. Include an image or video to DOUBLE your chances to win!
Write Your Review
4 months 27 days ago
Phoenix, AZ
Perfect fit
They were the only company that I could get these overnight, it looks great and is a perfect fit!
Over 5 months ago
Santa Rosa
Great investment
Great levers easy to install and tons of useful adjustments. Now I don't get in trouble at the track for cutting my levers short lol
Over 5 months ago
Bridgeport
Excellent lever
Super happy with product. It is exactly what I was looking for in an aftermarket lever without having to pay way out of pocket. Easy to install if your mechanically inclined and service your own.
There have been no questions asked about the Vortex V3 2.0 Brake Lever.
See all bikes that this part fits...
| Product Variant | Manufacturer Part # |
| --- | --- |
| Black / Short | LVB217 |
| Black / Long | LVB218 |
| Titanium / Short | LVB219 |
| Titanium / Long | LVB220 |
| Black / Long | LVB185 |
| Black / Long | LVB186 |
| Black / Long | LVB187 |
| Black / Long | LVB188 |
| Black / Long | LVB189 |
| Black / Long | LVB190 |
| Black / Long | LVB191 |
| Black / Long | LVB192 |
| Black / Long | LVB193 |
| Black / Long | LVB194 |
| Black / Long | LVB195 |
| Black / Long | LVB196 |
| Black / Long | LVB197 |
| Black / Long | LVB198 |
| Black / Long | LVB199 |
| Black / Long | LVB200 |
| Black / Long | LVB201 |
| Black / Long | LVB202 |
| Black / Long | LVB203 |
| Black / Long | LVB204 |
| Black / Long | LVB205 |
| Black / Long | LVB207 |
| Black / Long | LVB208 |
| Black / Long | LVB209 |
| Black / Long | LVB211 |
| Black / Long | LVB212 |
| Black / Long | LVB216 |
| Black / Short | LVB157 |
| Black / Short | LVB158 |
| Black / Short | LVB159 |
| Black / Short | LVB160 |
| Black / Short | LVB161 |
| Black / Short | LVB162 |
| Black / Short | LVB163 |
| Black / Short | LVB164 |
| Black / Short | LVB165 |
| Black / Short | LVB166 |
| Black / Short | LVB167 |
| Black / Short | LVB168 |
| Black / Short | LVB169 |
| Black / Short | LVB170 |
| Black / Short | LVB171 |
| Black / Short | LVB172 |
| Black / Short | LVB173 |
| Black / Short | LVB174 |
| Black / Short | LVB175 |
| Black / Short | LVB176 |
| Black / Short | LVB177 |
| Black / Short | LVB179 |
| Black / Short | LVB180 |
| Black / Short | LVB181 |
| Black / Short | LVB183 |
| Black / Short | LVB184 |
| Black / Short | LVB215 |
| Black / Short | LVB178 |
| Black / Long | LVB206 |
| Titanium / Long | LVB129 |
| Titanium / Long | LVB130 |
| Titanium / Long | LVB131 |
| Titanium / Long | LVB132 |
| Titanium / Long | LVB133 |
| Titanium / Long | LVB134 |
| Titanium / Long | LVB135 |
| Titanium / Long | LVB136 |
| Titanium / Long | LVB137 |
| Titanium / Long | LVB138 |
| Titanium / Long | LVB139 |
| Titanium / Long | LVB140 |
| Titanium / Long | LVB141 |
| Titanium / Long | LVB142 |
| Titanium / Long | LVB143 |
| Titanium / Long | LVB144 |
| Titanium / Long | LVB145 |
| Titanium / Long | LVB146 |
| Titanium / Long | LVB147 |
| Titanium / Long | LVB148 |
| Titanium / Long | LVB149 |
| Titanium / Long | LVB151 |
| Titanium / Long | LVB152 |
| Titanium / Long | LVB153 |
| Titanium / Long | LVB155 |
| Titanium / Long | LVB156 |
| Titanium / Long | LVB214 |
| Titanium / Short | LVB101 |
| Titanium / Short | LVB102 |
| Titanium / Short | LVB103 |
| Titanium / Short | LVB104 |
| Titanium / Short | LVB105 |
| Titanium / Short | LVB106 |
| Titanium / Short | LVB107 |
| Titanium / Short | LVB108 |
| Titanium / Short | LVB109 |
| Titanium / Short | LVB110 |
| Titanium / Short | LVB111 |
| Titanium / Short | LVB112 |
| Titanium / Short | LVB113 |
| Titanium / Short | LVB114 |
| Titanium / Short | LVB115 |
| Titanium / Short | LVB116 |
| Titanium / Short | LVB117 |
| Titanium / Short | LVB118 |
| Titanium / Short | LVB119 |
| Titanium / Short | LVB120 |
| Titanium / Short | LVB121 |
| Titanium / Short | LVB123 |
| Titanium / Short | LVB124 |
| Titanium / Short | LVB125 |
| Titanium / Short | LVB127 |
| Titanium / Short | LVB128 |
| Titanium / Short | LVB213 |
| Titanium / Short | LVB122 |
| Titanium / Long | LVB150 |