Vortex
Vortex Stunt Rear Sprocket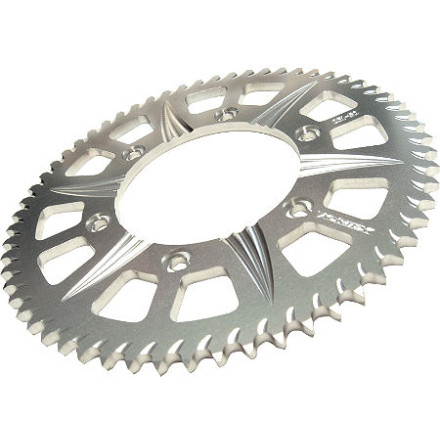 Vortex Stunt Rear Sprocket
---
15% Off - Save up to $17.54
---
Enter to Win $500
Write your review and you'll automatically be entered in our monthly drawing. Include an image or video to DOUBLE your chances to win!
Write Your Review
Q: Do you have 50T ?
David
Over 5 months ago
A: This is only offered in a 55T for your bike.
Q: What length chain will I need if I add a 64 tooth sprocket on my 2016 kawasaki ninja 650 ex?
See all bikes that this part fits...
| Product Variant | Manufacturer Part # |
| --- | --- |
| Silver / 525 / 60T | 252-60 |
| Silver / 520 / 60T | 435-60 |
| Silver / 525 / 60T | 435C-60 |
| Silver / 530 / 60T | 436-60 |
| Silver / 530 / 60T | 438-60 |
| Silver / 520 / 60T | 452A-60 |
| Silver / 525 / 60T | 454-60 |
| Silver / 520 / 60T | 526A-60 |
| Silver / 530 / 60T | 527-60 |
| Silver / 530 / 60T | 528-60 |
| Silver / 530 / 60T | 642-60 |
| Silver / 525 / 60T | 247-60 |
| Silver / 530 / 60T | 251-60 |
| Silver / 520 / 60T | 251A-60 |
| Silver / 525 / 55T | 110-55 |
| Silver / 525 / 56T | 110-56 |
| Silver / 525 / 57T | 110-57 |
| Silver / 525 / 58T | 110-58 |
| Silver / 525 / 59T | 110-59 |
| Silver / 525 / 60T | 110-60 |
| Silver / 525 / 61T | 110-61 |
| Silver / 525 / 62T | 110-62 |
| Silver / 525 / 63T | 110-63 |
| Silver / 525 / 64T | 110-64 |
| Silver / 525 / 65T | 110-65 |
| Silver / 525 / 66T | 110-66 |
| Silver / 525 / 55T | 120-55 |
| Silver / 525 / 56T | 120-56 |
| Silver / 525 / 57T | 120-57 |
| Silver / 525 / 58T | 120-58 |
| Silver / 525 / 59T | 120-59 |
| Silver / 525 / 60T | 120-60 |
| Silver / 525 / 61T | 120-61 |
| Silver / 525 / 62T | 120-62 |
| Silver / 525 / 63T | 120-63 |
| Silver / 525 / 64T | 120-64 |
| Silver / 525 / 65T | 120-65 |
| Silver / 525 / 66T | 120-66 |
| Silver / 520 / 55T | 125-55 |
| Silver / 520 / 56T | 125-56 |
| Silver / 520 / 57T | 125-57 |
| Silver / 520 / 58T | 125-58 |
| Silver / 520 / 59T | 125-59 |
| Silver / 520 / 60T | 125-60 |
| Silver / 520 / 61T | 125-61 |
| Silver / 520 / 62T | 125-62 |
| Silver / 520 / 63T | 125-63 |
| Silver / 520 / 64T | 125-64 |
| Silver / 520 / 65T | 125-65 |
| Silver / 520 / 66T | 125-66 |
| Silver / 525 / 55T | 144-55 |
| Silver / 525 / 56T | 144-56 |
| Silver / 525 / 57T | 144-57 |
| Silver / 525 / 58T | 144-58 |
| Silver / 525 / 59T | 144-59 |
| Silver / 525 / 60T | 144-60 |
| Silver / 525 / 61T | 144-61 |
| Silver / 525 / 62T | 144-62 |
| Silver / 525 / 63T | 144-63 |
| Silver / 525 / 64T | 144-64 |
| Silver / 525 / 65T | 144-65 |
| Silver / 525 / 66T | 144-66 |
| Silver / 525 / 58T | 193-58 |
| Silver / 520 / 55T | 211-55 |
| Silver / 530 / 55T | 245-55 |
| Silver / 530 / 56T | 245-56 |
| Silver / 530 / 57T | 245-57 |
| Silver / 530 / 58T | 245-58 |
| Silver / 530 / 59T | 245-59 |
| Silver / 530 / 61T | 245-61 |
| Silver / 530 / 62T | 245-62 |
| Silver / 530 / 63T | 245-63 |
| Silver / 530 / 64T | 245-64 |
| Silver / 530 / 65T | 245-65 |
| Silver / 530 / 66T | 245-66 |
| Silver / 525 / 55T | 247-55 |
| Silver / 525 / 56T | 247-56 |
| Silver / 525 / 57T | 247-57 |
| Silver / 525 / 58T | 247-58 |
| Silver / 525 / 59T | 247-59 |
| Silver / 525 / 61T | 247-61 |
| Silver / 525 / 62T | 247-62 |
| Silver / 525 / 63T | 247-63 |
| Silver / 525 / 64T | 247-64 |
| Silver / 525 / 65T | 247-65 |
| Silver / 525 / 66T | 247-66 |
| Silver / 530 / 55T | 248-55 |
| Silver / 530 / 56T | 248-56 |
| Silver / 530 / 57T | 248-57 |
| Silver / 530 / 58T | 248-58 |
| Silver / 530 / 59T | 248-59 |
| Silver / 530 / 60T | 248-60 |
| Silver / 530 / 61T | 248-61 |
| Silver / 530 / 62T | 248-62 |
| Silver / 530 / 63T | 248-63 |
| Silver / 530 / 64T | 248-64 |
| Silver / 530 / 65T | 248-65 |
| Silver / 530 / 66T | 248-66 |
| Silver / 530 / 55T | 249-55 |
| Silver / 530 / 56T | 249-56 |
| Silver / 530 / 57T | 249-57 |
| Silver / 530 / 58T | 249-58 |
| Silver / 530 / 59T | 249-59 |
| Silver / 530 / 60T | 249-60 |
| Silver / 530 / 61T | 249-61 |
| Silver / 530 / 62T | 249-62 |
| Silver / 530 / 63T | 249-63 |
| Silver / 530 / 64T | 249-64 |
| Silver / 530 / 65T | 249-65 |
| Silver / 530 / 66T | 249-66 |
| Silver / 530 / 55T | 251-55 |
| Silver / 530 / 56T | 251-56 |
| Silver / 530 / 57T | 251-57 |
| Silver / 530 / 58T | 251-58 |
| Silver / 530 / 59T | 251-59 |
| Silver / 530 / 61T | 251-61 |
| Silver / 530 / 62T | 251-62 |
| Silver / 530 / 63T | 251-63 |
| Silver / 530 / 64T | 251-64 |
| Silver / 530 / 65T | 251-65 |
| Silver / 530 / 66T | 251-66 |
| Silver / 525 / 55T | 252-55 |
| Silver / 525 / 56T | 252-56 |
| Silver / 525 / 57T | 252-57 |
| Silver / 525 / 58T | 252-58 |
| Silver / 525 / 59T | 252-59 |
| Silver / 525 / 61T | 252-61 |
| Silver / 525 / 62T | 252-62 |
| Silver / 525 / 63T | 252-63 |
| Silver / 525 / 64T | 252-64 |
| Silver / 525 / 65T | 252-65 |
| Silver / 525 / 66T | 252-66 |
| Silver / 520 / 55T | 338-55 |
| Silver / 520 / 56T | 338-56 |
| Silver / 520 / 57T | 338-57 |
| Silver / 520 / 58T | 338-58 |
| Silver / 520 / 59T | 338-59 |
| Silver / 520 / 60T | 338-60 |
| Silver / 520 / 61T | 338-61 |
| Silver / 520 / 62T | 338-62 |
| Silver / 520 / 63T | 338-63 |
| Silver / 520 / 64T | 338-64 |
| Silver / 520 / 65T | 338-65 |
| Silver / 520 / 66T | 338-66 |
| Silver / 530 / 55T | 427-55 |
| Silver / 530 / 56T | 427-56 |
| Silver / 530 / 57T | 427-57 |
| Silver / 530 / 58T | 427-58 |
| Silver / 530 / 59T | 427-59 |
| Silver / 530 / 60T | 427-60 |
| Silver / 530 / 61T | 427-61 |
| Silver / 530 / 62T | 427-62 |
| Silver / 530 / 63T | 427-63 |
| Silver / 530 / 64T | 427-64 |
| Silver / 530 / 65T | 427-65 |
| Silver / 530 / 66T | 427-66 |
| Silver / 520 / 55T | 435-55 |
| Silver / 520 / 56T | 435-56 |
| Silver / 520 / 57T | 435-57 |
| Silver / 520 / 58T | 435-58 |
| Silver / 520 / 59T | 435-59 |
| Silver / 520 / 61T | 435-61 |
| Silver / 520 / 62T | 435-62 |
| Silver / 520 / 63T | 435-63 |
| Silver / 520 / 64T | 435-64 |
| Silver / 520 / 65T | 435-65 |
| Silver / 520 / 66T | 435-66 |
| Silver / 530 / 55T | 436-55 |
| Silver / 530 / 56T | 436-56 |
| Silver / 530 / 57T | 436-57 |
| Silver / 530 / 58T | 436-58 |
| Silver / 530 / 59T | 436-59 |
| Silver / 530 / 61T | 436-61 |
| Silver / 530 / 62T | 436-62 |
| Silver / 530 / 63T | 436-63 |
| Silver / 530 / 64T | 436-64 |
| Silver / 530 / 65T | 436-65 |
| Silver / 530 / 66T | 436-66 |
| Silver / 530 / 55T | 438-55 |
| Silver / 530 / 56T | 438-56 |
| Silver / 530 / 57T | 438-57 |
| Silver / 530 / 58T | 438-58 |
| Silver / 530 / 59T | 438-59 |
| Silver / 530 / 61T | 438-61 |
| Silver / 530 / 62T | 438-62 |
| Silver / 530 / 63T | 438-63 |
| Silver / 530 / 64T | 438-64 |
| Silver / 530 / 65T | 438-65 |
| Silver / 530 / 66T | 438-66 |
| Silver / 530 / 55T | 452-55 |
| Silver / 530 / 56T | 452-56 |
| Silver / 530 / 57T | 452-57 |
| Silver / 530 / 58T | 452-58 |
| Silver / 530 / 59T | 452-59 |
| Silver / 530 / 60T | 452-60 |
| Silver / 530 / 61T | 452-61 |
| Silver / 530 / 62T | 452-62 |
| Silver / 530 / 63T | 452-63 |
| Silver / 530 / 64T | 452-64 |
| Silver / 530 / 65T | 452-65 |
| Silver / 530 / 66T | 452-66 |
| Silver / 525 / 55T | 454-55 |
| Silver / 525 / 56T | 454-56 |
| Silver / 525 / 57T | 454-57 |
| Silver / 525 / 58T | 454-58 |
| Silver / 525 / 59T | 454-59 |
| Silver / 525 / 61T | 454-61 |
| Silver / 525 / 62T | 454-62 |
| Silver / 525 / 63T | 454-63 |
| Silver / 525 / 64T | 454-64 |
| Silver / 525 / 65T | 454-65 |
| Silver / 525 / 66T | 454-66 |
| Silver / 530 / 55T | 488-55 |
| Silver / 530 / 56T | 488-56 |
| Silver / 530 / 57T | 488-57 |
| Silver / 530 / 58T | 488-58 |
| Silver / 530 / 59T | 488-59 |
| Silver / 530 / 60T | 488-60 |
| Silver / 530 / 61T | 488-61 |
| Silver / 530 / 62T | 488-62 |
| Silver / 530 / 63T | 488-63 |
| Silver / 530 / 64T | 488-64 |
| Silver / 530 / 65T | 488-65 |
| Silver / 530 / 66T | 488-66 |
| Silver / 525 / 55T | 491-55 |
| Silver / 525 / 56T | 491-56 |
| Silver / 525 / 57T | 491-57 |
| Silver / 525 / 58T | 491-58 |
| Silver / 525 / 59T | 491-59 |
| Silver / 525 / 60T | 491-60 |
| Silver / 525 / 61T | 491-61 |
| Silver / 525 / 62T | 491-62 |
| Silver / 525 / 63T | 491-63 |
| Silver / 525 / 64T | 491-64 |
| Silver / 525 / 65T | 491-65 |
| Silver / 525 / 66T | 491-66 |
| Silver / 530 / 55T | 525-55 |
| Silver / 530 / 56T | 525-56 |
| Silver / 530 / 57T | 525-57 |
| Silver / 530 / 58T | 525-58 |
| Silver / 530 / 59T | 525-59 |
| Silver / 530 / 60T | 525-60 |
| Silver / 530 / 61T | 525-61 |
| Silver / 530 / 62T | 525-62 |
| Silver / 530 / 63T | 525-63 |
| Silver / 530 / 64T | 525-64 |
| Silver / 530 / 65T | 525-65 |
| Silver / 530 / 66T | 525-66 |
| Silver / 525 / 55T | 526-55 |
| Silver / 525 / 56T | 526-56 |
| Silver / 525 / 57T | 526-57 |
| Silver / 525 / 58T | 526-58 |
| Silver / 525 / 59T | 526-59 |
| Silver / 525 / 61T | 526-61 |
| Silver / 525 / 62T | 526-62 |
| Silver / 525 / 63T | 526-63 |
| Silver / 525 / 64T | 526-64 |
| Silver / 525 / 65T | 526-65 |
| Silver / 525 / 66T | 526-66 |
| Silver / 530 / 55T | 527-55 |
| Silver / 530 / 56T | 527-56 |
| Silver / 530 / 57T | 527-57 |
| Silver / 530 / 58T | 527-58 |
| Silver / 530 / 59T | 527-59 |
| Silver / 530 / 61T | 527-61 |
| Silver / 530 / 62T | 527-62 |
| Silver / 530 / 63T | 527-63 |
| Silver / 530 / 64T | 527-64 |
| Silver / 530 / 65T | 527-65 |
| Silver / 530 / 66T | 527-66 |
| Silver / 530 / 55T | 528-55 |
| Silver / 530 / 56T | 528-56 |
| Silver / 530 / 57T | 528-57 |
| Silver / 530 / 58T | 528-58 |
| Silver / 530 / 59T | 528-59 |
| Silver / 530 / 61T | 528-61 |
| Silver / 530 / 62T | 528-62 |
| Silver / 530 / 63T | 528-63 |
| Silver / 530 / 64T | 528-64 |
| Silver / 530 / 65T | 528-65 |
| Silver / 530 / 66T | 528-66 |
| Silver / 530 / 55T | 641-55 |
| Silver / 530 / 56T | 641-56 |
| Silver / 530 / 57T | 641-57 |
| Silver / 530 / 58T | 641-58 |
| Silver / 530 / 59T | 641-59 |
| Silver / 530 / 60T | 641-60 |
| Silver / 530 / 61T | 641-61 |
| Silver / 530 / 62T | 641-62 |
| Silver / 530 / 63T | 641-63 |
| Silver / 530 / 64T | 641-64 |
| Silver / 530 / 65T | 641-65 |
| Silver / 530 / 66T | 641-66 |
| Silver / 530 / 55T | 642-55 |
| Silver / 530 / 56T | 642-56 |
| Silver / 530 / 57T | 642-57 |
| Silver / 530 / 58T | 642-58 |
| Silver / 530 / 59T | 642-59 |
| Silver / 530 / 61T | 642-61 |
| Silver / 530 / 62T | 642-62 |
| Silver / 530 / 63T | 642-63 |
| Silver / 530 / 64T | 642-64 |
| Silver / 530 / 65T | 642-65 |
| Silver / 530 / 66T | 642-66 |
| Silver / 530 / 55T | 767-55 |
| Silver / 530 / 56T | 767-56 |
| Silver / 530 / 57T | 767-57 |
| Silver / 530 / 58T | 767-58 |
| Silver / 530 / 59T | 767-59 |
| Silver / 530 / 60T | 767-60 |
| Silver / 530 / 61T | 767-61 |
| Silver / 530 / 62T | 767-62 |
| Silver / 530 / 63T | 767-63 |
| Silver / 530 / 64T | 767-64 |
| Silver / 530 / 65T | 767-65 |
| Silver / 530 / 66T | 767-66 |
| Silver / 525 / 55T | 775-55 |
| Silver / 525 / 56T | 775-56 |
| Silver / 525 / 57T | 775-57 |
| Silver / 525 / 58T | 775-58 |
| Silver / 525 / 59T | 775-59 |
| Silver / 525 / 60T | 775-60 |
| Silver / 525 / 61T | 775-61 |
| Silver / 525 / 62T | 775-62 |
| Silver / 525 / 63T | 775-63 |
| Silver / 525 / 64T | 775-64 |
| Silver / 525 / 65T | 775-65 |
| Silver / 525 / 66T | 775-66 |
| Silver / 530 / 55T | 827-55 |
| Silver / 530 / 56T | 827-56 |
| Silver / 530 / 57T | 827-57 |
| Silver / 530 / 58T | 827-58 |
| Silver / 530 / 59T | 827-59 |
| Silver / 530 / 60T | 827-60 |
| Silver / 530 / 61T | 827-61 |
| Silver / 530 / 62T | 827-62 |
| Silver / 530 / 63T | 827-63 |
| Silver / 530 / 64T | 827-64 |
| Silver / 530 / 65T | 827-65 |
| Silver / 530 / 66T | 827-66 |
| Silver / 530 / 55T | 840-55 |
| Silver / 530 / 56T | 840-56 |
| Silver / 530 / 57T | 840-57 |
| Silver / 530 / 58T | 840-58 |
| Silver / 530 / 59T | 840-59 |
| Silver / 530 / 60T | 840-60 |
| Silver / 530 / 61T | 840-61 |
| Silver / 530 / 62T | 840-62 |
| Silver / 530 / 63T | 840-63 |
| Silver / 530 / 64T | 840-64 |
| Silver / 530 / 65T | 840-65 |
| Silver / 530 / 66T | 840-66 |
| Silver / 520 / 55T | 110A-55 |
| Silver / 520 / 56T | 110A-56 |
| Silver / 520 / 57T | 110A-57 |
| Silver / 520 / 58T | 110A-58 |
| Silver / 520 / 59T | 110A-59 |
| Silver / 520 / 60T | 110A-60 |
| Silver / 520 / 61T | 110A-61 |
| Silver / 520 / 62T | 110A-62 |
| Silver / 520 / 63T | 110A-63 |
| Silver / 520 / 64T | 110A-64 |
| Silver / 520 / 65T | 110A-65 |
| Silver / 520 / 66T | 110A-66 |
| Silver / 520 / 55T | 120A-55 |
| Silver / 520 / 56T | 120A-56 |
| Silver / 520 / 57T | 120A-57 |
| Silver / 520 / 58T | 120A-58 |
| Silver / 520 / 59T | 120A-59 |
| Silver / 520 / 60T | 120A-60 |
| Silver / 520 / 61T | 120A-61 |
| Silver / 520 / 62T | 120A-62 |
| Silver / 520 / 63T | 120A-63 |
| Silver / 520 / 64T | 120A-64 |
| Silver / 520 / 65T | 120A-65 |
| Silver / 520 / 66T | 120A-66 |
| Silver / 520 / 55T | 144A-55 |
| Silver / 520 / 56T | 144A-56 |
| Silver / 520 / 57T | 144A-57 |
| Silver / 520 / 58T | 144A-58 |
| Silver / 520 / 59T | 144A-59 |
| Silver / 520 / 60T | 144A-60 |
| Silver / 520 / 61T | 144A-61 |
| Silver / 520 / 62T | 144A-62 |
| Silver / 520 / 63T | 144A-63 |
| Silver / 520 / 64T | 144A-64 |
| Silver / 520 / 65T | 144A-65 |
| Silver / 520 / 66T | 144A-66 |
| Silver / 520 / 55T | 245A-55 |
| Silver / 520 / 56T | 245A-56 |
| Silver / 520 / 57T | 245A-57 |
| Silver / 520 / 58T | 245A-58 |
| Silver / 520 / 59T | 245A-59 |
| Silver / 520 / 60T | 245A-60 |
| Silver / 520 / 61T | 245A-61 |
| Silver / 520 / 62T | 245A-62 |
| Silver / 520 / 63T | 245A-63 |
| Silver / 520 / 64T | 245A-64 |
| Silver / 520 / 65T | 245A-65 |
| Silver / 520 / 66T | 245A-66 |
| Silver / 520 / 55T | 249A-55 |
| Silver / 520 / 56T | 249A-56 |
| Silver / 520 / 57T | 249A-57 |
| Silver / 520 / 58T | 249A-58 |
| Silver / 520 / 59T | 249A-59 |
| Silver / 520 / 60T | 249A-60 |
| Silver / 520 / 61T | 249A-61 |
| Silver / 520 / 62T | 249A-62 |
| Silver / 520 / 63T | 249A-63 |
| Silver / 520 / 64T | 249A-64 |
| Silver / 520 / 65T | 249A-65 |
| Silver / 520 / 66T | 249A-66 |
| Silver / 520 / 55T | 251A-55 |
| Silver / 520 / 56T | 251A-56 |
| Silver / 520 / 57T | 251A-57 |
| Silver / 520 / 58T | 251A-58 |
| Silver / 520 / 59T | 251A-59 |
| Silver / 520 / 61T | 251A-61 |
| Silver / 520 / 62T | 251A-62 |
| Silver / 520 / 63T | 251A-63 |
| Silver / 520 / 64T | 251A-64 |
| Silver / 520 / 65T | 251A-65 |
| Silver / 520 / 66T | 251A-66 |
| Silver / 525 / 55T | 338C-55 |
| Silver / 525 / 56T | 338C-56 |
| Silver / 525 / 57T | 338C-57 |
| Silver / 525 / 58T | 338C-58 |
| Silver / 525 / 59T | 338C-59 |
| Silver / 525 / 60T | 338C-60 |
| Silver / 525 / 61T | 338C-61 |
| Silver / 525 / 62T | 338C-62 |
| Silver / 525 / 63T | 338C-63 |
| Silver / 525 / 64T | 338C-64 |
| Silver / 525 / 65T | 338C-65 |
| Silver / 525 / 66T | 338C-66 |
| Silver / 525 / 55T | 435C-55 |
| Silver / 525 / 56T | 435C-56 |
| Silver / 525 / 57T | 435C-57 |
| Silver / 525 / 58T | 435C-58 |
| Silver / 525 / 59T | 435C-59 |
| Silver / 525 / 61T | 435C-61 |
| Silver / 525 / 62T | 435C-62 |
| Silver / 525 / 63T | 435C-63 |
| Silver / 525 / 64T | 435C-64 |
| Silver / 525 / 66T | 435C-66 |
| Silver / 520 / 55T | 452A-55 |
| Silver / 520 / 56T | 452A-56 |
| Silver / 520 / 57T | 452A-57 |
| Silver / 520 / 58T | 452A-58 |
| Silver / 520 / 59T | 452A-59 |
| Silver / 520 / 61T | 452A-61 |
| Silver / 520 / 62T | 452A-62 |
| Silver / 520 / 63T | 452A-63 |
| Silver / 520 / 64T | 452A-64 |
| Silver / 520 / 65T | 452A-65 |
| Silver / 520 / 66T | 452A-66 |
| Silver / 520 / 55T | 526A-55 |
| Silver / 520 / 56T | 526A-56 |
| Silver / 520 / 57T | 526A-57 |
| Silver / 520 / 58T | 526A-58 |
| Silver / 520 / 59T | 526A-59 |
| Silver / 520 / 61T | 526A-61 |
| Silver / 520 / 62T | 526A-62 |
| Silver / 520 / 63T | 526A-63 |
| Silver / 520 / 64T | 526A-64 |
| Silver / 520 / 65T | 526A-65 |
| Silver / 520 / 66T | 526A-66 |
| Silver / 520 / 55T | 528A-55 |
| Silver / 520 / 56T | 528A-56 |
| Silver / 520 / 57T | 528A-57 |
| Silver / 520 / 58T | 528A-58 |
| Silver / 520 / 59T | 528A-59 |
| Silver / 520 / 60T | 528A-60 |
| Silver / 520 / 61T | 528A-61 |
| Silver / 520 / 62T | 528A-62 |
| Silver / 520 / 63T | 528A-63 |
| Silver / 520 / 64T | 528A-64 |
| Silver / 520 / 65T | 528A-65 |
| Silver / 520 / 66T | 528A-66 |
| Silver / 525 / 55T | 528C-55 |
| Silver / 525 / 56T | 528C-56 |
| Silver / 525 / 57T | 528C-57 |
| Silver / 525 / 58T | 528C-58 |
| Silver / 525 / 59T | 528C-59 |
| Silver / 525 / 60T | 528C-60 |
| Silver / 525 / 61T | 528C-61 |
| Silver / 525 / 62T | 528C-62 |
| Silver / 525 / 63T | 528C-63 |
| Silver / 525 / 64T | 528C-64 |
| Silver / 525 / 65T | 528C-65 |
| Silver / 525 / 66T | 528C-66 |
| Silver / 520 / 55T | 641A-55 |
| Silver / 520 / 56T | 641A-56 |
| Silver / 520 / 57T | 641A-57 |
| Silver / 520 / 58T | 641A-58 |
| Silver / 520 / 59T | 641A-59 |
| Silver / 520 / 60T | 641A-60 |
| Silver / 520 / 61T | 641A-61 |
| Silver / 520 / 62T | 641A-62 |
| Silver / 520 / 63T | 641A-63 |
| Silver / 520 / 64T | 641A-64 |
| Silver / 520 / 65T | 641A-65 |
| Silver / 520 / 66T | 641A-66 |
| Silver / 520 / 55T | 642A-55 |
| Silver / 520 / 56T | 642A-56 |
| Silver / 520 / 57T | 642A-57 |
| Silver / 520 / 58T | 642A-58 |
| Silver / 520 / 59T | 642A-59 |
| Silver / 520 / 60T | 642A-60 |
| Silver / 520 / 61T | 642A-61 |
| Silver / 520 / 62T | 642A-62 |
| Silver / 520 / 63T | 642A-63 |
| Silver / 520 / 64T | 642A-64 |
| Silver / 520 / 65T | 642A-65 |
| Silver / 520 / 66T | 642A-66 |
| Silver / 520 / 55T | 767A-55 |
| Silver / 520 / 56T | 767A-56 |
| Silver / 520 / 57T | 767A-57 |
| Silver / 520 / 58T | 767A-58 |
| Silver / 520 / 59T | 767A-59 |
| Silver / 520 / 60T | 767A-60 |
| Silver / 520 / 61T | 767A-61 |
| Silver / 520 / 62T | 767A-62 |
| Silver / 520 / 63T | 767A-63 |
| Silver / 520 / 64T | 767A-64 |
| Silver / 520 / 65T | 767A-65 |
| Silver / 520 / 66T | 767A-66 |
| Silver / 520 / 55T | 775A-55 |
| Silver / 520 / 56T | 775A-56 |
| Silver / 520 / 57T | 775A-57 |
| Silver / 520 / 58T | 775A-58 |
| Silver / 520 / 59T | 775A-59 |
| Silver / 520 / 60T | 775A-60 |
| Silver / 520 / 61T | 775A-61 |
| Silver / 520 / 62T | 775A-62 |
| Silver / 520 / 63T | 775A-63 |
| Silver / 520 / 64T | 775A-64 |
| Silver / 520 / 65T | 775A-65 |
| Silver / 520 / 66T | 775A-66 |
| Silver / 520 / 55T | 827A-55 |
| Silver / 520 / 56T | 827A-56 |
| Silver / 520 / 57T | 827A-57 |
| Silver / 520 / 58T | 827A-58 |
| Silver / 520 / 59T | 827A-59 |
| Silver / 520 / 60T | 827A-60 |
| Silver / 520 / 61T | 827A-61 |
| Silver / 520 / 62T | 827A-62 |
| Silver / 520 / 63T | 827A-63 |
| Silver / 520 / 64T | 827A-64 |
| Silver / 520 / 65T | 827A-65 |
| Silver / 520 / 66T | 827A-66 |
| Silver / 530 / 55T | 232-55 |
| Silver / 530 / 56T | 232-56 |
| Silver / 530 / 57T | 232-57 |
| Silver / 530 / 58T | 232-58 |
| Silver / 530 / 59T | 232-59 |
| Silver / 530 / 60T | 232-60 |
| Silver / 530 / 61T | 232-61 |
| Silver / 530 / 62T | 232-62 |
| Silver / 530 / 63T | 232-63 |
| Silver / 530 / 64T | 232-64 |
| Silver / 530 / 65T | 232-65 |
| Silver / 530 / 66T | 232-66 |
| Silver / 520 / 55T | 232A-55 |
| Silver / 520 / 56T | 232A-56 |
| Silver / 520 / 57T | 232A-57 |
| Silver / 520 / 58T | 232A-58 |
| Silver / 520 / 59T | 232A-59 |
| Silver / 520 / 60T | 232A-60 |
| Silver / 520 / 61T | 232A-61 |
| Silver / 520 / 62T | 232A-62 |
| Silver / 520 / 63T | 232A-63 |
| Silver / 520 / 64T | 232A-64 |
| Silver / 520 / 65T | 232A-65 |
| Silver / 520 / 66T | 232A-66 |
| Silver / 520 / 55T | 491A-55 |
| Silver / 520 / 56T | 491A-56 |
| Silver / 520 / 57T | 491A-57 |
| Silver / 520 / 58T | 491A-58 |
| Silver / 520 / 59T | 491A-59 |
| Silver / 520 / 60T | 491A-60 |
| Silver / 520 / 61T | 491A-61 |
| Silver / 520 / 62T | 491A-62 |
| Silver / 520 / 63T | 491A-63 |
| Silver / 520 / 64T | 491A-64 |
| Silver / 520 / 65T | 491A-65 |
| Silver / 520 / 66T | 491A-66 |
| Silver / 520 / 55T | 525A-55 |
| Silver / 520 / 56T | 525A-56 |
| Silver / 520 / 57T | 525A-57 |
| Silver / 520 / 58T | 525A-58 |
| Silver / 520 / 59T | 525A-59 |
| Silver / 520 / 60T | 525A-60 |
| Silver / 520 / 61T | 525A-61 |
| Silver / 520 / 62T | 525A-62 |
| Silver / 520 / 63T | 525A-63 |
| Silver / 520 / 64T | 525A-64 |
| Silver / 520 / 65T | 525A-65 |
| Silver / 520 / 66T | 525A-66 |
| Silver / 525 / 55T | 642C-55 |
| Silver / 525 / 56T | 642C-56 |
| Silver / 525 / 57T | 642C-57 |
| Silver / 525 / 58T | 642C-58 |
| Silver / 525 / 59T | 642C-59 |
| Silver / 525 / 60T | 642C-60 |
| Silver / 525 / 61T | 642C-61 |
| Silver / 525 / 62T | 642C-62 |
| Silver / 525 / 63T | 642C-63 |
| Silver / 525 / 64T | 642C-64 |
| Silver / 525 / 65T | 642C-65 |
| Silver / 525 / 66T | 642C-66 |