Vortex
Vortex Steel Rear Sprocket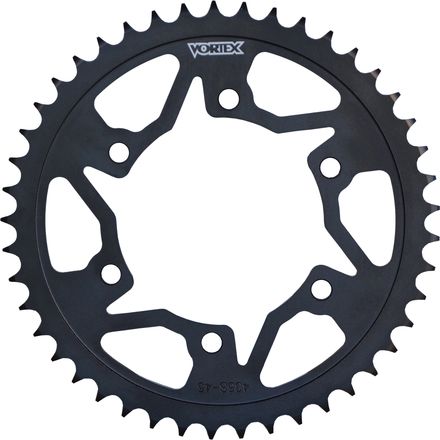 Vortex Steel Rear Sprocket
---
15% Off - Save up to $9.00
---
5 Star
7
4 Star
1
3 Star
0
2 Star
0
1 Star
0
Write a Review
Write your review and you'll automatically be entered in our monthly drawing. Include an image or video to DOUBLE your chances to win!
Write Your Review
13 days ago
Meriden Connecticut.
Great quality
It is easy to mount no issues so far
3 months ago
Dallas, TX, USA
Very strong
i needed a very strong steel sprocket that looked good... this was the best choice for my 2001 Zrx 1200r... my bike has mega torque, so,along with this sprocket , i purchased a chain with a tensile strenght of 12,000-14,000 lbs ... both of these will last for a very long time with proper maint.
Over 8 months ago
Los Angeles, CA, USA
Chose Steel over Aluminum
Much better sprocket over the aluminum sprocket.
It has lasted much long for the obvious fact that it is made from steel.
I purchased this product with the "Vortex 525 RV3 Black Street / Roadrace Sealed Chain" which by the way is another awesome product by Vortex.
Over 11 months ago
Indiana, USA
Good Product
Went up two teeth for the woods, sprocket holds up nicely and looks good.
1 year 4 months ago
Whitinsville,Northbridge,MA,USA
Rest sprocket
Quick delivery , just what I needed , geared the bike down 2 teeth less rpm,s more speed !
2 years 4 months ago
Niceville, FL, USA
Awesome sprocket
This Sprocket was easy to fit, fitment is very nice, and the look is spectacular against my bike. Went with the vortex steel sprocket for longevity because I ride a 1000cc motorcycle. I'm very happy with this product so far.
Over 3 years ago
the mitten state
Highest quality product
I bought the steel kit in all black. I got the sv3 chain. looks good its a lot lighter weight than other steel sprockets. the chain is fantastic didn't have much break in stretch. worth the money
Bernard
Q: Will this fit on my marchesini wheel with 5 holes? I like this because it is steel.
Can I go with +2 on rear and keep the front 17 or do I have to go down -1 in front. I have GSXR 1000.
Rideon1
Q: What pitch would I need with a stock chain?
Looking to replace stock rear sprocket (42 teeth) for a 44 tooth on a 2014 Honda CBR 1000rr SP. What pitch would I need for the stock chain?
MotoSportExpert
Over 3 years ago
A: Stock chain size is a 530 on a 04+ Honda CBR1000RR
See all bikes that this part fits...
| Product Variant | Manufacturer Part # |
| --- | --- |
| Black / 520 / 41T | 211S-41 |
| Black / 520 / 41T | 245AS-41 |
| Black / 520 / 44T | 654AS-44 |
| Black / 525 / 41T | 654S-41 |
| Black / 525 / 42T | 654S-42 |
| Black / 525 / 43T | 654S-43 |
| 520 / 41T | 608S-41 |
| 520 / 39T | 203S-39 |
| 520 / 43T | 208S-43 |
| 520 / 47T | 208S-47 |
| 525 / 42T | 252S-42 |
| 525 / 43T | 252S-43 |
| 525 / 46T | 252S-46 |
| 525 / 45T | 435CS-45 |
| 525 / 40T | 454S-40 |
| 525 / 41T | 454S-41 |
| 525 / 42T | 454S-42 |
| 525 / 43T | 454S-43 |
| 525 / 42T | 526S-42 |
| 525 / 43T | 526S-43 |
| 525 / 44T | 526S-44 |
| 525 / 45T | 526S-45 |
| 525 / 44T | 528CS-44 |
| 525 / 45T | 528CS-45 |
| 530 / 42T | 251S-42 |
| 530 / 43T | 251S-43 |
| 530 / 41T | 427S-41 |
| 530 / 40T | 436S-40 |
| 530 / 42T | 436S-42 |
| 530 / 43T | 436S-43 |
| 530 / 42T | 438S-42 |
| 530 / 43T | 438S-43 |
| 530 / 47T | 438S-47 |
| 530 / 44T | 452S-44 |
| 530 / 45T | 452S-45 |
| 530 / 46T | 452S-46 |
| 530 / 42T | 527S-42 |
| 530 / 43T | 527S-43 |
| 520 / 42T | 251AS-42 |
| 520 / 43T | 251AS-43 |
| 520 / 44T | 251AS-44 |
| 520 / 41T | 435S-41 |
| 520 / 42T | 435S-42 |
| 520 / 47T | 435S-47 |
| 520 / 48T | 435S-48 |
| 520 / 41T | 452AS-41 |
| 520 / 42T | 452AS-42 |
| 520 / 43T | 452AS-43 |
| 520 / 45T | 452AS-45 |
| 520 / 42T | 526AS-42 |
| 520 / 43T | 526AS-43 |
| 520 / 44T | 526AS-44 |
| 520 / 45T | 526AS-45 |
| 520 / 44T | 193AS-44 |
| 520 / 47T | 193AS-47 |
| 525 / 44T | 193S-44 |
| 525 / 45T | 193S-45 |
| 525 / 46T | 193S-46 |
| 525 / 47T | 193S-47 |
| 530 / 39T | 245S-39 |
| 530 / 41T | 245S-41 |
| 530 / 43T | 245S-43 |
| 530 / 45T | 245S-45 |
| 525 / 38T | 247S-38 |
| 525 / 41T | 247S-41 |
| 525 / 42T | 247S-42 |
| 525 / 43T | 247S-43 |
| 525 / 47T | 247S-47 |
| 530 / 43T | 249S-43 |
| 530 / 44T | 249S-44 |
| 520 / 41T | 251AS-41 |
| 520 / 45T | 251AS-45 |
| 530 / 41T | 251S-41 |
| 530 / 44T | 251S-44 |
| 525 / 44T | 252S-44 |
| 525 / 45T | 252S-45 |
| 520 / 43T | 435S-43 |
| 520 / 44T | 435S-44 |
| 520 / 46T | 435S-46 |
| 520 / 49T | 435S-49 |
| 520 / 50T | 435S-50 |
| 530 / 39T | 438S-39 |
| 530 / 46T | 438S-46 |
| 530 / 48T | 438S-48 |
| 520 / 39T | 452AS-39 |
| 520 / 40T | 452AS-40 |
| 520 / 46T | 452AS-46 |
| 525 / 39T | 454S-39 |
| 525 / 44T | 454S-44 |
| 525 / 46T | 491S-46 |
| 520 / 46T | 526AS-46 |
| 520 / 48T | 526AS-48 |
| 525 / 47T | 526S-47 |
| 530 / 40T | 527S-40 |
| 530 / 44T | 527S-44 |
| 530 / 45T | 527S-45 |
| 530 / 46T | 527S-46 |
| 520 / 44T | 528AS-44 |
| 520 / 45T | 528AS-45 |
| 520 / 46T | 528AS-46 |
| 520 / 47T | 528AS-47 |
| 530 / 45T | 528S-45 |
| 530 / 46T | 528S-46 |
| 530 / 47T | 528S-47 |
| 520 / 47T | 641AS-47 |
| 520 / 49T | 641AS-49 |
| 525 / 42T | 641CS-42 |
| 525 / 46T | 641CS-46 |
| 530 / 47T | 641S-47 |
| 520 / 48T | 642AS-48 |
| 520 / 50T | 642AS-50 |
| 530 / 48T | 642S-48 |
| 530 / 42T | 767S-42 |
| Black / 520 / 45T | 193AS-45 |
| Black / 520 / 46T | 193AS-46 |
| Black / 520 / 38T | 211S-38 |
| Black / 520 / 40T | 211S-40 |
| Black / 520 / 42T | 245AS-42 |
| Black / 520 / 43T | 245AS-43 |
| Black / 520 / 45T | 245AS-45 |
| Black / 520 / 47T | 245AS-47 |
| Black / 525 / 41T | 252S-41 |
| Black / 530 / 38T | 427S-38 |
| Black / 530 / 42T | 427S-42 |
| Black / 525 / 43T | 435CS-43 |
| Black / 530 / 48T | 436S-48 |
| Black / 530 / 38T | 438S-38 |
| Black / 530 / 44T | 438S-44 |
| Black / 530 / 42T | 452S-42 |
| Black / 520 / 45T | 491AS-45 |
| Black / 520 / 46T | 491AS-46 |
| Black / 520 / 47T | 526AS-47 |
| Black / 520 / 40T V3 Style | 654AS-40 |
| Black / 520 / 41T V3 Style | 654AS-41 |
| Black / 520 / 42T V3 Style | 654AS-42 |
| Black / 520 / 43T V3 Style | 654AS-43 |
| Black / 530 / 43T | 767S-43 |