Vortex
Vortex LED Integrated Tail Light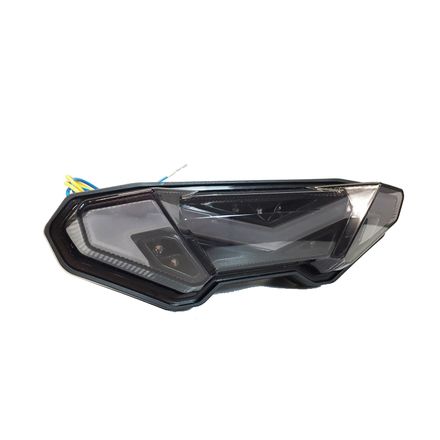 Vortex LED Integrated Tail Light
---
15% Off - Save up to $32.99
---
5 Star
7
4 Star
2
3 Star
1
2 Star
0
1 Star
0
Write a Review
Write your review and you'll automatically be entered in our monthly drawing. Include an image or video to DOUBLE your chances to win!
Write Your Review
Good product wish integrated was easier. Overall happy still
3 months 24 days ago
Detroit, MI
Great Product
Very easy to install with some basic screwdriver skills, does require wire splicing to install turn signal wires, but again, fairly easy. I got the smoke tinted one, and was worried it wouldn't be very bright, but once I tested the thing, the LED's are bright as heck even without hitting the brakes. Would definetly recommend, but make sure you get a fender eliminator to go with to finish off the clean look.
1 year 1 month ago
West Virginia, USA
Looks awesome
New tail looks amazing on the bike. Instructions could of been a little more detailed in color butt wasn't bad tho follow., esp if you have any mechanical skill whatsoever.. really helped with being noticeable and seen, which is a must for these people in cages not running you over.
1 year 2 months ago
Galt, ca
Looks amazing !!!!
I love it, I just went ahead and choose to install it with out the turn signal indicators and it was still amazing. !!!
Vortex tail lights
This product came with no instructions, with no tools, not even with the double-sided tape, it's a well-made product and it looks good but the extra hassle not sure if it was worth the time or the money. you definitely have to be handy and know a little bit about electricity if not you're going to have to pay a lot of money to have an install luckily I knew how to install it.
1 year 11 months ago
Seattle, WA, USA
Perfect
It was ordered and at my house within 5 days. Installation was a breeze. However, if you don't know how to remove fairings or do the wiring, ask a friend whose a little more experienced. All in all it took maybe 30 minutes max. It works and looks great and I'm over the moon happy with my purchase. My 636 looks so much sleeker with the smoked look.
2 years 1 month ago
Rhode Island
Seamless Integration on a 2015 Kawasaki Ninja 650
I'll start off with the negatives. It took a while to ship and it didn't come with explicit instructions (but more on this later). On to the positives. It fit perfectly and it looks great. Although it did not come with explicit instructions (or any at all), if you have common sense then you can install it. I was able to take the male plugs off of the stock turn signals and attach them to the taillight. That way I did not need to rewire them. The whole process took me about an hour (Sad to say I am no longer mechanically inclined). Bike looks great now.
2 years 6 months ago
Cincinnati, OH
Nice Clean Look
I ordered the smoked version of this integrated tail light unit for my 2014 ZX6R, and I installed it myself with a few simple hand tools in about 15 minutes. I was a little disappointed that it didn't come with any directions, but the process was easy enough to figure out and internet searches always help. Once installed, the light looks fantastic. It totally cleans up the tail section of the bike, especially when you have a fender eliminator kit as well. The tail, brake, and turn signal lights are all very bright and clearly visible from a distance, but the smoked lens gives it a nice low-profile look when it's turned off. Vortex did a solid job with this one!
Over 3 years ago
Yuma, AZ, USA
Vortex Integrated light
Light looks great and fits perfectly onto my 2013 FZ6R. LED lights are easy to see during the day and wiring was simple. Main tail light was a simple plug and play but the turn signals had to be wired but overall it was a simple installation. Very happy with my purchase.
Q: Do you need the resistors for the indicators or are they built in?
DaveGearhead
4 months 8 days ago
A: The resistors are integrated into the unit. It should be all plug-and-play.
Q: Are the indicators and tail light bulbs separate?
As per MOT law do the indicators obstruct the brake light/tail light or remove the light when on. Are the amber and red LEDs separate?
Sogeking
1 year 11 months ago
A: The running lights, brake lights, and turn signals are on separate sets of LEDs.
See all bikes that this part fits...
| Product Variant | Manufacturer Part # |
| --- | --- |
| Clear | N/A |
| Smoke | N/A |
| Smoke | TL103 |
| Smoke | TL114 |
| Smoke | TL117 |
| Smoke | TL131 |
| Smoke | TL106 |
| Smoke | TL171 |
| Smoke | TL135 |
| Smoke | TL157 |
| Smoke | TL104 |
| Smoke | TL105 |
| Smoke | TL137 |
| Smoke | TL153 |
| Smoke | TL118 |
| Smoke | TL167 |
| Smoke | TL108 |
| Smoke | TL120 |
| Smoke | TL141 |
| Smoke | TL128 |
| Smoke | TL142 |
| Smoke | TL138 |
| Smoke | TL168 |
| Smoke | TL132 |
| Smoke | TL161 |
| Smoke | TL112 |
| Smoke | TL121 |
| Smoke | TL122 |
| Smoke | TL102 |
| Smoke | TL119 |
| Smoke | TL133 |
| Smoke | TL125 |
| Smoke | TL162 |
| Smoke | TL101 |
| Smoke | TL163 |
| Smoke | TL123 |
| Smoke | TL115 |
| Smoke | TL126 |
| Smoke | TL139 |
| Clear | TL109 |
| Clear | TL116 |
| Clear | TL129 |
| Clear | TL172 |
| Clear | TL110 |
| Clear | TL170 |
| Clear | TL143 |
| Clear | TL156 |
| Clear | TL134 |
| Clear | TL111 |
| Clear | TL164 |
| Clear | TL149 |
| Clear | TL124 |
| Clear | TL173 |
| Clear | TL130 |
| Clear | TL136 |
| Clear | TL154 |
| Clear | TL147 |
| Clear | TL151 |
| Clear | TL148 |
| Clear | TL174 |
| Clear | TL140 |
| Clear | TL152 |
| Clear | TL144 |
| Clear | TL150 |
| Clear | TL160 |
| Clear | TL107 |
| Clear | TL146 |
| Clear | TL165 |
| Clear | TL169 |
| Clear | TL155 |
| Clear | TL113 |
| Clear | TL166 |
| Clear | TL159 |
| Clear | TL145 |
| Clear | TL158 |
| Clear | TL127 |
| Clear | TL179 |
| Clear | TL181 |
| Smoked | TL180 |
| Smoked | TL182 |