Vortex
Vortex LED Integrated Tail Light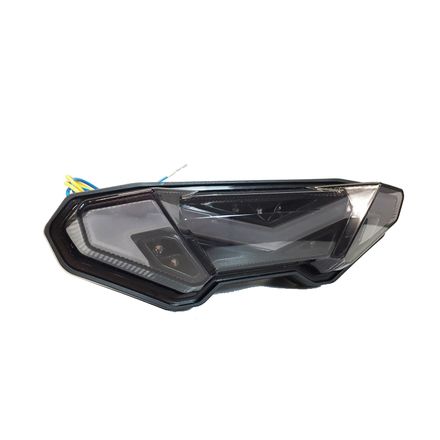 Vortex LED Integrated Tail Light
---
15% Off - Save up to $32.99
4.69
5
16
Rating: 4.7 out of 5 stars
---
16 Reviews
12

reviews

3

reviews

1

reviews

0

reviews

0

reviews
All Reviews
Came just as described
Works great very bright and noticeable
1 year 2 months ago
Sahuarita AZ
Looks great
Looks great easy to install it's nice and bright too
1 year 3 months ago
Midland,Texas
Perfect
The integrated tail light is amazing. Looks great and the led lights are bright. Great buy for the price.
1 year 5 months ago
Quinton
Perfect match
About it 2 months ago Yes structions that came with it may the install very fast. The LED lights are a little more brilliant color very nice features
1 year 5 months ago
Coopersburg, PA
Works great
So far so good. Works great and leds are bight. Recommend. Sometimes with the brake lights on the integrated turns look confusing due to the brightness but you can tell at a regular distance. Otherwise a great alternative to delete ur tail. Just run a regular plate holder or zip tie
Good product wish integrated was easier. Overall happy still
1 year 10 months ago
Detroit, MI
Great Product
Very easy to install with some basic screwdriver skills, does require wire splicing to install turn signal wires, but again, fairly easy. I got the smoke tinted one, and was worried it wouldn't be very bright, but once I tested the thing, the LED's are bright as heck even without hitting the brakes. Would definetly recommend, but make sure you get a fender eliminator to go with to finish off the clean look.
2 years 8 months ago
West Virginia, USA
Looks awesome
New tail looks amazing on the bike. Instructions could of been a little more detailed in color butt wasn't bad tho follow., esp if you have any mechanical skill whatsoever.. really helped with being noticeable and seen, which is a must for these people in cages not running you over.
2 years 9 months ago
Galt, ca
Looks amazing !!!!
I love it, I just went ahead and choose to install it with out the turn signal indicators and it was still amazing. !!!
Fitment
See all bikes that this part fits...
# Part Numbers
| Product Variant | Manufacturer Part # |
| --- | --- |
| Smoke | TL103 |
| Smoke | TL114 |
| Smoke | TL117 |
| Smoke | TL131 |
| Smoke | TL106 |
| Smoke | TL171 |
| Smoke | TL135 |
| Smoke | TL157 |
| Smoke | TL104 |
| Smoke | TL105 |
| Smoke | TL137 |
| Smoke | TL153 |
| Smoke | TL118 |
| Smoke | TL167 |
| Smoke | TL108 |
| Smoke | TL120 |
| Smoke | TL141 |
| Smoke | TL128 |
| Smoke | TL142 |
| Smoke | TL138 |
| Smoke | TL168 |
| Smoke | TL132 |
| Smoke | TL161 |
| Smoke | TL112 |
| Smoke | TL121 |
| Smoke | TL122 |
| Smoke | TL102 |
| Smoke | TL119 |
| Smoke | TL133 |
| Smoke | TL125 |
| Smoke | TL162 |
| Smoke | TL101 |
| Smoke | TL163 |
| Smoke | TL123 |
| Smoke | TL115 |
| Smoke | TL126 |
| Smoke | TL139 |
| Smoke | TL176 |
| Smoke | TL178 |
| Clear | TL109 |
| Clear | TL116 |
| Clear | TL129 |
| Clear | TL172 |
| Clear | TL110 |
| Clear | TL170 |
| Clear | TL143 |
| Clear | TL156 |
| Clear | TL134 |
| Clear | TL111 |
| Clear | TL164 |
| Clear | TL149 |
| Clear | TL124 |
| Clear | TL173 |
| Clear | TL130 |
| Clear | TL136 |
| Clear | TL154 |
| Clear | TL147 |
| Clear | TL151 |
| Clear | TL148 |
| Clear | TL174 |
| Clear | TL140 |
| Clear | TL152 |
| Clear | TL144 |
| Clear | TL150 |
| Clear | TL160 |
| Clear | TL107 |
| Clear | TL146 |
| Clear | TL165 |
| Clear | TL169 |
| Clear | TL155 |
| Clear | TL113 |
| Clear | TL166 |
| Clear | TL159 |
| Clear | TL145 |
| Clear | TL158 |
| Clear | TL127 |
| Clear | TL179 |
| Clear | TL181 |
| Clear | TL175 |
| Clear | TL177 |
| Smoked | TL180 |
| Smoked | TL182 |